Having a home chef as a friend, you will go visit on an empty stomach. For sure, a scrumptious meal awaits. What gift should you bring along? A home chef already has all the basic equipment, tools and utensils for cooking but they love to experiment with ingredients. Looking for new flavours, taste and creating new recipes. Therefore, I suggest you give the gift of flavor. No matter you are invited to his/her home or celebrating a special occasion, a flavourful gift will be much appreciated. Surely, you are eager to find out what they are? Let's go.
12 Gift Ideas for Home Chef
I want you to know and understand that this post contains affiliate links. When you click them and make a purchase, I receive a small commission at no additional cost to you. Read about my Amazon Affiliate Disclosure here.
1. Caravel Gourmet Salt collections – the infused sea salt sampler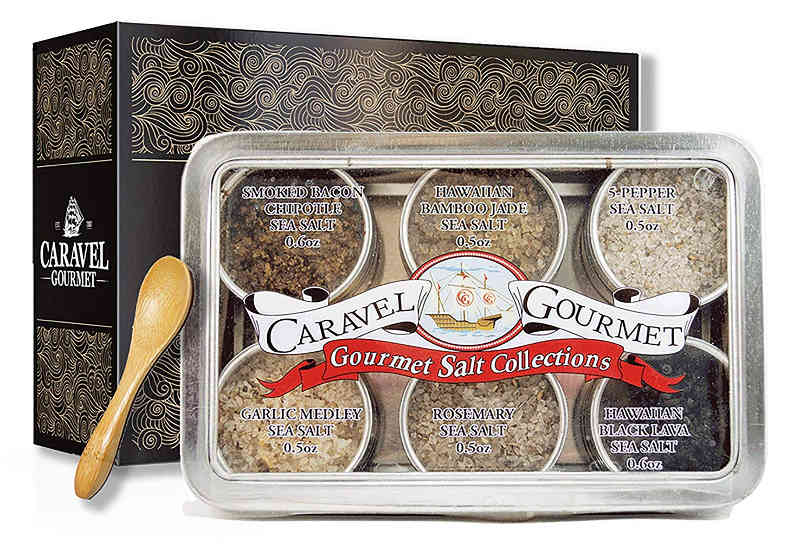 A perfect gift for people who like to cook. There are 6 individual reusable canisters with different flavors, all nicely packed in a reusable tin box. An adorable mini wooden spoon is included for ease of doling out the salt.
The 6 flavours are Smoked Bacon Chipotle, Hawaiian Bamboo Jade, 5 Pepper, Garlic Medley, Rosemary and Hawaiian Black Lava. Each canister contains approximately 0.5oz of sea salt.
2. Gustus Vitae Luxury Gourmet Seasonings, Spices & Italian Black Truffle Sea Salt Collection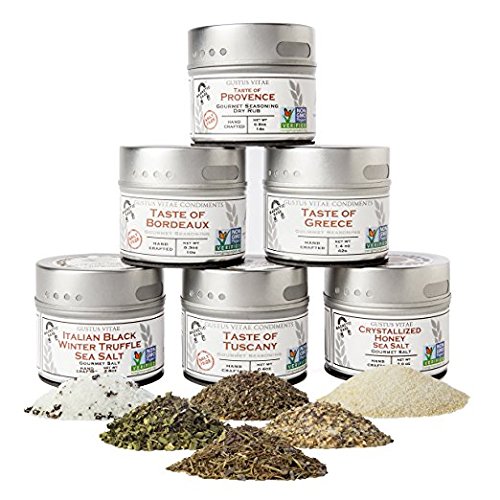 These artisanal spice blends are carefully crafted in small batches, before hand-packed in unique magnetic tins. Each tin has a magnetic base that sticks to most metal surfaces thus they are within easy arm's reach.
Ingredients used are non GMO, all natural, sustainably sourced, and free from MSG. It is good to know you can pronounce all the ingredients.
This collection includes the Taste of Bordeaux, Taste of Provence, Taste of Tuscany, Taste of Greece, Taste of Egypt, and special Italian Black Winter Truffle Sea Salt, made with at least 6% Italian Melanosporum Truffles.
3. Fresh Jax Smoked Spices Gift Set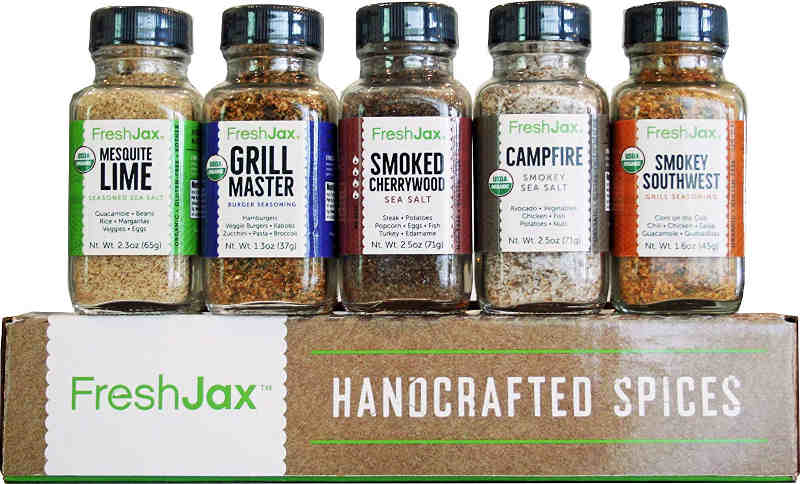 The 5 high-quality glass bottles are packaged with care into a beautiful gift box. The bottles are just the right size to sample the fun flavors. They make great gifts for the home chef who likes to experiment with flavors.
The flavor of the smoked spices is Mesquite Lime (2.0oz), Grill Master (1.3oz), Smoked Cherrywood (2.5oz), Campfire (2.5oz) and Smokey Southwest (1.6oz).
4. Urban Accents Butcher Shop Gourmet Grilling Spice Rub Gift Set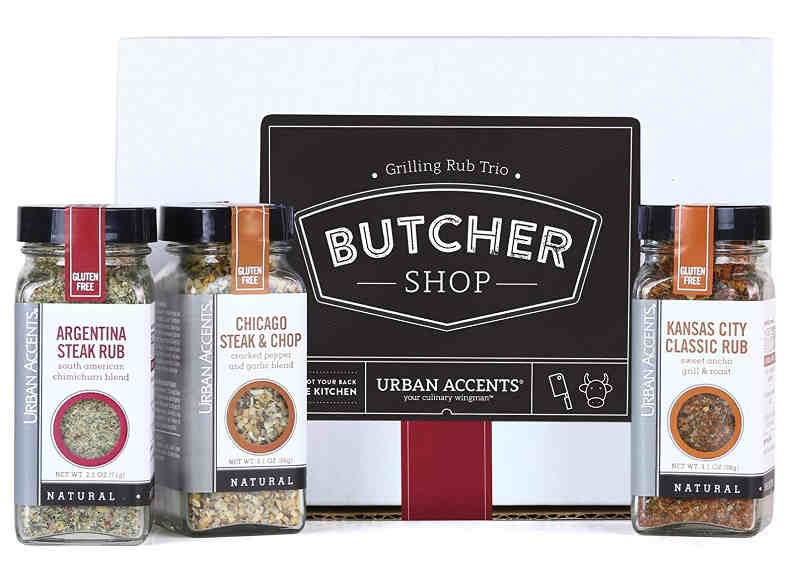 Whatever the occasion, it is always the perfect time to give grilling spices and rubs to a foodie or chef friend.
The rubs are created from simple, clean ingredients, and is sugar-free and gluten-free. Get your chef friend to dish up some hearty, healthy food for you on your next visit 😉
The gourmet grilling spice trio includes Chicago Steak & Chop, Kansas City Classic Rub and Argentina Steak Rub.
5. The Silk Road Spice Blends Gift Set




Give the gift of culture. An opportunity for the home chef to create a global tasting experience using these exotic spice blends from The Silk Road.
All-natural seasonings, vegan, gluten-free ingredients, non-GMO and no preservatives blends that include Persian Advieh, Ethiopian Berbere, Egyptian Dukkah, Indian Garam Masala, Moroccan Harissa and Japanese Togarashi. 2oz of spice fills each can.
6. Mantova Flavored Extra Virgin Olive Oil Variety Pack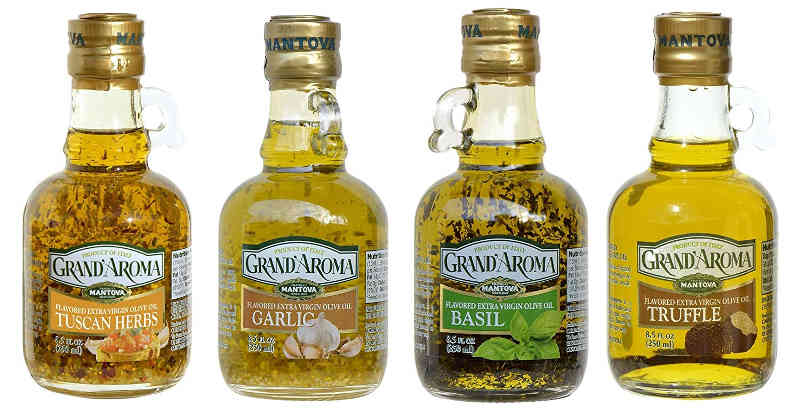 This oil is a great gift for all the chefs in your life. Easy to use and full-flavored, those who receive this will enjoy the healthy and delicious oils in a wide range of recipes.
The variety pack consists of 4, 8.5oz bottle – Tuscan Herbs, Truffle, Garlic and Basil.
7. Truffle Hunter Truffle Oil Selection Gift Set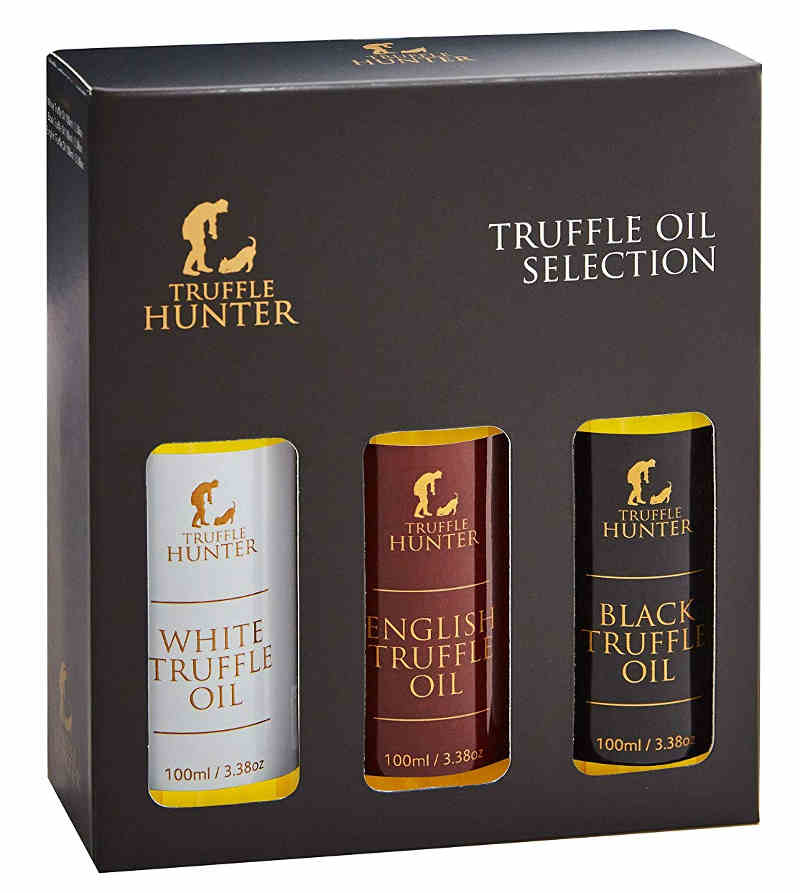 A gourmet gift for your friend. This set contains three of Truffle Hunter's best-selling truffle oils – Black Truffle Oil, White Truffle Oil & English Truffle Oil in 3.38oz bottles.
While the Black Truffle Oil carries an intense and earthy flavor, the English Truffle Oil has a heady and earthy aroma, with a nutty finish (nut-free). The flavourful and garlicky White Truffle Oil is made with real White Truffles.
8. Ellora Farms Extra Virgin Olive Oil and Balsamic Vinegar in Spray Bottle Gift Pack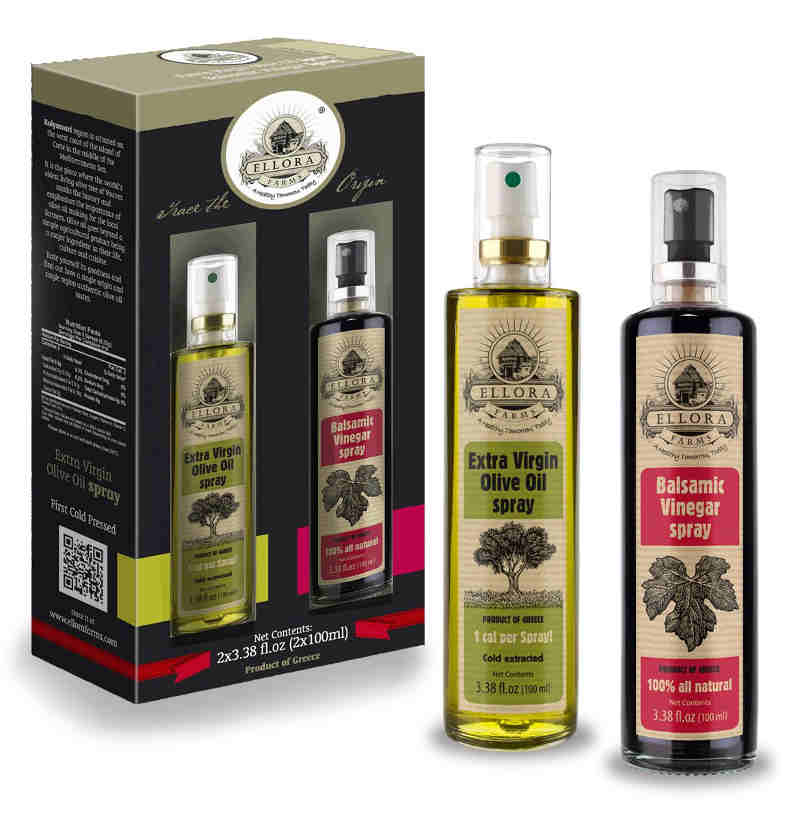 Perfect pair of oil and vinegar makes a perfect gift. An avid fan of olive oil and balsamic vinegar will love this, in the spray bottle of 3.38oz.
This olive oil has a peppery flavor and the fruitiness of a true Cretan Extra Virgin Olive Oil. From the prized vineyards of the Island in Crete comes the Ellora Farms Balsamic vinegar, perfectly aged for the aroma and the luxurious indulgence.
Comes in beautiful packaging. The spray works nicely to the last drop with the innovative pump.
9. The Mini Asian Gourmet Gift Box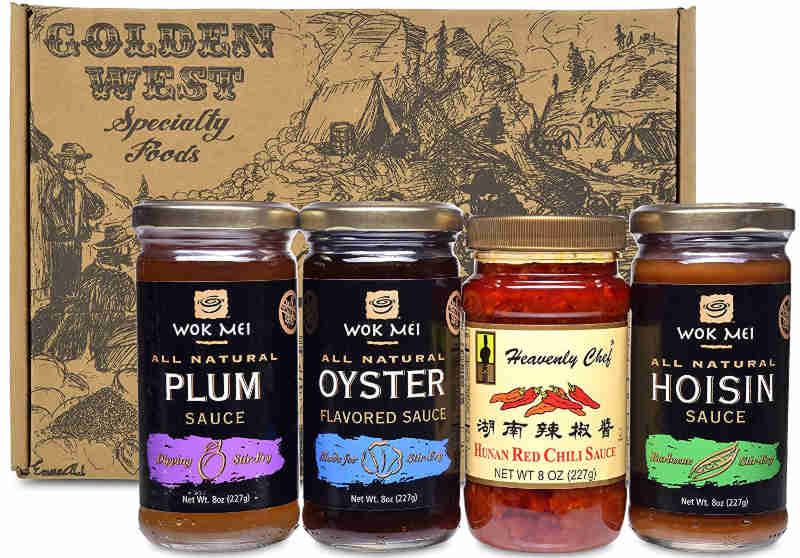 The perfect gift for adventuresome home chefs. This little array of oriental sauces are everyday needs if he/she likes cooking Chinese at home and will be much appreciated by those trying out Chinese cooking.
This gift box includes the famous Wok Mei All Natural Oyster Sauce, Hoisin Sauce, Plum Sauce, and Heavenly Chef's hard to find Hunan Red Chili Sauce.
10. Calivirgin Dipping Spices & Olive Oil Gift Set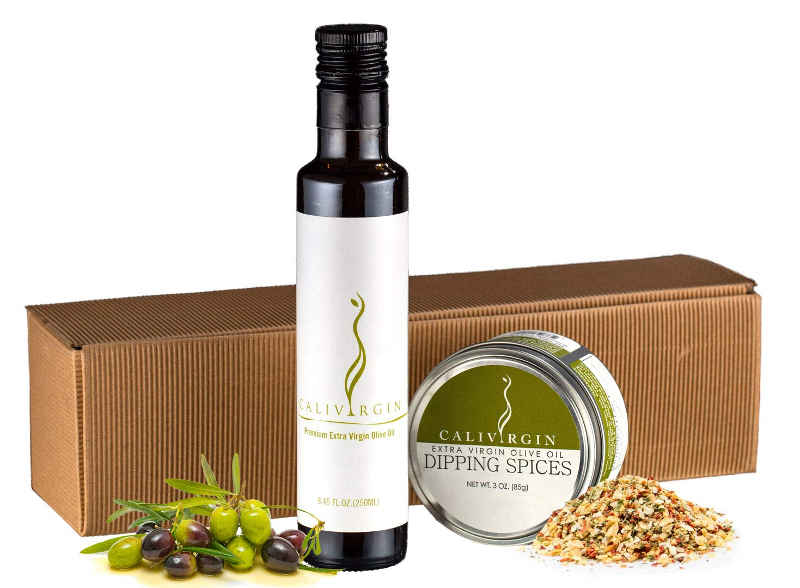 Everything a foodie needs for the perfect bread dip. The dipping spices is a blend of 5 diverse, gourmet flavours in an incredibly delicious spice mix, basil, sun-dried tomatoes, garlic, parsley & oregano.
This olive oil & spices gift set comes packaged in a gift box worthy of all special occasions, from the New Year's to Christmas & everything in between.
The unfiltered Olive Oil comes in a 250ml Sampler bottle while the bread dipping spice blend is in an 85g tin container.
11. Zombie Cajun Hot Sauce Gift Set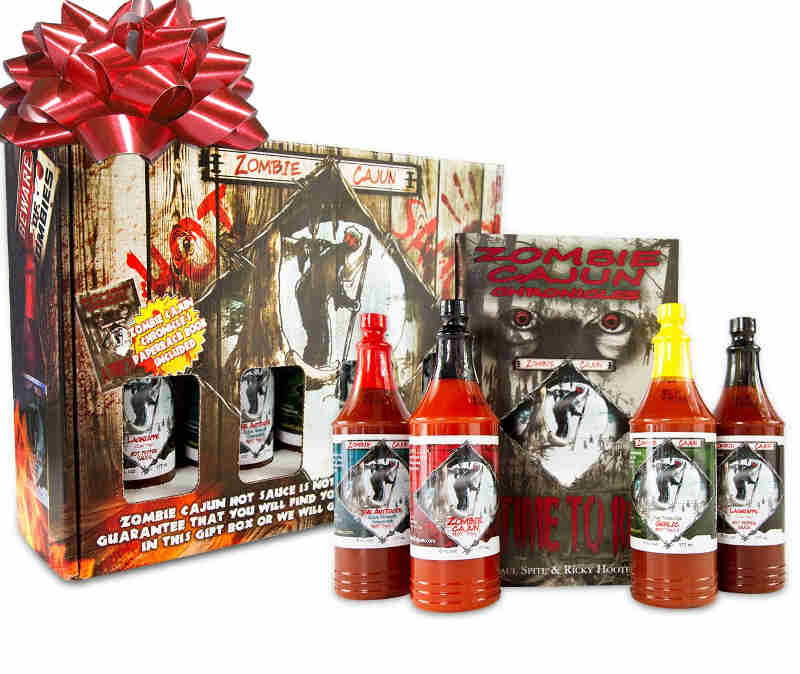 A great tasting fun gift set for a huge hot sauce lover and zombie fan.
This variety pack contains 4 unique flavorful bottles of slow-simmered Louisiana style hot sauces made the old-fashioned Creole way.
This spicy hot sauce gift set is designed with top quality gift box materials and comes with a paperback copy of the "Zombie Cajun Chronicles". This page-turner tells how the Zombie Cajun legend was started and includes Creole recipes for using the new sauces. Sure to please any Zombie enthusiast.
The 4 flavours of 6oz bottles are Zombie Cajun Hot Sauce, Lagniappe Hot Pepper Sauce, The Antidote Hot Sauce and Garlic Hot Sauce.
12. Hot Sauce Making Set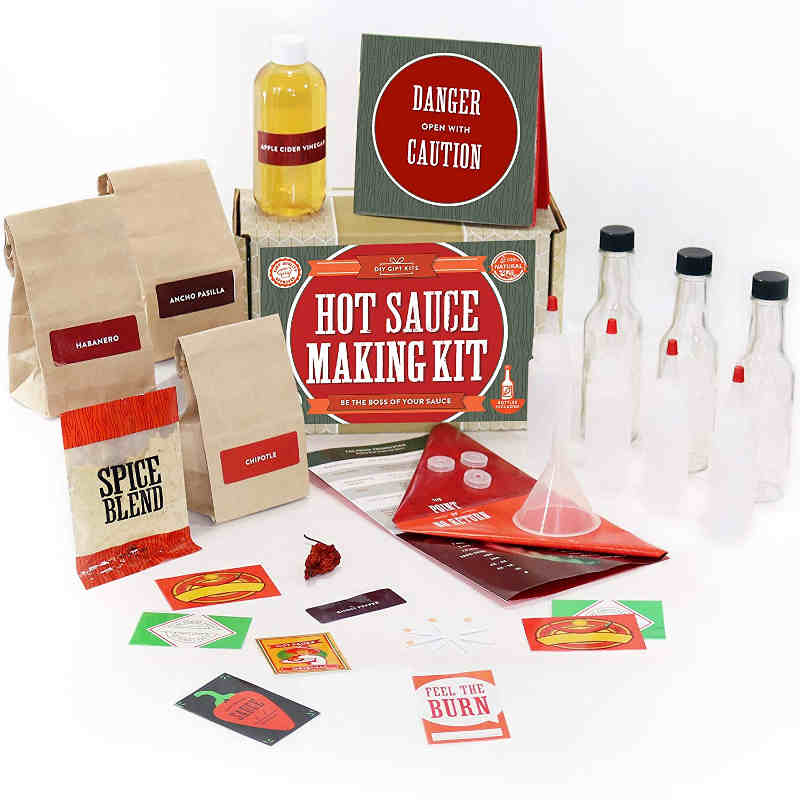 This is a fun, creative, interesting and spicy gift all wrapped inside one box. One of the best gifts for a sauce lover or a cooking lover. A gift different from the rest!
It is a complete hot sauce making kit that comes with 7 bottles of 2 different types (glass and plastic squeezable), a top-secret very scary ghost pepper, Ancho Pasillas, Chipotle and Habanero pepper, a bottle of apple cider vinegar and interactive recipe cards with instructions. Also, a 2-inch funnel, 2 pairs of gloves, 5 pH strips and 7 beautiful custom labels. Your friend gets to make the hot sauce right away at home.
Overall
These gifts ideas for the home chef will certainly be appreciated. Every one of them craves inspiration and receiving a gift of flavor inspires them to come up with many delectable flavor profile in their cooking.
I hope you and your friend will love these ideas as much as I love sharing with you.
More Gift Ideas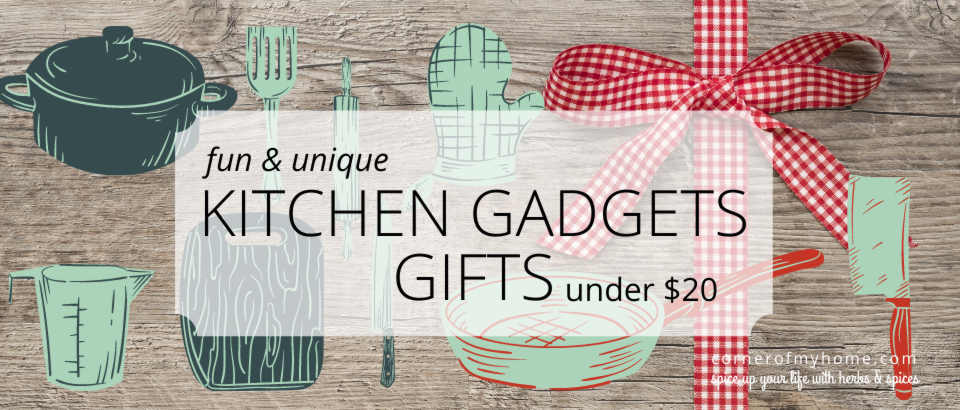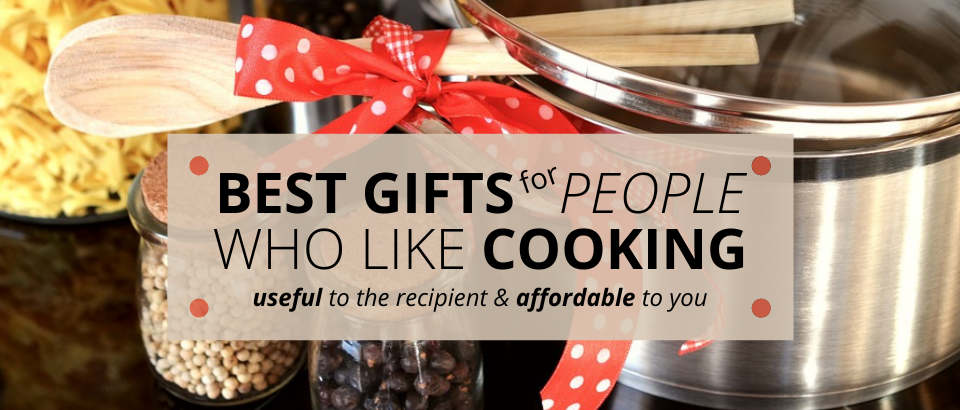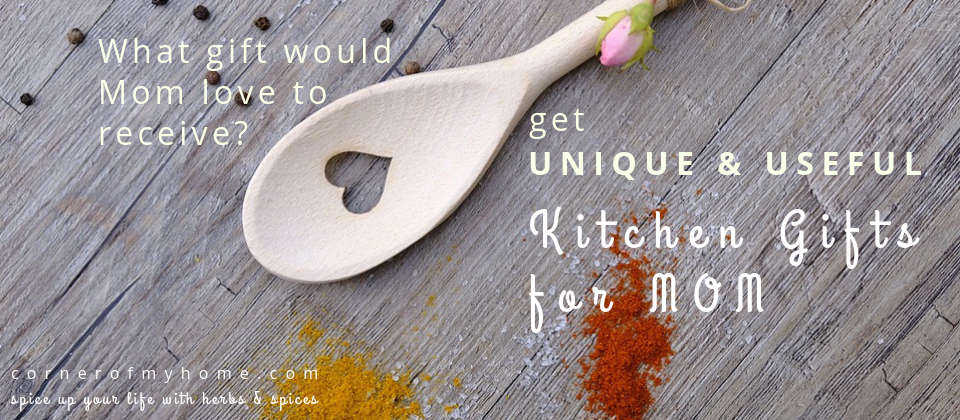 Consider Giving an eGift
Give the Gift of Cooking! The perfect gift for friends and family who are passionate about food and cooking.
Rouxbe is an online cooking school, teaches home cooks, culinary students and professionals around the world. Their courses can be accessed anywhere, anytime.


There are 6 programs to choose from
For the Foodie. This person loves food. Help them up their confidence in their own kitchen with an Annual Rouxbe Membership. With a membership, access video lessons, tips, and techniques that will elevate confidence and competence in their kitchen.
For the Aspiring Chef. For the person in your life who always seems to be cooking up a new recipe. With the Professional Cook Certification Course, learn the foundational techniques to make delicious food every time — with or without a recipe! This 200-hour online course covers material and instructional content found in top professional culinary schools so whether they plan to take their new skills into a new career or delight friends at dinner parties, this course will elevate their game in the kitchen.
For the Plant-Lover. Whether full-on plant-based or always looking to bring more plants into their diet, the Plant-based Professional Certification Course is the ultimate gift to help the cook in your life take their food to the next level. Developed with world-renowned chef Chad Sarno, this is the most comprehensive plant-based course ever created and will focus on core techniques, plus raw methods and no oil, low sodium, gluten-free options.
For the Health Guru. "Food is Medicine". The Health-Guru in your life believes it and lives it. They know what to eat and why they need to eat it — but do they know how to source, prepare, and cook it? Culinary Rx puts it all together. This revolutionary course created in partnership with The Plantrician Project puts "Food is Medicine" into practice and makes it practical to implement in daily life.
For the (Sea)Foodie. Maybe they love to fish, sail, or just cook seafood. Either way Seafood Literacy with Barton Seaver is the ultimate gift for them. Chef, cookbook author, and sustainable seafood expert, Barton Seaver, gives students the confidence and competence to take advantage of all that fish, shellfish, and sea greens have to offer — from sea to plate in this incredible online course.
For the Sweet Tooth. Treat the sweet tooth in your life with a gift that will delight their taste buds night after night. Even your plant-based or health-conscious friends can enjoy something sweet after dinner, thanks to Chef Fran Costigan's Essential Vegan Desserts Course. Chef Fran, AKA "Queen of Vegan Desserts", will divulge the key secrets and techniques to making delicious vegan sweets in this online course. Be prepared to taste enjoy all kinds of goodies from pies, cakes, tarts and cookies to mousses, gels, trifles and sauces.
How do you feel about these programs? Awesome, yes? Your home chef friend or anyone in your family who loves cooking will be ecstatic to receive an eGift on online cooking course.
Share This Article & Spread the Joy of Cooking
If you find these gifts for home chef interesting and exciting, please share it with anyone that you think might find it useful. Thank you and have a good day!
From the Corner of My Home – Spice Up Your Life with Herbs and Spices
Disclosure: This blog post may contain affiliate links as part of the Amazon Services LLC Associate Programs and other affiliate services. This means that cornerofmyhome.com receives a small commission by linking to amazon.com and other sites at no extra cost to the readers.