The canker sore is very common in my household. While it is not contagious, the discomfort is unpleasant. For me, the most annoying is having difficulties eating. Here, I will share with you some home treatment for a canker sore. At the Corner of My Home, it is all about herbs and spices. So, let's find out which herb can "spice" that mouth ulcer.
What Is the canker sore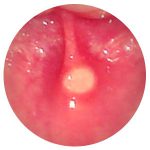 Normally, I call it the mouth ulcer. My son is most familiar with it because it mostly happens to him. At times, two ulcers would appear in the same period of time. Made worse, when both combine to become one big crater.
The canker sore is also known as aphthous ulcer while its medical term is aphthous stomatitis.
It is small, shallow lesions that grow on the soft tissue in your mouth. It usually appears on the inside of the cheeks or lips, on the tongue, the upper surface of the mouth or the base of the gums. It is either in white, greyish or yellowish in colour with a red border.
What Causes mouth Canker Sores
It is not entirely clear what causes a canker sore to develop. It is possibly due to any or a combination of several factors that include the following.
Oral injuries. The lining inside your mouth, including gums and lip, are delicate. Hence, you need to be careful while brushing your teeth. Best to avoid aggressive teeth brushing.
Also, biting the inside of the lip or cheek while eating can cause a canker sore.
Stress. Your emotional state affects health and you know this very well but how does this relate to mouth ulcers? Too much stress can weaken your immune system. Thus, more susceptible to ulcers.
On top of that, stress can cause a digestive imbalance and leads to acid reflux. Hence, ulcers may act up.


Hormonal changes. Blame it on the hormones? Many women's health conditions or issues are related to hormonal changes. Do you agree? Is canker sore one of them?
While there is no scientific research to back this claim, many women reported having suffered from an increase of canker sores before or during menstruation.
Acidic or spicy food. If you are sensitive to acidic or spicy food, it may upset the immune response in your mouth. Thus, making you prone to developing mouth ulcers.


Vitamin deficiencies. Insufficient vitamins and minerals in your daily diet can affect the health condition of your mouth, especially so for folic acid, iron, zinc and Vitamin B12.
A study archived at the JABFM – Journal of the American Board of the Family Medicine, has this conclusion
'Vitamin B12 treatment, which is simple, inexpensive, and low-risk, seems to be effective for patients suffering from RAS, regardless of the serum vitamin B12 level.'
It is shown that the Vitamin B12 supplement helped reduce the amount of pain from the canker sores, the number of outbreaks and the number of ulcers experience in a month.
RAS – Recurrent aphthous stomatitis, also called canker sores.
Sodium Lauryl Sulfate (SLS). This is a common ingredient found in your toothpaste. It is a synthetic detergent, also a foaming substance used to clean your teeth and why you see the foam. This additive has been linked to the occurrence of the canker sore.
A clinical study archived at NCBI – The National Center for Biotechnology Information, has this result
A statistically significant reduction in recurrent aphthous ulcers was observed during 2 months' use of SLS-free dentifrice compared to 2 months' use of the SLS-containing dentifrice.
If you are prone to getting canker sore, it is best to use SLS-free oral health products. Here are a few recommendations.


Himalaya Botanique Simply Mint Whitening Toothpaste contains NO Sodium Lauryl Sulfate (SLS) and harsh abrasives.


Hello Oral Care Toothpaste is SLS free and thoughtfully formulated with refreshing farm-grown peppermint, tea tree oil to tame bad breath and coconut oil to moisturize.


Verve Ultra SLS-free Toothpaste is enriched with antioxidants, including Vitamin E and formulated for everyday use.
The symptoms
You will probably know an ulcer is about to develop if you are used to getting one or two every now and then. If not, I will explain it briefly here.
The first symptom is a mild tingling sensation in the area where the ulcer will appear. It usually takes a few days to flare up. Then, you will see a red border surrounding the inflamed ulcer, which is white, greyish or yellowish in colour. Of course, the pain and discomfort would have escalated by then. The worst ulcer – even to touch it with your tongue would cause PAIN.
Do NOT confuse yourself with cold sores, also known as fever blisters. Cold sores are contagious, but canker sores are NOT. Cold sore is caused by a virus and found outside the mouth around the lips, on the cheeks or chin, or inside the nostril.
Most canker sores do not require any treatment as they will heal on its own and disappear in about seven to ten days. However, I am sure you do not want to prolong the discomfort – talking can be painful too – the first 3 to 4 days are the worst.
Simple natural home remedies can help reduce pain and inflammation. It will speed up the healing process and you will be able to enjoy your food. Is it not good to know?
Here goes…
Home treatment for a Canker Sore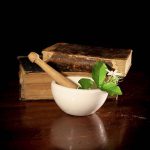 Rinse your mouth with saltwater. Yes! Isn't it the easiest. This is best done when you first notice the tingling sensation – an ulcer is about to pop.
When I say home remedies, surely you don't expect using salt alone. Mother Nature gives us amazing herb plants – use them!
Cilantro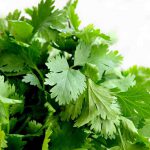 One of the best herbs for treating mouth ulcer. Its anti-inflammatory, antiseptic and antifungal properties are effective in helping to reduce the pain and discomfort caused by the ulcer.
Simply boil a glass of water with a handful of cilantro. Strain the solution and allow the water to cool. Gargle with the lukewarm water at least three or four times a day.
Coriander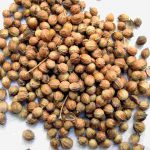 This is the seeds of the cilantro herb plant. If you do not have fresh cilantro, use the seeds form.
Just boil a cup of water and add one teaspoon of coriander. Steep For 5 – 10 minutes and strain. Gargle with it at least three or four times a day.
Sage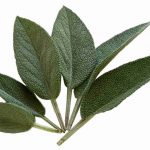 This is another herb to treat mouth ulcers at home. Its calming property gives immediate relief from the pain and inflammation.
Simply add a handful of sage leaves to two cups of boiling water. Steep for 10 – 15 minutes. Strain and allow to cool. Use it to gargle three to four times a day.
Alternatively, apply powdered sage leaves directly on the ulcer and leave it for a few minutes. Repeat several times a day till it heals.
Parsley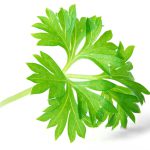 Another amazing herb. You should not treat it just as a garnish. Most often, you see the restaurants doing it.
It contains iron and folate which help in combating mouth ulcer. Simply chew on some fresh parsley. Furthermore, it helps to freshen your breath.
Basil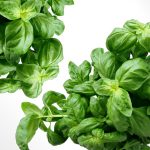 One of the most common herbs used in cooking. It is a significantly valuable herb. With its anti-microbial and anti-inflammatory properties, it is a natural ingredient to prevent infections and calm a mouth ulcer.
You may either chew on the leaves or steep the leaves in hot water and use it as a mouthwash. Repeat three to four times a day.
Cayenne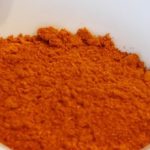 Isn't this the spicy ingredient that I should be avoiding? I hear you asking. Cayenne contains capsaicin, a compound that briefly numbs the nerves that cause pain. Also, it helps inhibit bacteria growth and inflammation.
Add some water to cayenne to make a paste. Use a cotton swab to apply the paste to your mouth ulcer. Reapply two to three times a day. This will ease the pain and helps to heal.
Consider a Journey in Herbalism
Learning herbalism is not only for those who wish to pursue a career as a herbalist. It is for anyone who wishes to take the natural path to support their own, as well as their family's general health.
Not only will you learn how to make natural herbal remedies, but be educated about the many ways herbs can be used to support wellness.
The Herbal Academy has an online program, The Family Herbalist Path Course, where you can learn from the comfort of your home. This package, at a special discount, includes the Introductory and Intermediate Herbal Courses which you can take separately at a different price.
Preview Lesson from the Introductory Herbal Course
The Holiday Sale in on. All programs are discounted up to A Jolly 25% off.
Take a look ↓


All in All
Canker sore or commonly called mouth ulcer is not a serious issue but it causes a lot of discomfort and pain.
Before you rush out to your nearest pharmacy to buy over-the-counter medication, check if you have the herbs and spices mentioned. These are commonly used for every day cooking. Why not make good use of the herbs and spices you already have.
The herbs may not heal the canker sore immediately, especially if it already flared up. However, the natural home treatment mentioned can ease the pain.
If you are prone to getting the canker sore, avoid acidic and spicy food. In addition, remember to check out the SLS-free toothpaste. Also, consider supplementing vitamins and minerals to your daily diet.
You may even contemplate growing your own herbs. Do not let "I don't know how" or "I have limited space" be the excuses for not doing so. It can be a fun process and when you harvest your own herbs, I can see the sense of satisfaction in you. Wouldn't it be wonderful to have herbs for cooking or remedies at your fingertips all year round?
Learn more about growing indoor herbs all year round.
Please leave a comment
How do you feel using the home treatment for a canker sore? Would you rather use over the counter medicines? Share with us your experiences so that we can learn from each other. I look forward to your comments.
Share This Article
If you find this blog post interesting, please share it with anyone that you think might find it useful. Thank you and have a good day!
From the Corner of My Home – Spice Up Your Life with Herbs and Spices
Medical Disclaimer: The information and references on this website are intended solely for the general information for the reader. It is not to be used to diagnose health problems or for treatment purposes. It is not a substitute for medical care provided by a licensed and qualified health professional. Please consult your health care provider for any advice on medications.
Disclosure: This blog post may contain affiliate links as part of the Amazon.com Services LLC Associate Programs and other affiliate services. This means that coenerofmyhome.com receives a small commission by linking to amazon.com and other sites at no extra cost to the readers.