Why would you want to make your own vegetable stock powder? It is a hassle gathering all the ingredients and takes time making. Well, you may want to reconsider this. It may take time and effort but it is definitely a healthier choice. The commercial vegetable stock powder is loaded with sodium and not forgetting the various ingredients you may find difficult pronouncing. Before you decide to make your own or not, let's find out exactly what vegetable stock powder is and how to use it in your cooking. Its health benefits and convenience of having it in hand makes it worth making your own.
The homemade vegetable stock powder is made with fresh vegetables, herbs and salt blended together. That's it! WITHOUT monosodium glutamate, "permitted" coloring and flavor enhancer, fats, preservatives among others. Is this not better than store-bought?
You may find the steps below troublesome but read on, there is an easier way.
How to Make Your Own Vegetable Stock Powder
Let's gather the ingredients.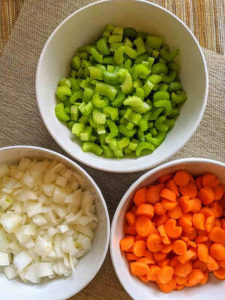 Fresh vegetables. The basic combination of vegetables you will be using are the same making stock or broth. It is called mirepoix, which consists of onions, carrots and celery.
Herbs. The common herbs to use are parsley, thyme and rosemary.
Salt. Besides seasoning the stock mixture, salt is a natural preservative which hinders the growth of bacteria and molds. There are several types of salt you can choose from
Himalayan Pink Salt
Hawaiian Black Lava
Hawaiian Red Alaea
Celtic Grey
Fleur de Sel
Read more about these salt here – an article I wrote about Herb Salt.
Preparations. With the above ingredients, use the following amount as a guide.
1 medium onion
1 large carrot
2 celery stalks
A handful of parsley with stalks
2 sprigs of fresh thyme
2 sprigs of fresh rosemary
Your choice of salt – 20% of the weight of vegetables. For example, 500gram vegetables, use 100gram salt.
Wash, pat dry and finely chop all your vegetables and herbs. You may use a food processor or blender.
Using a kitchen scale, weigh them before transfer to a medium pan and add salt.
Cook over low heat for about 2 hours. You need to stir occasionally to avoid sticking. The vegetables will release moisture but will eventually be reabsorbed.
Once dried, spread the mixture on a baking tray lined with parchment paper and bake at 150°C (300°F) until dry and slightly crispy. Remember to stir occasionally. This should take about an hour or so.
Allow the mixture to cool before you put it in a blender or food processor. Pulverize until you get a fine, crumbled mix.
Store your homemade vegetable stock powder in an airtight jar at a cool dry place.
To use: 1 teaspoon stock powder to 4 cups (1Liter) of water
Above recipe is adapted from As Easy as Apple Pie.
Do you have a food dehydrator?
If you do, skip #3 and instead of finely chop your produce, thinly slice them.
Arrange your vegetables on dehydrator sheets in a single layer.
Dehydrate at 57°C (135°F) for an hour. After which, lower the temperature to 46°C (115°F) and continue to dehydrate for up to 6 hours. Check them after 2-3 hours and remove those that are done. Take note that some vegetables will be ready sooner than others.
Other vegetables and herbs you may use are tomatoes, potatoes, parsnips, cabbage, leek, garlic, basil, sage and bay leaf.
Should you want to reduce salt intake, spices are good salt substitutes. You can reduce the salt by adding spices such as turmeric powder, ground black pepper and ground nutmeg or chili flakes for spiciness.
There you have it. That's how you make vegetable stock powder. Lots of work and time, indeed. I know but considering it is free of preservatives and less sodium, would you make your own? Tell us in the comments section below.
Perhaps, you are more comfortable with the following method – easier and less hassle.
Vegetable Stock Powder – the Easier Version
Instead of fresh vegetables and herbs, use dried ingredients.
Combine all ingredients below and mix thoroughly before storing in an airtight jar away from direct sunlight.
1 teaspoon onion powder
1 teaspoon garlic powder
½ teaspoon celery seeds
1 teaspoon dried thyme
2 teaspoons dried parsley
½ teaspoon ground black pepper
1 bay leaf (whole or ground form) – if using whole, you will need to let the bay leaf sit in the mix for at least a week or two, allowing the flavor to infuse through the stock powder.
2 tablespoons salt
To use: ½ teaspoon stock powder + ½ teaspoon soy sauce or tamari or liquid aminos to 1 cup water
Above recipe is adapted from Eating Vibrantly.
Isn't this method much easier? All the ingredients are mostly available at your local grocery if you have not had them already. Else, you can always buy online – direct from Starwest Botanicals.
How to Use Vegetable Stock Powder and Its Benefits
When a recipe calls for stock or broth, simply use your homemade stock powder. This way, you need not open up a box or can of stock, using just a little and store or freeze the excess. Personally, I dislike storing or freezing then thaw frozen stock. In powder form, you can easily control how much to use. Needless to emphasise, it is definitely healthier yet flavorful.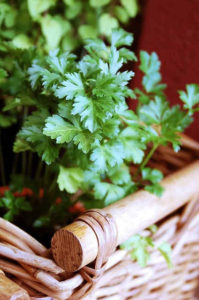 You can also add the stock powder directly to soups, stews, casseroles, sauces, gravies, risotto or herb rice. You may even sprinkle some onto meats and vegetables prior to barbecuing or roasting and stir-fries.
Most herbs and spices have nutritional value benefiting your health.
Parsley, one of the main ingredients used to make vegetable stock powder is rich in antioxidants and important nutrients including Vitamin K, A and C. Furthermore, it is very low in calorie but packed with flavor.
Is Vegetable Bouillon Powder the same as Vegetable Stock Powder
You may have come across vegetable bouillon powder. At first, I was not sure if they were the same. But I can tell you now not to let the term confuse you.
It is easier to define stock, broth and bouillon but when it comes to vegetable stock, broth and bouillon, I shall say they are the same.
Simply explained
Broth is usually made by simmering meat, vegetables and herbs in water to create a flavorful liquid.
Stock is mainly made with bones with vegetables and sometimes meat trimmings
Without meat and bones, vegetable stock and broth are the same.
As with the term, bouillon – technically, it is a dehydrated cube or powder used to create instant stock. Therefore, vegetable bouillon powder is the same as vegetable stock powder.
All in All
Knowing exactly what vegetable stock powder is will help you understand why you should opt for the healthier homemade version. While you can conveniently buy low sodium vegetable stock powder online, making your own, you will have better control of what goes into your dishes, ultimately to your body.
It may be a hassle if you are using fresh vegetables and herbs but should you follow the dried ingredients method, all is done in not more than 10 minutes. However, I urge you to try the fresh method at least once. Who knows, you may like it more. Prepare a batch and you can use it as and when you desire. So convenient.
If you decide to buy, take time to see below.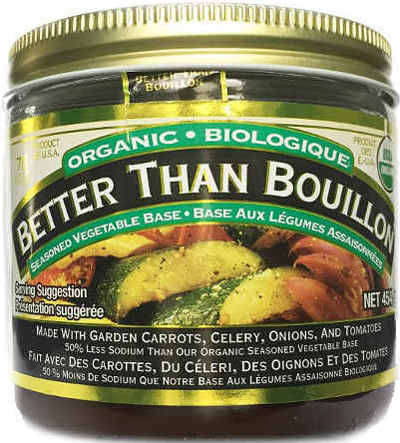 Better Than Bouillon
Organic Vegetable Base, Reduced Sodium.
Take a closer look on Amazon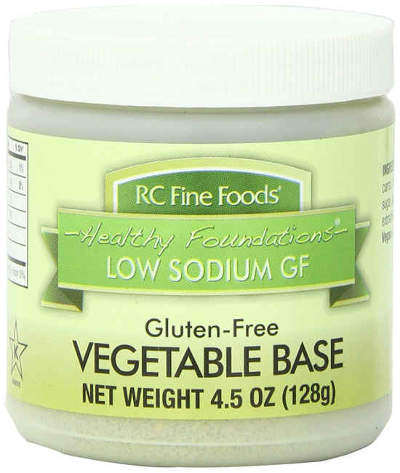 RC Fine Foods
Healthy Foundations
Low Sodium Gluten-Free Vegetable Base.
Available on Amazon
Happy Cooking & Stay Healthy!
Related Articles
Please Comment & Share This Article
Tell us – would you like to make your own vegetable stock powder? Or would you rather buy? If you have made it before, share with us if it is worth the time and effort making.
If you find this blog post interesting, please share it with anyone that you think might find it useful. Thank you and have an awesome day!
From the Corner of My Home – Spice Up Your Life with Herbs and Spices
Disclosure: This blog post may contain affiliate links as part of the Amazon.com Services LLC Associate Programs and other affiliate services. This means that cornerofmyhome.com receives a small commission by linking to amazon.com and other sites at no extra cost to the readers.