Updated FEBRUARY 22, 2019
Sunlight is one of the essential elements required for plant growth. Thus, growing them indoor might be difficult to get enough, not to mention winter months. Living in an apartment without a balcony or on the shady side of the building where window sills receive limited natural light does not help either. So, the big problem here is not enough natural sunlight. In this case, you will need the best grow lights for indoor plants to help the growing process.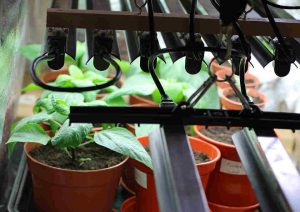 Grow lights or artificial lights as we call it, is one way of replacing the natural light. It can emulate the sunlight in terms of spectrum and intensity.
Without the right amount of sunlight, the growth will be sustained. In the case of herb plants, the taste may not be ideal. Sunlight helps herbs produce the oils that give them their distinctive flavours.
For the love of cooking with fresh herbs, growing herbs indoors year-round will ensure that you have them at your fingertips as and when needed.
Choosing the herbs that can grow indoor and year-round will increase your success rate of growing them. Coupled with the help of a grow light, you will have plenty if not sufficient of fresh herbs in hand for your daily cooking needs.
I have explored a selection of grow lights that give your plants all the lights they need. Read on to find out which one works for you.
Firstly, let's gain some understanding of
Light Colour or Spectrum
Looking at sunlight through a prism, you will find a full spectrum of colours. Most familiar to us as rainbow colours which we can see.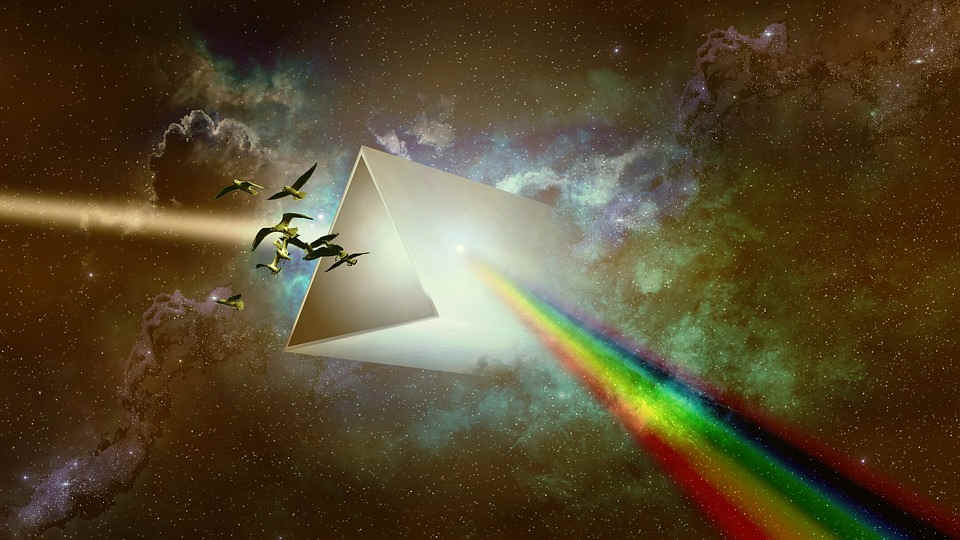 Infrared (red light) and ultraviolet (blue light) cannot be seen with an unaided human eye but both play their part in the plants' growing process.
Infrared light provides heat. An appropriate amount of it will regulate stem growth and flowering response.
Ultraviolet light (UV) is responsible for leafy, green growth, especially herbs and vegetables.
Also, it stimulates the production of essential oils (flavours) in herbs and other components that are good for our bodies including anti-oxidants, anti-inflammatory among others.
Take note
The correct amount of infrared light is important for indoor plants. Short exposure to infrared light alone will increase the growth but exposed too long will develop stems that are spindly or leggy.
For this reason, incandescent or fluorescent bulbs may not provide the correct amount or type of light. You would want to use the best grow lights for indoor plants which are specially made for its purpose.
Light bulbs for indoor growing provide a specific spectrum of light needed for the different phases of their growth cycle.
So you ask, what type of grow lights should I get for my herbs? Here goes.
The Best Grow Lights for Indoor Plants
Economical Selection – Incandescent Grow Bulbs at < $10
Incandescent grow bulbs is the least expensive of grow lights. If you are just starting out, I am sure you would not want to spend a lot.
Take a look at
→ Philips Plant Light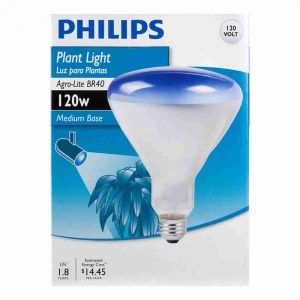 Product Specifications:
Energy used: 120-Watts
Brightness: 270-lumens
Actual Color Temperature: 2700K Soft White
Provides a full spectrum light
Medium base, BR40 shape
The Philips Plant Light provides adequate heat for plants to grow, specifically in the seedling stage.
However, the heat may be too much for herb plants that you are propagating or those that are in the early stage of sprouting. In this case, you will have to remember to regularly adjust the height of the bulb from the plants. You don't want to burn the tender foliage.
Ideal for use in recessed cans and track light fixtures, the average lifespan is 2,000 hours but there were some reviews on Amazon, it does not last until then. The number of hours used per day affects the average lifespan.
Overall, this may be the most economical grow light and easy to use, but the cost of replacement will add up. It is good for winter use but NOT if you need it year round where your window sills do not receive sufficient sunlight.


Opt for a Better Choice – T5 Fluorescent Grow Light ≈ $30
Fluorescent grow light is an affordable option for beginners though not the cheapest. It is better than incandescent grow bulbs which tend to overheat.
Most high output (HO) T5 grow lights offer a rated hour life of 20,000 hours which you will save on replacement cost compared to 2,000 hours of the grow bulbs.
Let's look at
→ Sun Blaze T5 Fluorescent – 2ft Fixture with 1 Lamp




Product Specifications:
Energy used: 24-Watts
Brightness: 2,000-lumens
High Output (HO) blast for long life
Daisy chain feature
4" jumper cord included
On/Off switch for ease of use
Lightweight and easy to install with mounting hardware included
This Sun Blaze T5 Fluorescent Grow Light is 2 feet long with 1 lamp. It is an excellent and ideal light source for growing plants, creating the perfect humidity and temperature for seedlings especially fresh cuttings. You may place it close to the plants since they don't produce much heat – most suitable for growing herbs.
The daisy chain feature allows you to add multiple lighting fixtures should you want to expand your indoor herb garden. Once you get your first indoor herbs growing, I am sure you will be motivated to grow more.
Overall, T5 fluorescent grow light is an affordable choice for small gardening or keeping a couple of potted herbs running year round indoors.
If this Sun Blaze T5 Fluorescent Grow Light 2 ft. Fixture │ 1 Lamp │ 120V does not suit your needs, check out the range of the Sun Blaze T5 HO Light solutions.
2 ft. Fixture │ 2 Lamp │ 120V
2 ft. Fixture │ 4 Lamp │ 120V
2 ft. Fixture │ 8 Lamp │ 120V
4 ft. Fixture │1 Lamp │ 120V
4 ft. Fixture │ 2 Lamp │ 120V
4 ft. Fixture │ 4 Lamp │ 120V
4 ft. Fixture │ 6 Lamp │ 120V
4 ft. Fixture │ 8 Lamp │ 120V
4 ft. Fixture │ 8 Lamp │ 240V


Now, if you have a bit more to spend, you MUST take a look at
→ Jump Start 4' T5 Grow Light System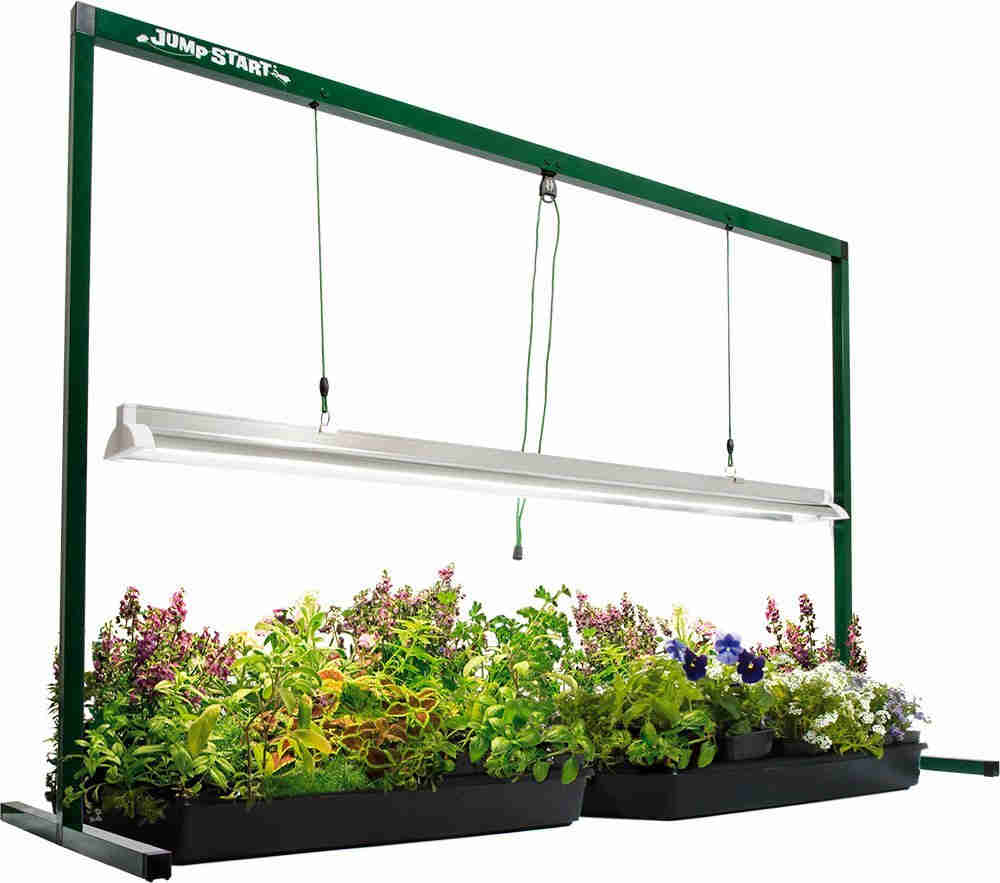 Amazon rating: 4.1 out of 5 stars; 1,696 customer reviews
This grow light system maximizes the germination rate and is great for seedlings, cuttings, veggies, flowers, herbs, greens, and more.
It features a high output T5 full daylight spectrum bulb for faster growth and the cool running design lets you position the light closer for healthier, hardier plants.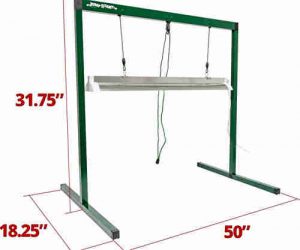 Included is the adjustable stand that allows you to move the light up as the plants grow.
For a price tag of between $60 – $70, inclusive of the fixture, tube and adjustable stand, this is a good buy. It saves you the trouble of looking at ways and where to mount your grow light.


Go for the Best – Full Spectrum LED Grow Light ≈ $80
LEDs use a lot less electricity thus their operating cost is much lower than fluorescents. Adding to its savings, the average lifespan of 50,000 hours is the longest compared to other grow lights.
Additionally, the full spectrum provides plants of all stages with everything they need in the natural sunlight.
Look at
→ Viparspectra Full Spectrum LED Grow Light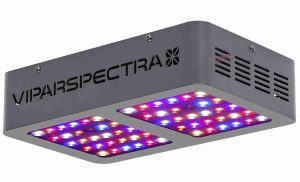 Product Specifications:
Input Voltage: AC100-240V
Frequency: 50-60Hz
Energy used: 300-Watts
Average Power Draw: 136W±3%
60pcs High-Intensity 5-Watts LEDs
LEDs Angle: 90°
Vegetative Coverage at 24″: 2x2ft
Flowering Coverage at 18″: 1.5×1.5ft
Dimensions: 12.6×7.9×3 inches
Item Weight: 5.6 lbs
Package includes:

1 x V300 LED Lighting
1 x Hanging Kit
1 x User Instructions
1 x 6ft Power Cord
This Viparspectra Reflector-Series V300 LED Grow Light was engineered to keep the balance of the PAR Output and Coverage. PAR is a measurement of the intensity and coverage of the light. This design ensures that the light will not be too concentrated in the middle of the growing area which results in stunted growth and burn the plants.
Built-in high-speed quiet fans and upgraded aluminium cooling heat sinks ensure that the LED panel does not run hot or burn your plants. With this heat dissipation system, the light stays cool and very quiet.
At any time, you can add additional light fixtures using the daisy chain feature.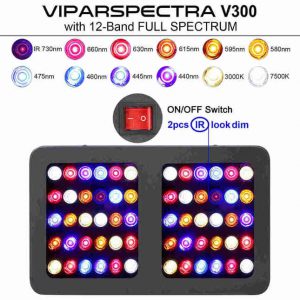 Although this grow light is rated for 300-watts output, it only consumes 136 watts of energy. In this case, more savings for you.
In the long run, LED grow lights are more energy efficient and they offer an ideal light spectrum range for herbs. By far the most expensive thus it is better to start with this simple but efficient Viparspectra Reflector-Series V300 LED Grow Light.


Go for the BEST, but
LED lights are becoming more and more common in indoor growing which its benefits were explained earlier.
But for any of you who wants to start growing your own indoor herbs or any plants, money spent on buying all the equipment will add up. Hence, it is smart to start small.
Do you still want to use a LED Grow Light? Of course, you do, but it needs to be affordable.
There are many varieties of LED Grow Lights in the market, some pretty affordable. However, they are not full spectrum.
Nevertheless, infrared (red) and ultraviolet (blue) lights are sufficient if not ideal for the growth of your herbs.
Let's take a look at
→ dual head Plant Grow Light with double switch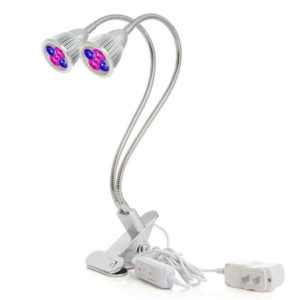 Amazon ratings: 3.9 out of 5 stars; 443 customer reviews
Product Specifications:
LED quantity: 10 pcs (6 red and 4 blue)
Power: 10W
Input voltage: AC 100-240V
Lifespan: 26,000 hours
Cable length: 57in
Suggested height: 30 ~ 30cm from plants
Mounting: Metal clip on
Clamping range: 2.75in
Height: 19in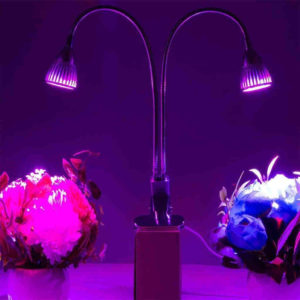 The 360° flexible gooseneck makes this Dual Head Plant Grow Light with Double Switch easy to position the light in any direction.
Simply clip on to furniture or fixture using the metal clip which is foam padded. This protects the furniture from being scratched.
The double switch is a good feature. You may choose to either on one or both the lamp head depending on the need.
Priced at approximately $21, this is by far one of the best grow lights for indoor plants in the LED category. A great product for starters.
You may need to upgrade though if you plan to expand in growing more herbs later on because by then you will need a wider light field. If so, you can always buy another of this besides upgrading to a full spectrum LED grow light. The choice is yours.


Next, spend a bit more at about $30, you are able to buy a
→ Dual Head LED Grow Lamp with Timer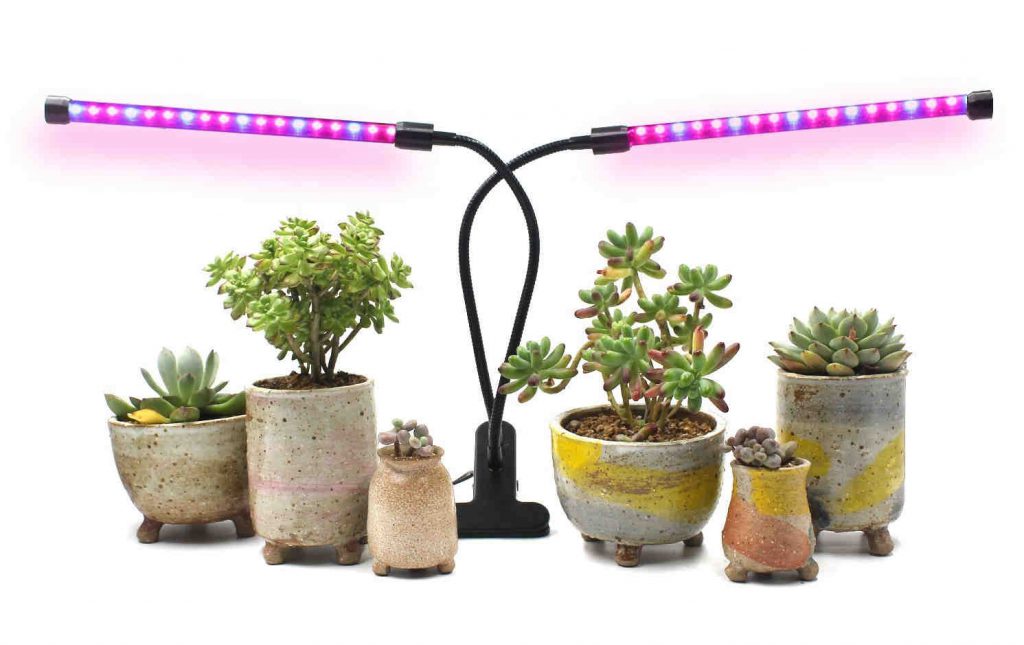 An upgraded version as of 2018
Amazon rating: 4.5 out of 5 stars; 52 customer reviews; Amazon's Choice
Product Specifications:
LED quantity: 36 pcs (24 red and 12 blue)
Input voltage: 5V
Power: Max 18W
Lumen output: 300lm
Lifespan: 50,000 hours
Material: PVC
This Dual Head LED Grow Lamp is a little bit more expensive compared to others in the same category that is dual head LED grow lights. The following features are the cause.
Timing function. The light can be programmed to on for 3, 6 or 12 hours. It will shut off automatically. However, it does no on automatically. You will have to on it manually and set the timer again. Well, at the push of a button and the fairly reasonable price, it is doable.
Level of brightness. It has 5 dimmable levels at 10%, 30%, 50%, 70% and 100% so you can adjust the brightness according to the plants' needs.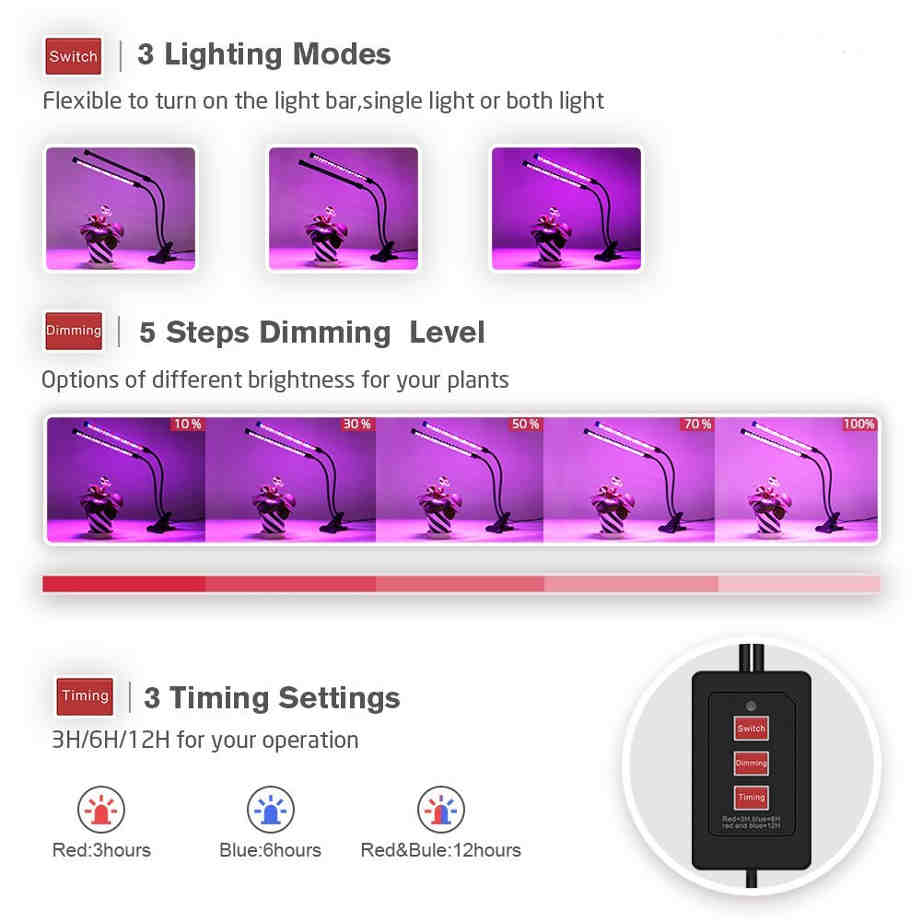 Other features of this grow light are mostly similar to other products of the same category.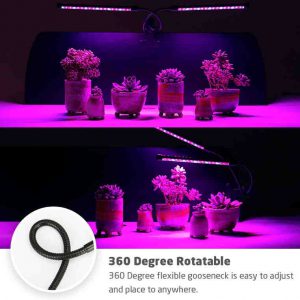 Dual switch control. Gives you the option of using a single or double lighting depending on how my plants you have or each plant needs for light.
360-degree flexible neck. Allows you to adjust the positioning at ease.
Clamp design. It offers 3 placement ways including stand, clip and hangs.
If you are using the stand method, it does not stand too well. You will need to position both the dual headlamp in such a way that they create the correct balance.
Also, the clamp is hard to open. A certain amount of strength is needed but it goes to show that it is much secured when clamped onto the shelf or any fixture.
USB connector. With this feature, you can choose to plug into a USB interface besides the wall outlet. Note that the input voltage to the USB adapter MUST be 110-120V.
Overall, this Dual Head LED Grow Lamp may be a bit pricey but the lifespan of 50,000 hours is worth the replacement cost. Furthermore, the timer is a value-add. You don't need to worry about forgetting to turn off the light. No doubt you can buy an inexpensive timer separately, the cost of it will add up to match the price of this product if not more.


All in All
The incandescent bulb is the old-style light bulb that has been around for decades. You could use it for growing indoor plants but the amount of heat generated would be quite excessive.
Additionally, it is inefficient and costs you a lot more on energy bills and replacement. In the long run, replacing the bulbs will produce a lot of waste.
This may be used during winter months as it usually burns out come spring. Also, if you are starting out your first herb plant indoor and have limited access to sunlight, this is the most economical to try out.
Fluorescent light dominated office interior lighting and was not of much use for growing plants indoors previously. However, advances in its technology have produced tubes called T5 which are more efficient and can be useful for growing plants indoors. Though, it may not produce the best result for your herb plants compared to full spectrum LED grow light.
The price of full spectrum LED is much more expensive but last a lot longer. Furthermore, being full spectrum, it provides different colours which are needed during the different cycles of the plants' growth.
The alternative for a cheaper LED grow light would be the ones that are not full spectrum.
In terms of practically, functionally and affordability, the stand-alone grow lights, Dual Head Plant Light with Double Switch and Dual Head LED Grow Lamp with Timer are by far the best grow lights for indoor plants. These are more convenient than the ones that only come with the bulbs or tubes and fixtures which you have to prepare your own bulb connecting source and mounting or installing.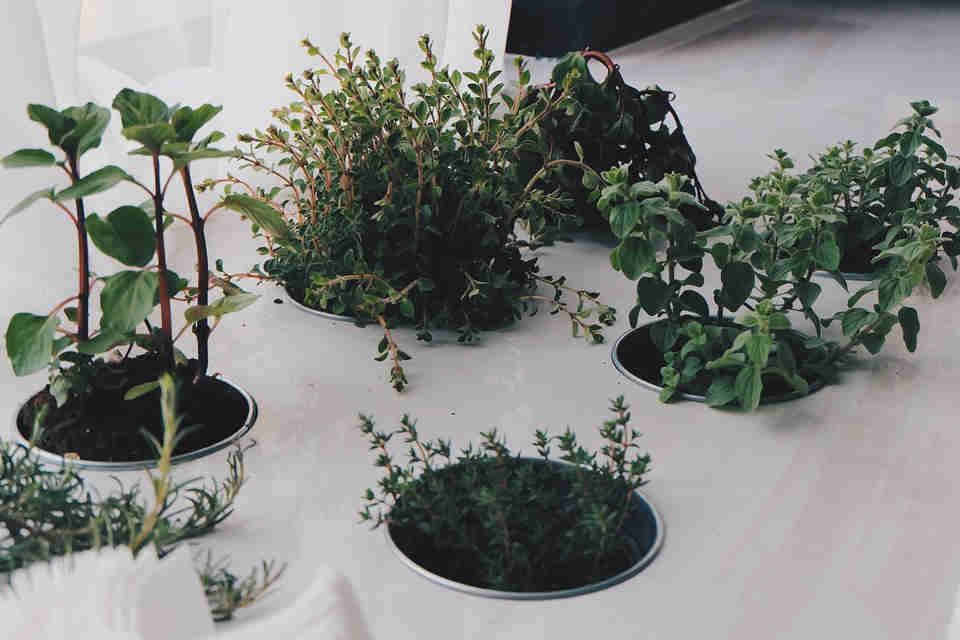 All I want is to give my indoor herbs sufficient light to grow healthily indoor year round without having to go through all the hassle of connecting cables and mounting. Is this what you wanted?
I hope this article has given you a basic understanding and idea how the different types of grow lights work while helping you to make a better decision in buying your grow light.
There is a large selection of grow lights available depending on your needs. If all the above mentioned grow lights does not suit your needs,
You may search for your grow light here.
I am leaving you with some Light Placement Tips and you may not leave without leaving your comments 🙂 Are you growing herbs indoor or intend to? What type of grow lights are you using? Please share your experience with us in the comments section below.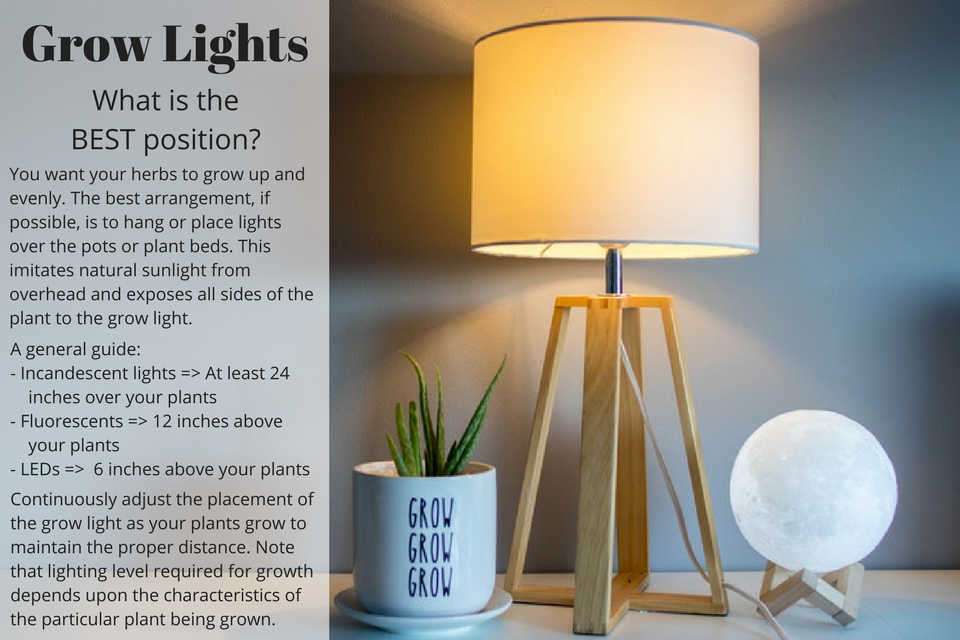 Click here to find out more about how to grow herbs indoor year round or you may be interested to find a healthy way to use common cooking herbs, click here.
Share this Article
If you find this blog post interesting and helpful, please share it with anyone that you think might find it useful. Thank you and have a good day!
From the Corner of My Home – Spice Up Your Life with Herbs and Spices.