Updated FEBRUARY 22, 2019
You want to grow herbs indoors but do not know how. You want to have herbs at your fingertips when cooking your favourite meal but do not want the hassle of looking for the materials and buying them separately to grow your own. You want to give someone a unique gift but do not know what to get her or him. The solution to these is to get an all-in-one herb garden starter kit. Read on to find out the various indoor herb garden for beginners. If you have a problem with mould, the solution is towards the end of this article.
As a first timer, I am pretty sure you do not want to spend on something expensive. It is wise to start with a small and affordable set. As you gain more experience and knowledge in growing your own herbs indoor, scale up from there.
What to look out for in a Herb Garden Kit
A basic kit contains
Soil
Pot
Seeds
A slightly more expensive kit includes
Markers for labelling the plants
Peat pot for germinating the seeds
Some companies may even provide organic and/or heirloom herb seeds or biodegradable growing pots
Initially, I was a little bit confused by the term herb kit and starter kit. Helping you to understand, a starter kit is used to start the growing process from sowing till the seedling stage. After which, you will need to transplant them into bigger pots.
So, when selecting your herb garden kit, look at the
Type of pots. While some companies may give a decent size, others may only provide the little peat pots for growing the seedlings. But it is good to know that these peat pots can eventually be placed directly into the potting soil during transplant.
Potting Soil. Most kit comes with fibre or coir soil, in compressed form. However, don't be surprised if none is included because I spotted a couple during my search. Remember to look out for this when you are searching for yours.
The fibres provide abundant oxygen which reduces root rot from over watering, the number one reason for plant failure.
Seeds. Each kit comes with a different variety of herbs seeds. Choose the one with your favourite herbs included. So then you will get to use your herbs as soon as they are ready to be harvested.
A good indoor herb garden kit includes everything you need to grow your herbs from sowing to harvesting. Though, not all kits available in the market fulfil this requirement to a tee.
I have looked around and managed to find several that closely match this condition. Sharing my findings here hoping that it will help you make a better decision in buying yours.
Here goes…
Indoor Herb Garden for Beginners
EasyStart Kitchen Garden Herbs – Organic Herb Kit
by Hood River Home & Garden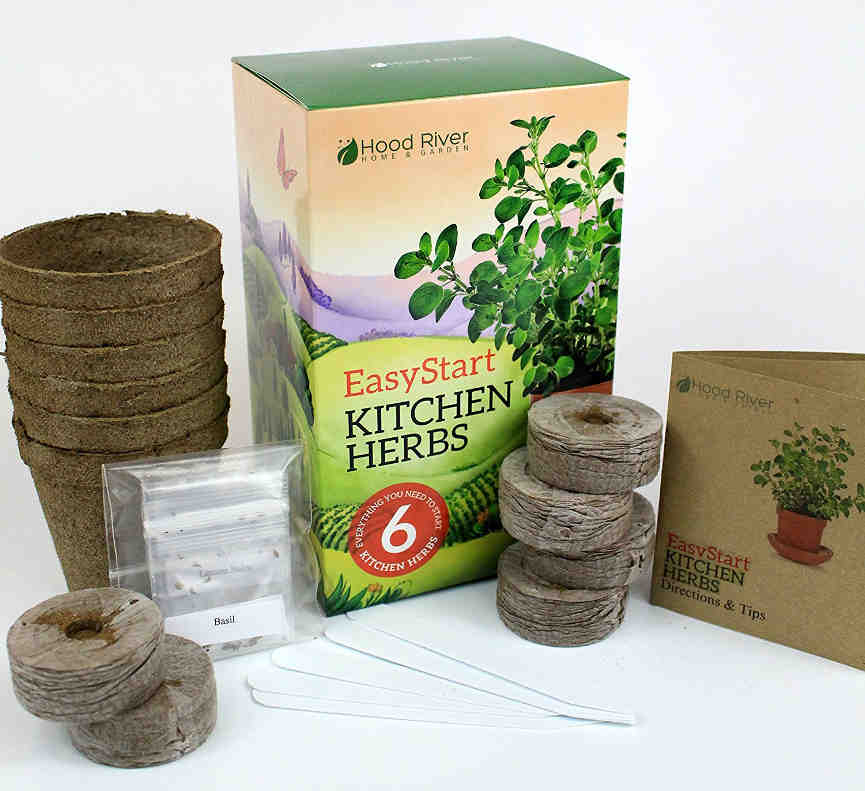 Price: ≈ $20
Kit includes:
6 Biodegradable peat pots
6 Peat soil discs which will expand when watered
6 Plant markers
6 Types of organic herb seeds
Basil
Sage
Parsley
Cilantro
Oregano
Lemon Balm
Directions and Tips Booklet
This being the most affordable set includes everything you need to start growing your indoor herbs.
Since this kit comes with peat pots, you will have to transplant the seedlings to a bigger pot when the time comes. However, they are biodegradable so you need not take the seedlings out. Simply place the peat pot directly into the larger container.
In the instruction manual, it was stated that the seeds need to be soaked overnight. To make it easier, just fill the seed bags with water overnight to soak the seeds and pour them directly into the peat pot.
The pots are approximately 3 inches in diameter, adequate for many seeds to sprout. Additionally, they don't take up much space when germinating. Not many of us have a nice, big window sill, especially those living in an apartment.
Not only affordable, but this is also a simple and straightforward herb starter kit that any beginners can start their herb planting as soon as they received theirs.


~ ~ ~ ~ ~ ~ ~ ~ ~ ~ ~ ~ ~ ~ ~ ~ ~ ~ ~ ~ ~ ~ ~ ~ ~ ~ ~ ~ ~ ~ ~ ~ ~
Herb Garden Starter Kit – Sow & Grow
by Nature's Blossom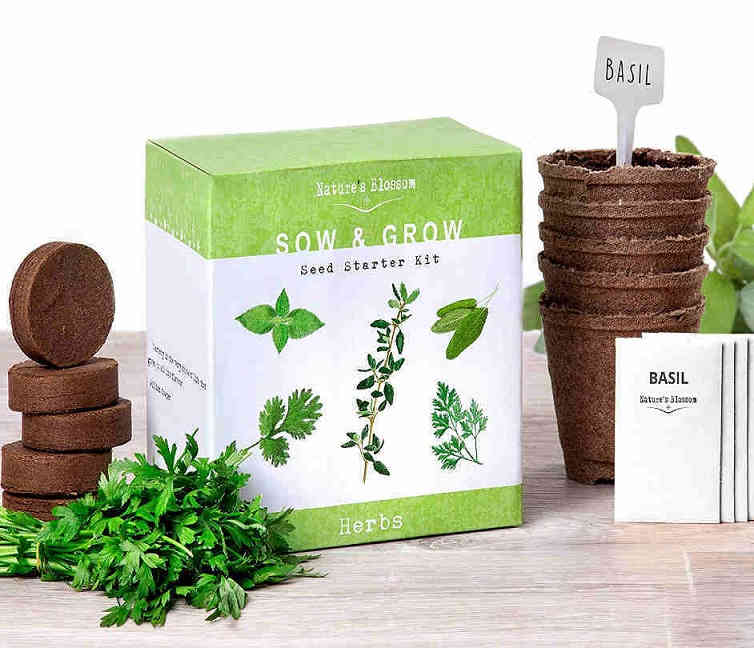 Price: ≈ $25 #1 Best Seller
Kit includes:
5 Biodegradable growing pots
5 Compressed soil discs, made with a unique mixture of coir and will expand 7 times its original size when soaked
5 Plant markers
5 Organic herb seed packets 
Basil
Sage
Thyme
Parsley
Cilantro
Step-by-step instructions
This is another affordable, simple and straightforward herb starter kit with everything you need to begin with, all in one box.
The diameter of the pot is slightly bigger than the EasyStart Kitchen Garden Herbs Kit, at 3.9 inches. Still good for the window sill.
This kit has the best-growing success rate in the country. The seeds are 100% organic and Non-GMO, open-pollinated and naturally grown in the USA.
Being the #1 Best Seller on Amazon, this is worth taking a closer look.


~ ~ ~ ~ ~ ~ ~ ~ ~ ~ ~ ~ ~ ~ ~ ~ ~ ~ ~ ~ ~ ~ ~ ~ ~ ~ ~ ~ ~ ~ ~ ~ ~
Windowsill Indoor Herb Garden Kit
by Sustainable Seed Company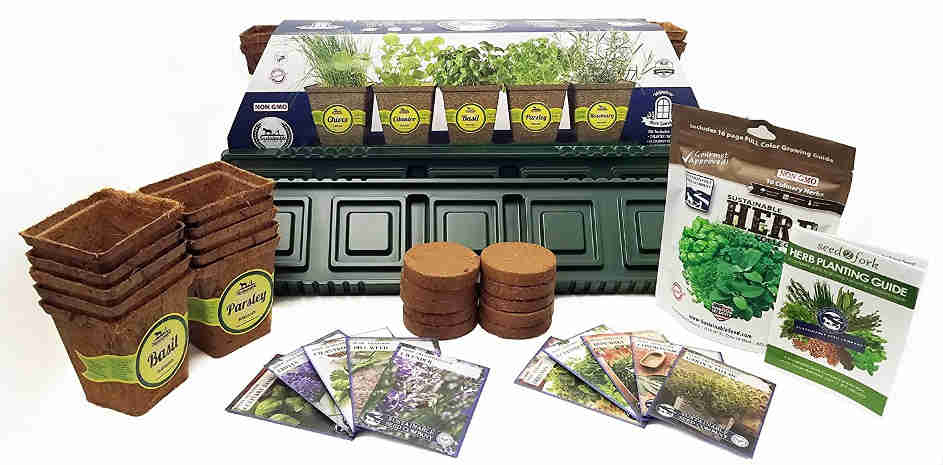 Price: ≈ $40 #1 New Release
Kit includes:
10 Coconut coir pots, pre-labelled
10 Coconut coir soil discs
10 Variety Non-GMO heirloom herb seed collection
Dill
Basil
Sage
Chives
Thyme
Parsley
Cilantro
Oregano
Lavender
Rosemary
2 Pre-moulded raised trays – 20 ½ " length x 4 ½ " width
A full colour 28-page growing guide
This is one herb starter kit that should not be missed out from this review. It is Amazon's #1 New Release.
Instead of including plant markers, this kit comes with pre-labelled pots. Saving you the trouble to mark the plants. Simply match the pots with the seeds. There are instances where I forgot which seed I planted in the pot when dealing with a variety of them. Does it happen to you?
A definite advantage of this kit is the inclusion of the pre-moulded raised trays for optimal drainage. Furthermore, they hold the pots neatly in place, creating a lovely sight on your window sill. To note – the pots are not round but square at 3 inches wide.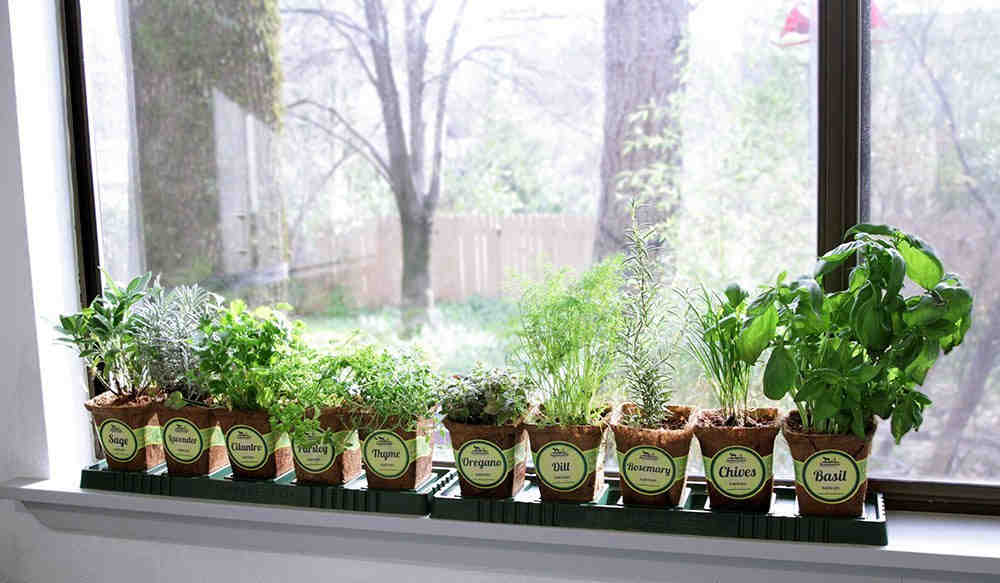 With a price tag at about $40, this kit may be a bit pricey. But having 10 variety of Non-GMO heirloom herb seeds plus the 2 units of the tray, this is a pretty good buy. Not forgetting the full-colour 28-page herb planting guidebook filled with illustrations, harvest and seed saving advice, recipes, FAQ and tips.


~ ~ ~ ~ ~ ~ ~ ~ ~ ~ ~ ~ ~ ~ ~ ~ ~ ~ ~ ~ ~ ~ ~ ~ ~ ~ ~ ~ ~ ~ ~ ~ ~
Rustic Charm Herb Trio Kit
by Window Garden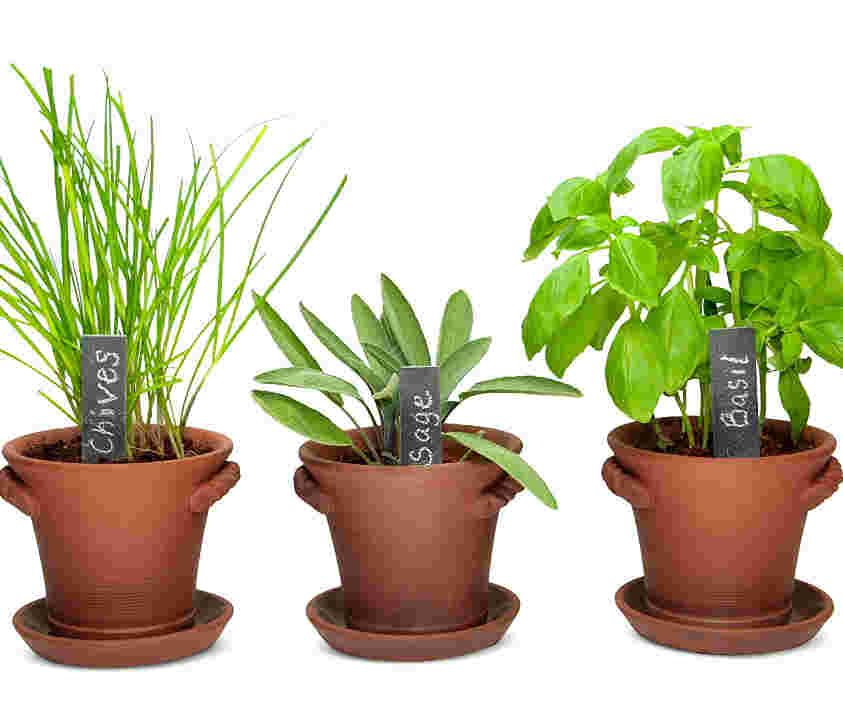 Price: ≈ $35
Kit includes:
3 Rustic Charm planters
3 Cups of fibre soil (compressed)
3 Germination bags
3 Slate markers
1 Soapstone pencil
3 Seed Packets
Basil
Sage
Chive
This is one true indoor herb garden kit that allows you to sow and grow your herbs without transplanting to a bigger container. The rustic charm planters for this kit is surely a win over. They are of great value and just the right size for your windowsill at 4 inches height x 4.25 inches width. You may reuse the planters to grow more herbs after the initial are overgrown. Or use them to grow other plants.
Different from other herb kits, this provides the germination bags. The purpose of the bag is to create and maintain an ideal germination environment. Seeds need moisture and warm temperature to grow. Just remember to remove the bag once they start growing. You don't want to suffocate a growing plant, do you?
The slate markers provided in this kit is another advantage. You can write the names of the herbs you are planting and in time to come, easily erase it to use for another herb. It pairs beautifully with the Rustic Charm Pots.
With only three variety of seeds in this kit, there is a big chance that they may not be the herbs of your liking. However, you can buy the herb seeds separately.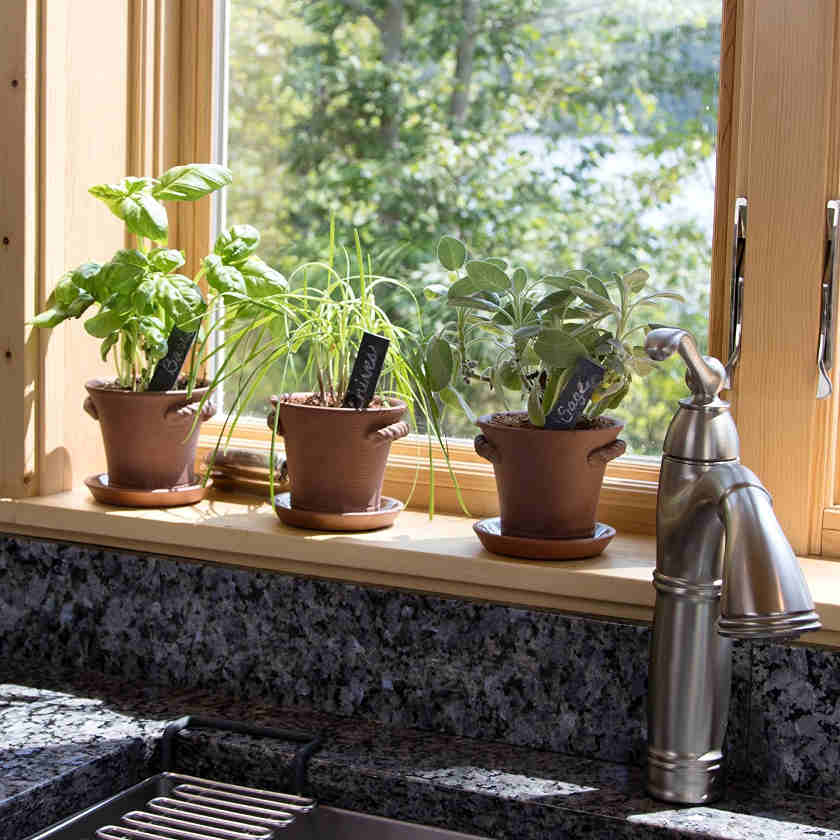 This may be on the pricey side. But imagine looking at these beautiful Rustic Charm Pots with herbs growing healthily on your window sill. Did it charm you into buying? No matter what your decision is, you must check this out.


~ ~ ~ ~ ~ ~ ~ ~ ~ ~ ~ ~ ~ ~ ~ ~ ~ ~ ~ ~ ~ ~ ~ ~ ~ ~ ~ ~ ~ ~ ~ ~ ~
Complete Herb Garden Kit – Herb Garden Planter
by Planter Pro's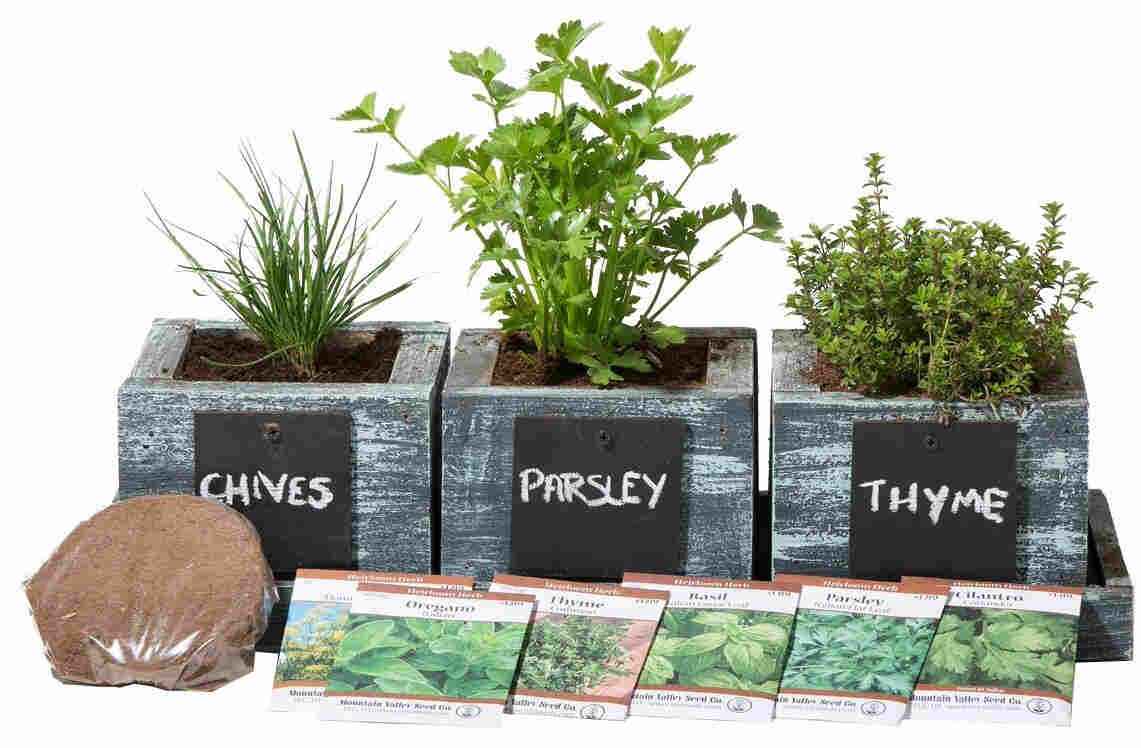 Price: ≈ $55
Kit includes:
3 Mini cedar wood planters, with a blackboard on one side
1 Matching cedar wood drip tray
4 Nutrient-rich compressed soil
1 Seed storage bag
6 Certified heirloom herb seed packets
Basil
Chive
Thyme
Parsley
Cilantro
Oregano
1 Chalk for writing herb names
Detailed instructions
Unlike the Rustic Charm Herb Trio Kit by Window Garden, this herb garden kit comes with 6 variety of herb seeds. More options for you. Meaning there are chances that you will be getting your favourite herbs. However, you will have to choose which to grow because there are only 3 planters. You may consider growing the other 3 herb seeds at another time as they can be kept for up to 3 years.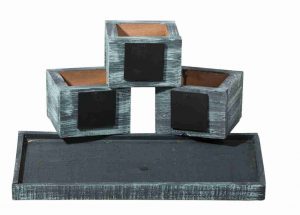 The planters are handmade in the USA from naturally rot resistant and insect resistant ¾" thick cedar wood, measuring 5" x 5" x 5". Comes with a matching drip tray measuring 17" length x 6" width. Although the drip tray's purpose is to catch water from the planters, there were several incidents listed that it isn't waterproof. Therefore, take precaution not to over water your plants. Alternatively, bring them to the sink for watering and once they are drained through, put them back. It takes about a minute each.
This herb garden kit is pricey but consider the handmade cedar wood planters in a tray exquisitely displayed on your windowsill, with your favourite herbs to use at your fingertips. If you choose to buy this, you will notice the beautiful smell of the wood when you open the box. Go on,


Next, let's grow outside the pot
Mason Jar 'Grow Your Own Herbs' Set
by Modern Gourmet Foods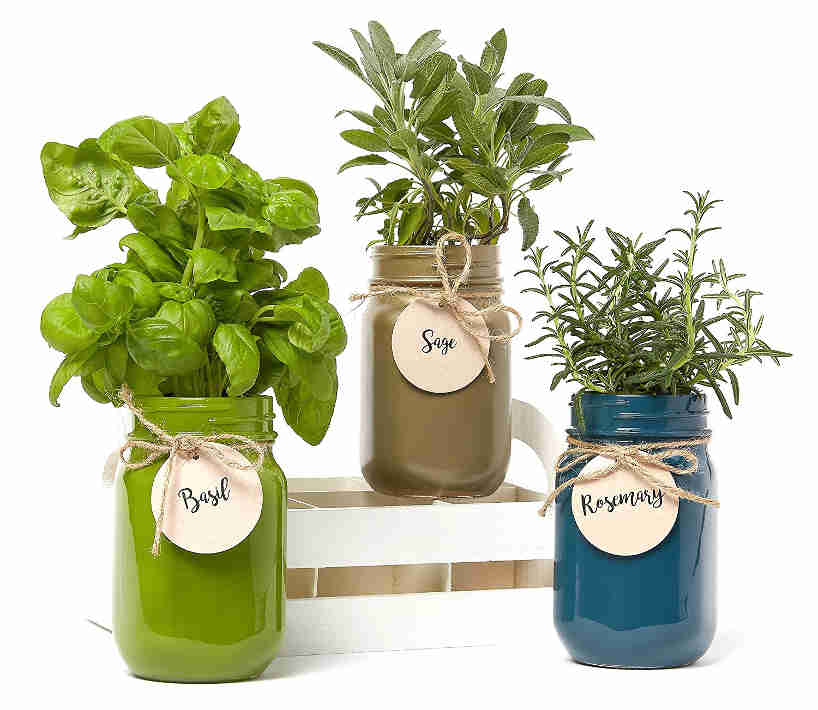 Price: ≈ $30
Kit includes:
3 Mason jars
6 Soil pods – 2 for each jar
3 Herb seed packets
Basil
Sage
Rosemary
Pre-printed labels tied to the jars
Instructions
Growing herbs indoor need not necessarily be in a pot. These cute mason jars do the job as well.
The only thing you have to provide is water. Make sure not to over water though. Damp soil is best but doesn't leave a pool of water on the top of the jar/soil. For optimal growth, you have to place the planted jar in a bright area but avoid the direct sun. If none, a grow light will help.
Click here to check out my grow lights review – from the most economical unit to the costlier version.
The 3 herb seeds provided may not be your favourite, however, you can easily buy yours on Amazon.
When your herbs start to grow and doing well, don't be surprised if they outgrow the jar. Then, you will have to transplant them into a bigger pot. Hence, you get to reuse the mason jar to start the growing cycle again. An opportunity to try other herbs.
Won't you agree that this is a perfect little herb kit to start growing your own herbs indoors? Don't wait,


These are the 6 various indoor herb garden kits that you may consider using to kick-start your intention of growing herbs indoors.
Problem with moUld
The most common problem when starting herb seeds indoor is mould.
From all the customer reviews I have read, the mould is the most common problem faced by users of all the indoor herb garden kits. In fact, I experienced the same too while growing mine. Either growing from seeds or propagation.
Here is what you need to know.
Super common that is can happen to everyone.
It is easy to fix
It is not the cause of seedlings dying.
What you need to do.
Remove white mould on top using a small spoon or knife. Gently scrape off the mould from the top of the soil.
Do not over water your seedlings. You need to keep the soil evenly moist but must allow it to dry out slightly on top between watering. Be mindful not to let the soil dry out completely.
Provide better air circulation around your plant. Do not crowd the pots too closely together. You may consider placing a small fan set at the lowest speed near your seedlings. In this case, the soil will dry out faster and you will need to keep a close eye on the moisture level.
Also, you need to thin out the seedlings to provide better airflow. Do not pull the seedlings out of the soil as this will damage the delicate roots of the other seedlings. Use small scissors to cut off at the base.
By thinning out the seedlings, you will be giving the others plenty of room to grow!
There you have it. Hope this piece of information will help you when the time comes if it occurs.
Do you want to know what I did with mine before this? I threw away the whole pot! Thinking it might spread to the others. Now, I know better. So do you.
What are you waiting for? Let's get growing! Oh yes, firstly, you need to buy your Indoor Herb Garden Kit. Beginner or not, it will be a good family project to work on. Or as a gift.
A book – The Cook's Herb Garden
I found this notable book on Amazon and must share it with you.
This book shows you how to grow your own herbs on a window sill, in pots, on the patio or in a vegetable garden. It contains step-by-step photographs on how to plant, nurture, harvest and store your herbs.
Additionally, it includes more than 30 recipes and flavour charts that list the best herbs to pair with popular ingredients.
Not only an excellent book of knowledge for growing herbs but also a great companion for a cook. You will be amazed by the 150 different culinary herbs and their varieties listed in this book.


Ways to use your herbs
Once you have your herbs, there are many ways to use them.
Besides using fresh herbs to cook your regular dish, you can add fresh chopped herbs to:
Pasta
Soups
Sauces
Dressings
Marinades
Couscous
Green salad
Scrambled eggs and omelettes or
Simply use them as garnishing
You may even use herbs to relieve stress and anxiety, lose weight and reduce stomach bloating and gassiness.
Also, consider to make yourself a smoothie with fresh herbs! Click here to find out how to make a healthy smoothie without a recipe or try juicing with herbs.
Alternatively, click here to learn how to make herb infused oil.
All in All
Now that you know there are various kits on indoor garden herbs for beginners to start off with, do not let the "don't know how" or "too troublesome to buy all the supplies" stop you from growing your own herbs indoors. The starter kit is an innovative solution that gives you the solution to start growing them.
Furthermore, this is an impressive and unique gift for someone special. Don't you think so?
In addition, you won't need to buy herbs by the bunch at the supermarket, only to throw some away when they dried out. No more wastages.
Once you get to experience the whole growing process and decide which herbs you like, you may then proceed to buy the supplies separately to grow your herbs indoors. Click here to find out how to grow herbs indoor year round.
Before I leave you to check out the herb garden kits, please share your experience in growing or using herbs in the comment section below. Also, do you see yourself using this kit and how do you feel about giving this as a gift?
In One Glance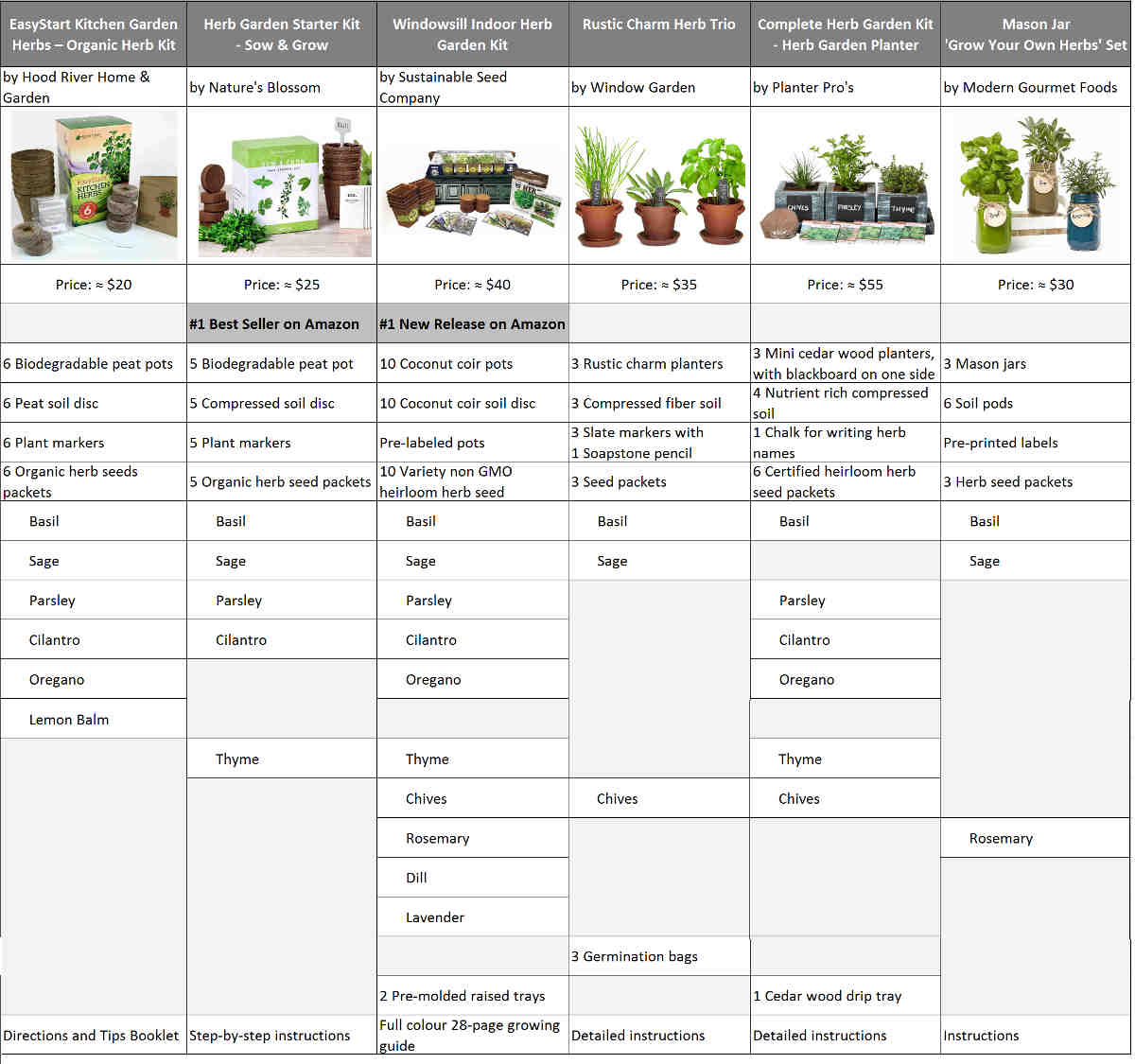 Share This Article
If you find this blog post interesting, please share it with anyone that you think might find it useful. Thank you and have a good day!
From the Corner of My Home – Spice Up Your Life with Herbs and Spices.