A couple of years back, I received a jar of herb-infused oil as a gift. It was something different in Asian culture to receive such gift. But it did leave an impression on me.
Infused oil made with fresh herbs have a purer flavour Since now I am spending a lot more time in the kitchen, with a little bit of time to spare, why not learn how to make it.
Well, I am constantly on the lookout – to study herbs and spices and their uses. So, let's add this to my journal and share with everyone who is interested to know.
How to Make Herb Infused Oil
There are few things to take into consideration when making herb oil.
Choose your herbs
Fresh or dried herbs can be used to make infused oil.
Using good quality dried herbs produce a stronger flavoured oil. They also have a longer shelf life that can be kept up to one month.
Infused oil made with fresh herbs have a purer flavour and give the oil a lively colour. It is important that the fresh herbs are washed and dried thoroughly before the infusing process. Traces of water or moisture will cause bacteria to grow, contributing to the spoilage. It is best (on the safe side) to consume the fresh herb infused oil within a week.
With some knowledge on the herbs health benefits, it helps which to choose.
Basil – ability to increase blood circulation which helps to stimulate hair growth. Its antiseptic and anti-inflammatory properties make a great face cleansing agent.
For culinary use, basil infused oil is delicious on salad or drizzle over crusty bread. Also, use it as marinade, condiments or substitute for herbs when cooking.
Peppermint – great for massaging into occasional sore muscles. Also, for easing headaches and prevent dental problems.
Peppermint infused olive oil can be whisked into vinaigrette or drizzled on steamed vegetables.
Rosemary – like basil, it boosts blood circulation and stimulates hair growth. Its anti-inflammatory properties help treat headaches, relieve pain and occasional sore muscles.
Rosemary infused oil adds amazing flavour to dishes. Drizzle over pasta, use as a dipping sauce, in marinades and salad dressings.
Thyme – promote skin health. It works as a home remedy for acne, heal sore and wounds. With its antioxidant properties, it is the perfect eczema treatment.
For culinary purposes, drizzle thyme infused oil over roasted vegetables, grilled meats or seafood.
Other herbs to try are cilantro, oregano, parsley, dill and tarragon.
How about infusing oil with spices
Whole or ground spices can be used. If using ground, it is better to buy spices whole and grind at home for the most pungent flavour.
Spices to try are cardamom, cloves, coriander, cumin, dried red pepper flakes and star anise.
Choose your oil
There isn't a need to use expensive oil because the purpose of infusing oil with herbs is to add flavour to it. Using a stronger or more pungent oil will affect, overpower the delicate flavour of the final product.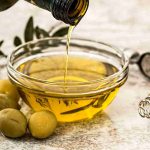 Olive oil is the natural choice because it is readily available in our kitchen. Apart from being a good cooking aid, it is loaded with health benefits. It contains a large number of antioxidants and has strong anti-inflammatory properties.
Depending on what we use the infused oil for, there are many choices to choose from.
Almond oil – good for dry, mature and sensitive skin.
Coconut oil – has strong disinfectant and antimicrobial properties.
Grape seed oil – easily absorbed and gentle on skin.
Palm oil – useful in shampoos, soaps and lotions as it benefits hair and skin.
Sesame oil – has warming and medicinal properties, often used as a moisturiser.
Choose your bottle 
Find a bottle with tight cover. Canning jars are good, so are bottles with a rubber stopper. As a gift, choose an elegant one.
Wash and dry the bottles thoroughly.
Choose your method
There are 4 methods of preparation. Regardless of which, the important things to remember are
When using fresh herbs, make sure that they are washed and dried thoroughly to prevent spoilage.
Bruise herbs or grind spices to expose oils and flavours.
Cover herbs completely with oil. Exposed herbs, if using fresh, will become mouldy. If using dried herbs, it is a waste not submerging it completely. Use a chopstick or something similar to push herbs under the oil.
Heat will infuse oil but should not be too hot to the point of cooking or burning them.
These are the methods:
STOVE TOP method
Heat the chosen herbs or spices and oil in a saucepan for about 5 minutes, until the mixture is lightly bubbling. Remove from the heat and allow to cool completely before straining. Bottle, label and store in cool dark place.
Oven method
Place herbs or spices and oil in an oven-safe bowl on a baking sheet and heat the mixture at the lowest temperature for about 2 hours. Remove mixture from the oven and leave to cool completely before straining. Bottle, label and store in cool dark place.
Double boiler method
Place herbs or spices and oil in a double boiler and bring to a slow simmer. Slowly warm the mixture at the lowest temperature for a minimum of 1 hour or as long as 4 hours. Remove from the heat and allow to cool completely before straining. Bottle, label and store in cool dark place.
The above methods are called warm infusions. The following is
Cold infusion method
Fill the jar with herbs or spices and oil of your choice. Attach the lid firmly. Store it in a consistently warm place but not hot for 4 – 6 weeks. Check regularly for rancidity and mould. Strain, label and store in cool dark place.
How to Use Herb Infused Oil
There are many uses for infused oil.  Used in cooking, it is a flavoursome addition to many types of dishes. Simply drizzle over pasta or vegetables. It is also a delicious and healthy addition to salad dressings and marinades.
Other common ways to use are to make herbal remedies such as homemade salves, ointments, lotions or creams. They also make wonderful soap making oil, bath and massage oil or a simple moisturiser.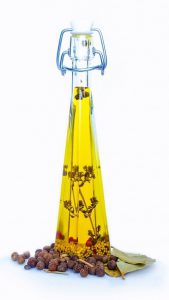 Herb infused oil in an elegant bottle makes a gorgeous gift. This is why I have chosen to write this article in the first place.
Summary
When choosing ingredients for infused oil, figure out how you intend to use it. I hope that the information above will help you to come up with the best selection.
Remember, when using fresh herbs, make sure they are washed and dried thoroughly. You do not want mould to spoil your herb infused oil prepared with love. This is to be consumed within a week.
If using dried herbs or spices, these can be kept for up to one month.
I suggest making small batches so that they can be used quickly before going rancid. If the infused oil has turned cloudy or the smell is off, discard immediately.
Also, label your mixture with the ingredients used, quantity and method so that you are able to save the recipe (if you like it, for future use) or adjust to perfection the next time. More important is the date to keep track of the shelf life.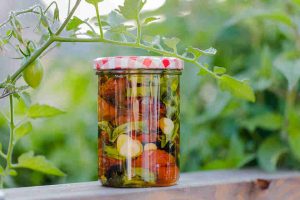 Go ahead and try combining various herbs and spices to find your favourite flavoured oil. Should you need any guidance on the combinations, there is countless herb infused oil recipes over the web.
Now, time for Happy Infusing!
Should you need to buy any ingredients or supplies,
I love to know your homemade infused oil project. Share your experience with us at the comment section below.
Share the article
If you find this blog post interesting, please share it with anyone that you think might find it useful. Thank you and have a good day!