UPDATED MARCH 21, 2019
As our cooking knowledge and skill grow, we will be experimenting more with herbs and spices. Guess where this leads us to? Kitchen drawer or cabinet full of bottles and packets of herbs, spices and seasoning blends. There are chances that some of these will be on the kitchen counter too. No one wants a messy counter. Nor a cluttered drawer or cabinet.  The best cooking moments should NOT be spent searching through your cabinets. Therefore, an organized corner with a functional spice rack organizer will help. Read on and check out the Best Spice Rack Organizer 2019 I have collated for you.
Before looking into the products, find out what are the benefits of using a spice rack and things to consider when buying one.
Benefits of Using a Spice Rack Organizer
Obviously, it is to keep cabinets, drawers or kitchen counter organized. Pleasing to the eye.
Hold bottles upright and in place. In this case, it allows you to
Find and grab what you need quickly. Wouldn't want to burn your garlic while searching for the spices, do you? Well, it happened to me – searching for the chilli flakes, burnt garlic.
Customize spice arrangement to your needs. Herbs and spices that are commonly used can be arranged on a rack nearer to the cooking counter. While those less common can be organized in the cabinet. Or arranging all in one rack but those needed more often in the front row. All to your preference.
Maximize the space you have got. Herbs and spices neatly arranged in a 3-tier rack hooked onto the wall will give you all the counter space.
A decorative piece on your kitchen counter. While some spice racks are meant to be placed into the cabinets, others are in fact eye-catching to be displayed on the counter.
Things to Consider When Buying a Spice Rack Organizer
Location and space. Decide where you want to place the rack – in the cabinet, drawer or kitchen counter. Measure the space availability and compare with the product specification as I am sure you do not want to go through the hassle of returning it.
Adjustability. Some spice racks are adjustable and it will help to maximize your space availability.
Capacity. How many herb and spice bottles do you have? Are you planning to display them all or only those that you use regularly? You may consider buying 2 units that accommodate a different number of bottles. One in the cabinet and another on the countertop.
Assembly. Some racks need to be assembled and special tools might be required. Also, consider if you are able to do it yourself as some mounting methods can be cumbersome.
Jars inclusive. Check the jar sizes. Some may not fit the whole jar of store-bought spices. You may end up throwing away the extras or having more bottles cluttered in your cabinets.
Spices inclusive. Herbs and spices included may not be the ones you use. Additionally, they are not necessarily the freshest.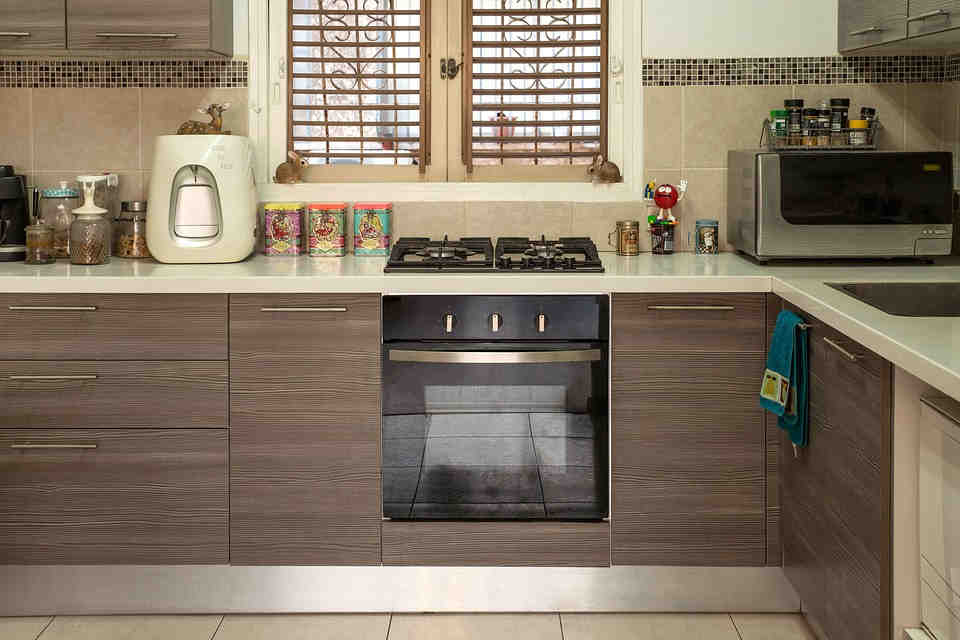 The price range for a spice rack organizer typically varies from $10 – $50. However, some pretty units that doubled as decorative pieces may cost more than $50, even $100 and more.
So, let's get started with the products list – sorted into 4 price range.
Below $15
Between $15 – $20
Between $20 – $25
Between $25 – $50
Here you go…
Best Spice Rack Organizer 2019
Below $15
→ DecoBros 2 Pack Wall Mount Single Tier Mesh Spice Rack
Amazon Rating: 4.9 out of 5 stars; 1,643 customer reviews
Product Descriptions
Multi-purpose rack for spice bottles, jelly jars or canned food
Mounts on the wall. All mounting hardware (screws/wall anchors) are included
Dimension: 15.8" L x 3.5" H x 3.5" D
3.5" depth holds up to 3.1" diameter bottle/jar
2-pack in the package
Pros
The rack comes in two separate units. This allows you to adjust the heights between them according to your need.
You may even creatively install them in zig-zag position.
Cons
The strength of the mesh can be better. The bottom may be uneven and some may droop at the centre. This will cause your spice bottles to slide to the centre. However, if the shelf is fully filled, it will deter the bottles from sitting on a slant.
This is a simple spice rack but serves its purpose for less than $15. You get to decide where and how to position it.


Also, check out the Paper Towel Holder. A matching design that goes beautifully together with this Single Tier Mesh Spice Rack.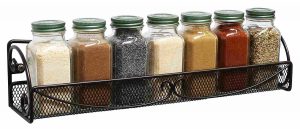 ---
→ Copco 2-Tier Pantry Cabinet Lazy Susan Turntable
Amazon Rating: 4.5 out of 5 stars; 1,113 customer reviews.
Product Descriptions
Revolving storage
Size: 2-Tier, diameter: 12-inch
Rimmed edge: 3/8"
Non-skid surface on turntables moulded into the platforms for durability and easy to clean
Measurements: 12L x 12W x 7.5H inches when assembled
Pros
The lazy Susan glides easily to find the spice you need. No more shifting bottles and jars in front to get the ones you need behind.
The 3/8" rim prevents items from falling off as you turn the turntable.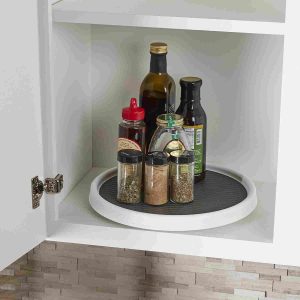 Cons
This 2-Tier turntable can only be used as a single unit. It cannot be used separately because only one tier has the rotating base.
You have the option to buy a Single Tier Lazy Susan Turntable.
This is a functional unit that needs NO mounting. Having your spices and seasoning blends arranged neatly onto this turntable is definitely a better scene of your kitchen counter, should you decide to put it there. Else, it is also good to put it in your cabinet.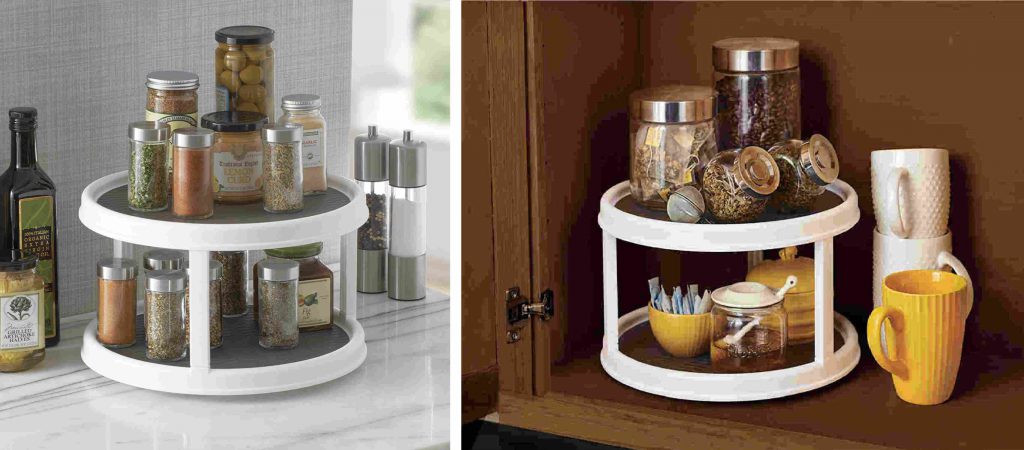 ---
→ YouCopia SpiceLiner Spice Rack Drawer Organizer
Amazon Rating: 4.8 out of 5 stars; 1,080 customer reviews.
Product Descriptions
Store and organize 24 full-size round or square spice bottles in a drawer
Includes 6 soft foam liners measuring 2.5"W x 18"L each (15.0"W x 18"L total)
The 18" length fits standard kitchen drawers
No installation required
Pros
Soft foam keeps bottles securely in place. This prevents the bottles from moving when you open or close the drawer.
Bottles can be placed with labels facing up so that you can quickly find and get your needed spice easily.
No installation or permanent mounting required. Therefore, you need not worry about damaging your cabinets should the installation goes the wrong way.
The liner can be easily removed for cleaning.
Whatever size drawer you are working with, the liners can be trimmed to fit. Everyday scissors will easily cut through the foam liner to the exact size of your designated spice drawer.
Cons
If you do not have many spice bottles, you may end up losing space. However, consider filling up the empty spot with canned or jar food. Knives too.
This YouCopia SpiceLiner Spice Rack Drawer Organizer is an easy, affordable storage solution that allows you to build a customized spice drawer.


---
Between $15 – $20
→ DecoBros 3-Tier Expandable Cabinet Spice Rack Step Shelf Organizer
Amazon Rating: 4.7 out of 5 stars; 1,336 customer reviews.
Product Descriptions
1 Large + 1 medium shelf – either to use as one expandable unit or use both separately
Expandable width from 12.5" to 25"
3 Levels of storage space
Dimension: 5 to 25"W x 9.75"D x 4.5"H; 3" depth per shelf
Pros
Spice bottles can be arranged neatly on the step shelf in the cabinet. The elevated steps allow you to easily see all your spices.
A deep cabinet has an advantage. You may arrange one unit behind another. Elevate the back unit using a wooden box or similar and you will have 6 steps of neatly arranged herb and spice bottles.
Cons
Not meant for small cabinets (low in height). If you have larger/higher spice bottles, they do not fit on the top shelf. And, having these arranged on the front row will block what is behind. It defeats the purpose of having this expandable cabinet spice rack.
However, if there is some extra space, the higher bottles can be arranged as is by the side with the smaller ones on the shelf.
While this is good for organizing herbs and spices in your cabinet, it is also suitable for the countertop. No more scattered bottles, jars and miscellaneous. Neat and tidy it is.


---
→ InterDesign Linus Spice Storage Rack – 3-Tiered Corner Organizer
Amazon Rating: 4.5 stars; 64 customer reviews.
Product Descriptions
Ideal for empty corners of deep cabinets and countertops
3-Tiered rack – easily find and access spice bottles
Ribbed base and raised rack edges prevent spice bottles from sliding
Measurement: 14″ x 10″ x 4″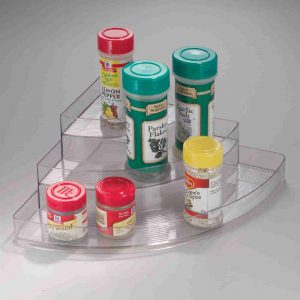 Pros
Ease of cleaning. The rack is easily taken out from the cabinet for cleaning since it is not mounted or glued on.
Ease of viewing. It can be difficult to see all the way into the deep corner. Having the spices bottles raised in the end corner, you will be able to see them easily.
Cons
Difficult to read the label of bottles in the middle or upper row. Each level is 1.5" higher thus you may not be able to see those in the second and third row.
If you have various sizes of spice bottles, try arranging the smaller one in front and taller ones at the back. This will increase visibility.
Easily maximize the corner space with this 3-tier corner organizer and you need not worry about mounting or assembling the unit. Serves its purpose well. You may now effortlessly find your tidily arranged spices at the corner.


---
→ DecoBros 3 Tier Wall Mounted Spice Rack
Amazon Rating: 4.8 out of 5 stars; 2,029 customer reviews.
Product Descriptions
Multi-purpose rack for spice bottles, jelly jar or canned food
Sturdy steel wire construction
Mounts on the wall. All mounting hardware (screws/wall anchors) are included
Dimension: 11"L X 3.5"D X 17.5"H
3.5" depth holds up to 3.1" diameter bottle/jar
USPTO Patent USD753939
Spice Jars are NOT Included
Pros
Besides the kitchen area, this multi-purpose organizer is also suitable to be mounted on the inner pantry door. You may consider mounting 2 or 3 units on the door to organize miscellaneous items too, together with your herbs and spices. It helps greatly to declutter your pantry.
Cons
Can be better if it is deeper. The depth of the basket can only hold spice bottles in one row. If you have smaller bottles and wanted to maximize it, you will have to stagger the position.
The strength of the mesh can be better. The bottom may droop at the centre if the bottles are too heavy. You could arrange the bigger/heavier bottles on the side while the smaller ones in the middle.
Your choice as to where this rack is mounted. Together with the Single Tier Mesh Spice Rack and Paper Towel Holder, they surely make a perfect scene on top of their functionality.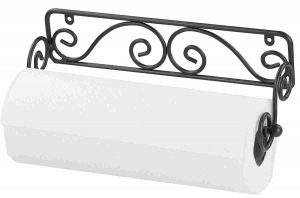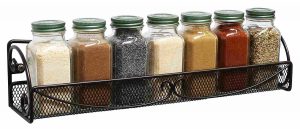 ---
Between $20 – $25
→ 12 Magnetic Spice Tins by Talented Kitchen
Amazon Rating: 4.5 out of 5 stars; 704 customer reviews; #1 Best Seller in Food Tins
Product Descriptions
Set of 12 units and 113 spice labels
Each container measures 2.5″ diameter x 2″ high
Each container holds 3 ounces
Convenient see-through lid with magnetic backing
Feature pour and shake design.
Pros
These magnetic spice tin can be attached to refrigerator doors, grills or to any flat metal surface. This is the best option to organize your herbs and spices where space is limited, freeing up your cabinets, drawers or countertop.
With the pour and shake design, you will have the option to use either depending on what you are using – seeds or powdered spice.
The see-through lid enables you to easily identify the herbs and spices. Furthermore, the label that comes with these spice tins is transparent PVC material with large black fonts for easy reading.
Cons
Some of the lids may be too tight, thus difficult to turn. You may have to spend some time to find the best match among the 12 tins.
After some time using these spice tins, you will notice that it becomes a bit difficult to turn the lid, closing or selecting the pour or shake option. This may be caused by the tiny bits of herbs or spices that got stuck between the rim and lid.
While filling up the tins with your herbs and spices, try not to fill them too full to the rim. Also, give the tin a couple of gentle knocks after each use so that the bits and pieces drop down to the tin.
By far, these handy storage jars with magnetic backing is the best option where limited space is concerned. You can make full use of the side of the refrigerator. If the refrigerator is a bit far from the cooking counter, you can install a Stainless Wall Plate Base nearby to use as the base.


---
→ DecoBros Spice Rack Stand Holder with 18 bottles
Amazon Rating: 4.7 out of 5 stars; 1,696 customer reviews; Amazon's Choice
Product Descriptions
Combo Pack includes Spice Rack, 18 Spice Bottles and 48 Spice Labels
Each bottle is 1 ¾ by 3 ¾ inches
Rack dimension: 13"L x 4 ¼"W x 8 ¼"H
Built by Sturdy Steel with chrome finished
USPTO Patent USD756177
Pros
Displayed on your countertop, it doesn't take up much space. Yet able to hold 18 types of herbs and spices.
The sturdy rack allows you to get the spices in and out with ease while knowing that the others won't rattle or fall out of place.
Cons
The holes in each lid are a bit tiny. Spices in powder form get through but those in seeds form or herbs like basil or thyme don't. You will have to take the lid off to pour content into your palm or use a measuring spoon.
The bottles don't hold much. Filling up the bottles and keeping the extras in the cabinet might be a deterrent for some people. But then, this is a beautiful and compact piece to be displayed on your counter with easy access.
Considering the sturdy material of the rack and inclusive of the spice bottles, this is a good buy. More so, if you want a pretty piece on your kitchen counter that gives the practicality you desire.


---
→ Belwares Revolving Countertop Carousel Herbs and Spices Set
Amazon Rating: 4.3 out of 5 stars; 505 customer reviews
Product Descriptions
Includes 12 spice glass jar
Rack measures: 11.5 x 5.5 inches
Each jar measures: 6 cm x 8 cm
Top cover features pour or shake options
Pros
Quick access. All your spice and seasoning bottles are within reach using this revolving spice rack organizer. You don't have to dig through your drawers or cabinets to find the "one".
Great space saver. The compact and portable design of this rack sits on the counter without taking too much space. Additionally, beautify your kitchen too.
Ease of use. You can easily open the top to pour out or shake the content.
Reduce continuous refills. The capacity of the jar matches the standard retail pack. Thus, you only need to fill them up once with no extras to be kept separately.
Cons
After some time using, some of the lids have difficulty to turn. So, dispensing will not be possible without removing the entire lid. This is caused by the herbs or spices being stuck in the lid components when you are shaking the ingredients out.
With this issue in mind, you may want to give the lids a clean wipe with towel paper every now and then.
Also, give the spice jar a couple of gentle knocks after every use so that the herbs and spices will drop down instead of being stuck in the lid.
Additionally, do not fill the jar too full to the rim.
This is a sleek and functional spice rack organizer for your kitchen counter that leaves you with more space to work on and easily grab your much-needed spices.


---
Between $25 – $50
→ YouCopia Chef's Edition SpiceStack 30-Bottle Spice Organizer with Universal Drawers
Amazon Rating: 4.7 out of 5 stars; 3,066 customer reviews; Amazon's Choice for spice storage
Product Descriptions
Store and organize 30 full-size or 60 half-size spice bottles (not included) in the cabinet; fits round and square bottles
Includes 96 (48 printed, 48 blanks) removable drawer labels
Non-skid base hold unit securely in place
No installation or mounting required
Measures 8 ¾" H by 10 7/8" D by 12 ¾" W; fits into standard cabinets
Pros
The drawers pull out and lower to display spices at eye-level. You can easily find and reach your spices without any hassle of digging into your cabinet.
This compact unit saves valuable cabinet space. All your spice and seasoning bottles can be arranged neatly in this spice rack organizer, leaving more space for other items.
Cons
Made of plastic, it is a bit flimsy. But once you have arranged the spice bottles into the organizer, it becomes sturdier.
Glass spice bottles may put too much weight on this plastic organizer. Having a mixture of spices in plastic and glass bottles will solve this problem. Balance is the key.
Neatly placed in the cabinet with the herbs and spices in it, this organizer is a great space saver with ease of accessibility.


---
→ Spicy Shelf Spice Rack and Stackable Organizer
Amazon Rating: 3.6 out of 5 stars; 2,178 customer reviews;
Product Descriptions
Spice rack fits any cabinet
Fully adjustable to fit different sizes
Each spice shelf can be narrowed to 7.5″ and widen to 17″
The depth of the shelf is 10 3/8"
No tools required for installation
Pros
The width can be adjusted to maximize the space in your cabinet.
The heights are adjustable as well. This product comes with different leg heights. So, you can choose which set to use according to the height of your cabinet.
Stack one on top of another or placed side by side. Depending on the height and width of your cabinet, you have the option to stack them up or placed side by side. This helps to maximize your cabinet space.
No mounting and glueing needed. No worries about damaging your cabinets if things go wrong.
Cons
Expanded too wide, the middle of the rack is not sturdy enough to hold a certain weight, especially bigger glass spice bottles. Try to arrange those on the side while the smaller and lighter ones go to the middle.
No tools are needed to set this up but it can be complicated as there are too many small parts to figure out which goes where. Made worse because no manual is included in the package. Well, there is one thing called "YouTube". There is quite a number of "how to" videos to guide you through the assembly. Make it fun, do it with your family.
At one glance, you will be able to see all your herbs, spices and seasoning blends. With the flexibility to adjust the width of the rack to fit into the cabinet, it helps to maximize the space. In addition, extremely easy to take your needed spice. No digging through or shifting the bottles.


---
→ KitchenArt 25000 Select-A-Spice Auto-Measure Carousel Professional Series
Amazon Rating: 4.1 out of 5 stars; 240 customer reviews
Product Descriptions
Made of durable white plastic
Includes 12 removable spice compartments on a rotating base
Comes with 55 spice labels
Choice of mounting the carousel under a cabinet or shelf, or simply display it on the kitchen counter
3 methods of dispensing – shake, pour or use the auto-measure dial for a perfect ¼ teaspoon measurement
Dimensions: 9 x 8.75 x 4 inches
Each compartment holds 4.5 ounces
Pros
Provide instant access. It rotates 360°, allowing you to have easy access to your spices without digging or sifting through your cabinets or drawers. Just turn the carousel.
A great space saver. Mount the unit under the cabinet or shelf, the countertop is all yours. If displayed on the countertop, you will still be able to save some space. Buy 2 and stack them. Now, you have 24 herbs and spices stacked neatly.
Dispense with ease. The 3 ways of dispensing method make it so convenient to use. With a twist of the dial, you are able to dispense ¼ teaspoon of spice. Options to shake or pour your spices out. Additionally, the opening is big enough to accommodate measuring spoons.
Cons
A bit cumbersome to fill the compartments with spices because the top lid doesn't flip all the way back. You can use parchment paper as a funnel when filling them. May have to adjust the position to work at an angle.
Certain spices will cake easily. The compartments are not air-tight thus you need to ensure the lids are covered properly.
The Select-A-Spice Auto-Measure Carousel provides a unique way to store and sort your cooking spices. Also, it can be a distinctive decorative piece.


All in All
Spice rack organizers can help make your cooking a smoother process. You need not waste time looking for your onion powder when you need it. Bottles or jars of herbs and spices are neatly arranged where you want them to be. No more messy and cluttered counter, drawer or cabinet.
Some of us, who prefer a clean kitchen counter will want the rack inside the cabinet or mounted on the wall. If we have enough space on the counter, I am sure we would want to use a countertop organizer doubled as a decorative piece.
Plan where you want your spices to be and choose your preferred organizer from the list of BEST Spice Rack Organizer 2019. With a price range from less than $15 – $50, there should be one to fit your budget.
No matter which you choose, you will never need to dig through your entire cabinet or drawer to find the one. Enjoyable cooking experience is what you will gain.


I hope this review has given you useful information in getting your herbs and spices organized and where you can purchase them.
How do you organize your herbs and spices? Does a spice rack organizer help? Share with us your experience in the comments section below.
Since you will be having a spice rack organizer to neatly store the bottles, you can now have more variety of spices and blends. Let's bring out the creativity in you – make your own spice rub! Click here, to find out how.
Other spices you may be interested in
Share This Article
If you find this product review helpful, please share it with anyone that you think might find it useful. Thank you and have a good day!
From the Corner of My Home – Spice Up Your Life with Herbs and Spices.