A persistent cough can ruin your day, not to mention a good night's sleep. While over-the-counter medication or homemade cough remedies help, I remember inhaling vapor from a steam bowl relieved chesty cough during my younger days. Now, for convenience, people are turning to electrical devices for comfort. In this case, the humidifier, based on the same concept using vapor or moisture. You ought to know there are several types of humidifiers – warm mist and cool mist and further categorized into ultrasonic and evaporative. Before you get one, find out which type of humidifier is good for cough. But what if I tell you a humidifier can make a cough worse. I will explain as you read on.
Firstly, you have to know
Types of Humidifiers & Pros and Cons
Generally, there are 3 types of humidifiers
Warm mist
Cool mist

– Evaporative
– Ultrasonic
Let's look into these 3 individually including their pros and cons.
1. Warm Mist Humidifier
It uses a heating element to boil water and make steam. As a result, the rooms' air is slightly warm. The unit can be used with certain medicated products to improve cough relief.
The Good. A warm mist humidifier is better for reducing bacteria and germs, and its moisture saturation is higher. Since it operates without an internal fan, it is quieter than the cool mist machine. Also, the warm air may be nice to warm winter air.
The bad. It requires more energy and the heat can be dangerous if you have children around or pets. Furthermore, heat can possibly aggravate eczema symptoms in severe cases.
2. Cool Mist Evaporative Humidifier
This machine uses a fan to draw air through a wick filter and then releases the vapor in the air, giving a chilling effect in the room. Great for use during the hot and humid summertime.
The good. This is safer for children and pets as it does not have the heating element of a warm mist machine. Without it is more energy-efficient.
The bad. Cool mist humidifier can accumulate bacteria and mold growth more easily if not maintained properly. The wick filter needs cleaning and replacing. That is the task many people dislike. For a sound-sensitive person, the noise due to the fan can be disturbing.
3. Cool Mist Ultrasonic Humidifier
It uses a high-speed vibrating plate to turn water into a fine mist.
The good. Without fans and gurgling water, this may be the quietest humidifiers. Cleaning is hassle-free, just rinse the tank and internals.
The bad. An ultrasonic humidifier works without a filter thus minerals present in tap water are carried into the air along with the water droplets when it is in operation. These minerals may settle out of the air and leave fine white dust on surfaces near the humidifier. In this case, only use distilled water to run the machine.
A question you probably have in mind,
How Does Humidifier Help with Cough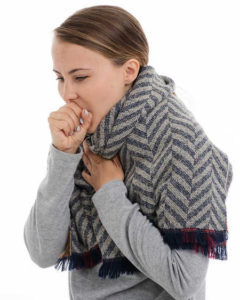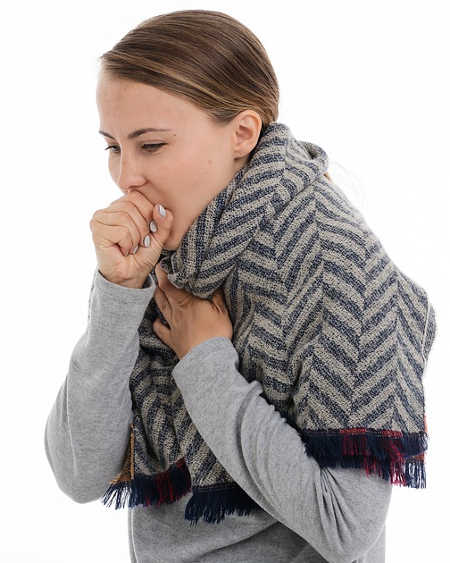 Dry air can aggravate a dry cough. As a humidifier adds moisture to the air, it can provide relief.
When you have a chesty cough, you will want to cough up mucus or phlegm. However, young children may not be able to do so effectively. During the winter, the air is dry and coupled with the use of indoor heating, the dryness can make mucus more difficult to cough up or blow your nose. For these reasons, adding humidity to the air makes sense.
The next question I see. Is warm mist or cool mist humidifier better?
Warm mist and cool mist humidifiers are equally effective in humidifying the air in your home. Both are helpful in easing respiratory discomfort related to cough and colds. Nonetheless, by the time the vapors reaches your airways, the temperature is the same regardless it started out warm or cool.
8 Things to Consider When Buying Yours
Choosing your humidifier depends on how you plan on using it. Take into consideration children at home or pets. Are you using it in the bedroom or living hall?
Here are the factors to keep in mind when buying yours.
1. Environment
Where you live is important in deciding which machine you should choose.
Climate. If you live in a colder location, it is better that you look at warm mist humidifiers since the warm vapors help increase the temperature of the room to make you more comfortable. In this case, you may save a bit on your heating bills. On the contrary, living in a warmer location, you may consider getting a cool mist unit because it helps reduce the temperature of your room.
Water quality. Some humidifier brands will recommend to simply use tap water to fill the tank. Take note the ultrasonic cool mist humidifier is not suitable for hard water areas because it does not operate with a filter. A research, found doing so, resulted in more harmful particles emitted into your room. This will lead to more respiratory issues. If your choice of humidifier is an ultrasonic unit for certain reasons, always fill the tank with distilled water.
2. Usage
Where will you be placing the humidifier? An economical tabletop humidifier is sufficed for your bedroom but how big is the room. You need to know the capacity of the humidifier and its space coverage. A console humidifier is needed to be able to humidify your entire living hall. Most medium-priced humidifiers can handle rooms approximately 200-500 square feet, but the more expensive ones can easily double or triple that figure.
Whom is the humidifier intended for? A cool mist humidifier is best used with children and the elderly. You do not want them to accidentally knock over a warm mist humidifier and risk scalding. And how about those curious pets? If you think a warm mist humidifier works better for you, make sure it is placed at the safest location.
3. Noise
Warm mist and ultrasonic are the quietest types of humidifiers because they do not operate using a fan. It is the fan that creates the noise. On a low setting, it may be quieter but on high, it may disturb your sleep. You also need to know a warm mist humidifier may make some gurgling sounds as the water heats.
4. Water Tank Size
Most humidifiers have a 2-3 days capacity when operating on the lowest setting. Some will only last hours thus need constant refilling. If you intend to leave it running all night, would you be frustrated? I will. So, take note of the water tank capacity.
Also, will it be easy for you to remove and refill the tank? You want to fill and fit the water tank without spilling. Imagine a tank filled with water, it will be quite heavy depending on the size and you trying to reattach to the machine. It may not be done smoothly thus spills commonplace. I have experienced this with my cooler fan, more work. This leads to the next factor,
5. Ease of Cleaning
Maintaining your humidifier is important to avoid harmful bacteria from entering your home and, mold and mildew growth. You must look at the design and shape of the water tank because some odd shapes have hard to reach places to clean effectively. Though some humidifiers especially table-top are exquisitely designed, cleaning can be difficult if not impossible.
6. Good to Have Features
More features, more pricey and that's a fact. Some machines come with features you may hardly use but some are actually good to have. Here are a few you should consider.
Auto shut-off is a very common feature in many electrical appliances or devices. For a humidifier, it will auto shut off when the water level is low. This comes in handy in case you actually forget to refill the tank where most units need to every 2-3 days.
A humidistat senses changes to the amount of moisture in the air. Based on the readings, the humidistat turns off the humidifier after the desired humidity level has been achieved. On the other hand, turns on when the air is dry. It is important to maintain a healthy moisture level in your home thus a humidistat is a useful feature to have. If a unit you have eyes on does not come with a humidistat, you may consider buying a hygrometer (cost around $10) to monitor your room's humidity levels.
A timer lets you set your humidifier to on or off at a particular time. This is ideal if you wish to minimize electricity bills while still able to get clean moisturized air.
Water tank indicator signals you when to refill the tank. If you are a forgetful person, this may be good to have. Else, the auto shut off would suffice. Choose either one or have them both.
Filter indicator is a feature you must consider carefully. The filter is vital in cleaning the air. If it becomes clogged with pollutants, they will end up being dispersed back into the air in your home. For this reason, knowing when the filter needs cleaning or changing is important.
7. Aroma Diffuser
Some humidifiers come with a separate compartment, allowing you to add aromatherapy oils, essential oils or medicinal additives. This means they humidify and scent your room while attending to conditions such as cough and cold. Aromatherapy oils are known to reduce stress level and headaches, good for sleep and relaxation. Medicinal additives such as lemon oils, tea tree and menthol may help ease nasal congestion.
8. Price
The price of a humidifier for home use can range anywhere from $30 to over $300. Surely, you want to get one that fit the purpose without breaking a bank. If you only want to humidify a specific area of your home, for example, a bedroom or work/reading corner, a tabletop unit is sufficient for the task. There is some nicely designed tabletop humidifier to blend in with the design or concept of your room and this will cost more. Designer series may look exquisite but ensure the unit is easy to clean without unreachable corners.
Now that you have a very good idea of how you are going to use the humidifier and the factors to look out for, let's find out what your options are.
Best Humidifiers for Home Use
At A Glance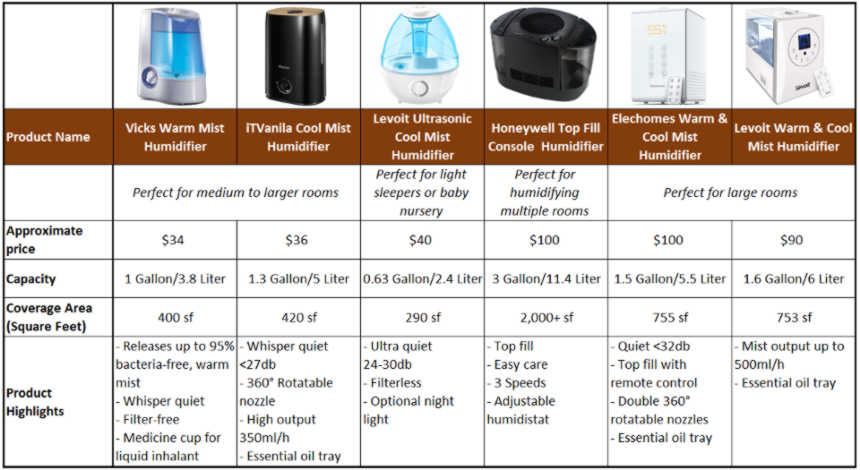 I want you to know and understand that this post contains affiliate links. When you click them and make a purchase, I receive a small commission at no additional cost to you. Read more about my Amazon Affiliate Disclosure here.
1. Vicks Warm Mist Humidifier V745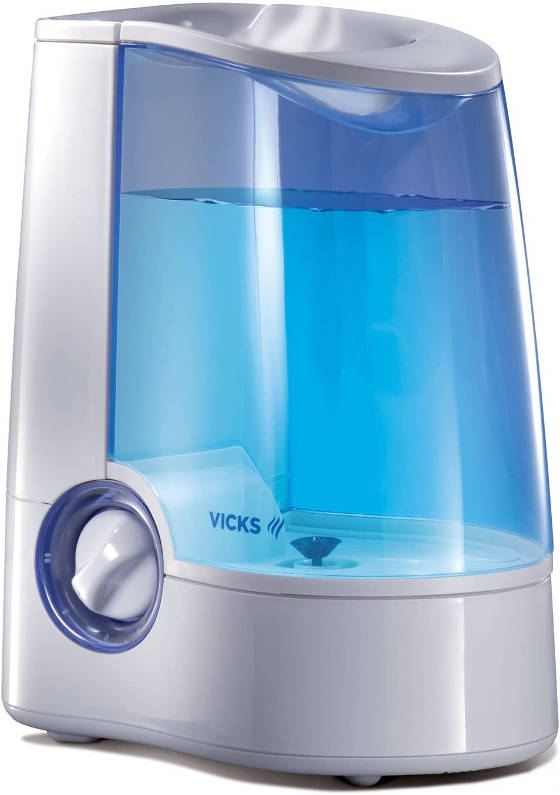 Product Highlights
Releases up to 95% bacteria-free, warm mist helps temporarily relieve cough and congestion
Whisper quiet
2 output settings
Filter free operation
Medicine cup for liquid inhalant
Perfect for medium to large room ● Coverage area – 400 square feet ● Capacity – 1 Gallon/3.8 Liter
Product Specifications:
Dimension: 12 x 7.88 x 14.2 Inches
Weight: 4.75 Pounds
Power: 260 Watts
Warranty: 3 Years
Whether you are looking to get relief from coughs or colds or comfort from dry air, this Vicks Warm Mist Humidifier adds essential moisture into the air helping you and your family feel better.
The heating element boils water to a pure steam vapor up to 95% bacteria-free and this mixes with dry air in the cooling chamber to release warm, moist air into the room.
The good. With the auto shut-off feature, the machine does not run when the water level is low. So if you are not around, you need not worry it keeps operating. Additionally, the transparent water tank allows you the monitor the water level easily. There is a convenient tank handle for easy carrying when refilling. The design of this machine makes it one of the best easy-to-clean humidifiers.
The medicine cup gives you the option to add an inhalant, Vicks Vaposteam, to relieve cough and other nasal congestion symptoms.
The bad. The purpose of the light indicator is you know if the unit is running and if it has entered into automatic shut-off mode. When running, the light cannot be turned off and this may disturb your sleep. If you intend to run the humidifier for a full day, you will most likely have to refill mid-day as the 1-gallon tank lasts for about 12 hours.
Overall. If you intend to buy a humidifier for cold and cough, this Vicks Warm Mist Humidifier is very ideal. Covering up to 400 square feet, it works well for larger rooms. Although it is not advisable to have warm mist humidifier around young children and elderly, it will be well if you make sure the unit stays well out of reach. Also, it is advisable to talk to your child's paediatrician to determine the best before using any medicated inhalant in the unit dosage and usage. Priced at around $34.
2. iTvanila Cool Mist Humidifier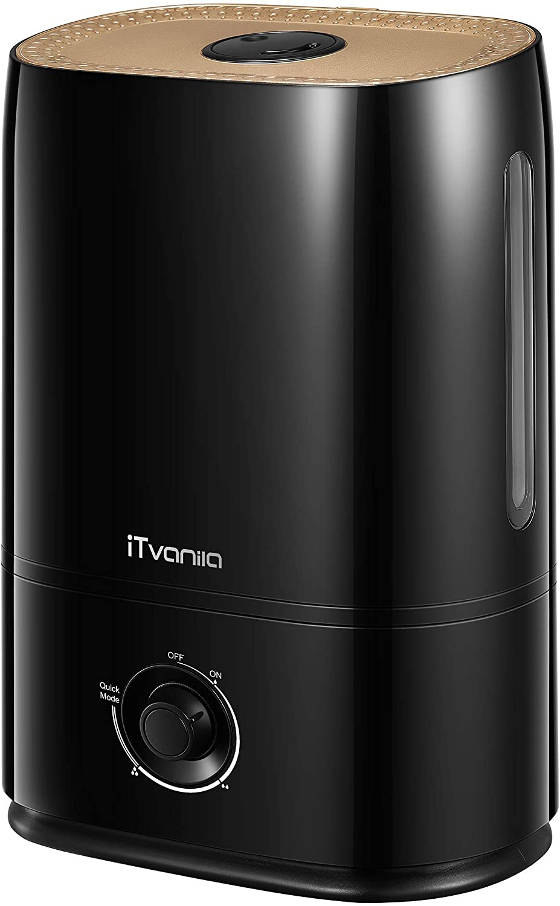 Product Highlights
Whisper quiet <27db
360° Rotatable Nozzle
High output to 350ml/h
Essential oil tray
Perfect for medium to larger rooms ● Coverage area – 420 square feet ● Capacity – 1.3 Gallon/5 Liter
Product Specifications
Dimension: 14.6 x 10.9 x7.9 Inches
Weight: 3.85 Pounds
Warranty: 1 Year
This iTvanila humidifier has the newest pressurization technology which allows it to have 1m/39in height of mist ensuring a large coverage. There are 3 mist modes you can choose from – low, medium and high. The higher the spray height, the larger the coverage area.
The good. The 5L capacity water tank allows this machine keeps running for up to 50 hours on the low setting. A red light will turn on when the water level is too low and the humidifier switches off automatically.
This machine comes with an aroma box so you can enjoy the relaxing and therapeutic scents of the essential oils. It has a filter plate on the oil pan and together with the nano-coating cleanse technology, any dust, or pollen floating in the air, sticks to these stacks.
The bad. The upside-down fill tank may not be convenient. Flipping and attaching a 5L full tank onto the machine can be difficult for some people. Also, you need to be careful with the handle while carrying the filled tank from the water outlet to the machine. Do not put too much pressure on the plastic handle as it may break (this I read at the customers' comments section).
Overall. Placed in the bedroom, this humidifier provides an ultra-quiet environment for you to sleep like a baby. Should you intend to use this in your living hall, its high mist output can cover up to 420 square feet. The cool mist helps prevent scratchy throat and nose. Coupled with the essential oil box, you get comfort from both. Priced at around $36.
3. Levoit Ultrasonic Cool Mist Humidifier Classic 100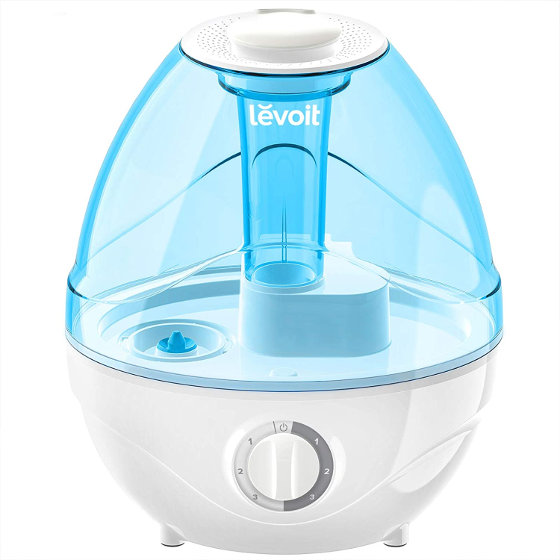 Product Highlights
Ultra Quiet 24-30db
Filterless
Optional Night Light
Perfect for light sleepers or baby nursery ● Coverage area – 290 square feet ● Capacity – 0.63 Gallon/2.4 Liter
Product Specifications
Dimension: 8.5 x 6.7 x 10.2 Inches
Weight: 2.5 Pounds/ 1.1 kg
Warranty: 1 Year, add 1 Year Extended (optional)
Breathing issues such as congestion and sinus may be caused by dry air and this compact ultrasonic cool mist humidifier could help provide relief from the symptoms. Besides, it also helps keep your skin hydrated year-round.
This machine has a patented silencer allowing the humidifier to make only 24dB of sound at low setting. At a high level, it is just less than 30dB, which is quieter than a library.
The good. There is optional blue night light and you can turn it off so you are not disturbed while sleeping. In use, the soothing night light can be convenient for baby nursery.
With a 2.4L water tank, you can run this for up to 24 hours at the low setting, 13.3 hours at medium and 9.6 hours at the high setting. The simple structural design and detachable silencer allow you to easily clean every nook and cranny of this unit so you don't have to worry about mold growth at the corners.
The 360° rotating nozzle helps evenly humidify its surrounding without wet floors or soaked furniture. In addition, the three mist levels make it easy for you to adjust the speed to fit your comfort level in a short time. At the low setting, it covers 107 square feet which will be ideal for a nursery room. At medium mist, it covers 200 square feet and at high covering 290 square feet.
The bad. You need to fill the tank from the bottom. It would be easier if you could fill it up from the top because when full it can be a bit tough flipping when attaching the tank back on. Though the bowl fits in the bathroom sink which makes refilling easy.
Overall. Priced at around $40, this humidifier is quiet and easy to clean. With the total off night light, it is a good unit for a bedroom and does not take up much space. A good low-priced unit that helps anyone who suffers from dry air.
4. Honeywell Top Fill Console Humidifier HEV685WB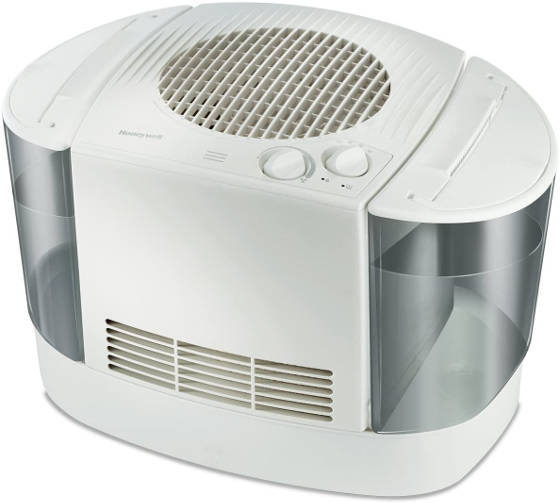 Product Highlights
Top fill
Easy care
3 Speeds
Adjustable humidistat
Perfect for humidifying multiple rooms ● Coverage area – 2000+ square feet ● Capacity – 3 Gallon/11.4 Liter
Product Specifications
Dimension: 22 x 13.75 x 14 Inches
Item Weight: 18.76 Pound
Warranty: 3 years
This top fill console humidifier creates soothing, invisible moisture and humidifies multiple rooms in your home. Designed for high moisture output, this large humidifier has two 1.5 gallon tanks and can run up to 24 hours on the low setting.
The good. The two removable top-fill tanks each have a large opening and can be filled easily at the sink or with a pitcher. Plus, the see-through tanks allow for viewing water level and the flat bottom and feet allow the tank to stand independently.
This advanced humidifier has an adjustable humidistat with low, medium and high settings, and it automatically turns on and off to maintain your desired humidity level. It also shuts off automatically when the tanks are empty and has a refill light that signals when the tanks need to be filled.
This Honeywell cool mist humidifier includes a wicking filter that removes minerals from water, reducing white dust in hard water areas and providing clean moisture output. The filter is treated with Protec antimicrobial to inhibit up to 99.99% of mold growth.
The bad. This is not the quietest or cheapest humidifier but it certainly got an edge in capacity and power, making it ideal for larger rooms. You may need to put in some effort maintaining the wick filter.
Overall. Having this top fill console humidifier in your living hall not only adds essential moisture to dry, indoor air, it also helps reduce static electricity which happens when air is dry. Maintaining indoor humidity levels between 40-60% is good for keeping your indoor plants healthier and helps protect wood furniture should you have any. Of course, also helps temporarily relieve congestion and cough. Priced at around $100, this is an expensive unit but gets the job done, works fast and requires less refill.
5. Elechomes Warm and Cool Mist Humidifier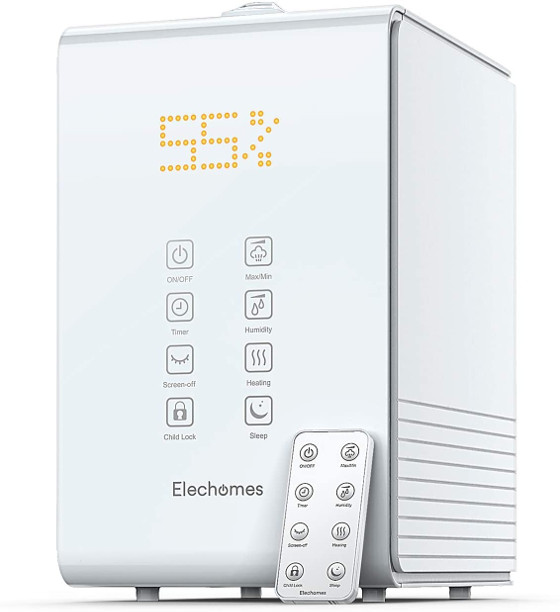 Product Highlights
Quiet <32db
Top-fill with remote control
Double 360° rotatable nozzles
Built-in essential oil tray
Hybrid Ultrasonic Humidifier ● Perfect for large rooms ● Coverage area – 755 square feet ● Capacity 1.5 Gallon/5.5 Liters
Product Specifications
Dimensions: 10.4 x 7.2 x 12 Inches
Weight: 6.3 Pounds
Power: 280 Wattage
Warranty: 18 months
Stay comfortable all year round with both cool and warm mist settings. In the winter, unclog your sinuses and soothe scratchy throats and in the summer, keep your body cool and your skin moisturized.
The good. This humidifier enables you to fill the water tank directly from the top and without disassembly, which is more convenient. All you have to do is open the top cover and pour. The 5.5L tank can support up to 40 hours of use on cool mist mode. Less frequent refill.
It has a screen-off setting and coupled with an advance ultrasonic cold mist technology, it is whisper-quiet at 20db in sleep mode, assuring you a peaceful rest at night.
There is a built-in humidity sensor allowing precise control of humidity from 30% to 80%. Besides that, this machine is capable of pumping out up to 600ml/h from the two 360° degree rotatable spray nozzles.
The bad. The essential oil diffuser does not work very well. This is probably due to the oil tray situated between the two output nozzles. The mist does not pass directly through the oil thus do nothing with it. If aromatherapy is important to you, this machine is not for you.
Overall. Designed for a large room, you can use this humidifier all year round with both cool and warm mist settings. Priced at around $100, it is rather expensive but the top filling is definitely an advantage, making it so easy to refill. With its ability to cover a large area up to 755 square feet, it is a worthy buy though the essential oil diffuser is of no use.
There is another hybrid ultrasonic humidifier very similar to this Elechomes Warm and Cool Mist Humidifier. The main difference is it is bottom fill but slightly cheaper. Here it is
6. Levoit Warm and Cool Mist Ultrasonic Humidifier LV600HH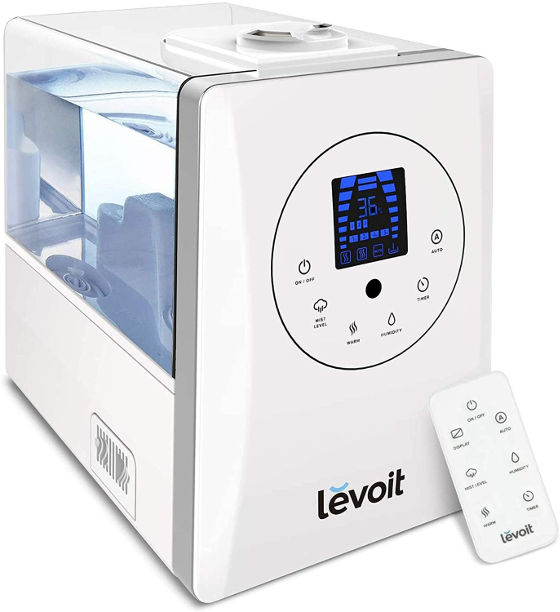 Product Highlights & Specifications
Coverage area: 753 square feet
Capacity: 1.59 Gallon/6 Liters, support up to 60 hours on low mist setting
Mist output up to 500ml/hr
Essential oil tray
Dimensions: 11.3 x 7 x 10.5 Inches
Weight: 4.92 Pounds
Power: 280 Wattage
Priced at around $90
All in all
Choosing the right humidifier can be overwhelming considering all the choices and features available. Ultimately, the decision is yours and I hope all the factors brought up here plus the list of best humidifiers for home use gives you the confidence to choose wisely.
You should always keep in mind why you are buying a humidifier. Is it for cough relief and other nasal related problems? Are you prone to dry and itchy skin? Or simple need it for better sleep? Plants and pets also need good humidity level to stay healthy.
While it is good to have a powerful console humidifier, you need to understand too much humidity can cause health issues. High humidity levels can create dampness in the air and this encourages the growth of mold, mildew and harmful bacteria.
The use of a humidifier, if the humidity level is not checked and the machine not cleaned properly can make a cough worse and may increase the risk of catching a cold or flu.
Mayo Clinic recommends that humidity stays between 30% – 50%. A hygrometer can determine the humidity level in your room. If the humidifier does not come with this feature, you can easily get one at hardware stores or on Amazon. Make sure you are properly regulating the output of your humidifier. Test the humidity daily, particularly if someone at your home has allergies, asthma or respiratory problems.
Besides using a humidifier for cough relief, herbs and spices are good too. Find out how to make home remedies for cough using herbs and spices you probably already have in your kitchen. Read here.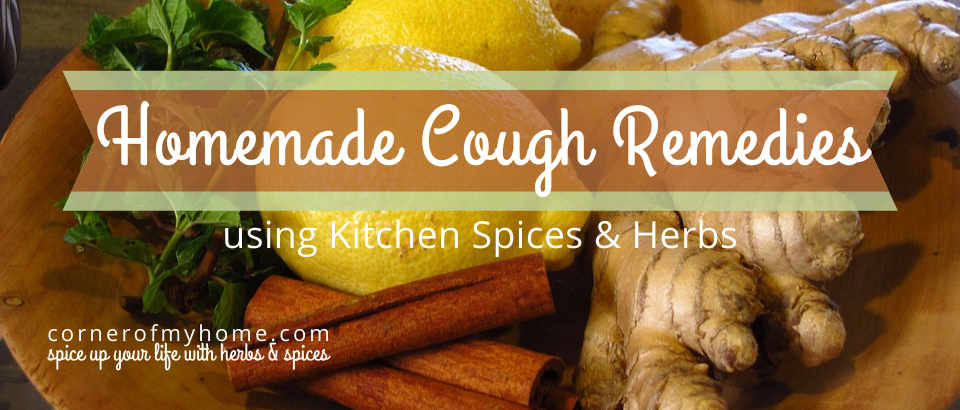 Please Comment & Share This Article
Last but not least, I want to know which unit you have eyes on. Have you experienced using a humidifier? Let us know at the comments section below. More tips or guide to effectively use a humidifier would benefit readers here.
Please share this review article with anyone that you think might find it useful.
Stay Healthy!
From the Corner of My Home – Spice Up Your Life with Herbs and Spices
Disclosure: This blog post may contain affiliate links as part of the Amazon.com Services LLC Associate Programs and other affiliate services. This means that cornerofmyhome.com receives a small commission by linking to amazon.com and other sites at no extra cost to the readers.