Looking for affordable gifts but fun and unique? Not only that, you want people who receive your gift to actually use it. Over the years, I have received gifts I hardly use. Being a stay-at-home mom, the kitchen is my common area and I know the following kitchen gadgets are fun and useful for people who cook often. Some of these gadgets you didn't even know existed. Go on, check it out!
I want you to know and understand that this post contains affiliate links. When you click them and make a purchase, I receive a small commission at no additional cost to you. Read about my Amazon Affiliate Disclosure here.
Gifts Under $20
Angelfish Colander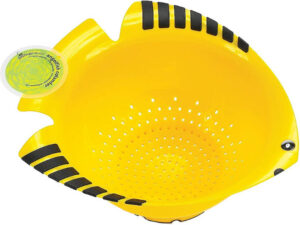 Great for pasta and rinsing fruits and vegetables. 3 1/2 quart capacity with soft grip handles and a foot that keeps it steady when pouring pasta.
---
Baggy Rack Stand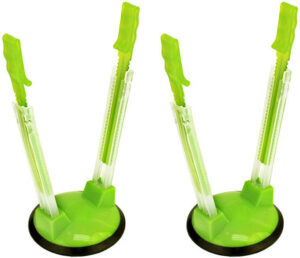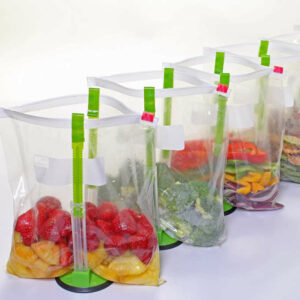 Like an extra pair of hands in the kitchen – the baggy rack holds the bag and keeps itself vertical while transferring food. I know it is hard pouring fluid food items without spilling thus this helps a lot.
---
Micro-Pop Popcorn popper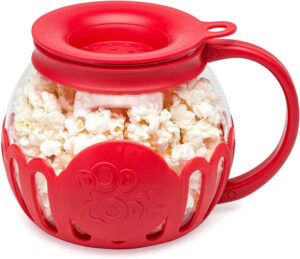 A fun popcorn popping experience with this durable temperature safe borosilicate glass popper. Simply use the dual-function lid to measure the desired serving size, pour into the Micro-Pop and place in microwave for 3-minutes or less. Enjoy! Snack-size, 1.5 Quart.
---
Stainless Steel Butter Spreader, Knife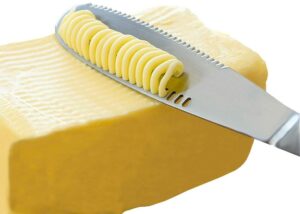 Spread hard butter with ease. The small slotted holes running down the stainless steel blade edge is designed to curl hard butter. Bread will no longer be torn to pieces while spreading.
---
Rooster Pot Clip Spoon Holder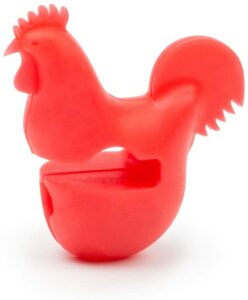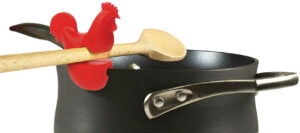 This cute rooster adds character and charm to the kitchen. Attached to the edge of the pot, it keeps messy spoon off the countertop and at easy reach. Made of heat-resistant silicone.
---
Clip-on Strainer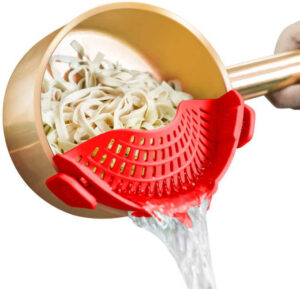 A small, compact strainer that is easy to use and store. It attaches easily with two clips – snaps onto most pots, pans and bowls, big and small. Made with top quality heat-resistant silicone.
---
Miya Catch Cat Tongs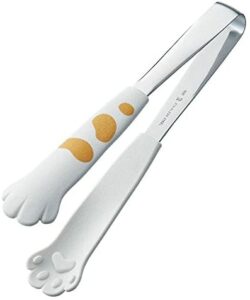 Cute little paws but a good size for noodles, pasta, salad and ice, at 7 inches long. Stainless steel handle; with high-quality plastic heads that are heat resistant up to 220C.
---
Collapsible Prep and Storage Bowls with Lids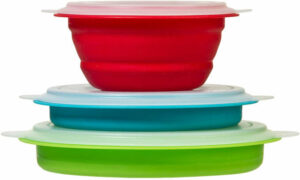 Add more colors to the kitchen! With three convenient storage bowl sizes, they are perfect for food prep and storage. When not using, just collapse them down to 1/3 their original height for convenient storage in a drawer or cupboard. Made of heat resistant, non-toxic material and are microwave oven, freezer and dishwasher safe.
---
Soap Opera Sponge Holder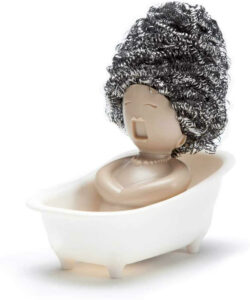 This fun and functional sponge holder makes a witty addition to any kitchen. It keeps scrubbers dry, clean and organized.
---
DishGarden Dish Rack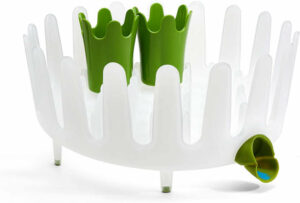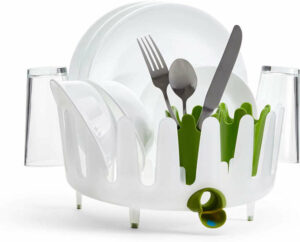 A dish rack need not be rectangular. The circular, crown design fits crockeries of different shapes and sizes. Plus, the utensil holder moves to fit wherever there is room. Dimension – 14×13.25×6.5 inches.
---
Mini Waffle Maker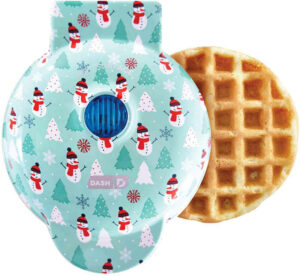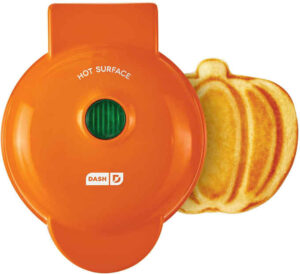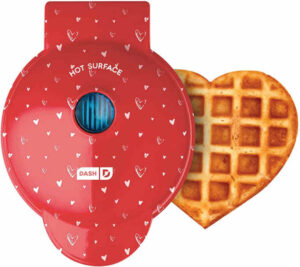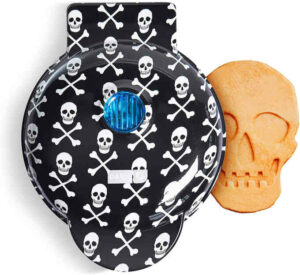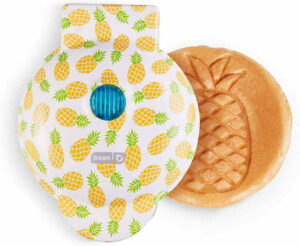 Get creative! Have fun and be festive making waffles of different shapes besides a circle with a creative motif. Its small size takes up little counter space, and the sleek design and trendy color options will match any kitchen décor.
---
Fred Le Crock COQ Chicken herb Infuser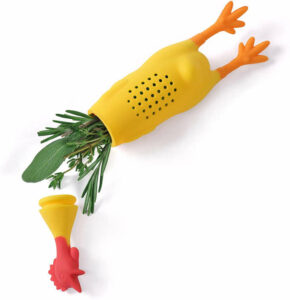 Infuse some silly into your soup. Fill with your favorite herbs and set in your pot. Made from food-safe silicone and able to withstand temperatures up to 450 degrees.
Related read: What is Bouquet Garni – A small bundle of herbs used in slow-cooking dishes, the bouquet garni gives your dish a herbaceous flavor and aroma. Read all about bouquet garni.
---
Herb Mincer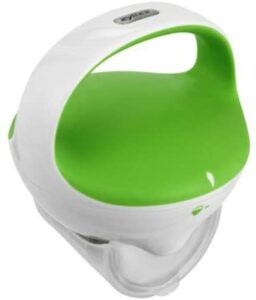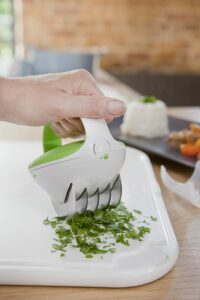 Smoothly cut herbs with blades, made of high-grade stainless steel, that can rotate 90 degrees. The soft ergonomic handle is comfortable for use.
---
Ceramic Salt & Pepper Shaker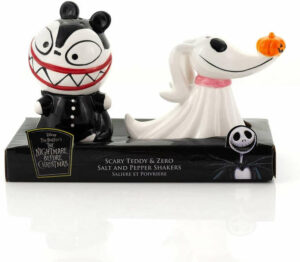 Cute & quirky! Spice up the table and scare up some fun with this "The Nightmare Before Christmas Scary Teddy & Zero" salt and pepper shaker set.
---
Spaghetti Monster Colander Strainer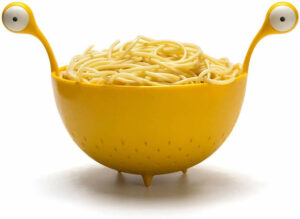 Don't let the pretty eyes fool you. This spaghetti monster is a straining master! 100% Food safe, BPA free and dishwasher safe.
---
Monkey Vegetable Peeler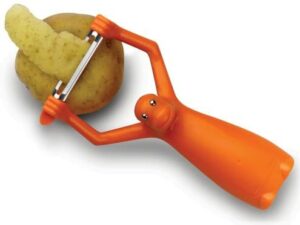 Fun and functional fruit and vegetable peeler with stainless steel blade swivel to follow curved surfaces. Bright orange color makes it easy to find in the drawer. I like the textured body as it forms a non-slip and easy-grip handle.
---
Fred Pizza Peddler Monkey Unicycle Pizza Wheel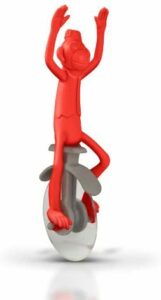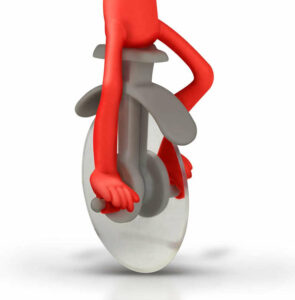 The monkey peddles as the pizza wheel turns! Cut slices of pizza easily with this unique and fun pizza wheel. It features a silicone handle with stainless steel cutting wheel.
Gifts under $10
Herbcicle Frozen Herb Keeper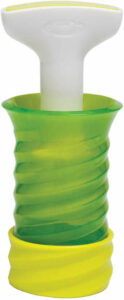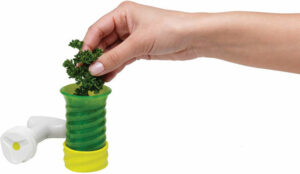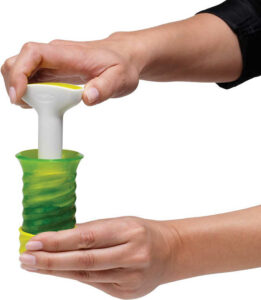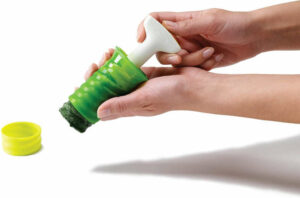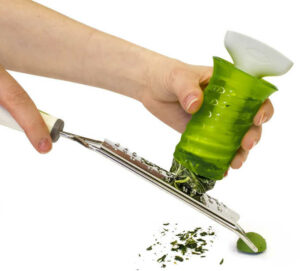 How cool is this? It allows one to freeze and preserve herbs for use next time in popsicle form. Simply fill with fresh herbs, turn the handle to compress and freeze. When ready to use, cut or grate the frozen herbcicle.
---
PalmBrush Vegetable Brush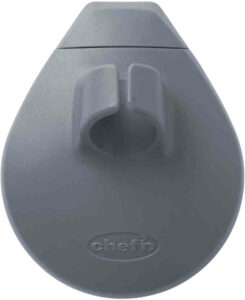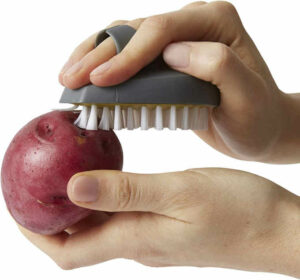 A simple and perfect tool for the job. The ergonomic design provides a comfortable hand fit, scrubbing and cleaning fruits and vegetables with ease.
---
Angry mama Microwave Cleaner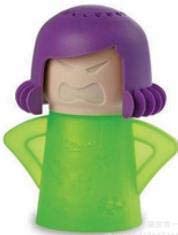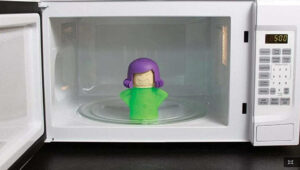 A cute, clever microwave cleaner makes the cleaning process way more fun. Made of high- quality plastic, it is designed to clean up the grease and grime in the microwave oven. Simply fill a mixture of water and vinegar solution or a special microwave cleaning solution into its body and microwave on high for 5 minutes.
---
Chilly Mama Fridge Odor Absorber & Freshener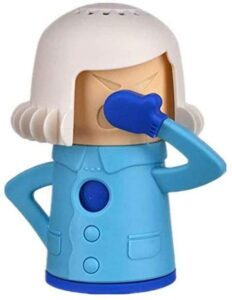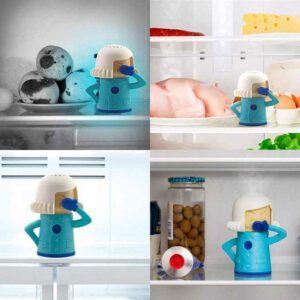 Fun and creative refrigerator deodoriser – simply fill with baking soda and let chilly mama do the work. It keeps the inside of the fridge smelling fresh and clean while eliminating odors.
---
Handheld Spiralizer Vegetable Slicer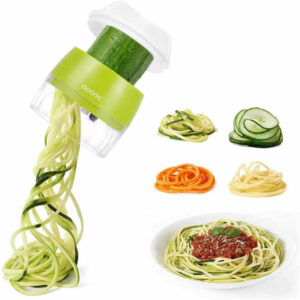 Creates a fun and healthy meals, adding colors to dishes with strands of vegetables and fruits. Cutting vegetables into long spirals and ribbons is easier than ever thus one can say goodbye to the dangerous knife. The heavy-duty ABS plastic body and ultra-sharp stainless steel blades ensure slicing and spiralling hard vegetables and fruits with ease.
---
Onion Holder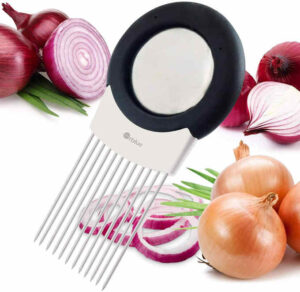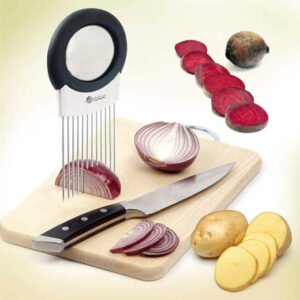 Great for a beginner who is less experience cutting or slicing. Even for an experienced home cook, the unique stainless steel prongs allow one to hold & slice uniform sections of onion, potatoes, tomatoes, carrots, etc. The tines are sharp enough to easily slide into hard vegetables.
Kitchen Drawer Knives Organizer Tray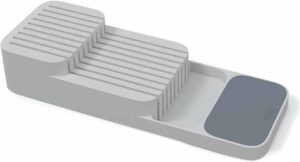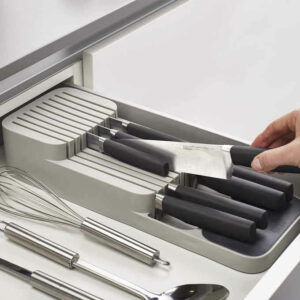 This 2-tier knife organizer provides safe storage and easy access to knives. Top tier for small knives, lower tier for large knives. With dimensions 15.55 x 5.63 x 2.9 inches, it is suitable for drawers with a minimum height of 3 inches.
---
Spill-Proof Lid Lifter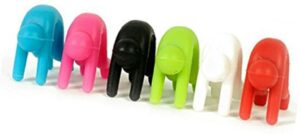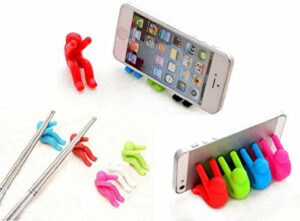 This little guy makes cooking so much fun! Just let the holder lie or sit on the edge of the pot. It keeps the lid open preventing liquid spills when boiling or cooking food. Alternatively, use it as a chopsticks holder, spoon bracket or mobile phone stand.
That's all of this list. no, there's more!
All these kitchen gadgets will surely make one's cooking more fun and enjoyable. Get one, two or combine several into a gift basket for people who like to cook. How about you? Get one for yourself. You deserve a gift or two!
Check out other gift ideas
Gifts for Herb or Garden Lover
Alternatively, visit the SHOP page I created for you all. It is much easier to glance and compare products.
Please share these kitchen gadgets gifts ideas with anyone that you think may find it useful.
Happy Shopping!
From the Corner of My Home – Spice Up Your Life with Herbs and Spices
Disclosure: This blog post may contain affiliate links as part of the Amazon.com Services LLC Associate Programs and other affiliate services. This means that cornerofmyhome.com receives a small commission by linking to amazon.com and other sites at no extra cost to the readers.