Are you having a hard time figuring out ideas for gifting this festive season? There are family members, friends, colleagues and neighbours to think of. If you are hosting a dinner or luncheon, it will be delightful to include a hostess gift. I understand it will be difficult for the wallet trying to buy everyone a gift. In this case, does making your own gifts sounds good to you? Yes! So, what can you make for Christmas gifts?
Making your own gifts is not difficult at all although time (not too much) and a little effort are needed. But knowing people will be touched by your effort and thoughtfulness, surely this gives you a gratifying feel. Don't you love this feeling?
A handmade gift makes it more personal and you do not need to shell out much money with multiple trips to the store to complete your project. Read on to look at the diy homemade Christmas gift ideas you can easily make from the comfort of your home.
Here, at the Corner of My Home, it is all about herbs and spices. Therefore, you will be expecting gift ideas using your herbs and spices.
7 Easy Homemade Christmas Gift Ideas
#1 Herb Infused Oil
This is basically infusing a carrier oil with herbs.
Used in cooking, it is a delectable addition to many dishes. Herb infused oil for cooking purposes can be bought at grocery stores but they can be pricey.
For these reasons, your guests, neighbours or anyone who is a foodie receiving this will be loving it.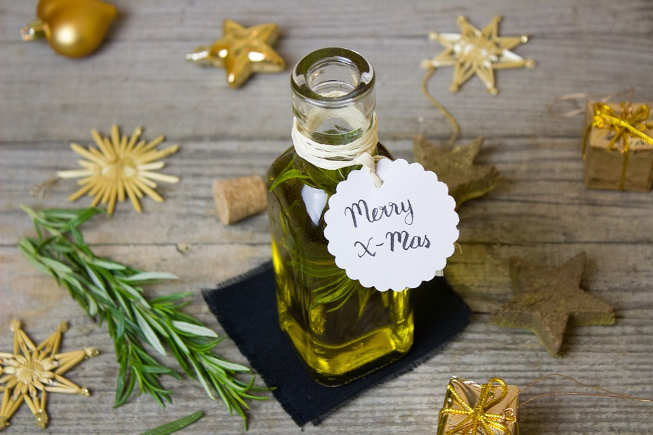 You only need 2 ingredients to make yours.
Herbs. Most of the common cooking herbs can be used. For instances, basil, peppermint, rosemary, thyme, oregano, parsley, dill and tarragon.
You may use either fresh or dried herbs. While infused oil made with fresh herbs have a purer flavour and give the oil a lively colour, using good quality dried herbs produces a stronger flavoured oil and have a longer shelf life.
Carrier oil. You do not need expensive oil for the purpose of infusion because the purpose is to add flavour to it. Using a more pungent oil will overpower the delicate flavour of the final product.
Olive oil is a natural choice but you may consider coconut oil, grapeseed oil and almond oil.
Learn how to make herb-infused oil here.
Make sure you get a nice beautiful glass bottle for this.
#2 Herb Infused Honey
Honey is known as a superfood. It has numerous benefits but most of its health benefits are attributed to the antioxidant value. Infusing honey with herbs will boost its nutritional and medicinal value too.
A sweet gift, yet healthy for your friends.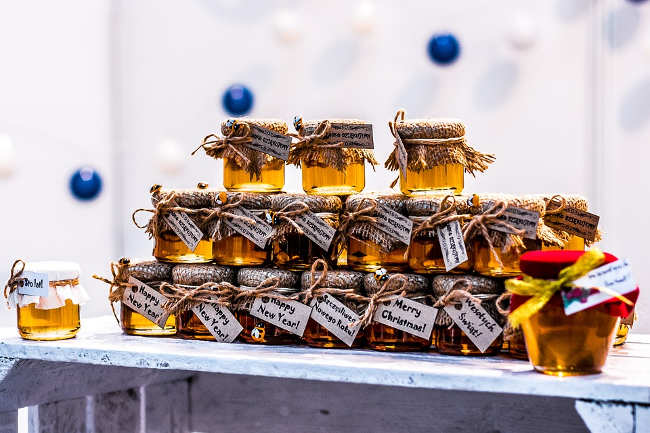 Making herb-infused honey is pretty straight forward. All you need is honey and herbs. Should you have a sprig or two of rosemary remaining after cooking your dinner, use them to infuse honey.
Honey. Generally, a light, runny and mild flavoured raw honey works best. If there is a local beekeeper in your neighbourhood, that will be awesome. Visit them, support your farm neighbour.
Herbs. Similar to herb-infused oil, you may use either fresh or dried herbs. For gifting, I suggest using dried as it has a more stable shelf life but the choice os yours. Fresh herbs are prettier!
Learn how to make herb-infused honey here.
#3 Herb Salt
Herb and salt are the basic ingredients you need to make this. Do not underestimate this mixture as a pinch of herb salt will uplift the flavour of any dishes. Another foodies' must-have.
Herbs. Basically, any herbs mentioned above for making herb-infused oil can be used to make your herb salt.
Salt. The varieties of salt you may consider using is Himalayan Pink, Hawaiian Black Lava, Hawaiian Red Alaea, Celtic Grey, Fleur de Sel and Smoked.
The natural colour of the salts combined with herbs will give this final product a beautiful impression.
Adding aromatic such as lemon, orange or lime and garlic takes herb salt and your ready dishes up a notch.
Learn how to make herb salt here.
#4 Seasoned Salt
Who does not need seasoned salt?
Having seasoning salt in hand is a great convenience. The combined flavours of salt and seasoning spices in one mixture make it so easy to enhance the taste of many dishes. It makes a delicious gift!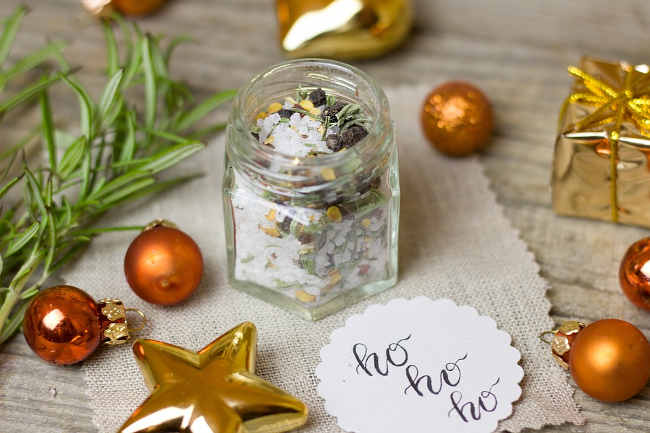 Salt. Using finer grains of salt will ensure it mixes well and season more evenly.
Seasonings. Garlic and onion powder are the basic seasonings used. Black pepper is a common addition and you may consider adding cayenne, paprika or chilli powder for heat or spiciness.
Learn how to make seasoned salt here.
Get a pretty airtight mason jar for gifting.
#5 Herb Butter
This makes a perfect hostess gift!
Before giving them out, impress your diners by serving herb butter with your dishes. It is one of the best accompaniments for bread, vegetables, fish and any meat dishes.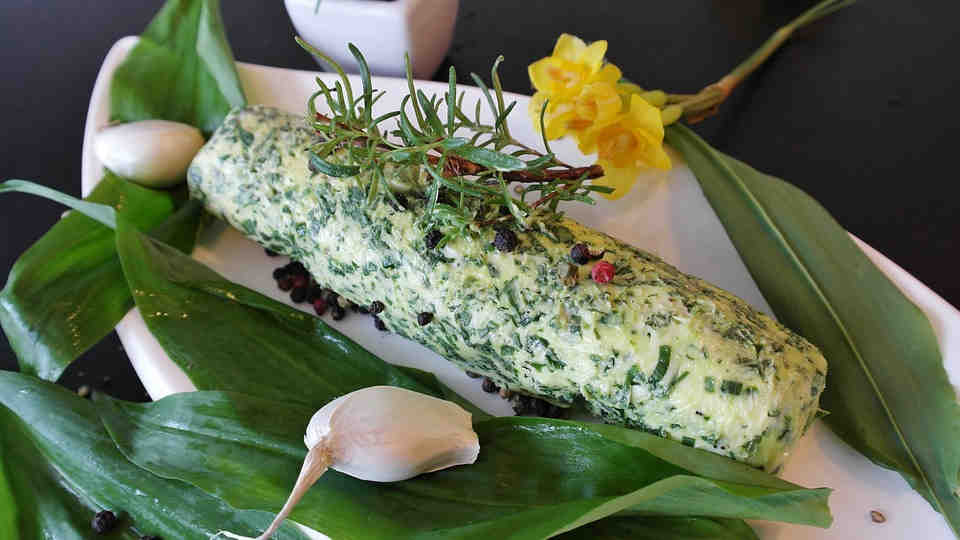 Again, 2 main ingredients only.
Butter. A good brand of fresh butter, either salted or unsalted.
Herbs. You make use either fresh or dried herbs. My go-to is fresh herbs. Love the freshness and lively colour. Any fresh herbs mentioned above are suitable.
My herb butter article has a few tips on pairing food with choices of herb butter.
Making your own, you can either use a butter mould or roll the herb butter into a log. Then cut it into round pieces for serving. I assure you, using the butter mould is easier to handle. Moreover, serving it individually by the side at each seating makes a beautiful sight.
Learn how to make herb butter here (same link to herb butter article).
SHOP Butter Moulds. You have to take a closer look at the Christmas butter moulds. They are adorable.
#6 Spice Rub
The spice rub is a mixture of ground spices. Combined with salt and sugar, it is made for the purpose of being rubbed onto raw food before they are cooked. Herbs may also be added to the mixture.
Firstly, you need to understand the 4 basic elements of spice rub. After which, believe me, you will have an exciting time creating your own signature blend.
Learn how to make spice rub. Wait! Before you go there.
Let's do something different with this.
Create a different blend of spices rubs. Fill your homemade spice rub into the Christmas Tree Baubles. Hang them on your Christmas tree.
Before your guests leave, "pluck" the baubles off the tree and place them into a lovely gift box or basket. Complete with a gift tag. Your guests will love them. Assemble a box for your neighbours or extended family. It will be a delight.
#7 Simmering Christmas Potpourri
Those who receive this simmering Christmas potpourri gift will also be getting a home filled with a warm aromatic scent. They will surely remember how warm you are.
This will be the easiest to make in terms of preparation. Simply gather the ingredients and put them into a nice mason jar or a transparent bag. Attach with a gift tag – Christmas in the Air!
Oh, remember to attach a simple instruction on how to simmer the Christmas potpourri.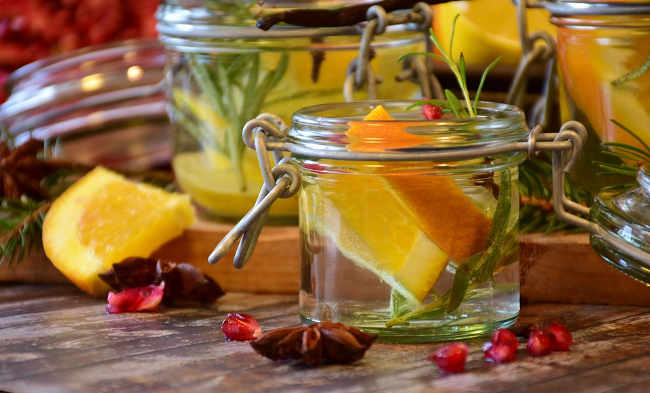 Here is a 3-ingredients simmering Christmas potpourri recipe you can easily assemble in no time.
1 lemon or orange
1 large sprig of rosemary
2 cinnamon sticks
Instructions
Add all the ingredients (need to slice the lemon) into a pot with 2 cups water. Heat over medium-high heat. When the water comes to boil, turn on low heat and let it simmer. Add more water if needed and keep simmering as long as you/they wish to keep the Christmassy atmosphere going.
Here is a more intricate 6-ingredients potpourri.
1 lemon or orange
2-3 cinnamon sticks
4 bay leaves
2 teaspoons cloves
1 handful of fresh cranberries
1 handful of pine needles (if you have a real Christmas tree at home, use them)
This will definitely give you more colours, besides a more complex aroma.
Hey, you should be making this for yourself too. Welcome your guest into your home filled with festive ambience. And your guests leave with a bottled "scentsation". Lovely!
Overall
During the festive season, there is much to spend on, from Christmas decorations to food and gifts. There may be a bit of travelling too for those who live further away from their extended family.
Why not make your own Christmas gifts? Handmade Christmas gifts are more meaningful because your family and friends know you make them yourself. Your time and effort, a labour of love, will be deeply appreciated.
I am sure you will have a sense of satisfaction once you see all your handmade gifts made. And the gratifying feeling with all the thanks and love from the recipients.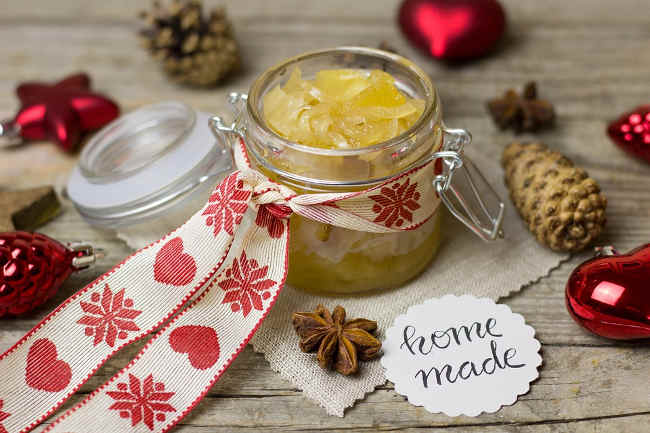 The 6 homemade Christmas gift ideas mentioned above is relatively simple to make. Get your family to involve in the project. Surely, the kids would love to contribute. It is the best time for family bonding.
Remember to make some for yourself too. It will save you much time making them in a bigger batch. You will be using them very often with so much cooking and feasting during the year-end gatherings.
So, tell me what will you make for Christmas gifts?
I love handmade and homemade gifts and hope you love these ideas as much as I enjoyed sharing with you.
Too busy to make your own
I understand, regardless you are a stay-at-home or working mom, finding time to make your own gifts can be challenging. Worry not.
>>> Click here for Holiday Deals on Amazon. You can shop limited-time deals and specials from across Amazon for last-minute gifts for home delivery. Amazon has millions of gifts ideas for everyone, including those hard-to-shop-for Secret Santa and White Elephant gifts.
Homemade Christmas gifts or buying? The choice is yours but I encourage you to make your own. It will be fun.
But you can always do both! Why not?
Buy and send a gift online to someone whom you may not be able to visit. For instance, your extended family or immediate boss.
On the other hand, make a Simmering Christmas Potpourri in a Jar or your Signature Spice Rubs/Seasoned Salt/Herb Salt in Christmas Baubles. Give these to your neighbours, friends and dinner/luncheon guests.
Good idea? Go on, gather your ingredients and supplies, and start your project.
Happy Christmas!
Read related article:
Please Comment
Love all these ideas? Tell us. Perhaps, you would like to share your experiences making your own Christmas gifts. Leave them in the comments section below.
Share This Article
If you find this blog post interesting, please share it with anyone that you think might find it useful. Thank you and have a good day!
From the Corner of My Home – Spice Up Your Life with Herbs and Spices
Disclosure: This blog post may contain affiliate links as part of the Amazon.com Services LLC Associate Programs and other affiliate services. This means that cornerofmyhome.com receives a small commission by linking to amazon.com and other sites at no extra cost to the readers.