Updated OCTOBER 25, 2020
Who loves to cook? I do. And I am sure you have a friend or family member who loves to spend time in the kitchen. What comes to your mind when thinking of gifts for people who like cooking? I hear you asking, "Will they like the gift?", "Are they going to use it?" and "What gift can I get that won't break the bank?" Many thoughts need to be given into searching for the ideal gift – practical to the recipient and affordable to you.  Today, I do the search. You sit back and select the gift from this list I have compiled. Read on…
Most often than not, there are kitchen utensils or gadgets that you would love to have but will not buy yourself. Do you agree with me?
You see that beautiful marble cutting board that you love but before you reach out to your pocket, you will be asking yourself – is it necessary? NO, I will just stick to my wood cutting board.
Some items are good and lovely to have but will not buy yourself. In this case, you will wish to receive such a gift. Yes, no?
Best Gifts for People Who Like Cooking
Here are 16 affordable and practical gifts I have given much thought into. No doubt some are simple items but useful. Others unique will leave an impression on your friend.
I want you to know and understand that this post contains affiliate links. When you click them and make a purchase, I receive a small commission (to keep this website going) at no additional cost to you. Read about my Amazon Affiliate Disclosure here.
Let's start…
Gifts Under $10
→ Stainless Steel Funnels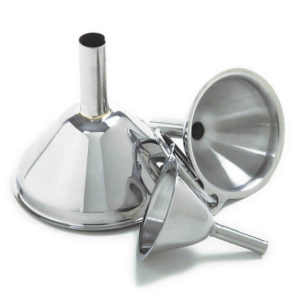 Comes in a set of 3, these funnels are perfect for adding salt, pepper, herbs or spices into shakers or jars.
Transferring oils and vinegar into cruets or small decorative bottles for gifts are made easy using these.
Also, these can be used to add powdered drink mixes into water bottles.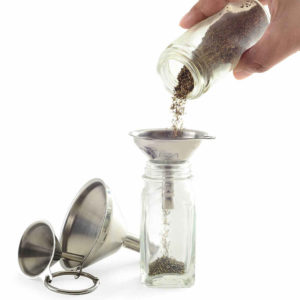 Each funnel has a perfectly narrow stem ideal for filling small bottles. Additionally, it has an indent (air release channel) allowing funnels to vent and thus the contents flow better.
Frankly, when filling my spice jar, I will simply pour the spices or dried herbs onto a piece of grease paper and slowly shove them into the jars. Of course, there will be a bit of spillage. Won't it be great using a proper funnel? Sure do.

---
→ Floral Apron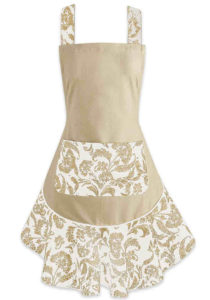 Stay pretty in the kitchen while cooking in this beautiful floral apron. It comes with extra-long ties that allow for wrap around and a bow to be tied in the front if desired. The flattering shape makes this apron great for most body shapes and types.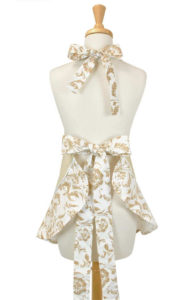 Now, who says one can't stay good-looking in the kitchen?
I know many people would already have at least one apron at home. But a new apron can be worn on occasions when friends or family are invited for a cook together eat together gatherings. Give one to your friend and make sure you are invited to the gathering 😉

---
→ Japanese Ceramic Mortar and Wooden Pestle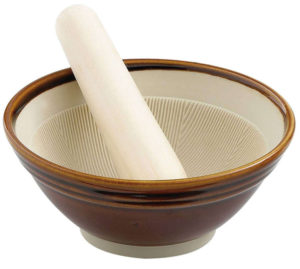 Crafted from durable earthenware with a rich brown outer glaze, the mortar bowl features an unglazed, ribbed interior. This design holds ingredients at a slope for efficient, visible grinding. The coordinating wooden pestle works well with the ceramic materials, so that the ingredients, not the bowl, take the beating.
It is ideal for grinding and crushing herbs, seeds, and spices. Comfortable in the hand, the pestle is shaped to maximize the contours of the bowl for uniform and quick results.
This mortar and pestle set is considered lightweight, at approximately 12 ounces. Most home cooks would already have a heavy duty set for pounding and bashing. Wouldn't it be easier if there is a smaller and lighter unit for crushing herb, spices or ingredients in a smaller amount? It is definitely easier to handle.
I have a heavy duty granite mortar and pestle set. When it comes to crushing a small amount of fresh herbs or spices, I will simply chop or crush them instead of lugging the heavy set out from the cabinet. I am sure people will appreciate having a lighter set in hand for simple use.


---
Gifts Under $15
→ Bamboo Cookbook Stand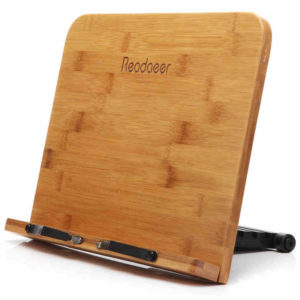 A cookbook should be given a proper spot on the counter. This bamboo stand will do a nice job keeping the recipes book out of the mess while the meal is being prepared.
With the book on the stand, the counter is less cluttered with more room to prepare a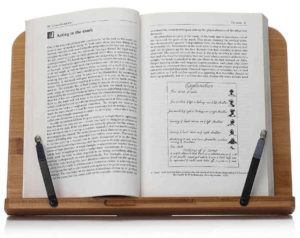 delicious meal.
Moreover, it is easier to read at an angle than having the book flat on the countertop. This stand has 6 angle settings.
In addition, this ensures the book is away from accidental spills or splash. If you look at my recipe book or sheets, soiled spots can be seen especially on my favourite pages.
Wouldn't it be wonderful to have a proper and safe place for a cookbook? This stand is appropriate for a tablet too.
So, how do you feel getting one of this for your friend or family member?

---
→ Oil Infuser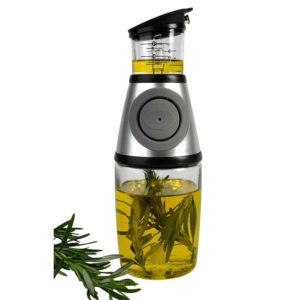 This is a highly recommended gift for the herb lover.
Herb infused oil adds delectable flavours to any home cooked meals and this is the perfect container for making flavoured oil.
The glass reservoir is perfect for infusing while the tilt and pour spout makes it easy for drizzling the flavoured oil onto dishes.
Not much need to be said about this product – simply a perfectlicious gift for the herb lover.
Would you consider making your own herb-infused oil to give it a personal touch? Click here to find out how.

---
→ Spice Rack – Lazy Susan Turntable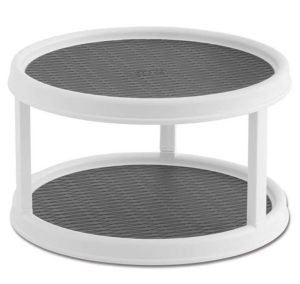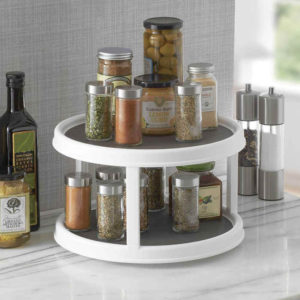 Placed in the pantry cabinet or on the countertop, this turntable helps organize the spices neatly. It glides easily to find the spice needed – no more shifting bottles and jars in front to get the ones behind. Fitted with a non-skid liner, the spice bottles stay in place while spinning.
Having it in the cabinet maximizes space while it gives a better scene on the kitchen counter. A functional piece that needs no mounting.
You can be assured that this is a useful gift to give.


Should you be interested to check out other spice rack organizers, click here to read my review.
---
→ Herb Scissors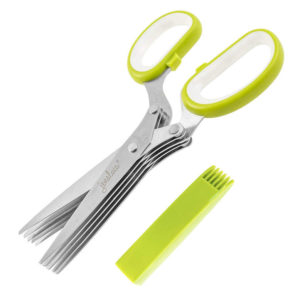 This is another cool gift for the home cook who loves cooking with fresh herbs. No more tedious chopping. With this heavy duty 5 blades kitchen shear, one can snip herbs directly onto food. It saves time and hassle.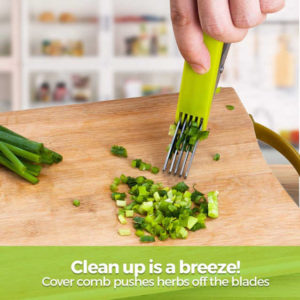 Furthermore, this indispensable kitchen gadget comes with a cover case to protect the blades when stored. Most importantly, prevents finger cuts.
The cover doubles as a herb removal. One quick swipe of the cover removes clinging herbs.
In brief, this is the perfect tool to have – no mess, more speed in cooking.

---
→ Adjustable Handheld Mandoline Slicer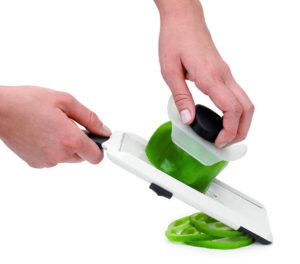 Simple and fuss-free mandoline perfect for slicing. Adjustable in 3 simple settings, 1mm, 2.5mm and 4mm.
The food holder protects the fingers from minor incidents. This is an important feature to have. A few times, I had my fingernail sliced off. And some near-miss incidents of having my finger 'sliced'.
With this 1 piece unit, there is minimum washing to be done and it is dishwasher safe.


---
Gifts Under $20
→ Foldable Plastic Cutting Board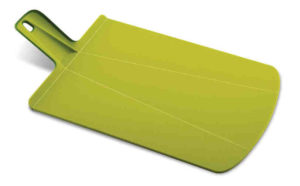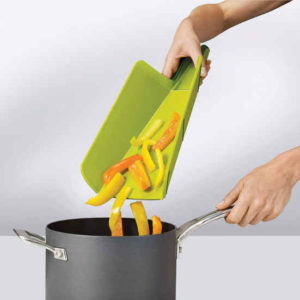 When the handle of the board is squeezed, the sides fold up forming a chute. This allows cut vegetables or fruits to slide down easily into cooking pots or containers without spilling. Using a normal cutting board, cut food will go out of the way while sliding down.
This foldable cutting board simply makes food preparation less messy and much easier. Surely, this will be appreciated.

---
→ salad spinner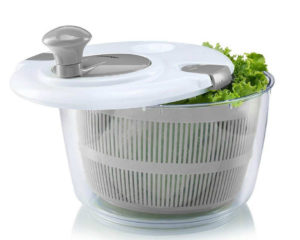 This is the go-to gadget for someone who loves their green salad. It quickly dries freshly washed lettuce and other leafy greens.
The unit's transparent base bowl doubles as a serving bowl – straight from the kitchen counter to the dining table. Or simply cover it up for easy fridge storage.
Have you known anyone who uses a colander to dry their salad? I am sure there is and I do. This salad spinner may be a simple gift but very useful.

---
→ Herb keeper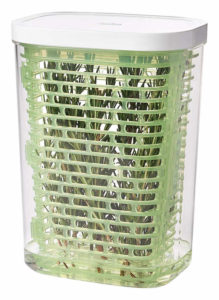 A herb keeper is an ideal container for storing fresh herbs such as parsley, cilantro and rosemary among others. It keeps them fresh for an extended period of time.
The slim design fits nicely on the refrigerator door shelves.
The basket promotes 360° air circulation while the lid maintains humidity for freshness. It can be opened wide for easy access to herbs and protects delicate leaves and has a handle for lifting in and out of the container.


Fresh herbs are mostly sold in bundles and for most recipes, a bundle is too much. What to do with leftover herbs? Often, this is a home cook's dilemma.
If you know of someone who loves to cook using fresh herbs, she or he will be delighted to receive this as a gift.

---
→ Book – Alchemy of Herbs: Transform Everyday Ingredients into Foods and Remedies that Heal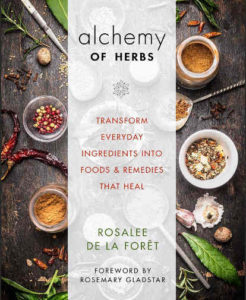 Herbs do more than adding amazing flavours to home cooked meals. They give meals a nutritional boost. This introductory book shows how to incorporate herbs and their nutritive and medicinal properties into food to upkeep health.
Most home cooks are already busy with their daily chores thus will not have time to think of this – using herbs as remedies.
Would you agree with me that this is a very thoughtful gift? Thinking of your friend's well-being, this is the perfect gift for her or him.

---
→ manual chopper

A homemaker is always in a hurry. This chopper helps to quickly and safely chop garlic, onion, vegetables, and more with a few easy pumps.
Simply place ingredients inside the non-slip cup and press down to rotate the wave-pattern blade for thorough chopping. Knife and chopping board are not needed. Great!
The removable blade cartridge easily comes apart and is dishwasher safe. That means less time cleaning and more time enjoying the meal.

---
→ Herb Garden Starter Kit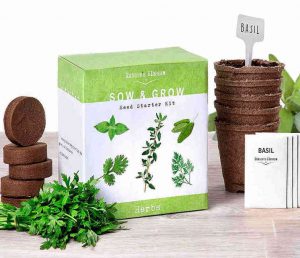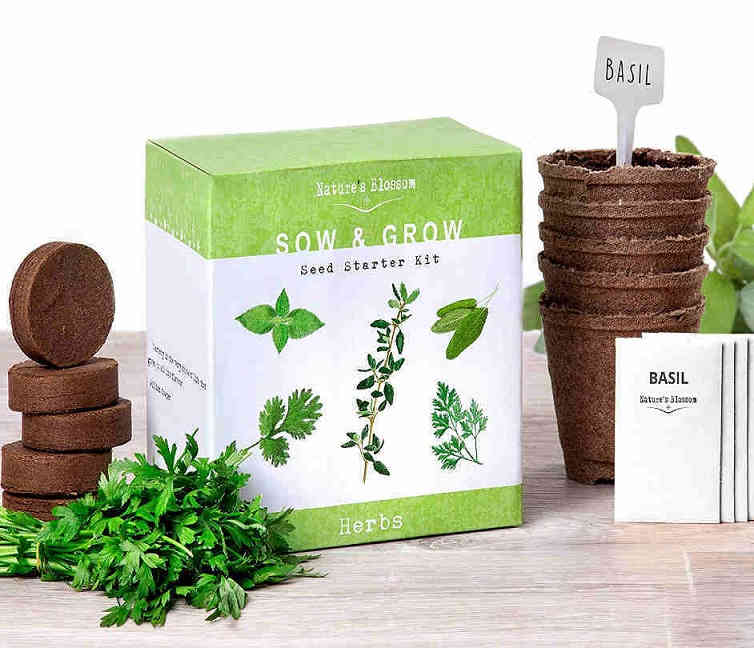 Every home cook will want to have fresh herbs at their fingertips at all times. What better way than to grow their own! This is a simple and straightforward herb starter kit with everything one needs to begin with, all in one box.
The grow kit contains
Organic seed packets (basil, thyme, cilantro, parsley, sage)
Seed starting oil pellets
Biodegradable growing pots
Plant markers
Step-by-step sowing and growing instruction manual
This makes a unique gift that your friend will surely have fun growing their own herbs. After which, the fresh herbs will be easily available to cook a delightful meal. Make sure your friend invites you to dinner then!


Should you want to take a look at more choices, click here. There are a few herb starter kits which are suitable for beginners with price ranging from $20 – $50.
---
Two gift ideas that are a bit pricey (≅ $30) but worth considering
→ Marble Pastry Board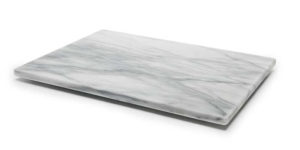 Made of 100% marble, the cool and smooth surface together with its natural non-stick properties are ideal for rolling or kneading dough. Also suitable for cookies and other pastries.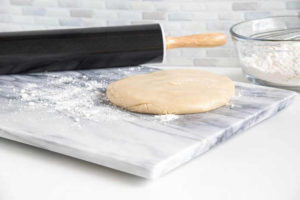 The non-slip rubber feet on the bottom provides protection for the countertop. Furthermore, leave it on the countertop, the sleek design adds elegance to the kitchen.
The price is a bit expensive, I know. Therefore, you may consider buying this for someone close to you. Someone dear to you who loves to cook and bake! Oh, I love to have one and will wait for it 😉

---
→ Instant Marinator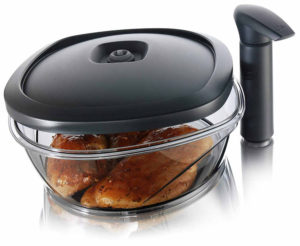 A quick and easy way to marinate beef, pork, poultry, fish or vegetables. With this Instant Marinator, the marinate time can be reduced to 20 minutes instead of hours or overnight. It has a capacity of 2.5 litres.

The Vacuum Pump (included), pumps to remove air, creating an airtight seal that allows the meat to draw the marinade in.
Made from highly durable polycarbonate, the marinator is dishwasher safe and the vacuum pump can be easily cleaned by wiping with warm water.
Time is of the essence for a home cook and this will surely help them save time in the food preparation process.
On several occasions, I have forgotten about marinating the meat in advance. Well, life is busy. So, it will be wonderful using an Instant Marinator – get it done in 20 minutes.
If you take a closer look at the customer reviews of this product on Amazon, there were some negative reviews among the positives.
It was mostly because of the lid imploded. There was one very good advice from a customer – do NOT over-pump the lid. Doing so will cause the edges of the lid to crack from the pressure. Follow the instruction manual strictly using the vacuum pump.
On the other hand, the positive comment is this product truly helps infuse the flavour of the marinade into the meat in a much shorter time.
There is always the good and the bad. It very much depends on how the product is being handled and used.
To help you decide if this is the gift for your friend,


---
If you are a DIY person
Try making your own gift, giving a personal touch and leaving a lasting impression.
Spice Rub – create your own spice blend and present it as a gift. Click here to find out how.
Herb Infused Oil – create your own signature version using the Oil Infuser recommended above. Else, look for a nice beautiful bottle to store and give away as a gift. Click here for details.
The End – Not Till You Have Bought Your Gift
I hope the gifts listed here have given you an idea about what to buy for people who like to cook. No matter for a seasoned home cook or for someone who only cooks occasionally, these are very useful and practical tools to have.
The gifts recommended can help lightens the cooking tasks
The food preparation time can be reduced
Less effort is needed when using an appropriate tool
Get to enjoy cooking time in the kitchen.
Go on, you can help your friend or a family member achieve the above by getting one (or two) of the gifts listed here. Perhaps, you want one for yourself?
There are other lists of gifts you may be interested to look at
Before you proceed with the purchase or continue to the next page, tell me which your favourite item is. Or have you any other items in mind? Share with us in the comments section below.
Happy Selecting & Shopping!
From the Corner of My Home – Spice Up Your Life with Herbs and Spices
Disclosure: This blog post may contain affiliate links as part of the Amazon.com Services LLC Associate Programs and other affiliate services. This means that cornerofmyhome.com receives a small commission by linking to amazon.com and other sites at no extra cost to the readers.