Help! There is an outburst at home. What do you think it is? One of the worst nightmares for any teenager. Yes, acne outburst. Any teenager or adult would definitely be agitated at the sign of acne or pimples. You could look for over the counter treatment for acne but homemade acne treatment is worth considering. If you like to find out what the best acne treatment for teens is and using kitchen herbs and spices sound good to you, read on. This is probably the most natural way to clear acne.
Firstly, let's understand
What is Acne and Pimples
A pimple is formed when the skin pores are blocked with dead skin cells being held back by sebum (skin's natural moisturiser).
When sebum, skin cells and hair follicles cluster together, a plug will form. Once this plug is infected with bacteria, it swelled up forming acne.
In simple words, pimples are a subset of acne. So are blackheads and whiteheads.
Blackheads and whiteheads are pimples that are not inflamed. Blackhead turns black because air oxidises it. Whitehead is as is because the opening skin pore is too small for air to oxidise it.
Pimples are inflamed when the clogged pore ruptures under pressure and gets infected with bacteria. The pus pushed to the surface causing a raised white, puss-filled tip.
Homemade Acne Treatment
Herbs and spices have been used for medicinal purposes all over the world for centuries and they are the best gifts Mother Nature provides. Here are 3 common kitchen herb and spices you could use to clear acne or pimples.
1. Cinnamon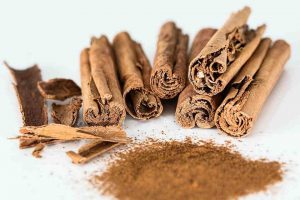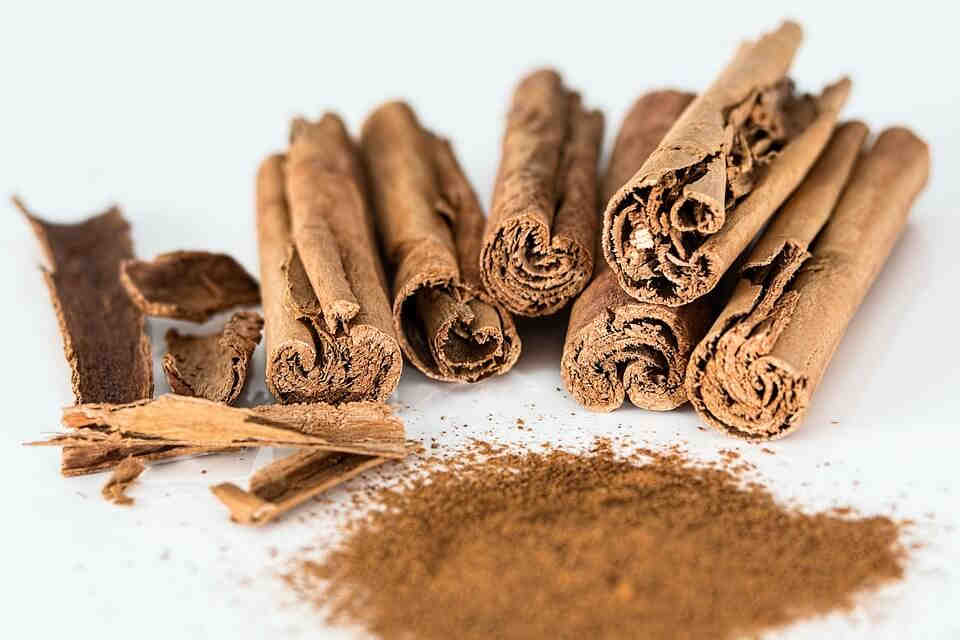 Cinnamon with its antimicrobial properties, help to stop bacteria from getting out of control. Make a simple natural remedy using cinnamon and honey to improve the condition. Honey's antibiotic properties help to wipe out bacteria.
Mix a bit of cinnamon powder with a bit of raw honey to form a paste. Dab a little of the paste on each pimple or apply on your face as a mask. Rinse off completely after 20 – 30 minutes. Repeat a few days if necessary.
Honey also has anti-inflammatory properties that help avert swelling and redness caused by acne.
Important note: Use raw honey and NOT processed honey products which can irritate your skin, making acne worse.
2. Mint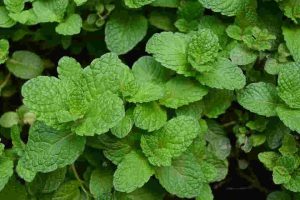 Mint contains menthol and has anti-inflammatory and antibacterial properties. It will not cure acne but is effective at reducing acne breakouts and is soothing to the skin, helping to ease the discomfort caused by swelling and redness.
Crush a generous handful of fresh mint leaves thoroughly, using a blender or pestle and mortar. Rub the juice and crushed leaves on your face. Rinse off with cold water completely after 10 – 15 minutes.
Or
Crush 2 tablespoon of fresh mint leaves with 2 tablespoons of oatmeal in a blender. Add 2 tablespoons of plain yoghurt and apply this concoction on your face. Rinse off thoroughly after 10 – 15 minutes.
3. Turmeric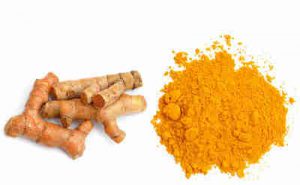 Turmeric with its powerful antimicrobial properties helps destroy bacteria. It also assists to remove excess oil. High in antioxidant, turmeric helps in treating pimples and the inflammation caused by it.
Same as the cinnamon with the honey combination, mix a bit of turmeric with raw honey to form a paste. Dab a little of the paste on each pimple or apply on your face. Rinse off completely after 10 – 15 minutes. Repeat once every day if necessary.
Or
Mix ½ teaspoon turmeric with 1 tablespoon lemon juice and apply on the affected area. Rinse off completely after 10 – 15 minutes.
Lemon contains antibacterial and antimicrobial properties that can stop bacterial growth. Its citric acid acts as exfoliate, helping to remove dead cells and oil that clog the skin pores.
Or
Mix a bit of turmeric with a few drops of olive oil and apply on the pimples or face as a mask. Rinse off completely after 15 – 20 minutes.
Cautionary advice – Your face will turn slightly yellowish after rinsing but don't worry, it is not permanent. The yellow colour is due to curcumin, a substance in turmeric. It does not stain your face as it will fade off after several washes.
To overcome this, wipe the affected area using a few drops of mild facial toner on a cotton ball. Worse case, mix some water with sugar and scrub your face with the solution. Your skin will be stain-free as well as super-clean.
A reminder to cleanse your skin thoroughly before applying these home remedies. If you experience inflammation, itching, or burning, discontinue use and/or, if the problem becomes severe, please see a dermatologist.


Go for Natural Remedies
Well, that's the 3 common herbs and spices used to clear acne. Cinnamon and turmeric are always available in my pantry. Are they yours?
If you noticed, all the concoction above contains 5 other ingredients (besides the herb and spices) that you probably have in your kitchen -raw honey, oatmeal, plain yoghurt, lemon and olive oil.
If you do not have raw honey, you can use olive oil or lemon. Or vice versa.
The above-mentioned homemade acne treatment is simple to make at home with ingredients from your kitchen. You only need a little of each and will save you a lot in terms of spending. Over the counter treatment for acne can be costly. Should you be interested to know, check them out on Amazon.
How to find the best holistic skincare routine for you? Take your time to discover more here.
Healthy Lifestyle is Important
While it is good knowing kitchen ingredients can be used in making remedies to manage your acne, you must remember that a healthy lifestyle is as important.
Here is some advice for teenagers who are having acne breakouts. In fact, these are good habits to follow in preventing or minimizing breakouts.
Keep skin clean. Dust, pollutants and oil can clog the skin's pores and worsen existing acne.
Teens should wash their face thoroughly but gently twice a day. Do not over-wash or scrub overly because by doing so, it will over-stimulate the sebaceous gland causing it to produce an excessive amount of sebum, making acne worse.
Decrease toxin. Increase in water consumption. The toxin, in the form of sweat, escapes through the skin causes skin conditions that include acne.
Teens should reduce or stay away from processed food that contains saturated fats, artificial food colouring/flavour, high level of sodium and sugar. This is one way to reduce ingesting toxins that will seep through the skin.
Additionally, teens are encouraged to increase water consumption to flush toxins out of the body.
Use makeup sparingly. Chemicals added dyes and oils will clog pores and causes an acne breakout.
Teens should avoid wearing foundation, powder or blush during an acne breakout. If need to, use natural, water-based cosmetics.
Keep hands off. Dirt and oil on the hands will make acne worse. Bacteria will spread and irritate the already inflamed facial skin.
Teens should avoid touching their face or pinch the pimples.
Exercise regularly. Perspiration helps to eliminate toxins, dirt and chemicals.
Teens are encouraged to work out regularly. Perspiring and hydrating more often can prevent acne. As they drink more water and perspire, sweat is cleaner and clearer, helping to prevent pore blockage, oily skin and acne breakouts.
Have you thought of learning herbalism?
Becoming a herbalist is not just a career choice. Learning herbalism is for anyone who wishes to take the natural path to support their own, as well as their family's general health.
There are many ways herbs can be used to support wellness besides making herbal remedies.
The Herbal Academy has an online course where you can learn from the comfort of your home. This package, The Family Herbalist Path Course, includes the Introductory and Intermediate Herbal Courses and you get a special discount for this.
Take a minute to explore for yourself.
Preview Lesson from the Introductory Herbal Course
Good news! The Holiday Sale in on. All programs are discounted up to A Jolly 25% off.
Take a look ↓


All in All
In the first place, personal hygiene and a healthy lifestyle are important to prevent acne or pimples to form. However, you and I know that things happen. Should there be an acne breakout still, you can prevent it from worsening using homemade acne treatment.
While it is convenient getting over the counter medicine, why not give the natural treatment a go. While mint leaves may not be available all the time unless you grow your own, turmeric and cinnamon are easily available and store well.
Both my teenage children use either cinnamon or turmeric remedy and they are not complaining. Lately, they are searching for natural ways to get rid of acne scars and found aloe vera helps. Here is a very informative post written by Lenka Sophie at What You Need for Beauty about getting rid of acne scars using aloe vera.
So, are you ready to make your own remedy? Willing to try? Tell us or share with us, your experience with an acne breakout, homemade remedies, dos and don'ts. Leave them in the comment section below. We look forward to learning more.
Related Read
Share the article
If you find this blog post interesting, please share it with anyone that you think might find it useful. Thank you and have a good day!
Disclaimer: I am not a doctor or medical professional, and this post should not be taken as medical advice. Please do your own research. Material on this blog is provided for informational purposes only. It is general information that may not apply to you as an individual and is not a substitute for your own doctor's medical care or advice.
Disclosure: This blog post may contain affiliate links as part of the Amazon.com Services LLC Associate Programs and other affiliate services. This means that cornerofmyhome.com receives a small commission by linking to amazon.com and other sites at no extra cost to the readers.