Updated FEBRUARY 21, 2019
Before this, I wrote an article about using your common cooking herbs to make smoothies. It is one of the easiest and healthy way to use up your fresh herbs. If you have missed it, click here to read more. There, I shared 5 simple steps and ingredients ratio to make a healthy smoothie without a recipe. One of the ingredients is frozen fruits. You will be asking – What is the BEST Blender for Making Smoothies with Frozen Fruit. Look no further. Here is my review for your easy reference, very much based on practicality and affordability.
Firstly, let's take a look at
What type of Blenders do you need
Basically, there are 4 categories:
High performance, commercial-grade blenders are absolutely marvellous to make smoothies using whole fruits or vegetables such as apples, pears, carrot and beetroot, among others. Needless to say, crushing ice and blending frozen fruits work its best.
These blenders usually work with 1,000 watts and above, providing much power to do what they are meant to do with greater durability.
Needless to say, the higher the power, the higher the price, ranging from $300 – $1,000+.
Conventional blenders fall into the category of small kitchen appliances or commonly called countertop blenders. They are usually used for blending, mixing, puree or emulsifying food that are less intense, semi-solid or food that has been cut into smaller pieces.
Most of these have around 500 watts, which is sufficient for a typical blender. They are some models with a higher power, up to 1000 watts to handle the blending of tougher ingredients such as frozen fruits or crushing ice for making smoothies.
The prices for these countertop blenders are within the $50 – $150 range.
Personal blenders are meant for blending a smaller amount of ingredients. It is perfect for making a smoothie for personal consumption. These blenders allow you to blend and drink from the same container. Most often, they come with lids so that you can drink your smoothie on the go.
The power wattage for these blenders is around 200 watts. These won't be able to crush ice for smoothies. However, they might be able to blend frozen fruits depending on the sizes of the fruits and amount of liquid used. Read on to find out how.
The price of personal blenders can go as low as $15. Some models can go up to $80 which come with extra cups or travel bottles and lids.
Immersion blenders, occasionally referred to as stick or handheld blenders have no containers of its own. The rotating head with blades is immersed in the container that already contains food or ingredients. It is then turned on and the contents start to blend.
These are great for milkshakes and most suitable for pureeing soup – no need to transfer the hot soup from pot to blender jar, minimizing spillage or accidentally burning your hands/fingers.
These blenders have the same power wattage as personal blenders that is around 200 watts.
The prices for the basic models are within the $15 – $50 range. There are some that include attachments such as whisk and chopper which can cost around $100 – $200.
My Opinion
I don't think there is a need for a commercial-grade blender to make smoothies with frozen fruits. Not going to make ten or twenty glasses per day at home. It is awesome to have but not many of us can afford to pay the high price that starts around $300.
Personal blender and immersion blender are perfect for the small and specific task where the personal blender is most suited for making smoothies for own consumption. Especially if one is always on the go, rushing to work or school or to the gym. Another advantage is less washing to do.
Caution is much needed when using an immersion blender as the operating button can be sensitive. Always remember to unplug before washing. Even when you need to stop for a while to scrap down food stuck between the blades or for other reasons. Use chopstick or spatula to push down food instead of your fingers.
By far, a conventional blender is most practical to use at home if one cooks often. Besides making smoothies for the family, it is the best assistant, be it chopping, mixing, blending or pureeing.
Here, I have a selection of frozen fruit smoothie blender from different categories for you to consider.  One personal blender, one immersion blender and three conventional blenders. These were chosen to match personal needs and lifestyle, as well as practicality and affordability.
Here you go,
what is the best blender for making smoothies with frozen fruit
A smoothie for myself. Always on the run. Dislike the cleaning up.
Go for the Personal Blender!
Epica Personal Blender with Take-Along Bottle
Equipped with a 250-watt motor, it is a good power for a personal blender. Combined with its heavy duty stainless steel blade, your ingredients get pulverized easily and fairly quick.
The mixer container cum take-along bottle is break resistant BPA-Free, resisting cold and heat from -40° to 112°F. For this reason, it is completely safe. Wherefore, it safely goes into the refrigerator, freezer, as well as dishwasher.
Practicality. To begin with, this blender makes good frozen fruit smoothies for a single serving. However, extra care has to be taken when crushing ice. I found a few contrasting customer comments:
"It's not good at crushing ice…"
"…crushes up everything…"
"Doesn't work well with ice…"
"…crush ice fairly well"
Actually, frozen fruits are recommended instead of ice cubes. The reason is not to dilute your smoothie. If ice cubes are what you need, put partial and add sufficient liquid to get it started. Add more ice cubes once the concoction gets moving.
Back to the product, this take-along bottle comes with a sealable lid. So there isn't any need to worry about spillage while on the run. Furthermore, this lightweight bottle fits most car cup holders.
After blending, before you rush off, there is only one part of the blender to be washed. That's the blade assembly. Isn't it great?
The base of the blender has suction cups which help to grip the countertop. This prevents the blender from "walking" or tipping over. On top of this, it also features a secure shutoff function which prevents the motor from operating unless the blending bottle is attached.
There is one drawback though. The take-along bottle is a bit too tall and narrow. Ingredients which are less dense may get stuck at the top. You may need to stop blending, nudge them down and start again. In this case, it is best to know the correct order to put your ingredients into the bottle, ensuring a smooth blend.
When it comes to washing the bottle, best to use a bottle brush to reach the bottom of the bottle.
Affordability. This is not the cheapest personal blender and might not be the most powerful in this category. Still, with a price tag that is no more than $30, it gets the job done with minimum fuss. This product comes with a 2-year warranty.
Overall. If simplicity is what you seek – to make a healthy smoothie to go on a daily basis, buy this EPICA Personal Blender with Take-Along Bottle.


No frills blending. Quick and convenient.
KitchenAid 2-Speed Hand Blender KHB1231
This 2-speed hand blender provides good control for blending, pureeing and crushing with ease, while the stainless steel S-shaped fixed blade quickly process the ingredients. Thereupon, this is a great tool to make a frozen fruit smoothie.
Besides, the soft grip handle provides a comfortable non-slip grip during continuous blending.
Practicality. The removable 8-inch long blending arm allows the rotating blade to reach further down into a deeper jar or container, should you decide not to use the blending jar that comes with this unit.
Since the arm is detachable, it is much easier when it comes to cleaning. Twist off the blade portion and give it a nice warm rinse after blending. Always remember to unplug when the blending stops.
This hand blender comes with a 3-cup BPA-Free blending jar with lid, allowing you to blend, drink or store for later using the same jar. Less washing to do and the jar is top-rack dishwasher safe.
There is a non-slip ring on the base to prevent the jar from "walking" on the counter. Yet, it is still advisable to hold on to it while blending. Don't want to create a mess, do we?
Talking about the mess, caution is needed when using an immersion blender. Be sure to fully immerse the rotating blade into the liquid portion of the smoothie ingredients BEFORE pressing the "on" button to prevent splattering. Else, it will end up with more cleaning instead of less.
There were some less favourable comments among some Amazon customer with regards to the removable arm which detached during blending. In fact, it is much secured if attached properly. There is a marking on both ends of the motor body and the blade arm. Attach and twist them till there's a "click" sound, indicating that it is properly attached.
Affordability. An immersion blender has a large price range, from the lowest at $15 till around $200. Without the extra accessories and different attachments, this KitchenAid 2-Speed Hand Blender is most affordable at around $30+. It comes with a 1-year free replacement warranty.
Overall. This is a well-built powerful piece of gadget, allowing an easy and quick blending of a frozen fruit smoothie. Subsequently, easy to wash and store. No frills are what you want and not to deal with much cleanup, you'll need this KitchenAid 2-Speed Hand Blender.


Smoothies for one. Or two person. Sturdy with good blending power.
Go for the Conventional Blender!



Oster Pro 1200 Blender Plus 24 oz Smoothie Cup
This blender features dual direction blade technology which provides extra blending power to chop and grind with precision. Coupled with 1200 power watts and 900 watts of ice crushing power, it means getting your smooth icy frozen fruit smoothie effortlessly.
Practicality. The 6-cup dishwasher safe Boroclass glass jar is adequate to make a smoothie for two people. There is an option to make a smoothie for one person using the 24 oz cup which comes with this blender. In this case, use the cup to blend, seal with the lid and go.
The Smart Setting Technology featured in this blender includes a pre-programmed setting for making the smoothie.  Therefore, guesswork of how long and what speed is needed to blend are eliminated. In addition, the pulse feature gives added control and precision.
This blender has an extra wide 3.5" blade system and wider jar. With these two features, the ingredients will be able to flow down into the blade easily and blend freely with smoother results.
On the downside, this powerful blender can be a bit noisy, depending on the types of ingredients used. Especially when crushing ice cubes. Undoubtedly, it will eventually deliver smooth results. Suggest using frozen fruits instead of ice cubes which is a better option to obtain a less diluted smoothie.
Affordability. This low – mid-range conventional blender at a price of around $70 is a good buy considering its Boroclass glass jar and wider than most. Also, its extra-wide blade with dual direction blade technology and smart setting technology that most conventional blenders in this range does not come with. This product has a 3-year warranty.
Overall. This blender, with a good motor, makes a smoothe frozen fruit smoothie with ease without complicated functions. Furthermore, the glass jar is definitely a perk. It does not scratch, discolour or absorb food odours that a plastic jar might do.
Options to make the smoothie for two using the 6-cup glass jar or prepare one for the road using the 24 oz smoothie cup is another advantage. If these convenience and perk are what you seek, seek no further. Buy this Oster Pro 1200 Blender Plus 24 oz Smoothie Cup.


Smoothies for the whole family. Power to crush.
Go for the Conventional Blender!



Ninja Professional Blender 1000 BL610
This sleek design blender which operates with 1000 watt motor and features Total Crushing Technology, easily pulverize and crush ice, whole fruits and vegetables in seconds. Together with its XL 72 oz blender jar, the whole family get to enjoy icy creamy frozen fruit smoothies anytime in the day in no time.
Practicality. This blender is ranked #1 Best Seller on Amazon in Personal Size Blender category. Looking carefully at the blender jar, it doesn't really match that statement. I mean the "category". The fact that it is quite big at XL 72 oz which equals 9 cups. Thus, this unit is really suitable to make smoothies for a family, not a personal size blender.
There is a safety feature where the motor will not operate unless the jar is locked onto the base and the lid is closed properly. This blender has 3 speeds and a pulse function for better control. Apart from these, the lid has a pouring spout that makes it easier to pour out the smoothies.
On the downside, the blending jar is made of plastic. But from a positive viewpoint, since the jar is quite big, it is safer to handle in plastic. No risk getting chipped while handling or washing. It is BPA-Free and dishwasher safe though.
Affordability. This is a fairly pricey smoothie blender compared to others in the same category, selling at around $80. However, if taken into consideration of the Total Crushing Technology and a bigger than usual blending jar, the price appears worthy. This blender comes with a 1-year warranty.
Overall. If you need to make icy creamy frozen fruit smoothies for the whole family, this is the one. With its ability to pulverize and crush ice, frozen fruits and vegetables in seconds, everyone in the family wait no further to enjoy their drink. This is Ninja Professional Blender 1000 BL610.


WANT MORE. Should you have a little bit more to spend, check out the Ninja Professional Blender with Nutri Ninja Cups BL660. This model has additional motor power at 1100 watt. Though the wattage is not much of a big difference, it comes with TWO 16 oz smoothie cups with lids. Great for two to go!


At a Glance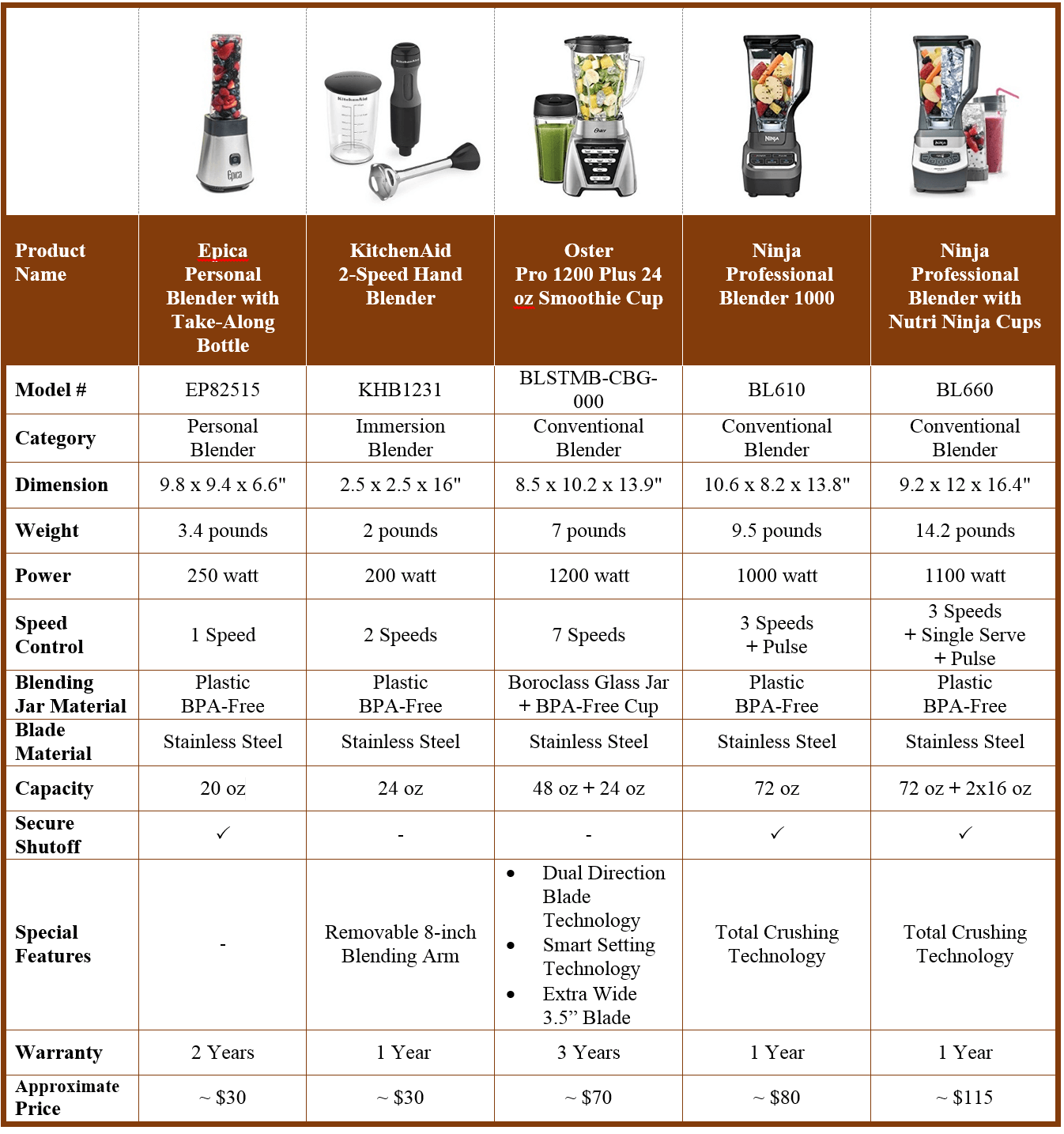 My Sharing
While searching for the best blenders to make frozen fruit smoothies, I came across some similar customer comments and feedback. These similar issues arise regardless of which brand names, blender category, low or high-end products.  Here, I would like to share with you the complications and implications on how to alleviate these issues.
The 2 most talked about complications were
Frozen fruits and vegetables not smoothly blended
Jar and/or lid leakage.
Suggestions to overcome the above
Cut and pre-portion the fruits/vegetables before freezing them. It will be easier for the blender to work. Furthermore, it is easier for you too, just grab a portion as and when needed.
Thaw the frozen fruits. Less strain on the blender. Although some blender has ice crushing ability, frozen fruits and vegetables can be tougher than ice.
Ensure enough liquid is added to the mixture. Else, it will be hard for the blender.
Always start with liquid. Meaning the liquid should be at the bottom of the jar so that is it easier for the concoction to get moving. Follow by vegetables. Next, frozen fruits and lastly, the fibre of your choice or protein powder. If it is too thick, add liquid. If too thin, add fruits or greens.
Pulse the mixture to soften the ingredients before going for full speed.
Do not overfill the blender. If so, during blending, the pressure within will force the mixture out, causing leakage. There is a maximum capacity indicator on the blending jar for this purpose.
Check the gasket on the lid or blender jar. If not attached properly, the liquid will seep through. Sometimes, even a tiny piece of food particles in a seal causes a leak.
All cases are different and there is no one solution fits all. We can fix some of them ourselves and if not, it is advisable to call the respective brands' customer service or choose to return the product inline with their return policy.
I have to say this. I believe sometimes it is very much based on luck. Out of a thousand unit, there will be a possibility that one of them is faulty. My experience is that having a fridge that lasted 20 years without any issues. When I upgraded to a bigger unit 3 years ago, it gave a problem after 2 years. Sent it back under the manufacturer's warranty and the compressor was replaced. Talk about luck. Imagine these modern times, living without a fridge for 1 week! A family who needs to cook every day. Tell me… (sorry, I digressed a little…)
All Things Considered
It does not matter which brand you choose, a high or low priced blender. All you need is a practical and affordable blender to make your favourite frozen fruit smoothies. Obviously, your needs and lifestyle have a lot to do with our decision in choosing either an immersion handheld blender, conventional countertop blender or a personal blender.
Blenders with special or additional features such as total crushing technology or dual direction blade technology are good to have. It makes it much easier to handle the blending task.
Still, I would highly suggest following the tips mentioned above. In particular, cutting the fruits/vegetables before freezing, thawing before blending and ensuring adequate liquid. These steps will help to lessen the strain on the blender. Thus, prolonging its motor efficiency and lifespan.
On the other hand, a simple less expensive blender without the current technology will still do a justly good job blending your smoothies following the steps mentioned.
Your Choice
Have you chosen a frozen fruit smoothies blender for yourself? These 5 blenders reviewed are practical and affordable. I hope this helps you to select the one that suits your needs.
Before you leave this site to do your online shopping, share your smoothie blenders experience with us. No matter good or bad, we learn together.
A Friendly Reminder
Check your fridge for leftover herbs. Add them to your smoothies! It is one easiest and healthy way to use common cooking herbs. Click here to read more.
Happy Smooth Blending!
Share the article
If you find this blog post interesting, please share it with anyone that you think might find it useful. Thank you and have a good day!