Updated FEBRUARY 21, 2019
We know that adding fresh herbs to our home-cooked meals make the food more intense and interesting too. The problem is when buying fresh herbs, there is always a minimum amount for the purchase. Usually, I end up with more than what's needed for cooking a particular dish. How about you? If you have the same quandary, read on as I am going to share different ways to use herbs. You know what? Let's talk about ONE way – the easiest and healthy way to use up your leftover fresh herbs. Towards the end of this article, I'll leave you a few links to other usages of herbs.
Leftover fresh herbs. What to do with it?
Waste not. Herbs tend to lose their freshness and quality swiftly thus you need to find ways to use them before spoilage.
Why don't you make something healthy out of it? Make your own smoothies with fresh herbs.
I see smoothies everywhere – selling at every nook and corner of the shopping mall, smoothies recipes published in recipes books and magazines, and all over the world wide web.
Adding fresh herbs to your smoothies is an excellent way to boost the nutrition value and enrich the flavour. You can manage a certain health problem by knowing the health benefits of the herbs and using them to mitigate the health condition.
Before taking a closer look at the herbs, let's see
Why are smoothies good for you
You may know the answer already but might still be a good read.
Smoothie is a beverage where whole fruit and/or fresh leafy green vegetables are blended. It is good for health as it provides the fibre of the fruits and vegetables.
Fibre helps to
• Provide a feeling of fullness thus eating less
• Regulate the body's use of sugars, helping to keep hunger and blood sugar in check
• Move stool through the digestive tract and colon, keeping the colon clean and healthy, and relieve constipation
It is much easier to ingest a lot more greens in a smoothie than a bowl of green salad. Also, a lot more fruits at one serving rather than having to eat a platter of fruits. Hence, giving your body much more fibre and nutrients.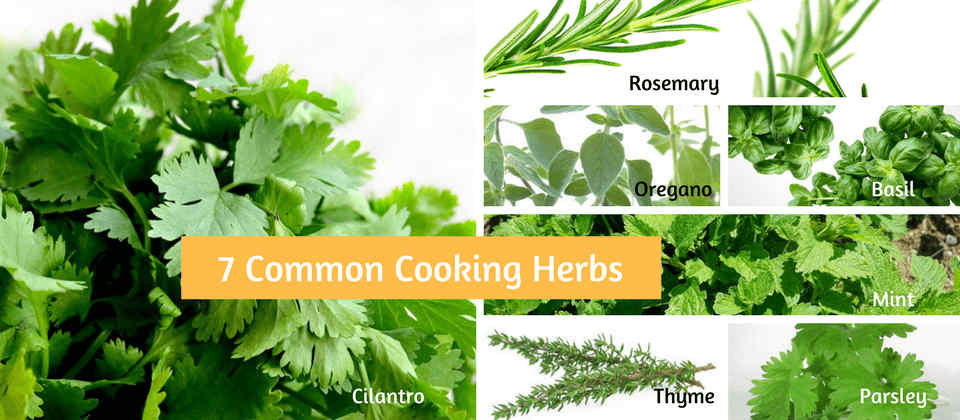 Here are the 7 common cooking herbs
Use them to make healthy smoothies.
1. BASIL is known for its antibacterial and anti-inflammatory properties, aids digestion and relieves stress.
It is also rich in vitamin K which is essential for building strong bones and support a healthy heart.
Adding basil to smoothies will lend a sweet, but savoury flavour.
Pairs well with melon, pineapple, citrus fruits and leafy greens.
2. CILANTRO is loaded with essential antioxidant and a good source of fibre, iron and
Vitamin K. It helps to aid digestion and combat insomnia.
Also, cilantro is a natural cleansing agent and helps the body to clear out toxic metal which enters our body in a small amount through the food and water we consume.
Taste the freshness of cilantro by adding it to your smoothies. It has a strong fragrance that is both sweet and pungent.
A great addition to tangy, citrus fruit smoothies.
3. MINT contains a high amount of nutrients, vitamins and minerals which are vital to
maintaining good health.
It has a high concentration of antioxidant compounds, yet low in calories – ½ cup of fresh mint leaves contains only 8 calories.
Mint adds a refreshing cool boost to your smoothies, great to have on a hot afternoon.
Cucumber & mint and chocolate & mint are the perfect pairings. So are banana, strawberry, pineapple and avocado too.
Click here to read all About Mint Leaves and Its Benefits.

4. OREGANO is rich in fibre, calcium, iron and vitamin K. This herb helps improves bone
density and is good for skin.
Also, it contains anti-inflammatory and antioxidant properties. Thymol and carvacrol, two oils found in oregano have significant bacteria-fighting power.
The taste of oregano is warm, spicy and bitter with a pungent aroma.
It goes very well with tomato and cucumber.
5. PARSLEY is another herb that contains a high amount of nutrients, vitamins and minerals. Namely, Vitamin A, C and K as well as iron and calcium. Making it a great herb for maintaining bone health and a resilient immune system.
Parsley also helps our body in the detoxification process. It targets toxins build-up in the bladder, kidneys and liver, and helps to flush it out of the body.
This herb has a vibrant, aromatic flavour with a slightly lemony aroma.
Pairs well with apple, berries, pineapple, cucumber and leafy greens.
6. ROSEMARY is rich in iron, calcium and vitamin B6, making it beneficial for combating
anaemia while improving concentration and memory.
It also helps boost the immune system and aids digestion by breaking down fats and oils.
This herb has a minty, peppery, balsamic taste with a bitter, woody aftertaste.
A great addition to citrus fruits with leafy greens smoothies.  Also goes well with melon, avocado and berries.
7. THYME is an excellent source of iron, manganese, fibre and vitamin A. It contains thymol which is shown to have anti-fungal properties.
Also, it is a powerful antioxidant that aids digestion and improves blood circulation.
Thyme has a herbaceous and floral aroma.
Blueberry, lemon and thyme are the perfect combinations. Other fruits are melon, pear and peach.
There are hundreds of smoothies' recipes out in the www and I can't say which one is best or otherwise. It is a matter of personal taste and preference. The pairings given above is just a guideline and I encourage you to experiment, create your preferred smoothies with fresh herbs.
Next, the question is
How to Make a Healthy Smoothie Without a Recipe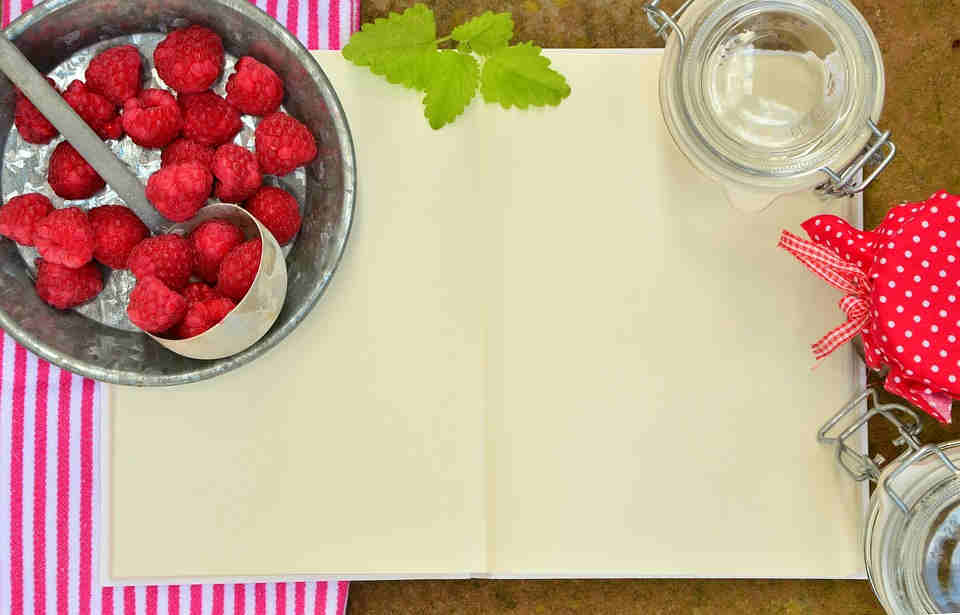 Fear not. Follow this 5 simple steps and the ingredients ratio to make a healthy smoothie in no time.
Step 1: Choose your Liquid
Any kind of milk, juice or water. Consider brewed tea or coffee too. Why not? If you do, make sure it is completely cool down.
Always start with liquid. In other words, the liquid should be at the bottom of the blender jar so that it is easier for the concoction to get moving.
1 cup of liquid per serving
Step 2: Choose your Greens
Spinach and kale are the most common greens. Other leafy greens are collards, romaine, chard, Chinese cabbage (Bok Choy/Pak Choi) or any greens that you may like. Besides leafy greens, other vegetables to consider are celery, cucumber and beetroot.
Include your herbs here. It is advisable to start small with just a sprig or two to find your preferred taste. Once you are familiar with it, you may use ¼ to ½ cup herbs.
Remove thick stems as they don't blend very well.
1 cup of liquid to 1 cup of tightly packed greens, including herbs
Step 3: Add your choice of Frozen Fruits
Use frozen fruit instead of ice cubes because you do not want to dilute your smoothie. Also, it can be hard for the blender. Try to have at least half of the fruits frozen.
To 1 part liquid and greens, add 1 ½ part frozen fruit
You may try frozen fruit such as banana, mango, peach, pineapple, melon and any kind of berries.  Fresh fruit to consider is apple, orange and avocado.
Banana and avocado are the best in creating the creaminess and smoothness of your smoothie.
Don't forget your lemon and lime! They can zest up your smoothie.
Step 4: Boost Up and/or Add Flavour as Preferred
Fibre, protein or flavour boost your smoothie now.
In this step, you may add a spoonful of chia seeds, flax seeds (or ground) or oats (soaked) to your blender. Protein powder or peanut butter can also be added at this point. For flavour, you may add a pinch of salt, cinnamon powder or turmeric powder.
If you like chocolate, add a spoonful of chocolate powder or cocoa nibs.
Step 5: Blend It
Once all ingredients are in the blender jar, start blending!
If it is too thick, add liquid. If it is too thin, add greens or frozen fruit. Adjust flavouring if needed.
Blend again, and enjoy!
5 Steps At a Glance
1 part liquid + 1 part greens + 1½ part frozen fruit + 1 spoonful booster => Blend => Healthy Smoothie
These steps will guide you to make a healthy smoothie without a recipe. Though, it is not necessary to follow the ratio exactly. Be adventurous and create your own blend. Depending on how much leftover herbs, you may decide to use them all or just a couple of sprig.
While not all combination of ingredients makes a good smoothie, once herbs are blended in,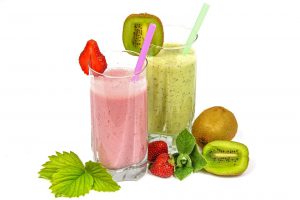 you can't really distinguish any one particular taste. You will need to experiment to get your preferred flavour. Because herbs are concentrated with antioxidants, it is beneficial even though a small amount is used.
The advantage of following these simple guidelines is that you need not follow a particular recipe. Same as in cooking, it is frustrating when you see a recipe you like but do not have some of the ingredients.
All in All
This is just one of the many different ways to use herbs, easiest and healthy - make your own smoothies with fresh herbs. I hope the guidelines provided here would enable you to easily make a healthy smoothie without a recipe. Go on! Get your leftover herbs, start making one and enjoy your delicious blend.
Click here to check out the BEST Blender for Making Smoothies with Frozen Fruit.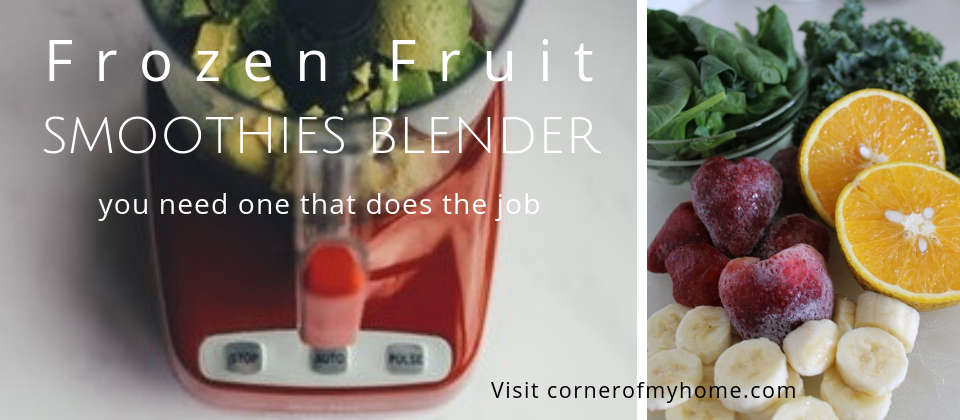 As mentioned early in this article, here are the links to
Before I leave you to do your blending, here are a few notes on
Blending Tips
• Do not fill your blender jar more than ¾ full to prevent spillage/explosion
• Start blending at a low speed, then progress to higher speed
• If blender is struggling to mix when you turn it on, turn it off and add more liquid before continuing
I will be more than happy if you would share your herbal smoothies experience in the comment section below. Besides using the 7 common cooking herbs mentioned, what other herbs would you use in your smoothie? Or share your smoothie blend with us…
Happy Healthy Blending!


Share the article
If you find this blog post interesting, please share it with anyone that you think might find it useful. Thank you and have a good day!