I was never selective when it comes to choosing a hair shampoo. Keeping things simple and as long as my hair is clean after washing, I'm good. Moreover, it was my better half who takes care of the buying. This time around, after washing my hair, I felt a cooling sensation. Upon closer look at the shampoo bottle, it contains mint!
Why would the hair products manufacturers use herbs, for my case mint, in their products? Surely, not to give consumers like me, a cooling effect.  What are the benefits to it and how do herbs help in managing hair care? I am sure you want to know.
Herbs have been used since ancient times for curing ailments. They are also used for general personal care such as skin and hair care.
Nowadays, many personal care products contain herbs. But these herbs are mostly described in their scientific names which you and I would not know what they are. More so, what they do to our hair.
Well, I found some herbs that we know of. In other words, herbs described in layman's term. Moreover, these are the herbs that are easily available in our kitchen!
Basil
Parsley
Peppermint
Rosemary
Sage
Thyme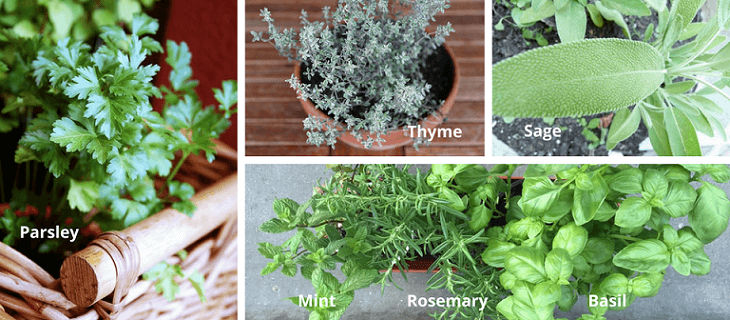 These are the most common cooking herbs that we use almost daily in our cooking. However, are these the best herbs for healthy hair and can we use them to make home remedies for hair care? Read on to find out.
Firstly, you will want to know
What Causes Hair Quality to Deteriorate
Old age. Needless to say and we don't need to be reminded on this (full stop).
Nutritional deficiencies affect the quality of the hair. Our body, hair included, cannot do what it is meant to do without getting the right nutrients.
Hormonal imbalance. There are many causes of hormonal imbalance ranging from menopause to birth control pills to a genetic predisposition. Thyroid hormones imbalance is a common culprit for hair loss.
Emotional stress, trauma and anxiety can disrupt hormone levels in the body which leads to hormonal imbalance explained above.
Physical stress that is over styling and overuse of hair products contribute to unhealthy hair. Hot blow drying, straightening and tying hair up too tightly included.
Environmental factors. Weather, water as in chlorine content, air pollutants and sunlight exposure can affect the hair quality.
Now, let's look at the
Best Herbs for Healthy Hair
Basil
Ocimum basilicum, is rich in magnesium, a mineral that is vital for the hundreds of biochemical reactions in the body. In this case, basil helps to strengthen hair protecting it from breakage and improves circulation in the hair follicles stimulating growth.
Also, basil helps soothe the roots with its anti-inflammatory properties. On top of these, adds lustre to dull hair.
Parsley
Petroselinum crispum, is high in essential vitamins and antioxidants. Both are significant in protecting the hair and scalp from free radicals and improve circulation promoting healthy hair growth.
The minerals, zinc and copper found in parsley work together and separately to help regulate metabolism and produce melanin, the pigment that helps protect skin and hair from the sun's harmful rays. Melanin also gives hair its colour.
Peppermint
Mentha piperita, contains a high amount of nutrients, vitamins and minerals which are vital to maintaining good health, hair included.
Its minerals include magnesium, zinc and copper which benefits were explained above.
In addition, peppermint has antibacterial properties, eradicating bacteria which may enter the scalp. Thus, providing a conducive environment for hair to grow healthily.
Rosemary
Rosmarinus officinalis, with its antioxidant properties, help to protect the hair and scalp from free radicals and improving circulation for healthy hair growth.
Whilst, its antibacterial properties gently cleanses hair, relieving irritated and dandruff-ridden scalps.
Rosemary also fights against premature greying and increases shine.
Sage
Salvia officinalis, contains vitamin B and C, as well as minerals – magnesium, zinc and potassium. All of these helps strengthen hair and improve the growth.
With its antibiotic and antiseptic properties, it is ideal for curing skin conditions that may impede hair growth.
Also, sage is great in adding shine to dull hair and intensify hair colour. It is a natural hair tint for dark hair.
Thyme
Thymus vulgaris, is known to contain antifungal and antiseptic properties helping to heal and soothe the scalp. Since the main causes of dandruff are bacteria, sage being antiseptic helps keep dandruff at bay.
Additionally, sage contains minerals magnesium, potassium and selenium, essential for stimulating stronger hair growth.
Knowing these common cooking herbs and their benefits for hair, you may want to
Make Your Own Home Remedies for Hair Care Using Herbs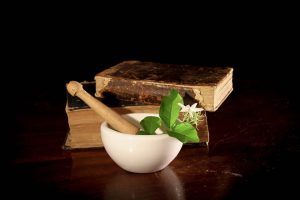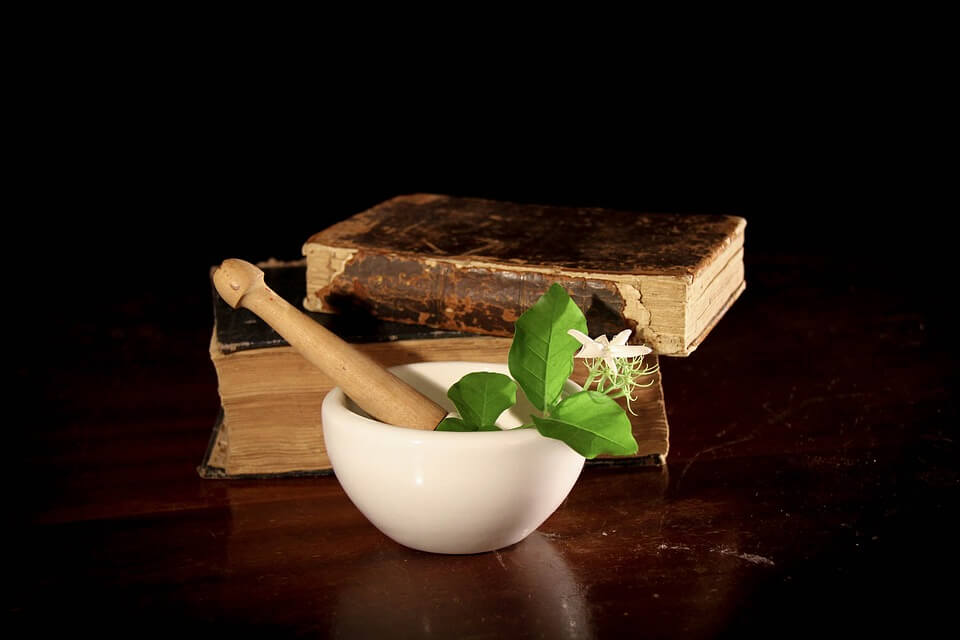 It is not very complicated to prepare. Moreover, these herbs are easily available from the grocery stores or you may even have some leftovers in your pantry or fridge.
Here are the simple remedies that can be prepared at home.
Encourage Hair growth
Basil
Make a paste-like mixture by grinding a handful of basil leaves and mix it with 2 tablespoons of pure coconut oil. Apply this mixture to the scalp and hair while massaging the scalp gently in a circular motion. Leave it for 1 hour and wash off with a mild shampoo.
Parsley
Blend a handful of parsley sprigs with two tablespoons of water. Apply this mixture on the dampened scalp.  Leave for 1 hour and rinse off.
Mint
Make a mint leaves infusion by adding 2 tablespoons of fresh mint leaves or 1 tablespoon of dried mint leaves into 2 cups of hot water. Cover and let it rest until it cools down.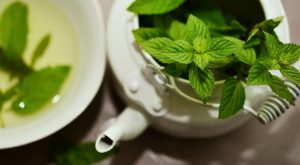 Strain and apply the mint infusion on the scalp while massaging gently in a circular motion. Leave it for 30 minutes and rinse off. Repeat the process 2 – 3 times a week. The mint infusion can be kept for 1 week.
or
Prepare a herb infused oil using mint leaves with olive oil. Put a handful of fresh mint leaves in a sterilized glass jar and add extra virgin olive oil ensuring the mint leaves are fully submerged. Close the jar well and store it in a warm place for 4 weeks.
After which, strain and apply the oil to your scalp. Leave it for 20 minutes and wash off with a mild shampoo.  This mint-infused oil can be kept for 1 week if using fresh mint leaves. Infused oil with dried mint leaves can be kept for up to 1 month.
If you want to know more about Fresh vs Dried Herbs and how to substitute fresh herbs with dried and vice versa. Click here
Learn more About Herb Infused Oil and steps on how to make your own. Click here
Click here to read more About Mint Leaves – its health benefits and interesting ways to use it. You'll be amazed by the different types of mint available.
Dandruff control
Thyme
Using a glass jar, fully submerge ¼ cup of thyme leaves with apple cider vinegar. Cover it and let the thyme leaves sit for 2-3 days.
Strain and pour into a cup or bowl. Mix with 1 tablespoon of honey and pour into a spray bottle.
Spray substantially on the scalp making sure it reaches the scalp by parting the hair if it is thick. This helps get rid of dandruff and stimulate hair growth too. Use daily if needed.
Rosemary
Using the herb-infused oil method, fully submerge a couple of rosemary sprig with extra virgin olive oil in a sterilized glass jar. Close the jar well and store it in a warm place for 4 weeks.
Strain and apply over your scalp. Leave for 15 minutes and wash off with a mild shampoo.
Darken grey hair
Sage & Rosemary
Boil ½ cup each of dried sage and rosemary in 2 cups of water. Cover and let it sit for 2 hours.
Strain and apply it to the hair after shampooing. Leave for 30 minutes and rinse off. Repeat weekly.
This herbal rinse also improves the quality of hair, preventing clogged hair follicles and revitalizing dry hair. Also, it reduces dandruff.
Oily hair
Mint and Rosemary
Steep 2 tablespoons of fresh mint leaves and 1 tablespoon of rosemary leaves in a ½ cup of hot water for 30 minutes.
Strain and add the liquid to a ¼ cup of shampoo. Use it as you would regular shampoos. It may take a couple of weeks to see the improvement in the oily hair condition.
Increase shine and lustre
Rosemary
Steep 2 fresh sprig of rosemary leaves in 2 cups of hot water overnight.
Strain and use it as a final rinse after rinsing out the shampoo in your hair.
Sage
Boil 1 tablespoon of dried sage leaves in a cup of water. Let it rest until it cools down. Use it as the final rinse after shampooing.
Do note that it could take weeks, sometimes months for these homemade remedies to show results. However, these are definitely safer and healthier than treating the hair with synthetic substances and additives.
Caution. Before using any herbal remedies on the scalp, test a small amount on the inside of the wrist. Do not use if experience itching, burning or inflammation. If pregnant, lactating or taking medication, please consult a doctor to ensure that a specific herb isn't harmful.
Above All
There are many homemade remedies for hair care on the World Wide Web. Some of them using essential oil. In this article, I have chosen to write and share on those using fresh or dried herbs because it is a great way to utilize these herbs.
Leftover herbs, waste not.
Buy some to make remedies, why not.
It is a healthy way to use herbs.
Click here to check out another Healthy Way to Use Common Cooking Herbs.
A famous phrase, "If it ain't broke, don't fix it". If your hair is in good condition, not damaged, why would you want to use hair care treatments/products? Nevertheless, why would you not give your hair a little bit of shine and lustre?
A sprig or two of rosemary leaves and hot water is all you need to give your hair a well-deserved shine.
How do you feel about using herbs from our kitchen or garden to make natural remedies for hair care? Do you know of any other homemade remedies that you can share with us? Please leave them in the comments section below and have a Good Hair Day!
END OF ARTICLE – NOT JUST YET
Lack of time prevents you from making your own remedies or simply dislike the hassle. No reason not to take care of your hair. You can opt to buy hair care products.
The following are some of the well-known brands in the market selling hair care products that utilize herbs as the ingredients.
JUST NATURAL HAIR CARE (JUST NUTRITIVE)
The products are made in the USA. This company is a firm believer that nature provides the best ingredients to achieve effective hair care. They believe that solutions may be found in nature without using chemical substitution, in the pure and nutritive form of herbs and plant oils.
The nutritive ingredients used – the purest plant oils, butters, botanical extracts and essentials are gently transformed by experienced hands into the finest creams, lotions, shampoos and many more products. Yes, their products are made by hand.
NATURE'S GATE
The company was formed in 1972 by two brothers from Venice Beach CA. Their ingredient philosophy is that they formulate with natural plant and fruit extracts, essential oils, and sustainably harvested herbs to deliver clean, natural and safe products from hair to toes.
ODYLIQUE
This is a family-owned company. Odylique, formulated by its founder, Margaret, is hand-made in their Suffolk, UK workshop – not outsourced to a factory. This ensures the highest level of product quality and freshness. Their philosophy is simple – All ingredients must have therapeutic value, and the product must be a joy to use – meaning they use actives – herbs and essential oils – in therapeutic concentrations for optimum benefit.
Share the article
If you find this blog post interesting, please share it with anyone that you think might find it useful. Thank you.