UPDATED DECEMBER 31, 2019
While dried herbs are easily available in our kitchen, fresh herbs might not. Unless you have your own herbs garden. Since fresh herbs do not last, most of us will only keep the dried version. How many times have you used a recipe only to find out that fresh herbs are needed? Sometimes, this put me off. Therefore, it is good to know how to substitute fresh herbs with dried.
Knowing how to substitute, you will always be able to cook your favourite dish without omitting the herbs. It does make a difference in taste and aroma. Furthermore, you will reduce wastage too. Buying fresh herbs, mostly come in a bundle. What to do with leftovers? May end up in waste.
Actually, there are ways to extend the life of fresh herbs and things we can do with leftover herbs. Read on to find out.
How to substitute fresh herbs with dried
The general rule of thumb to substitute fresh herbs with dried is a ratio of three to one.
3 portions of fresh herbs = 1 portion of dried herbs
Following the cooking measurement conversion, 1 tablespoon equals 3 teaspoons. Therefore, when a recipe called for one tablespoon (3 teaspoons) of fresh oregano, substitute it with one teaspoon of dried oregano.
Dried herbs are more concentrated in flavour. This is the reason why we use them in a smaller amount. Having said that, they can lose its flavour over time. If so, you need to measure out a bit more than the recipe called for.
When substituting fresh herbs with dried or vice versa, it is advisable to continuously taste your dish during cooking and adjust the ingredient to get the best flavour that suits your taste buds.
REMEMBER: LESS dried herbs ; MORE fresh herbs
On a separate note
In the beginning, I find it extremely confusing with the below sentences.
Substituting fresh herbs for dried
Substituting fresh herbs with dried
In case you feel the same too, I will explain it here.
Be careful with the underlined words "for" and "with" as they give a different meaning altogether.
In sentence no. 1 => it means USE fresh herbs, NOT dried.
In sentence no. 2 => it means REPLACE fresh herbs with dried. In this case, USE dried herbs.
USING FRESH HERBS VS DRIED
Before we go further, let's define herbs between soft and hard.
Soft herbs have tender stems and leaves. The common ones are basil, cilantro, dill, mint, parsley and tarragon.
Hard herbs have woody stems with firm leaves. The common being chive, oregano, rosemary, sage and thyme.
Soft herbs are best used fresh and should NOT be replaced with dried. Usually, they are added at the end of the cooking process to bring out the soft, aromatic flavour without destroying the freshness of the herbs. I like to see greens in my dish. Am sure you do too.
Hard herbs are mostly added in the early stages of cooking to allow them time to infuse flavour into the dish. Whole sprigs can be added to soup, stews, casseroles or roast.
REMEMBER: Use soft herbs at the end of cooking; use hard herbs at the beginning of cooking.
Dried herbs, similar to hard herbs are best used at the beginning of the cooking process. As long as we cook them long enough to soften and allow them to release their flavour, the dish will taste similar if not better.
So, the most common question asked – Can I substitute fresh herbs with dried?
YES to hard herbs; NO to soft herbs.


How to Store Herbs
Now we know – to substitute fresh soft herbs with dried is NOT a good option. Thus, we should look into ways to extend the life of these fresh herbs.
Soft herbs are like a bouquet of flowers. Trim the end of the stems and put the bundle in a glass filled with water. Depending on the temperature of your environment, if it is cooling, you may leave it on the kitchen counter. If it is a warm day, you should cover the herbs loosely with a plastic bag and put it in the fridge.
Hard herbs are firmer and therefore can be stored differently. Wrap loosely with a paper towel, put it into a plastic bag or airtight container and store it in the fridge.
Dried herbs are easier to store and I see many of them in my pantry. There are 3 things to remember when storing them.
Keep them in an airtight container or jar. Glass is the best option because metal and plastic can affect the flavour of some herbs.
Keep them in a cool place. The heat will speed up flavour loss.
Keep them in a dark place, away from light to conserve the colour.
To check its freshness, crush the dried herbs between your fingers and smell it. If the scent is light, the herbs have lost their flavour and need to be replaced.
REMEMBER: Moisture, temperature and light can affect the freshness of the herbs if not destroy the beneficial properties of the herbs.
Need to stock up your herbs and spices?

in Summary
Fresh is always nice but there will be wastage. Unless we store them properly or have a herbs garden of our own. Storing them properly isn't hard to do. Just a little effort will help. It is worthwhile because nothing beats to using them fresh as in from market or garden to cooking pot.
You may consider growing your own herbs. Thus, you will have fresh herbs at your fingertips all year round. Click here to find out how to grow herbs indoor year round.
Remember not to substitute fresh soft herbs with dried. However, you may do so with fresh hard herbs. The ratio to substitute is easy to remember – three to one (3, 2, 1)
3 portions fresh = 1 portion dried.
Dried herbs are to be used in the slow cooking method and added at the early stage of the cooking process. Whereas, fresh are added last.
No matter what we cook, how we cook, taste the dish continuously along the cooking process in order to achieve the best taste. Some of us like it mild, some like it stronger, so it really depends on our own taste buds. When adding herbs especially dried, remember to do it bit by bit because we cannot take out what has been added but we can add more if needed.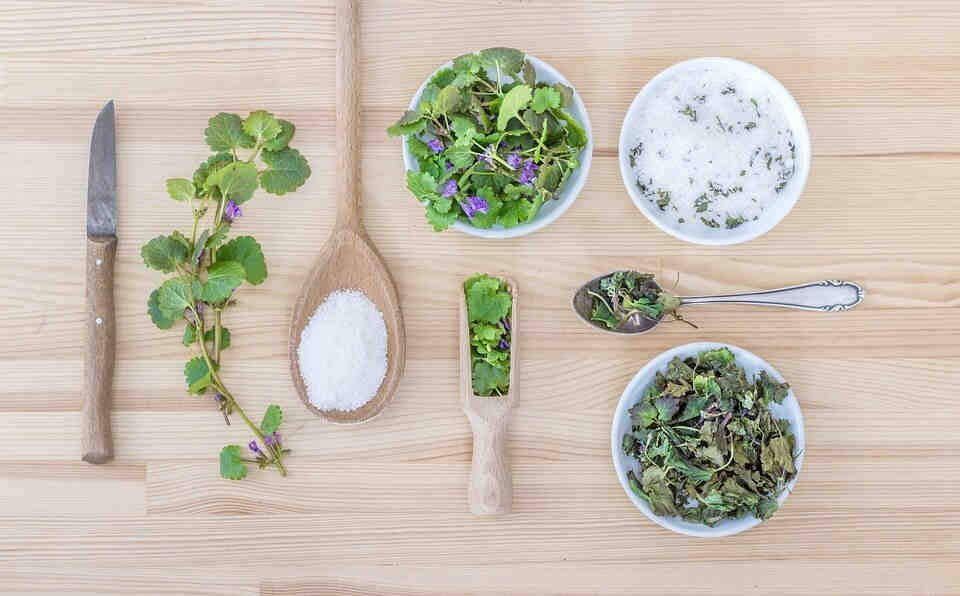 Knowing how to substitute fresh herbs with dried makes your cooking experience easier. No need to rush out to the neighbourhood grocer at the last moment. Yet, still able to cook up flavourful dishes.
Should you want to improve your cooking skills, consider taking an online cooking course at Rouxbe. Learn at your own pace from the comfort of your home with just $9.99 per month. Start your 30-day free trial here.
What was your experience with fresh vs dried herbs? Which version do you prefer using? Tell us about it in the comments section below. If you have a better way storing the fresh herbs, share with us.
Related articles that you may find useful
If you have some leftover herbs, there is a healthy way to use common cooking herbs. Click here to find out.
Additionally, herbs can be used for homemade remedies. Check out the below posts.
Share the article 
If you find this blog post interesting, please share it with anyone that you think might find it useful. Thank you and have a good day!
From the Corner of My Home – Spice Up Your Life with Herbs and Spices
Disclosure: This blog post may contain affiliate links as part of the Amazon.com Services LLC Associate Programs and other affiliate services. This means that cornerofmyhome.com receives a small commission by linking to amazon.com and other sites at no extra cost to the readers.