Updated JULY 1, 2019
Seeing my neighbour having a barbecue in their front yard seems so enjoyable. It reminds me of my childhood when my family with all the cousins and I built a DIY barbecue pit using bricks and wire fencing as the cooking grate. That is two bricks stacked up on each side, put a wire fence on top and charcoal below. Fire away! There you go, simple days…
Should I do the same with my kids now? Probably not. Although it is a good experience, I wouldn't want to cause a mess with the ash blown all over. I guess it is time to search for a charcoal barbecue grill.
Why Charcoal
My experience with charcoal goes a long way back to the early 80s. Living with my grandmother then, she always cooks using charcoal especially making soup and stews. "Aroma and flavour are much better when cooked over charcoal", she said. Being a young kid, I don't know much. But now, I totally agree and love the smoky taste. It tastes so different compared to cooking with gas. Reminds me of yesteryears.
Can I convince you to get a Charcoal Barbecue Grill rather than Gas


It is convenient to operate a gas barbecue but there is something that you cannot replicate when using charcoal. It is the experience encountered when starting the fire. More so, controlling it. It gives us a sense of satisfaction. Are you not proud when you have started a nice fire? I mean for barbecuing ONLY. Doing it together with your family, fussing over it. This is the type of atmosphere and moments worth capturing.
On the other side, you can start a gas barbecue with a push of a button. Fast and convenient, yes. The temperature can be adjusted with ease to the desired degree. Think about the cleaning up. No ash, no mess.
No matter, my personal preference is still a charcoal grill because I am going for the magical moments with my family that I want to cherish. Also, the distinct smoky chargrilled flavour of the food that I longed for.
Are you with me?
My Hunt for Charcoal Barbecue Grill
Which Brand
Searched for the top brands and there were quite a number – Broil King, Char-Broil, Hasty-Bake, Kamado, Napoleon, Portable Kitchen, Weber and a few others. The brand that caught my attention was Weber. It appeared on all the top 10 websites which wrote about charcoal barbecue grills that I read.  The other brands appeared randomly over the 10 sites. So, it is an easy decision to go with Weber.
Which Model
A small family of four, I am looking for something simple to install, yet sturdy. The previous unit I had was a bit wobbly after a few times of usage. It was disposed of when I relocated two years ago. Now you know it has been a while since my family and I had a barbecue and yearning for it.
As I do not have a big yard, a unit that takes less storage space is preferable. Also, on a budget, I don't require anything fanciful. A simple unit with basic functions is all I need. Ultimately, it is the time spent with my family that matters.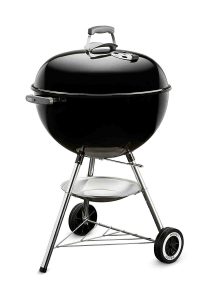 I found Weber charcoal grill. To be precise, it is Weber Original Kettle 22 inch Charcoal Grill

. This grill was invented by Weber's founder in 1951 and has been in production since then. That is more than 60 years ago. Today, with its classic domed lid, it is still available almost everywhere and listed as Well-priced and Highly Rated charcoal grills on Amazon. Still is as of July 2019.
My Weber Original Kettle 22 inch Charcoal Grill Review
Easy and quick to assemble. The installation manual is in picture form. For most people, it is pretty easy to follow. There aren't any wordings explaining the how-to. So, there might cause some confusion, not knowing if it is done correctly. Well, let's not rush through the assembling process. Enjoy the task, do it with your kids! I am sure my kids will be excited about doing this together.
Do be careful of the assembly sequence. The assembly of the wheels is irreversible. Therefore, when assembling the legs, make sure to follow the sequence cautiously. Built up dimension, with the lid closed is 38.5″H x 22.5″W x 25″D.
The grilling surface of this Weber is 363-square-inch, able to serve 4 – 6 person. It is possible to grill 12 burgers at one time on it. The domed lid makes it possible to roast a whole turkey or chicken. Its circular shape creates a convection grilling area. The outcome – perfect and even cooking.
The bowl and lid, made of steel and coated with porcelain enamel can withstand the heat of many cookings. Also, resist rust and burn-through. On top of that, the smooth, hard-wearing surface makes cleanup easy.
The damper on the lid allows us to easily control the heat inside the grill without lifting the lid. Opening the damper will allow heat to build while closing it will cause the fire to die out. Turning it to the middle will maintain a moderate constant cooking temperature which is needed when roasting a turkey.
The damper is made of rust-resistant aluminium. It is durable, but aluminium is a good heat conductor. Therefore, the damper can heat up during the course of cooking. Be careful when turning the damper.
The 22-inch-diameter cooking grate, made of heavy-duty plated steel is durable and easy to clean. Furthermore, it can hold enough heat to give us beautiful sear marks. This is the kind of outcome I am looking for in perfectly grilled food.
The charcoal grate is also made of heavy-duty plated steel that can withstand the heat of any charcoal fire. It will not warp or burn-through.
Cleaning after use is easy with Weber's One-Touch Cleaning System. By turning the handle of the cleaning system located at the outer bottom of the bowl, the three blades in the bowl will move the ash down through the bottom air vents and into the ash tray.
The aluminium ash tray is easily detached for ash disposal and cleaning. Since the ash can be removed easily, it enables us to remove it frequently to prevent build-up that blocks the vent and quash the fire.
Additionally, the One-Touch Cleaning System also acts as a second damper. The same vent that allows ash to fall easily out of the bowl helps bring oxygen up to the fire. On another hand, closing the bottom vent and the top damper will put out the fire easily.
A word of caution – the composite handle can heat up. Be extra cautious when turning the handle to move the ash down.
From all the reviews I read, found two things that might be of concern.
Firstly, the height of the grill. Although the assembled height of this unit is 38.5 inches, the height from ground to cooking grill is 27 inches. Compared to the standard height of our kitchen counter which is 36 inches, it is relatively low for some people, especially myself who has a lower back problem. Well, I suppose it's the men who are always standing next to the barbecue grill. Let me sit back and enjoy the food. Or involve the children in the cooking. Needless to say, supervision needed here. The height might be ideal for them.
Secondly, the cooking grate comes in one whole piece. Thus, making it difficult to add charcoal throughout the course of cooking. We

have to lift the grate to do so. It would be great if this model comes with a hinged cooking grate. But then, we can buy the hinged cooking grate separately as a replacement or upgrade later on or simply as a spare.
Found My Charcoal Barbecue Grill
Prior to my hunt for a barbecue grill, I never take notice of the brand names available. After reading all the reviews, I found what has been said about Weber products quite true, "There is a reason why the design of the Original Kettle didn't change much throughout the last 60+ years".
There might be a flaw or two, depending on how you look at it in terms of the height and the cooking grate. As I have mentioned above, the hinged cooking grate can be bought separately. The height could be ideal for my kids now. At least for another 2 years. After which, I can jack the grill up with a few stepping stones.
But then, the pros outweigh the cons and I am pleased with my findings. The size of the grilling surface is perfect for my family of four. There is a little bit of room still, for a friend or two.
Easy to assemble. It is light and can be carried easily to my preferred location. Also, does not need large storage space.
A delectable roasted chicken can be cooked in this grill before the actual barbecue party starts. I am visualising – having my roasted chicken while grilling other food for a second and third helping. Looks like I may be able to cook for more than 6 persons. Even 8 perhaps. Early planning of the menu needed here.
With Weber's One-Touch Cleaning System, clearing the ash will be easy.
Other Features at a Glance
Dimension – 38.5"H x 22"W x 25"D
Plated Steel Cooking Grate
Heavy-gauge Steel Charcoal Grate
Porcelain-enamelled Bowl and Lid
Bottom Wire Rack
Lid Handle with Heat Shield
Angled Lid Hook inside Grill Lid
Removable, Aluminum Ash Tray
Aluminized Steel One-Touch Cleaning System
Spring Clip/Push Pin Leg Assembly
To Share
Larry Olmsted, an author for Forbes.com wrote an article on 10 Best BBQ Grills & Smokers with Steven Raichlen: Ultimate Buyer's Guide. In this article, he mentioned that Steven Raichlen, "The Professor of Barbecue" said, where the price is concerned, "It is hard to beat a Weber Kettle", referring to perhaps the single most iconic and classic backyard cooker, the cartoon image of a charcoal grill.
In AmazingRibs.com, Weber Original Kettle Premium 22 inch Charcoal Grill was in their 2015 Top 10 Best Value Charcoal Grills and it was the 3rd year on the list then. In 2017, Weber brand still dominated their list. Latest update: as of May 2018, this Weber Original Kettle Premium 22 inch Charcoal Grill is on its 6th year on their list.
The above-mentioned unit is a premium model. Here is the difference:

Instead of an open ash tray, this model has a removable, high-capacity, aluminium ash catcher to hold the ash so it won't be blown around.
Premium comes with a plated steel hinged cooking grate that allows us to easily replenish charcoal without lifting the whole grate or removing the food.
It has a built-in lid thermometer. Sadly, I have to tell you not to rely on the built-in thermometer. The recommended cooking temperature is the temperature at which our food should be cooked. If using the lid thermometer, we're likely to have variation from 35°F to 50°F, either too high or too low.
If you have a little bit more to spend, you might want to get this premium model.
As for me, I am satisfied with the earlier model. It is a simple, basic and economical (fit my budget) charcoal barbecue grill that I want. How about you?


This Weber is covered by the company's limited 10-year warranty.
Go on, order yours today!
While waiting for your Weber charcoal grill to be delivered, get your spice rub ready.
Last but not least, get a grill cover for your new barbecue grill. It would have been a complete set if the grill comes with it. Unfortunately, not.
Nevertheless, Happy Barbecuing!
Enjoy the much-awaited family time with good food, air filled with chargrilled goodness.
YOU MUST check this out – food from the farm to you. It is important to know where your food comes from.
I hope this Weber Charcoal Grill Review has given you enough information to easily make a decision buying yours. Do you own a Weber? Or any other brands? Share your experience with us in the comment section below.
Share the article
If you find this blog post interesting, please share it with anyone that you think might find it useful. Thank you and have a good day!
From the Corner of My Home – Spice Up Your Life with Herbs and Spices
Disclosure: This blog post may contain affiliate links as part of the Amazon Services LLC Associate Programs and other affiliate services. This means that coenerofmyhome.com receives a small commission by linking to amazon.com and other sites at no extra cost to the readers.