When referring to recipes, it is normal to see words like seasonings, marinades, sauces and a few others. One particular word that caught my attention was spice rub. What is spice rub and how to define them? I am pretty sure you would like to know too. Read on to find out all about spice rub and how to make your own which is beneficial to health.
First and foremost, let's understand the difference between seasonings, marinades and rubs. When these are used correctly, it will make your cooking experience more satisfying.
Difference between Seasoning, Marinades and Rubs
Seasoning is a general term for anything used to enhance the flavours of meats, vegetables, potatoes, eggs, pasta and others.
A combination of salt and pepper is technically a SEASONING.
⇒ Add a little olive oil, vinegar and herbs, you have a MARINADE.
Combine salt and pepper with sugar and spices, you have a DRY RUB.
⇒ Add a little mustard, you have a WET RUB.
It is not that complicated after all, is it?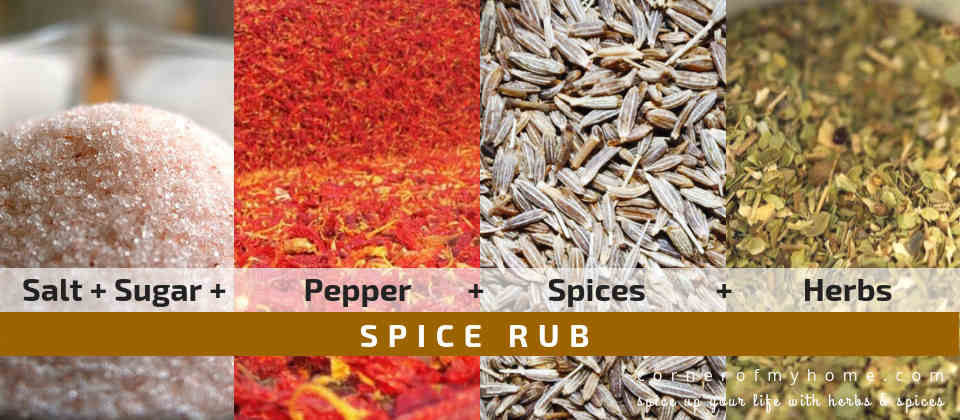 What is Spice Rub
The spice rub is a mixture of ground spices. Combined with salt, for flavour, and sugar, for caramelization, it is made for the purpose of being rubbed onto raw food before they are cooked. Herbs may also be added to the mixture.
Spice rubs are mainly used for preparing meat, poultry and fish, giving it lots of flavours and a crispy crust. The most common cooking method for these foods are barbecuing, grilling and roasting.
How to Make Spice Rub
Understand the 4 basic elements of spice rub and you will have an exciting and fun experience creating your own signature blend.
SALT and SUGAR are for flavour, balance and caramelization. The ratio of salt to sugar needs to be taken into consideration depending on what food it is for. A higher ratio of salt works best in rubs for beef, fish and wild game, while those with more sugar are appropriate for pork.
Choices of salt include sea, kosher and seasoned salt such as garlic salt, onion salt or celery salt.
Sugar can be white or brown, where the later adds colour and flavour to barbecue.
PEPPER is another ingredient to balance the mixture. But most importantly, it adds heat. Depending on your spicy heat tolerance, add ground pepper to the salt and sugar mixture bit by bit till it reaches the desired taste.
Pepper can be in the form of white pepper for a gentler heat, black pepper for a stronger flavour or cayenne pepper, also known as red pepper that provides instant heat.
SPICES bond the salt, sugar and pepper mixture. These spices form the base flavour of the mixture.
Chili Powder ⇒ pungent earthy flavour ⇒ beef, lamb, pork and wild games
Cumin ⇒ aromatic with a nutty, lightly peppery flavour ⇒ beef, fish, pork, poultry and seafood
Paprika ⇒ deeper and heartier flavour ⇒ beef, fish, pork, poultry and seafood
Signature Flavours are your desired flavour. This creates your signature blend, your "secret recipe".
Dill ⇒ fish and poultry
Rosemary ⇒ fish and poultry
Oregano ⇒ fish, beef and lamb
Thyme ⇒ fish, beef, pork and poultry
Ginger ⇒ fish, pork, poultry, seafood and wild game
Coriander ⇒ beef, lamb, pork and poultry
Mustard powder ⇒ beef, lamb, pork, poultry and wild game
Garlic powder ⇒ beef, lamb, pork, poultry, seafood and wild game
Onion powder ⇒ beef, lamb, pork, poultry, seafood and wild game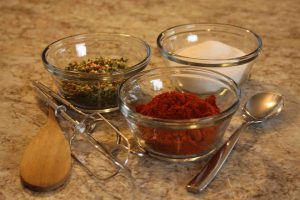 You may want to check this out – food from farm to you.
Once all the ingredients are determined, combine them and sift everything into a bowl and whisk till well combined. A faster way is to put them into a food processor for a thorough mix.
Spice rub can be made in advance and can last for up to six months in an airtight jar placed in a cool, dry space.
Why Make Your Own
Pre-mixed rubs are easily available in any grocery stores. On the same note, they are easily made at home. Commercial rubs are loaded with salt and chemical preservatives which does no good for your health. Made at home, the salt content is controllable and preservatives omitted. One of the best way to reduce salt intake.
Furthermore, it is a lot cheaper to make at home and reduce wastage too, since the portion is made according to your need. Also, a good way to utilize your herbs and spices in storage.
How to Use Spice Rub
The name "rub" says it all. It is rubbed onto the meat. Ensure meat is dry before rub on to get the best outcome and a delightful caramelization. Give the meat a good rub and allow it to rest at room temperature for at least 30 minutes.
When grilling, the sugar covers the outside of the meat, allowing the salt to draw out the moisture while the spices penetrate and add flavour. This makes the meat tender, juicy and delectable.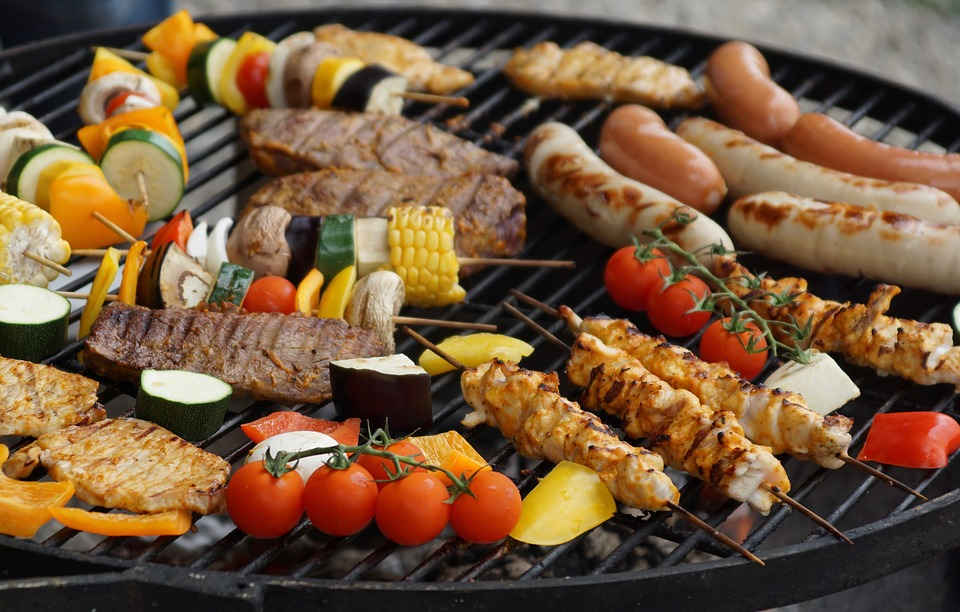 Spice rub can also be applied to vegetables, potatoes or pasta. Simply sprinkle it over the dish before cooking to allow the herbs and spices to work into the dish to enhance its flavour.
How about Wet Spice Rub
The wet rub is basically a dry rub with added moisture. This allows the seasoning to stick together. It is recommended to combine two parts of dry rub with one part wet element.
Choices for the wet element includes olive oil, honey, mustard and yoghurt.
Use Dry or Wet Rubs
DRY RUBS are best used for cooking meat that has natural flavour such as shrimp, seafood, chicken and pork tenderloin.
Meat that does not need to be tenderized should use dry rub too. Example, a premium cut of steak.
Fatty cuts of meat is another choice for using dry rubs, as they do not need extra moisture to stay tender.
WET RUBS are best used for grilling meats and vegetables that can benefit from the added moisture such as flank steak, potatoes and zucchini.
Meat with bone in, such as chicken drumstick and ribs are cooked low and slow. Thus, wet rubs work its advantage.
Be Creative, Be Adventurous
Are you ready to make your own spice rub recipes? Check out what spices you have in your spice cabinet. Utilize your herbs and spices in storage. Waste not!
Sharing here an easy all-purpose spice rub recipe:
1/3 cup coarse salt
1/4 cup light brown sugar
2 tablespoon ground black pepper
1 tablespoon cayenne pepper
1/4 cup paprika
2 tablespoon dried oregano
2 tablespoon dried thyme
Use this all-purpose spice rub recipe for:
Rub on meats before grilling or barbecue
Sprinkle on cut potatoes or vegetables before roasting or grilling
Sprinkle on steamed vegetable
Add to ground meat when making burgers
There isn't a hard rule to follow when making spice rubs. You may reduce the salt, increase the pepper or oregano, even be adding another of your favourite spice or herb. Go with your palate!
Other easy spice rub recipes combinations:
Salt, sugar, black pepper, smoked paprika, ground coriander
Salt, sugar, black pepper, cayenne pepper, chilli powder, onion powder, thyme
Salt, sugar, paprika, chilli powder, cumin, garlic powder, onion powder, oregano
Guidelines to customize the mix according to your palate:
Spicier mix ⇒ use hot chilli powder or more cayenne, black pepper or cumin
Sweeter mix ⇒ use cloves, star anise or increase sugar
Smokier mix ⇒ use smoked paprika
Next time you are invited to a barbecue, bring a jar of homemade spice rub. It will make a delicious gift!
That's All about spice rub for Now!
Knowing what spice rub is and how easy it is to make your own, you must give it a go. It is definitely a healthier version of the store-bought. Reducing salt intake helps to reduce blood pressure that links to cardiovascular disease.
With the guidelines and tips here, surely you are able to make a healthy spice rub for your cooking. Your family and guest will love your food!
Spice rub ready! How about a barbecue grill? Do you have one already? If not, check out my Weber Charcoal Grill Review.
If you need an organizer to sort out your spices and herbs, find the Best Spice Rack Organizer that suit your needs.
Please leave a comment
For me, learning and sharing with everyone is as satisfying as cooking with herbs and spices to provide a delicious meal for my family.
For you, share your experience with spice rub here. Do you have a secret recipe? Or a better way to make a spice blend. Look forward to knowing.
Share the article
If you find this blog post interesting, please share it with anyone that you think might find it useful. Thank you and have a good day!
From the Corner of My Home – Spice Up Your Life with Herbs and Spices.
Disclosure: This blog post may contain affiliate links as part of the Amazon Services LLC Associate Programs and other affiliate services. This means that coenerofmyhome.com receives a small commission by linking to amazon.com and other sites at no extra cost to the readers.