You may have probably ask yourself umpteen times, what to do with fresh herbs. If you are growing your own with abundant supply, surely you want to use them quickly while fresh. Cooking and juicing with herbs are ways using them daily. Besides that, making your own herb-infused oil and herb butter can help you preserve the fresh herbs. Now, let's add another – make your own herb salt.  Not only will you NOT waste your fresh herbs, but it is also actually healthier and flavourful. You get a salty herbaceous flavour and taste rather than saltiness alone. This way, you will use less salt. Is this not interesting? Read on, I'll tell you more.
What is in Herb Salt
As the name says it, herb and salt.
There are many variations making herb salt and there is no right or wrong.
There are some herb salt recipes that call for garlic and black pepper. Also, lemon or orange zest for a citrusy flavour.
Make do with fresh herbs you have available or those you love. After all, it is about preserving your fresh herbs. But do not let this be the only reason making your own. There are many benefits using herb salt.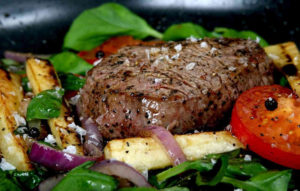 Chefs and many home cooks describe herb salt as finishing salt. Meaning it is used to season cooked food by simply sprinkling herb salt onto your dishes before serving. For this reason, you can use less salt or none at all when cooking. Healthier, yes?
On top of that, you need only little herb salt when flavouring your dish. Why? Coarse salt is normally used and little is enough to give you an impact due to its larger crystal size. You will notice the taste immediately.
Does this convince you to make your herb salt? It is not complicated. Read on and take this step-by-step.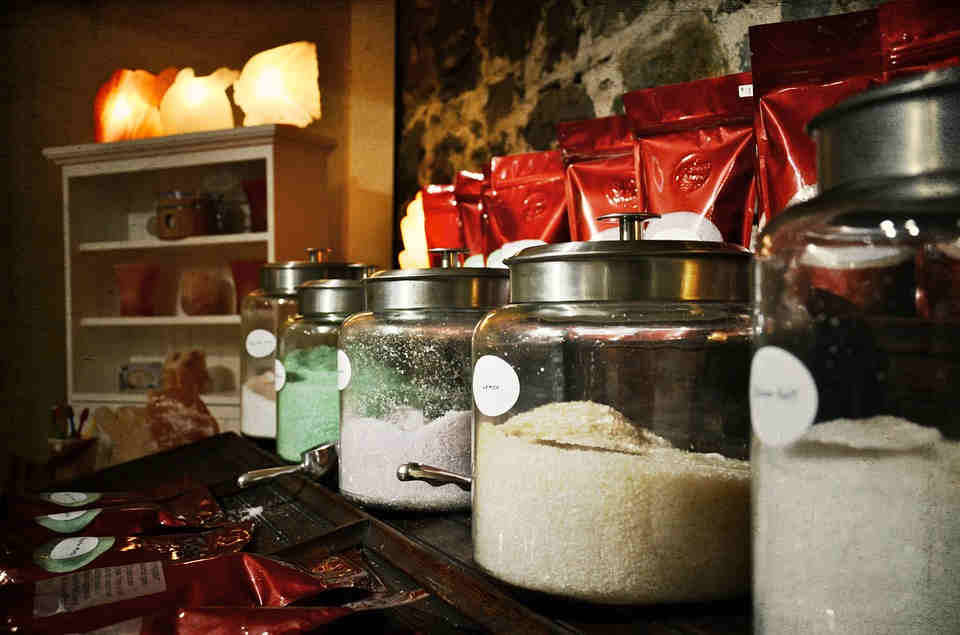 Salt, being the base of the mixture, let's look at the various types of salt you may use.
Choose Your Salt
When choosing your salt, take into consideration the flavour and nutrient profile of your blend. Even the natural colour of the salts are different and can make an impression should you want to make herb salt as a gift.
Here are 6 types of salt you may consider using.
Himalayan Pink
Himalaya pink salt is mined from the ancient sea beds in the Himalayas that have been formed about 600 million years ago.
Its minerals include iron, magnesium, copper and potassium, among others which gives the salt a light pink tint.
Historically, the Himalayans used this salt to preserve their fish and meat throughout the year.
Himalayan pink is the perfect seasoning for grilled meats, fish, ribs, eggs, vegetables, soup, stews and pasta salads.
Hawaiian Black Lava
Harvested from south Pacific waters, Hawaiian black lava is infused with activated charcoal, giving it both its distinctive black colour and numerous antioxidant and health benefits.
Its earthy and slightly tannic flavour gives a unique touch of taste to roasted vegetables, soups, stir-fry dishes and on the barbeque.
Hawaiian Red Alaea
Another salt from the Pacific waters, Red Alaea salt has been traditionally used on the Hawaiian islands to season and preserve most of the people's foods.
Its bold deep red colour is formed through natural evaporation in tidal pools and mixes with red volcanic clay. The red colour comes from the tremendously high amount of iron in the clay.
The mellow flavour of this salt goes well with all kinds of dishes as well as soups and stews. It is gaining popularity as a topping for chocolate and ice cream. Will you try this? Sounds yummy.
Celtic Grey
Harvested from the coastal region of France, Celtic Grey sea salt get its light grey hue from the pure clay soil where it derived from.
Contains potassium, magnesium, iron, zinc and other important trace minerals.
Celtic sea salt imparts a mineral-rich flavour that enhances the taste of any dish.
Fleur de Sel
Harvested off the coast of Brittany, France, Fleur de Sel means "flower of salt" in French. The name comes from the flower-like patterns of crystals in the salt crust.
As seawater evaporates, most of the salt precipitates out on the bottom and later collected as ordinary sea salt. However, some salt crystals float on the surface of the seawater, forming a thin delicate crystal crust. This is Fleur de Sel.
Besides sodium chloride, its mineral content includes calcium and magnesium chloride.
Known as one of the world's finest sea salt, it is used by chefs and gourmets worldwide. It has a slightly grey, almost pink hue and is best used as a finishing salt. If for some reason, you want to make an "exclusive" herb salt blend, you must seriously consider Fleur de Sel.
However, you must understand that this is the most expensive of salts. The reason is the way in which it is formed and harvested.
Being unrefined, this salt tastes saltier thus you use less.
Additionally, it does not dissolve instantly once sprinkled onto your hot cooked foods because of its high amount of moisture. This gives you a full flavour with savoury crunchiness when you consume your dish.
Use it to boost the flavour of meat, fish, vegetables, eggs and even desserts with chocolate and caramel.
Smoked
You ought to know that smoked sea salt does not give any added nutritional content besides what is already in sea salt. But the rich, distinct smoky flavour is an advantage.
Smoked sea salt is slightly grey or tan in colour due to the smoking process. The variety of smoked sea salt includes Alderwood, Applewood, Hickory, Cherrywood among others.
Go to SHOP to see at a glance, and compare prices for the variety of salts mentioned.
Choose Your Herbs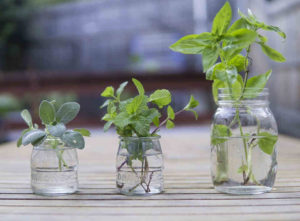 Most of your common cooking herbs are ideal for making herb salt. Garden or market herbs, waste not and use them whenever you have more than needed for cooking.
It is also best to know the nutritional and medicinal values of the herbs you are using. This will help you choose the herbs based on your needs.
Here is a list of fresh herbs you may use with a quick run-through of their valuable properties.
Basil. Antibacterial, anti-inflammatory and antioxidant. Rich source of magnesium and vitamin A. Aids digestion and relieves stress.
Chive. Anti-inflammatory and antibacterial. Excellent source of fibre, calcium, iron, magnesium, potassium, zinc, and vitamin K. Ease digestion, soothe upset stomachs, prevent bad breath, and helps lower high blood pressure.
Cilantro. Antidiabetic, anti-inflammatory and antioxidant. Good source of fibre, iron, calcium, magnesium, potassium, vitamin K and B6. Aids digestion and combats insomnia.
Mint. Antioxidant and antibacterial. Contains potassium, protein, calcium, zinc, iron and fibre. Rich in vitamin C and A. Accelerate digestion, alleviate stomachaches and soothe headaches.
Oregano. Antibacterial, anti-inflammatory and antioxidant. Rich source of fibre, manganese, calcium, iron and vitamin K. Control cholesterol levels and improve bone density.
Parsley. Anti-inflammatory and antioxidant. Good source of fibre, folate, calcium, iron, magnesium, potassium, copper and manganese. Rich in vitamins A, C, and K. Benefits to the bones and immune system.


Rosemary. Antioxidant and antibacterial. Contains fibre, iron, calcium, manganese and abundance of B vitamins. Help alleviate muscle pain, improve memory and boost the immune system.
Sage. Antioxidant and anti-Inflammatory. Contains calcium, magnesium, potassium, folate, vitamin A and K. Relieve gastrointestinal discomfort, improve memory and control blood sugar level and cholesterol.
Thyme. Antibacterial and antioxidant. Good source of fibre, iron, manganese and vitamin A and C. Boost immune system, control blood pressure and improve blood circulation.
Consider Growing Your Own Herbs Indoors
Read more on how to grow indoor herbs year-round.
How to Make Your Own Herb Salt
Regardless of the type of salt and herbs you have chosen, follow these steps.
The basic formula is 1 part roughly ground dried herbs to ½ - 1 part sea salt.
When you are making your first blend, it is advisable to use less salt. Taste and adjust the amount of salt as you go along. You can add more salt but cannot take them out. Remember, you want not just the saltiness but the herbaceous tang is as important.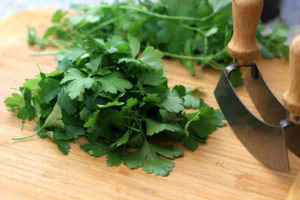 Prepare your herbs. You may use a single origin or combine 2 or several.
Wash and dry your fresh herbs. You may choose to lay your herbs on a parchment or towel paper to air dry or put them in the oven at the lowest temperature or in a dehydrator.
Be careful NOT to overly dry them as some of the essential oils in the herbs will evaporate, thus reduces the overall flavour and aroma.
Use only the leaves, not the stem. Normally, I use a knife to chop the herbs. Doing manually gives me more control on the texture as I love to be able to see the flaky herbs rather than all mash-up. Of course, you can use a mortar & pestle, food processor or spice grinder.
Measure your dried chopped herbs. Remember the ratio? 1 part dried herbs : ½ -1 part salt
The reason using "part" is because "part" can be teaspoon, tablespoon or cup. It is much easier without the need to convert one measurement to another.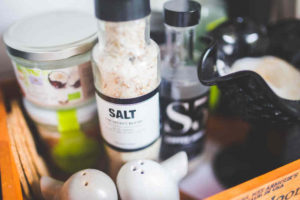 Add salt of your choice. If you have 2 tablespoons of dried herbs, add 1 tablespoon of salt.
Combine them well. Slowly increase the salt to your preference.
If you are using coarse salt and find the grains too large for your liking, put the mixture into a spice grinder and give it a few pulses, checking the finest before the next pulse.
Adding aromatic such as lemon, orange or lime, you need to grate or peel them before drying in the oven or dehydrator. Then, combine with the herb salt mixture.
Garlic is another great addition and is rather common making herb salt.
(I learned this from a cooking series on TV) When chopping your garlic, bring together the garlic and salt (half of the portion from your herb salt blend) on a cutting board and chop them.  Blending in the salt as you work.
3 reasons for doing this – chopping garlic with salt
1. Helps prevent the stickiness to a minimum between the garlic and the knife or your fingers.
2. Helps break down the garlic with less effort.
3. Adds a touch of subtle flavour.
After you are done with the chopping, combine with the herb salt mixture.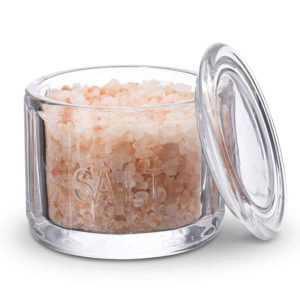 Finally. I prefer the drier version of herb salt. How about you? Yes. Lay the mixture out on a parchment-line baking sheet and let it air dry. Hours or a day depending on the humidity of your home. I am sure you will know when it is done.
Store in an airtight container and enjoy! For the finer version of the herb salt, you may put them into a shaker straight away.
Use a beautiful salt jar should you be giving it as a gift. Surely, the recipient will be delighted.
You ought to know the colour of the green herbs in the salt will fade over time. While the aroma and flavour remain, the intensity will diminish gradually.
How to Use Herb Salt
The potential uses are limitless.
Start sprinkling your herb salt on
• Grilled meats
• Roasted vegetables
• Sliced tomatoes
• Soups and stews
• Poached or scrambled eggs
• Avocado toast
• Popcorn
• Pizza
• Fried foods such as French fries and tempura
• Chocolate brownies
• Ice cream
• Fruit salad
• Others (tell me if you know more…)


To Sum Up
Reducing your salt intake does not mean you don't get to eat full-flavoured food. Herb salt is mostly used as a finishing salt thus you may cut down or omit the salt when seasoning your meat or when you are cooking. Furthermore, with these flavoured herb salt, you need only a little to give you a well-balanced palate.
Is this not a wonderful way to use or preserve your fresh herbs? You get to add herbs to every meal with just a sprinkle, enhancing the flavour and nutritional value of your food.
I am a frugal mom thus I urge you to use any herbs or salt you have available. Once you are familiar making a simple herb salt, go ahead and experiment with different combinations of herbs and salt. Spice it up with cinnamon, cayenne, paprika or peppercorns.
Consider using two or three different types of salt. Remember, the colour and taste are different among them. And, when grinding, try different consistency from coarse to fine.  Be creative and enjoy the process!
Always remember to start with less salt. Also, it is a good idea to choose your herb based on your need. It could be for inflammation soothing, digestion support, memory improvement or blood sugar level control.
Read Related Articles
Please Comment
Well, now you know what is in herb salt and how to make it, will you start making your own? Share your herb salt experience with us should you have any. Would love to learn more.
Happy Mixing and Sprinkling!
Share This Article
If you find this blog post interesting, please share it with anyone that you think might find it useful. Thank you and have a good day!
From the Corner of My Home – Spice Up Your Life with Herbs and Spices
Disclosure: This blog post may contain affiliate links as part of the Amazon Services LLC Associate Programs and other affiliate services. This means that cornerofmyhome.com receives a small commission by linking to amazon.com and other sites at no extra cost to the readers.
Disclaimer: I am not a doctor or medical professional, and this post should not be taken as medical advice. Please do your own research. Material on this blog is provided for informational purposes only. It is general information that may not apply to you as an individual and is not a substitute for your own doctor's medical care or advice.