Bay leaves are commonly used in cooking and remedies for hair and skincare. If you have been following my herbs and spices quest, I am sure you have read them. Recently, as I was browsing Pinterest, came across the burning of bay leaf. Does this intrigue you? Join me to discover the benefits of burning bay leaf. You may find it fantastical while some may be true.
Before we look at the benefits of burning them, let's take a quick look at its health benefits.
Bay Leaves Health Benefits
Bay leaves have been used medicinally since ancient times to treat illnesses related to liver, stomach and kidney. Today, herbalist use them for treating various health issues that include
• Diabetes
• Digestion
• Insomnia
• Infection as in flu and cold
• Inflammation
• Heart Attack and Strokes
• Cancer
Read the full article on bay leaves here.
For external uses, bay leaf benefits hair and skin too.
You can easily make your own remedies using bay leaves.
What are the home remedies for hair care
• Eliminate lice
• Hair conditioner
• Dandruff control & itchy scalp
• Control bacteria & fungal infection
Home remedies for skincare
• Skin toner
• Acne control
• De-stress skin
• Cuts, bruises and insect bites
Read the full article "How do Bay Leaf Benefits Hair and Skin".
Now that you know the health benefits of bay leaves, you must be curious about the burning. Let's find out!
What are the Benefits of Burning Bay Leaf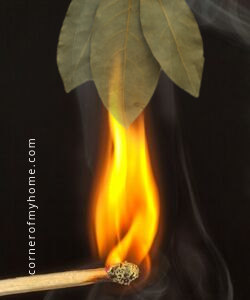 Several beneficial compounds found in bay leaf includes cineol, eugenol, acetyl eugenol, methyl eugenol, chavicol, linalool, geraniol and terpineol.
Burning bay leaves will release the compounds into the air.
Here are a few health benefits you may experience if you burn bay leaves in your home.
Relieves anxiety, tension, fatigue and increase alertness
The active compounds in the air produce a relaxing and energizing effect. When breathed in you may get a slight feel of psychedelic, helping you calm your body.
Reduces inflammation
The remedial effect mostly comes from the compound eugenol. It has anti-inflammatory properties that help reduce inflammation especially your joints.
Boost immune system
Eugenol also has antioxidant properties thus helps boost your immune system.
Should you catch a cold next time, try burn bay leaves.
Clear Respiratory System
Are you looking for a natural remedy to clear clogged, backed up respiratory passages and lungs? Use bay leaves. They help break up and remove the nasty mucus and phlegm that cause the problems.
Believe It or Not
Besides benefiting your health burning bay leaves, there are various mythical benefits which you may choose to believe… or not.
Make your wish comes true
Write your wishes on the leaves and then burn them to make your wishes come true.
For success
Crush bay leaves into powder and burn them for success or sprinkle around your business premise to draw customers.
Bay leaf is considered a herb of success and victory for it was used to crown the victors of the ancient Olympic Games. Before that, it was offered only to the Gods.
Induce prophetic dreams
Place a bay leaf under your pillow or use in a dream pillow to induce prophetic dreams. This may help predict your future. Would you want to know what your future holds?
Did you know, in ancient Greece, mystics chewed on bay leaves to induce prophetic state?
Recommended Book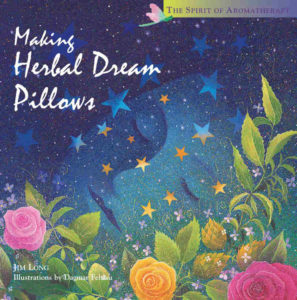 In this book - Making Herbal Dream Pillows, Jim Long shows you how to craft a variety of herbal mixtures that can be tucked into your pillowcase to encourage dreaming experiences that reduce stress, boost creativity, inspire romance, and more. Discover how you can use herbs to promote positive and healthy dreams. Check it out on Amazon!
Be protected
Carry a bay leaf to protect yourself against black magic.
Place bay leaves in the corner of each room in the house to protect all who live there, removing the negative energy while drawing the positive.
How to burn bay leaves
You will need dried bay leaves, an ashtray or fireproof bowl/tray, matches or lighter.
Light one end of the dried bay leaf over your fireproof bowl. Once it is lit, gently blow out the flames so that it smoulders. Place it safely on the bowl.
The air will be filled with smoke and you do NOT want to inhale these smoke directly. Rather, breathe normally as the vapours are what you should aim for.
Once the bay leaf burned out, you should feel the calming effects.
Caution
• Do NOT light up the leaf near your smoke alarm as the smoke might set it off.
• Do NOT leave burning leaves unattended
• Dispose of the ashes properly AFTER they have cooled down.

Conclusion
Bay leaf is a fairly common herb used in cooking. It is best for dishes that require a longer cooking time such as soups, stews and braises.
If you have not used bay leaf before, you will probably not notice any difference in taste. However, you must be asking why does that minestrone soup tastes so good and you could not cook the same in your home cooking. You probably missed the bay leaf.
The heat releases the flavour and gives your dishes a rounded background taste that many people yearn for in a good dish.
While heat releases the flavour, burning of bay leaf releases the active compound that is found within the leaf. These are the properties that benefit your health as mentioned above.
Besides health, bay leaf can do more for you. For instance, getting your wish granted and protecting you from negative energy.
You may choose to believe it or not the fantastical uses of the bay leaf, but it is pretty enjoyable to know. Don't you think so? Myth aside, it is good and useful to know the health benefits of burning bay leaf.
Read Related Articles
More bay leaves articles related to cooking, and hair and skincare.
Please Comment
Health benefits or magical uses, will you burn the bay leaves? If you have done so before, share your burning bay leaves experiences with us in the comments section below.
Share This Article
If you find this blog post interesting, please share it with anyone that you think might find it useful. Thank you and have a good day!
From the Corner of My Home – Spice Up Your Life with Herbs and Spices
Disclosure: This blog post may contain affiliate links as part of the Amazon Services LLC Associate Programs and other affiliate services. This means that cornerofmyhome.com receives a small commission by linking to amazon.com and other sites at no extra cost to the readers.
Disclaimer: I am not a doctor or medical professional, and this post should not be taken as medical advice. Please do your own research. Material on this blog is provided for informational purposes only. It is general information that may not apply to you as an individual and is not a substitute for your own doctor's medical care or advice.