UPDATED MARCH 12, 2020
The bay leaves are commonly used in cooking especially making soups and stocks. It is rather difficult to distinguish the flavour but you will know if a bay leaf is being used once knowing the purpose of bay leaf in cooking. You ought to know that this herb is packed with nutritional and medicinal properties. If you are in search of natural remedies for skin care and hair, why not use the bay leaves. Read on to find out how do bay leaf benefits hair and skin and easy remedies you can make from home.
Before going into details, let's quickly and briefly look at the
Nutritional and Medicinal Components of Bay Leaf
Normally, a recipe will only call for one piece of bay leaf. Therefore, it is unlikely to increase the nutritional value of the dish you cook. Having said so, it does not mean to omit this herbal leaf completely. Try to include them where possible or necessary.
The nutrients of bay leaves include Vitamin A, C and B6, with iron, calcium, potassium and manganese.
Essential oils found in bay leaves are cineol, eugenol, chavicol, acetyl eugenol, methyl eugenol, and β-pinene, phellandrene, linalool, geraniol and terpineol. These essential oils are used in much traditional medicine preparation for treatment of arthritis, muscle pain, bronchitis and flu-symptoms.
Other phytonutrients include parthenolide which can quickly reduce inflammation and irritation. Also, catechins and linalool where several studies have shown to have anti-cancer properties.
A research article published on Journal of Pathogen Research concluded that the bay leaves have antimicrobial and antioxidant activities.
With all these natural goodness, would you approve that the bay leaf benefits your hair and skin? I am sure you are eager to find out how to make simple remedies using bay leaves. Read on…

Benefits & Remedies for Hair Care
Natural Conditioner. The antioxidant present in bay leaf helps smoothen your hair. Make them shiny too.
Boil 5 bay leaves in 2 cups of water. Steep for 15 minutes, strain and let cool. Use it as a final rinse after rinsing out the shampoo on your hair. After 15 minutes, rinse it clean with cold water. Repeat weekly to see results.
Dandruff Control & Itchy Scalp. Rinsing your hair with bay leaf water can help control dandruff and reduce itchiness too.
Additionally, you can add bay leaf water to your shampoo and use it as you would regular shampoo.
Alternatively, grind 3 dried bay leaves into a fine powder. Add the powder to a ½ cup of organic coconut oil and heat on low flame for about 5 minutes. Apply and massage onto your scalp. Let sit for 1 hour. Shampoo and condition as you would. Repeat weekly for visible results.
Control Bacteria & Fungal Infection. Sweating and irregular oiling of your hair may end up with a fungal infection. The antimicrobial properties in the bay leaf can help eradicate the bacterial and fungal infection.
Wash your hair regularly with bay leaf water added to your shampoo and final rinse off with bay leaf water. Follow the same process as you use it as the natural conditioner mentioned above.
Eliminate Lice. The aroma of bay leaf is pungent and has a rather bitter taste. Both combined, it is not conducive for hair lice.
Boil 2 tablespoons of crushed bay leaf in a cup of water. Steep for 15 minutes, strain and let cool. Apply the solution onto your scalp using a cotton ball. Let sit for 1 hour. Shampoo and condition as usual. Lastly, remember to comb out the dead lice using a lice comb.
Do you know there are other cooking herbs for hair care? Find out here.


Benefits & Remedies for Skin Care
Skin Toner. With all the valuable properties of bay leaves, use them to perk up your skin. It helps to tone and hydrate your skin.
Boil 4 dried bay leaves in a cup of distilled water for a couple of minutes. Strain the solution and let cool. Store the solution in a container. Using a cotton ball, apply on your face twice a day. You may consider storing the solution in a spray bottle and easily spray onto your face.
Control Acne. Rich in antioxidants and works wells as antibacterial and antiseptic, bay leaves are a great help for controlling acne.
Using the same ingredients and method as the skin toner solution, apply 2 – 3 times a day for a week.
De-Stress Skin. Stress can lead to skin tension. On top of that, dead skin cells will buildup causing your skin to lose its glow looking weary and dull.
Boil 5 dried bay leaves in 2 cups of water for 2 minutes. Transfer the bay leaf water to a bowl. Cover your head with a towel and hold your head over the steaming water for about 10 minutes. You need to close your eyes while doing so and breathe deeply. Steam once a week as daily steaming can dry out your face. That is not what you want, do you?
Heal Cuts, Bruises and Insect Bites. By now, you should know all the medicinal values of the bay leaf. Clearly, it acts as a natural astringent for the skin.
Add 1 ½ tablespoon of bay leaf powder to 1 tablespoon of water to form a paste. Apply onto skin to heal cuts, bruises or insect bites.
Grind Your Bay Leaves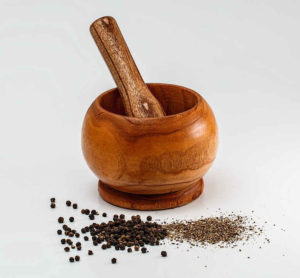 If you have been grinding your own peppercorn, cumin, cinnamon and other whole spices, add the bay leaf to the list.
For you who have not tried grinding spices, this will be a good reason to start. Bay leaves used in cooking are often used the whole form but for simple home remedies mentioned here, powder form is needed.
Simply crush the dried bay leaves into a spice grinder or food processor and grind away. It is that simple.
I find using a spice grinder a better option as I dislike bringing out the food processor just to grind a few leaves. If you are like me, storing your food processor in the cabinet because of limited counter space, a spice grinder is definitely an easier tool to use. This does not mean that I am 'lazy' 😉 Just wanting to make things simple.
A spice grinder is actually a coffee grinder but you must know that it is not a good idea using a coffee grinder to grind spices. You do not want a mixed or crossover of flavour, do you?
I found an affordable and practical grinder. You may want to read up the review.
Should you have an old coffee grinder, use it to grind spices and buy a new one for the coffee. Just a suggestion 😉
Else, use a mortar and pestle.
Bay Leaf Side Effects
Allergies related to bay leaves are not common although contact dermatitis has been scarcely reported.
It is important to understand that anything should be consumed or used in moderation.
If you have a history of allergies, do a patch test using the remedies mentioned to determine usability.
Read more about Bay Leaves. I am sure you want to know the purpose of bay leaf in cooking.
in brief
Bay leaf is packed with all the essential components, nutritionally and therapeutically, for a natural and healthier lifestyle. Its vitamins and minerals content, together with antioxidant and antimicrobial activities mark bay leaf ideal for skin and hair care.
Since herbs and spices have been used for ages in cooking and as herbal medicines, why not continue doing so.
For now, do you have a jar of bay leaves sitting at the corner of your cabinet? Yes? No? If you do, quickly cook up the simple remedies.
Run out of bay leaves? Conveniently buy on Amazon. Or buy directly from Starwest Botanicals.
Bay leaf water can be used across to control itchy scalp, dandruff and bacteria. Or simply make your hair shine. It does the same to your skin too.
The conclusion, bay leaf benefits your hair and skin. Make them shine!
If you are interested in starting a herbal journey, The Herbal Academy is having a Holiday Sale! All programs are discounted up to A Jolly 25% off. Click on below image to find out more.


I always say this. I am going to say it again – Waste NOT! Use your herbs and spices. Spice up your life.
Please Leave a Comment
How do you feel using these home remedies? Will it be a hassle for you to grind your bay leaves? It may take time but worth it. I think so. What say you?
Do you have other skin and hair remedies to share? Please leave them at the comments section below. We can learn from each other. I look forward to your comments.
Share This Article
If you find this blog post interesting, please share it with anyone that you think might find it useful. Thank you and have a good day!
From the Corner of My Home – Spice Up Your Life with Herbs and Spices
Disclaimer: I am not a doctor or medical professional, and this post should not be taken as medical advice. Please do your own research. Material on this blog is provided for informational purposes only. It is general information that may not apply to you as an individual and is not a substitute for your own doctor's medical care or advice.
Disclosure: This blog post may contain affiliate links as part of the Amazon.com Services LLC Associate Programs and other affiliate services. This means that coenerofmyhome.com receives a small commission by linking to amazon.com and other sites at no extra cost to the readers.