Christmas is coming! It is often said to be the most wonderful time of the year. And the busiest! Would you agree? House cleaning, decorating, baking and menu planning if you are hosting dinners or luncheons. Of course, there are gifts buying to do too.
Still trying to figure out what to buy? Check out my easy handmade Christmas gift ideas using your herbs and spices.
Last but not least, surely you remember the front door needs to be decorated to welcome both family and friends. Make something different this year, a Christmas Herb Wreath!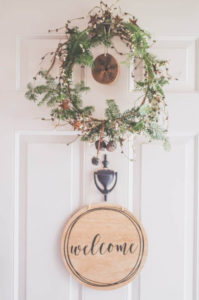 Those visiting will walk to the doorstep and be greeted with a beautiful fresh herb wreath. Besides, it can be a decoration piece in the living area.
The kitchen is another perfect area as herbs will be within reach should you need them for cooking! Smells amazing too and as the herbs gradually dry out, you may still continue to use them.
Additionally, consider making a smaller version as a centrepiece for the dining or entryway table.
Herb wreaths are fairly easy to make and cheap too. With so much spending during the holiday seasons, it is a good idea making your own Christmas wreaths for the front door and home decor.
People will be impressed by homemade fresh herb wreaths and the natural greenery in your home.


Let's do this.
How to Make Your Own Christmas Wreaths
Gather the whole family to create a masterpiece for your front door. It is a great moment for family bonding.
You will need
Floral wire
Twist ties
Rubber bands
Fresh herbs of your choice – rosemary, bay leaves, thyme or sage
Optional – add colours to the wreath
Garlic
Chilli
Star anise
Cinnamon sticks
Fruits – cranberries or cherries
Instructions

Step 1. Choose a herb to become the base/body of the wreath. It could be rosemary or sage depending on your preference and amount of herbs you have. You will need more to cover the entire frame.
Begin covering the frame using twist ties.
Step 2. After making the base, you can begin decorating with individual sprigs or small bunches of herbs.
Simply poke individual sprigs into the wreath and secure them with floral wire.
Alternatively, combine 2 or 3 different herbs to create small bunches using rubber bands. After which, add each bunch to the wreath, securing them with floral wire.
Continue adding till the whole wreath is covered with herbs. Take your time to try out different placement or combinations of herbs.
Step 3. Symmetrically or randomly secure the spices, fruits or Christmas ornaments on the herb wreath using floral wire.
Step 4. The last thing to do is tie a twine, string or ribbon to the top and hang your beautiful Christmas herb wreath onto the door.


Be creative, be exciting – there are limitless ways to make your own Christmas wreaths. Have fun and enjoy the family time.
Buy your supplies on Amazon


Too busy to make one
Do not let this be a reason not getting a Herb Christmas Wreath for your home. This is a great Christmas gift too.
You can easily buy on Amazon.


>> Click here to find more Holiday Decor on Amazon. Trees & Lights. Ornaments & Stockings. And many more…



Short History Notes About Wreaths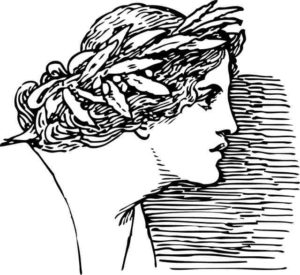 The tradition of hanging Christmas wreaths originated from the Romans who hung wreaths on their doors as a mark of victory and their status in society.
The women wore them as headdresses as an emblem of pride. Also, during special occasions such as weddings.
Furthermore, the victors of sporting events in ancient Greece were given laurel wreaths. In the modern Olympics, it is still used as a decorative symbol in the games and on the victory medals.
That is All for Now
Making your own Christmas wreaths for the front door may take time but consider the outcome. Visiting family and friends will find this inviting and merry.
Not only will you be creating your art piece, but you are also creating valuable family time. Your children will be more than happy to lend a hand or two.
Make one for the front door and another for the kitchen. The herbaceous aroma will lift the ambience of your home.

After the year-end celebration, the herbs can still be used in cooking for a couple of weeks. Make sure to relocate it to a cool dry place.
Spread the holiday spirit! Make one or two for gifting.
Not making your own? Conveniently buy on Amazon.
Please Comment
Will you be making your own Christmas wreath this year? It is definitely alright should you decide to buy instead. If you have any other door decorating ideas, share with us in the comments section below.
Merry Christmas!
Share This Article
If you find this blog post interesting, please share it with anyone that you think might find it useful. Thank you and have a good day!
From the Corner of My Home – Spice Up Your Life with Herbs and Spices
Disclosure: This blog post may contain affiliate links as part of the Amazon Services LLC Associate Programs and other affiliate services. This means that cornerofmyhome.com receives a small commission by linking to amazon.com and other sites at no extra cost to the readers.