UPDATED: APRIL 20, 2020
Store-bought seasoned salt basically contains table salt, spices, herbs, other flavourings and sometimes monosodium glutamate (MSG). You do not want MSG and trying hard to reduce your salt intake but want flavourful meals. Why not make your own seasoned salt?
If you do not know what seasoned salt is, it is mostly used in fish and chips shops or take-away food shops. Also, a typical seasoning on food such as chicken, deep-fried seafood, potatoes and French fries.
It is really simple making seasoned salt. All you need is to gather all the ingredients which you may already have at your kitchen. Read on to find out exactly how.
How to Make your Own Seasoned Salt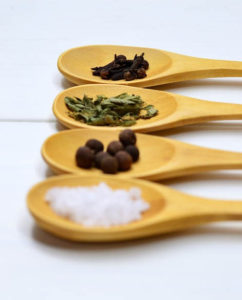 The basic ingredients of seasoned salt typically include salt, garlic powder and onion powder. Additional ingredients can be added, depending on your choice that is what you like. Or perhaps you would like to utilize your herbs and spices that have been sitting at the corner for some time.
Salt. Use finer grains of salt to ensure it mixes well and season more evenly.
Seasonings. While garlic and onion powder are the basics, you may add black pepper, cayenne, paprika or chilli powder for heat or spiciness.
You may want to consider adding cumin. Its earthy and spicy taste with hints of lemon is a perfect addition if you are using this combination to season your meat such as beef and lamb.
Read related articles
Dried herbs such as rosemary, thyme and oregano can be added if desired or readily available.
There is no fixed recipe, therefore, go with what you have or according to your liking.
A quick guide to get you started
Basic formula. Start with a ratio of 4 tablespoons salt to 1 teaspoon seasoning. This is just a guideline. Feel free to reduce salt or add seasonings to your preference.
Basic seasoned salt recipe:
6 Ingredients
4 tablespoons salt
½ teaspoon black pepper (fine grind)
½ teaspoon garlic powder
½ teaspoon onion powder
½ teaspoon paprika
½ teaspoon sugar (optional – for caramelization)
Instructions
Put all ingredients in a mini food processor or spice grinder. Process on low speed until the mixture is fine and well blended.
Store your seasoning blend in an air-tight jar and place it at a cool dry area.


This basic recipe will come in handy when a recipe you are following calls for seasoned salt or other seasoning blends. Also, you can use it as you would table salt. The difference is more flavours. Isn't this great?
Once familiar with this basic recipe, try to create your own special Mom's blend.
For Mediterranean flavours, start with combining salt, garlic and onion powder with rosemary and basil. Later, you may experiment with other herbs and spices commonly used in a Mediterranean dish such as oregano, parsley, dill, tarragon, cloves and turmeric to name a few.
A basic Mexican seasoned salt will be combining salt, garlic and onion powder with oregano, cumin and ground red pepper.
How about Italian? Combine salt, garlic and onion powder with oregano and basil.
If time permits, make a few variations. While the basic recipe goes with any dish, it will be wonderful to have alternatives for different dishes you are cooking.


Things to remember when making seasoned salt
Check the expiration date of your herbs and spices. They contain volatile oils and flavours dissipate over time. For fresher and more intense flavour, consider buying whole spices and grind in a spice grinder.
A coffee grinder can be used to grind spices but you do not want to do this. Unless you do not mind cumin flavoured coffee. Buy an affordable coffee grinder and use it for grinding spices only.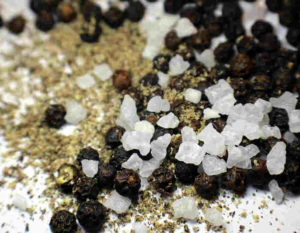 Ensure your spices are a fine grind and each ingredient are roughly the same. This makes sure the seasoning is dispersed evenly throughout. The coarser ingredient tends to separate from the rest of the mixture and you do not want this to happen.
Store your seasoning blend in a tightly covered container in a cool, dry place as heat can hasten flavour loss and moisture can cause powdered spices to cake.
What do you use Seasoned Salt for
Besides using it for seasoning your meat, add onto your soup, stew or skillet dish. Also, add into your batter for fried chicken or fish.
Hamburger mix and meatloaf will be bursting with flavours with the addition of your seasoned salt. Oven-baked wedges and French fries too.
You can use seasoned salt as a finishing salt. Simply sprinkle onto your grilled fish or roasted vegetables.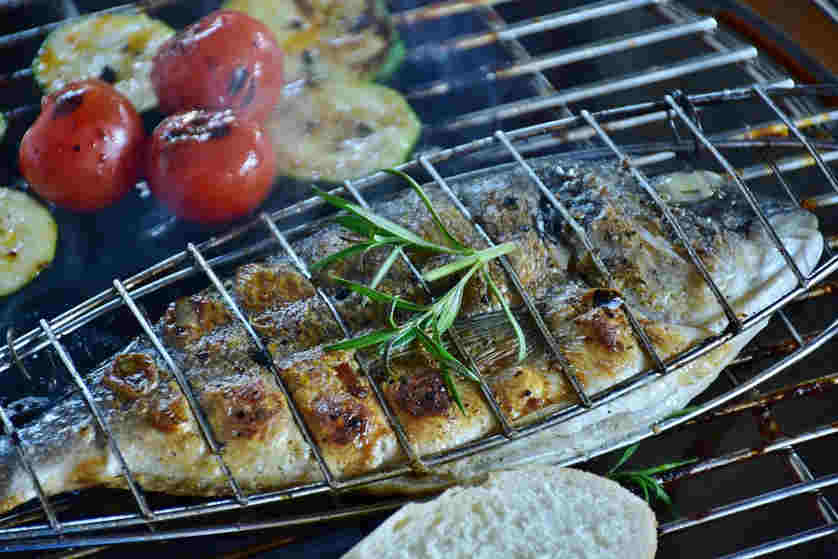 Herb salt is another finishing salt you may consider making your own. It is a great way to preserve your fresh herbs while giving your dish amazing flavours. Learn more about Herb Salt here.
Seasoned salt for gifting sounds good to you? I am sure the recipient with be deliciously delighted. Get an attractive container for this.
All in All
Knowing exactly what is in seasoned salt will make it easy for you to make your own. You can control the salt content and omit other unnecessary ingredients such as MSG, anti-caking agent and other flavourings.
Following the basic formula ratio of 4 tablespoons salt to 1 teaspoon seasoning, you can reduce the amount of salt or increase the herbs and spices.
I am a frugal mom and would always use what I have available. Those dried herbs and spices that have been sitting at the deep corner should be used before the flavour and aroma dissipate. So will the volatile oil of herbs and spices which is the most important medicinally active plant components.
It is not difficult at all to make your own seasoned salt. Simply gather all the ingredients, measure and mix them well in a spice grinder. Pour the seasoning blend into an airtight jar and place it on the spice rack near your cooking stove but NOT too close. Remember, heat can cause flavour loss and the moisture created will cause the mixture to cake.
Having seasoning salt in hand is a great convenience. The combined flavours in one mixture make it so easy to enhance the taste of your dishes. Use it to season your meat or as finishing salt. Furthermore, it makes a delicious gift!
Should you need to stock up your herbs and spices, consider buying direct from Starwest Botanicals.
Are you ready to make your own?  Go on, you can do this. Create a blend that suits your taste.
Happy Mixing!
Please Comment
For convenience, would you rather buy seasoned salt? Would you try making your own for health reasons? Should you have any experience creating your own seasonings, please share with us. I am sure many readers here would love to know.
Share This Article
If you find this blog post interesting, please share it with anyone that you think might find it useful. Thank you and have a good day!
From the Corner of My Home – Spice Up Your Life with Herbs and Spices
Disclosure: This blog post may contain affiliate links as part of the Amazon.com Services LLC Associate Programs and other affiliate services. This means that cornerofmyhome.com receives a small commission by linking to amazon.com and other sites at no extra cost to the readers.