All you want is some fresh herbs for cooking and wonder if there are any herbs that grow in the shade. Living in a city apartment, one does not have much choice of choosing a unit with plenty of bright sunshine. Do not let this deter you from growing your own herbs. There are several shade-tolerant herbs to grow in your apartment. Let's find out what herbs don't need the full sun.
A few things to know before getting started.
Most soft herbs that grow well in damper soil will thrive in a shadier location without much direct sunlight. Ideally, they should receive at least 2 hours of full sun daily.
You will notice the herb plants will sprawl and grow leggy. This is because they are reaching out for sunlight. The solution is to trim them frequently, keeping the plant compact.
While you may not have a herb garden, these potted herb plants will provide enough for your cooking needs. If you do not have a balcony, a sunny windowsill or a bright kitchen countertop will suffice.
5 Common Cooking Herbs You Can Grow in the Shade
#1 Cilantro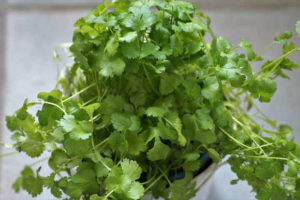 Cilantro is an annual herb and it is one of the fastest-growing herbs that grow well in shade. But being a delicate herb, it may not be the easiest to start growing them. Having said so, once a conducive environment is achieved, the cilantro plant will thrive. It is best to grow from seeds and sow them every 2 – 3 weeks to ensure continual produce.
Cilantro plant will bolt and goes to flower rapidly in hot weather. Frequent harvesting and pinching will slow bolting but at some point, you may want to let the plant bolt. The seeds are called coriander which you can also use in cooking.
How to Use Cilantro in Cooking
Cilantro is a versatile herb and can be easily incorporated into your dishes. Add them to your green salad, sour cream, stir fry, infused water or make your own herb butter and infused oil.
When it comes to cilantro, I understand that one may love or hated it due to the strong flavor and aroma. Nonetheless, should you like to know more about cilantro, read here – all you need to know about its health benefits, ways to use cilantro in cooking and growing cilantro indoors.
If you dislike cilantro, I am pretty sure you will not choose to grow them. No worries. Let's get to the next herb that will grow well in the shade.
#2 Mint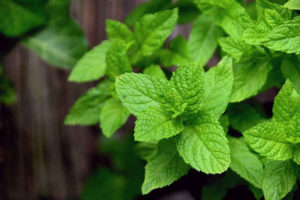 Mint is a herb that can grow in shade or sun. It is a perfect choice for growing indoors since it has a tendency to grow freely outdoors.
It is easiest to start growing mint from a nursery-grown plant. This is the most dependable way too. Always remember to pinch back frequently as this fast-growing perennial herb will quickly grow leggy reaching out to the sun.
How to Use Mint in Cooking
Adding mint to your bowl of salad or pesto sauce will certainly jazz up your meal. Or simply brew a calming cup of peppermint tea. Read more about mint leaves here.
Mint paired with watermelon or cucumber make refreshing fruits and herbs infused water you can enjoy drinking instead of bland plain water.
#3 Parsley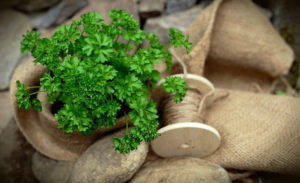 Grown as an annual herb, parsley is one of those herbs that can put up with almost any condition. Similar to any herb grown at the shady area, remember to trim it frequently to prevent leggy stems.
Parsley plant will self-seed if you allow it to goes to flower.
How to use Parsley in Cooking
Although parsley is always thought of as a garnishing herb, it is actually beneficial to health and many ways you can use it in cooking.
Parsley contains many important nutrients and it has particularly high Vitamin K which is important for bone health.
You can use the leaves and stems for salad, stews, sauces and broth or stock. Parsley, thyme and bay leaf is a classic French herb recipe for the bouquet garni.
#4 Chives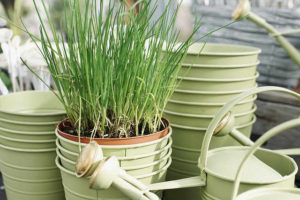 A close relative of the onion, shallots and garlic, chives' onion flavor is milder.
You can either grow chives from seeds or nursery bought seedlings. Chives grow best in moist but well-drained soil and they are very easy to look after with minimal attention. Just remember to water them regularly during prolonged dry-period in summer. If you wish to, grow chives in a self-watering pot thus you need not worry forgetting to water them.
When harvesting chives, use scissors to cut them close to the base of the plant. Frequent cutting will encourage more new leaves to grow.
How to use Chives in Cooking
It is best to use chives as soon as they are cut to retain the freshness. The herbaceous flavor enlightens almost any dish. With a herb scissors, cut the leaves and simply sprinkle onto your salad, soups, pizza, scrambled eggs and other dishes.
#5 Thyme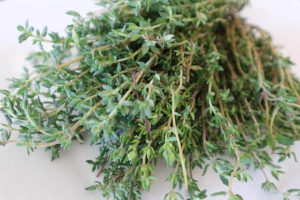 Thyme plants love the sunlight. While at least 6 hours of sun is best for this herb plant, grow in the shade is possible. It may bloom less but the flavor and aroma are of no difference from the one planted outdoors.
You can grow them in shade but where they get indirect light. The windowsill may be the best spot. There are various types of window sill planters you can buy online.
If space is a concern, get an Umbra Triflora Hanging Planter. It fits a standard 24″ kitchen window and can be wall or ceiling-mounted.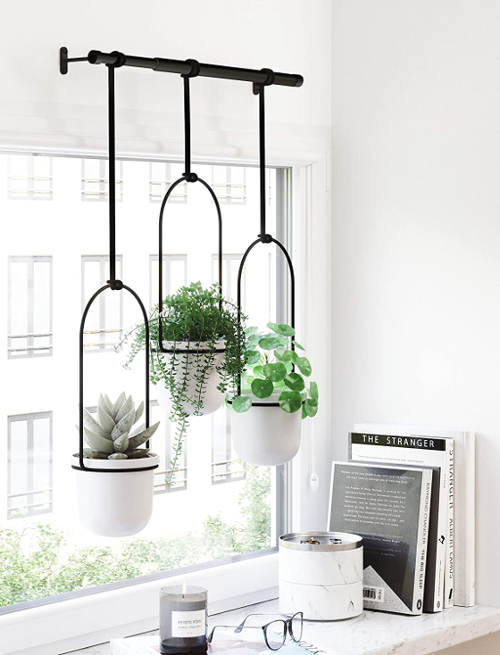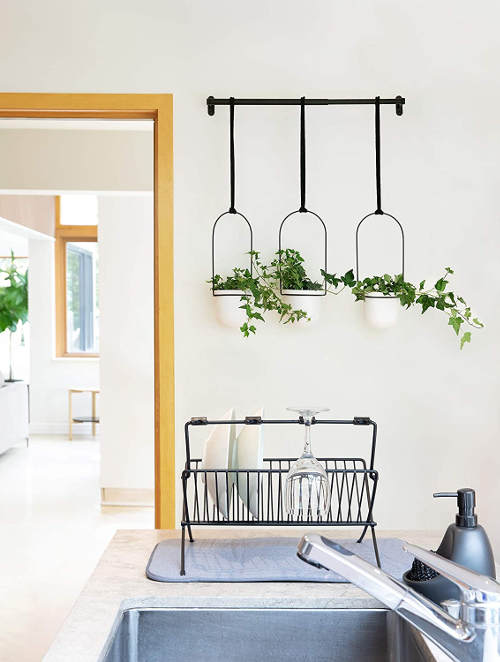 You may even want to get a Grow Light to help the growing process. This is one way of replacing the natural light where it can emulate the sunlight in terms of spectrum and intensity.
Comes to watering, since thyme prefers drier conditions, always ensure the soil is well-drained and dry to the touch before each watering.
Also, remember to pinch back to force new growth so that you have a compact plant.
How to Use Thyme in Cooking
Thyme has a delicate flavor with a hint of a minty taste. Fresh leaves can be sprinkled into a dish, especially vegetables and seafood which do not need long cooking time. Salads and herb butter are other ways you could use the fresh leaves.
How about the stem? The stems of thymes are edible but are too woody to enjoy. Soups, stews and braised dishes are where you can use whole sprigs of thyme. Cooking these dishes, thyme should be added early in the process. Thyme needs time to release its flavor and mellow out in your dish. Thus, remember not to add too many sprigs else your dish will be overpowered by them.
Growing Tips
Apart from placing your herb plants in the sunniest spot, there are several other things you can do to ensure they grow healthily.
Harvest your herbs regularly. Pinching or snipping off the outermost stems will encourage branching, hence, the plant will grow more compact.
Do not over-fertilize your herb plant. Doing so will only encourage them to grow more leggy and weak. It is ideal to fertilize no more than once every 6 to 8 weeks, using liquid organic fertilizer.
Be careful not to over-water. It is best to water thoroughly than frequently. Thoroughly means to water until the water comes out from the drainage holes. Always allow the topsoil to dry out between watering.
Do You Need Help Getting Started
You may worry your herb plants grown from seeds will not grow successfully. I have failed on several occasions. Can't get thyme growing.
In order to avoid the disappointment and frustration, you may want to buy herb seedlings plants from your neighborhood nursery or get this Herb Garden Kit from Urban Leaf. This kit comes with everything you need to start growing.
A reusable planter made from fast-growing renewable timber
3 coco coir pots, suitable for transplanting should you want to
Expanding soil disc that includes worm castings and water-retaining crystals for long-term plant health
3 packets of herb seeds – basil, cilantro and parsley
Bamboo labels
Free access to Urban Leaf web-based app (no download required) for step-by-step set-up and maintenance guides.
It is great to know that all Urban Leaf products are backed by their Green Thumb Guarantee. If you are not satisfied with their products, or cannot get them to work, they will refund or replace them for free. This statement is posted all over their website. So, you need not worry.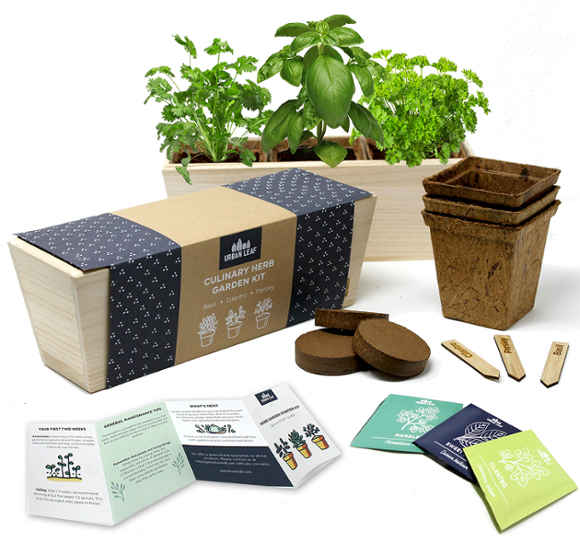 Besides basil, cilantro and parsley trio, there are two other similar kits
Chives, rosemary and oregano
Tomato, pepper and strawberry
These Herb Garden Kits are excellent gifts for all occasions.
All in All
Are these 5 herbs that grow in the shade sufficient for your cooking needs?
You have cilantro, chives and mint, and these herbs are suitable for sprinkling onto many dishes from meat, fish to vegetables, salad and eggs. Furthermore, fresh mint leaves can be used to make mint tea which is very good for bloated stomach, digestion and has a calming effect which helps reduce stress and anxiety.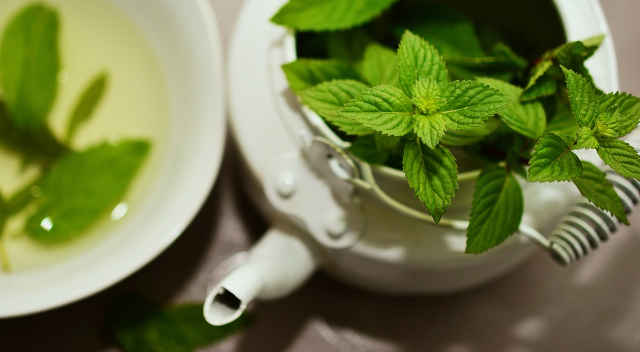 Parsley can either be used raw or used in making stocks, whereas, thyme is best used for slow cooking such as stew, braise, stocks or making slow-cooked sauces.
Do not let living in an apartment stop you from growing your own herbs. It is not too difficult doing so. If you need just enough for your daily cooking, a few small pots of your favorite herbs would suffice. Besides, potted herbs will look lovely in your kitchen and you need not worry when the seasons change. Read more on Growing Herbs Indoors Year Round.
Tell us, in the comments section below, are you likely to grow your own herbs even though you find it difficult to expose the herb plants to sufficient sunlight? Is your favorite herb included in this list?
Share This Article
If you find this blog post interesting, please share it with anyone that you think might find it useful. Thank you and have a beautiful day!
From the Corner of My Home – Spice Up Your Life with Herbs and Spices
Disclosure: This blog post may contain affiliate links as part of the Amazon.com Services LLC Associate Programs and other affiliate services. This means that cornerofmyhome.com receives a small commission by linking to amazon.com and other sites at no extra cost to the readers.