A sore throat is very common at my home. Usually, there is nothing to worry about. However, the irritation and itchiness can make it unpleasant. Sometimes, the worse ones can lead to pain while swallowing food. The most unpleasant situation is having a sleepless night caused by the itchiness and pain. What will you do? I am sure you will love to find a quick sore throat relief.
First of all, let's find out
What is the Difference between a Sore Throat, Strep Throat and Tonsillitis
Strep throat and tonsillitis are sore throats. While these 3 terms are often used interchangeably, scientifically you must know that they are not the same.
In simple words,
A sore throat is a viral infection and often, it is the first sign of a cold. It may be accompanied with other symptoms such as a runny nose, cough, watery eyes and sneezing.
Other causes of a sore throat may include smoking, polluted or dry air and allergies.
Strep throat is a bacterial infection caused by a bacterium called Streptococcus.
Tonsillitis refers to tonsils that are inflamed.
While you can get a sore throat relief fairly quickly at home, it may be a bit tricky to determine whether or not you or your child is suffering from a common sore throat caused by viruses, or the more serious case of strep throat or tonsillitis.
In this case, you need to be mindful,
When to See a Doctor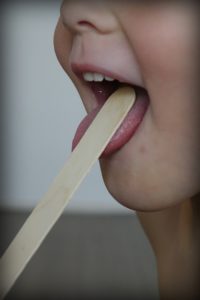 It is always best to take precaution. Therefore, should you or your family members experience the below, please seek medical attention straight away.
• If a child's sore throat or throat pain continue after 24 hours
• If an adult's sore throat continues after a few days or the symptoms worsen
• Develop a high fever (higher than 38°C)
• A fever that doesn't ease after 24 – 48 hours
• Tender or enlarged lymph nodes in the neck
• Neck stiffness rather than throat pain
• Experience ear pain and difficulty opening the mouth
• Difficulty in breathing or noisy breathing
• Difficulty swallowing water or saliva
If you are having a common sore throat, here are a few natural ways to ease the pain.
Soothe a Sore Throat Naturally
The following ingredients can be easily found in your kitchen. Furthermore, you can effortlessly make your own remedies in no time.
Salt
Salt has amazing anti-bacterial properties. It will help wash away the bacteria and neutralizes the acid that may be causing the irritation.
Gargle with salt water. This is the first thing I do when the first sign of a sore throat comes on. You should do this too. It is the easiest home remedy. My grandmama told me so.
Salt Water Solution
⇒ Mix ¼ teaspoon of salt in a cup of warm water. Gargle 2 -3 times a day. The last before going to sleep.
This helps soothe a sore throat tremendously and quickly too without disturbing a good night's sleep.
Cayenne Pepper
Cayenne Pepper is a natural antibiotic. Also, a natural analgesic which means pain reliever. Together with its anti-inflammatory properties, gargling with this spicy solution helps to soothe your throat irritation quickly.
⇒ Mix ½ teaspoon of cayenne pepper in a cup of warm water. Gargle 2 -3 times a day.
Cayenne pepper helps ease the pain of a canker sore too.
Turmeric
If you love cooking at home, I am pretty sure you will have turmeric.
In the world of Ayurveda, it is known as a natural antibiotic. Curcumin, a compound found in turmeric has powerful anti-inflammatory, antiviral and antibacterial properties.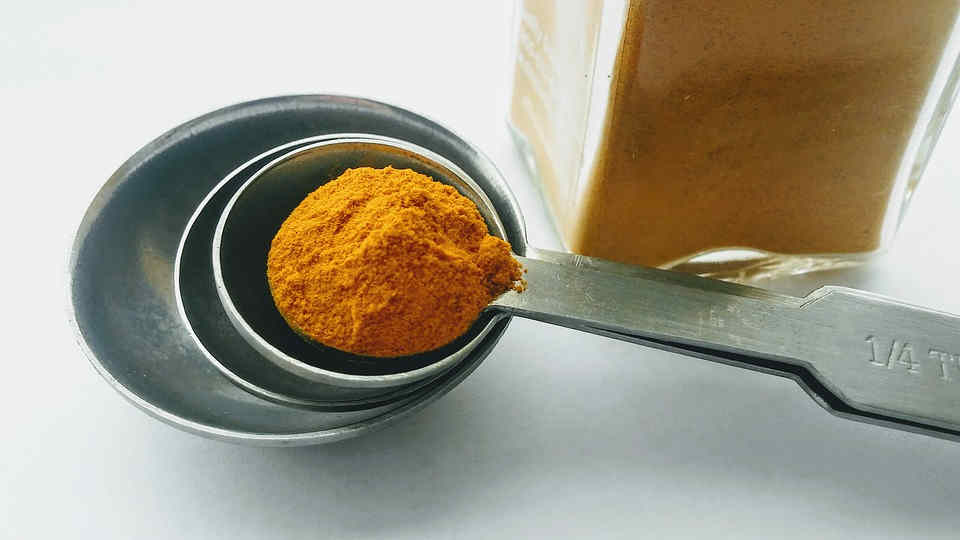 You can find relief from drinking turmeric tea easily made from the comfort of your home.
Turmeric Tea
⇒ Simply add 1 tablespoon turmeric powder to 4 cups of boiling water. Bring the heat down to a simmer for at least 10 minutes. Strain and add lemon and raw honey to taste.
Lemon helps to kill bacteria while raw honey is antimicrobial and anti-inflammatory.
Drink the turmeric tea 2 to 3 times a day for at least 3 days for sore throat relief.
Alternatively, try this
Turmeric Milk Tea
⇒ Add ½ teaspoon turmeric powder and ½ teaspoon of black pepper powder to a cup of hot milk. Mix well and drink twice daily for 2 to 3 days.
Milk helps soothe the throat and black pepper fights infection and enables absorption of curcumin.
If you do not have turmeric, try sage or clove tea.
This you how you can make your cup of comforting tea to soothe your throat.
Sage
⇒ Pour boiling water into a cup filled with 2 tablespoons fresh or 1 tablespoon dried sage leaves. Cover and steep for 10 – 15 minutes. Strain and add honey and/or lemon, if desired. Drink 3 – 5 cups a day while symptoms occur.
Caution: Sage tea is generally not recommended for use during pregnancy and lactation.
Sage with its antibacterial and anti-inflammation properties, has been commonly used since ancient times to combat colds, fevers, sore throat and for controlling inflammation.
It is also known to improve memory, lower blood glucose and cholesterol levels.
Cloves
Cloves contain a substance called eugenol, which is a natural pain-killer with antibacterial properties. Together with its anti-inflammatory qualities, cloves will surely help in soothing your throat.
⇒ Pour boiling water into a cup filled with 5 whole cloves. Cover and steep for 10 – 15 minutes.  Strain and add the juice of ½ a lemon. You may add honey if desired.
Cinnamon
This is another must try spice should you readily have them at home. And I am sure you do.
Cinnamon has anti-inflammatory properties and its antimicrobial effects help you get relief from throat pain.
⇒ Simply add 1 teaspoon of cinnamon powder, 1 tablespoon of raw honey and 1 teaspoon of lemon juice to a cup of hot water. Mix well and drink.
I suggest you find out more about the health benefits of cinnamon. Besides, you must know how to differentiate Ceylon with Cassia cinnamon. The full article explains. Click here to read.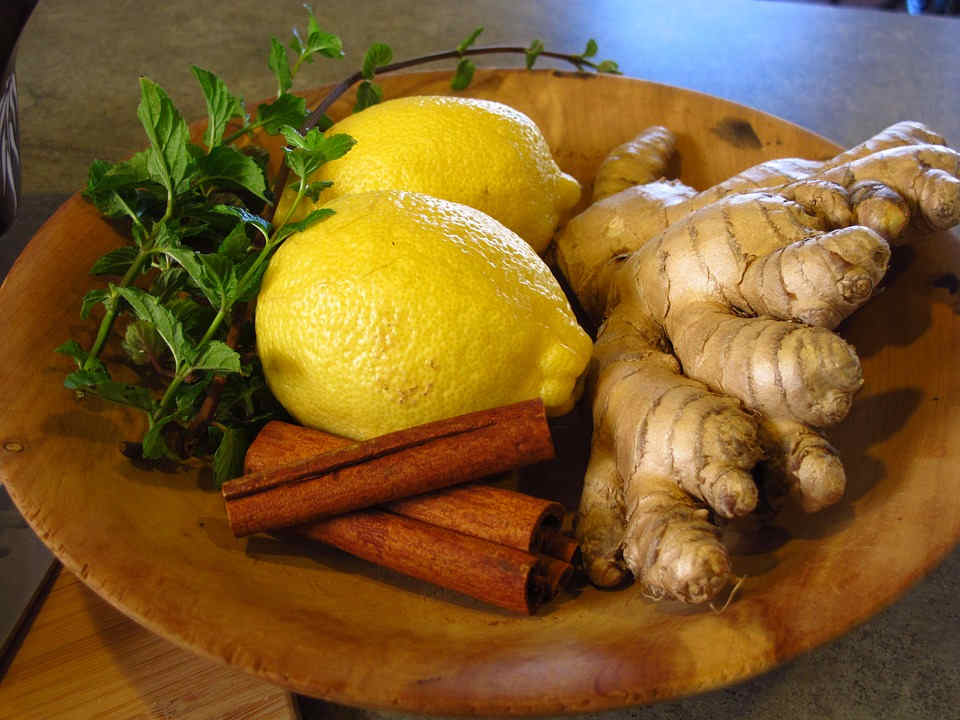 Peppermint
Try this herbal concoction,
⇒ Boil a few sprigs of mint, 4 cloves of crushed garlic and 8 slices of fresh ginger in 4 cups of water for 10 minutes. Strain and add lemon and honey to taste.
If you do not have fresh mint leaves, substitute with peppermint tea bags.
Consider pouring this concoction into a flask to keep warm and drink it throughout the day.
Peppermint, ginger and garlic are antimicrobial thus help destroy viruses and bacteria. Furthermore, menthol found in peppermint has a cooling effect to soothe your sore throat.
Caution: Mint is NOT recommended for people with heartburn or gastroesophageal reflux disease (GERD) because it relaxes the muscle in the oesophagus and stomach, thus worsen the acid reflux.
Click here to read more about Mint Leaves.
At A Glance
There you have it – 6 common herbs and spices to get a quick sore throat relief at home. Would you agree with me that these are the most natural and economic remedies? I am frugal, yes. But why would you not use the amazing herbs and spices you already have at home?
Having a sore throat is a common occurrence in people of all ages. It is usually caused by a viral infection which may be a symptom of a cold or flu coming on.
A sore throat may also be caused by a bacterial infection. In this case, it is called strep throat and best treated with antibiotics. Remember to seek medical attention should you suspect of getting a strep throat or tonsillitis.
Otherwise, a sore throat caused by viral infection may be easily treated at home, using the above-mentioned remedies.
Don't let that painful sore throat ruin your day and a good night's sleep.
Here is a summary of the natural homemade remedies for your easy reference.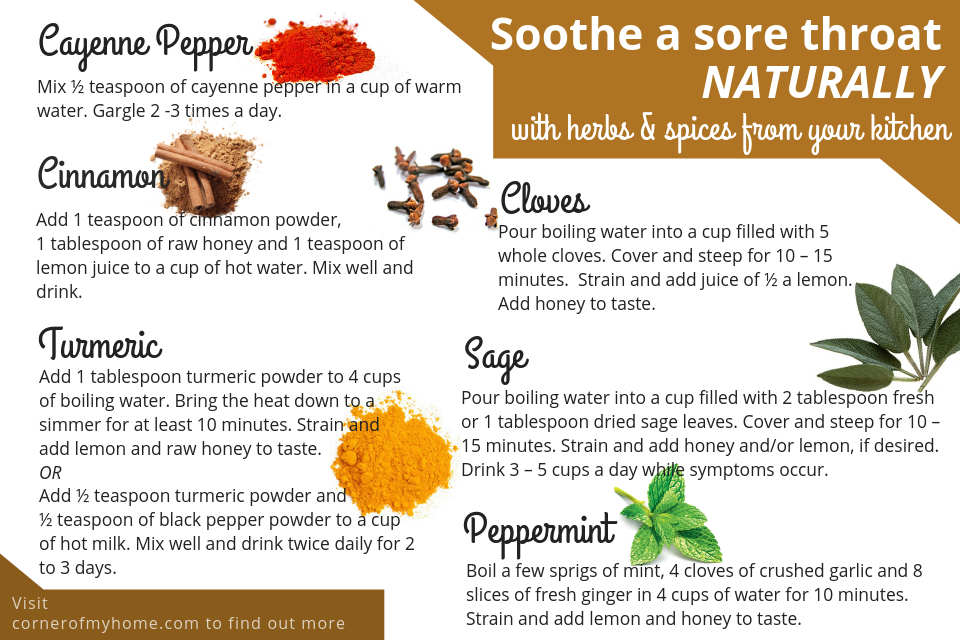 Mother Nature gives us amazing herb plants – use them!
CONSIDER THIS - A HERBAL JOURNEY
Whether you are looking into herbalism as a hobby or personal endeavor or preparing for a career, The Herbal Academy has herbalist program packages to suit your path and your educational needs!
The Holiday Sale in on. All programs are discounted up to A Jolly 25% off.
Take a look ↓


Good News for YOU Who Seldom Cook
You, who cook regularly will not have a problem getting sage, cayenne pepper and other herbs and spices mentioned.
How about YOU, who seldom cook? I am pretty sure you will not want to buy any of those and end up with extras that leads to wastage.
I have come across a herbal spray which will help solve your problem – an irritated throat.
Gaia Herbs Sage and Aloe Throat Shield Spray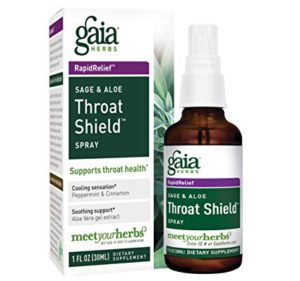 This easy to use throat spray is aimed to support throat health and healthy inflammatory response. Soothing support from sage and aloe vera, combined with a cooling sensation from peppermint and cinnamon essential oil will give you a much needed quick sore throat relief. Furthermore, you can easily carry this herbal spray in your bag while on the go.
Go on,


Please leave a comment
How do you feel using these home remedies for a sore throat? Do you have remedies to share? Please leave them at the comments section below. We can learn from each other. I look forward to reading your comments.
Share This Article
If you find this blog post interesting, please share it with anyone that you think might find it useful. Thank you and have a good day!
From the Corner of My Home – Spice Up Your Life with Herbs and Spices
Disclaimer: I am not a doctor or medical professional. The material on this blog is provided for informational purposes only and should not be taken as medical advice. It is general information that may not apply to you as an individual and is not a substitute for your own doctor's medical care or advice.
Disclosure: This blog post may contain affiliate links as part of the Amazon.com Services LLC Associate Programs and other affiliate services. This means that cornerofmyhome.com receives a small commission by linking to amazon.com and other sites at no extra cost to the readers.