Turmeric is a popular spice made from the root of a plant in the ginger family named Curcuma longa. It has been used as herbal remedies for thousands of years in Indian Ayurvedic and traditional Chinese medicine.
In recent years, turmeric has gained popularity for a number of reasons. To begin with, its distinct taste combines extremely well with a number of spices and flavours. Turmeric is an essential spice in Indian and Middle Eastern cuisine and is used in many Asian dishes too.
Turmeric's health benefits is another much talked about reason for its popularity. Curcumin, an active ingredient in turmeric is shown to have anti-inflammatory and antioxidant properties.
The purported benefits include
• Boost immune function
• Prevents Alzheimer
• Helps prevent cancer
• Reduces arthritis symptoms
• Protects against liver damage
• Helps prevent and manage diabetes
• Help reduce cardiovascular complications
• Helps manage irritable bowel syndrome (IBS)
• Helps prevent and manage lungs conditions
While many more research and studies need to be done to support the claims, it is not a bad idea to consume turmeric for its delightful flavour. Moreover, a small amount of curcumin may benefit your health even though you do not have certain health conditions.
You can easily make your own home remedies using turmeric to reduce inflammation and stress and for weight loss and body detox.
In a fast-paced lifestyle, I understand not many of you have the time to make your own natural home remedies. Hence, the best alternative is to use turmeric tea bags.
Let's find out what is available for purchase in health stores or online and what you should look out for when choosing your turmeric tea. Also, it is important for you to know and take caution when consuming turmeric under certain circumstances. Read on…
Best Turmeric Tea Bags
When choosing your turmeric tea, ensure the product has no fillers, additives or additional flavouring, and is GMO-free. It is best to look out for the USDA certified organic label.
You will notice that some turmeric tea blends contain black pepper. Ingesting curcumin, the active compound of turmeric by itself may not lead to expected benefits due to poor absorption, rapid metabolism, and rapid elimination. In this case, piperine, a major component found in black pepper helps increase the absorption.
Here are the 10 Best Turmeric Tea Bags to look out for
#1 Traditional Medicinals Organic Turmeric with Meadowsweet & Ginger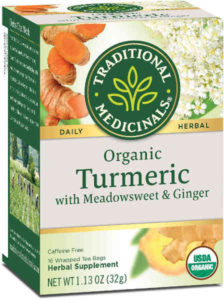 16 Tea Bags x 6 packs @ approx. $24
Rated 4.6 out of 5 stars with 4,951 customer reviews
USDA certified organic and non-GMO verified, this turmeric tea blend was created to include meadowsweet and ginger.


Meadowsweet is a herb historically used much like turmeric while ginger enhances the warming properties of this tea. Its taste is warming, earthy and savoury with a hint of spice.
This tea formula may help promote healthy digestion and supports a healthy response to inflammation associated with an active lifestyle.
#2 Yogi Honey Chai Turmeric Vitality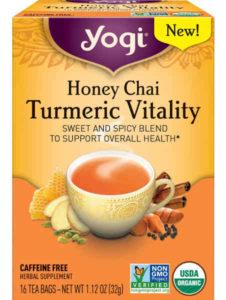 16 Tea Bags x 6 packs @ approx. $23
Rated 4.7 out of 5 stars with 296 customer reviews
USDA certified organic and non-GMO project verified, this turmeric chai blend contains warming spices that include cinnamon, cardamom, ginger, cloves and black pepper.


Love chai? Then, you need to try this deliciously complex blend. However, it contains natural honey flavour and I am very mindful about the word 'natural flavour'. Tell me what you think about this at the comments section below.
Nevertheless, it is good to know that this tea blend is caffeine-free, gluten-free and vegan. On top of that, the tea bags are compostable and the carton recyclable.
Enjoy this honey chai turmeric tea throughout the day to support your overall health and well-being.
#3 Numi Organic Tea Turmeric Three Roots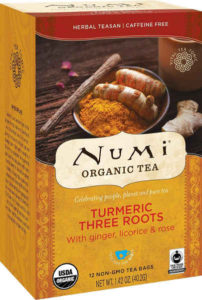 12 Tea Bags x 3 packs @ approx. $16
Rated 4.7 out of 5 stars with 321 customer reviews
USDA certified organic and non-GMO project verified, this tea blend is made up of Fair Trade Certified™ organic turmeric, organic ginger, organic liquorice and organic rose.


Liquorice, also known as sweet root adds sweetness to the tea. Most importantly, you should know that people have used liquorice root for centuries for its medicinal benefits. Its compound, glycyrrhizic acid contains anti-inflammatory and immune-boosting properties.
Drinking this Three Roots Tea will surely be energizing. For the most part, as the complexity of the roots and the flavour of the organic rose unfold, it brings calmness.
The teabags are made of natural biodegradable filter-paper and individually wrapped to ensure your tea is fresh, every time.
#4 Vahdam Teas Turmeric Ginger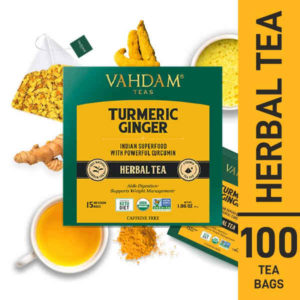 100 Tea Bags @ approx. $30
Rated 4.2 out of 5 stars with 367 customer reviews.
With 65% turmeric and 35% ginger, this tea blend is naturally gluten-free. Also, USDA certified organic and non-GMO project verified.


Turmeric with ginger is popularly known as the "Magic Herb". Turmeric contains curcumin which health benefits you have read above and ginger contains gingerol. It is a powerful substance with medicinal properties.
Each tea bag is packaged in a pyramid-shaped nylon tea bag giving better infusion. It is individually enveloped and sealed at the source to ensure you get the freshest cup of tea.
It is great to know that Vahdam Teas' social initiative, TEAch Me pledged a minimum of 1% of their revenue towards the education of their tea workers' children. Like all parents, the farmers wish for their children to have a better life than them.
Other flavours are available. Pick your favourite.
Another wonderful option is Turmeric Herbal Tea, Assorted Gift Set. This gift set was featured in Oprah Winfrey's favourite things 2019. Consider buying this for your loved ones. Or for yourself!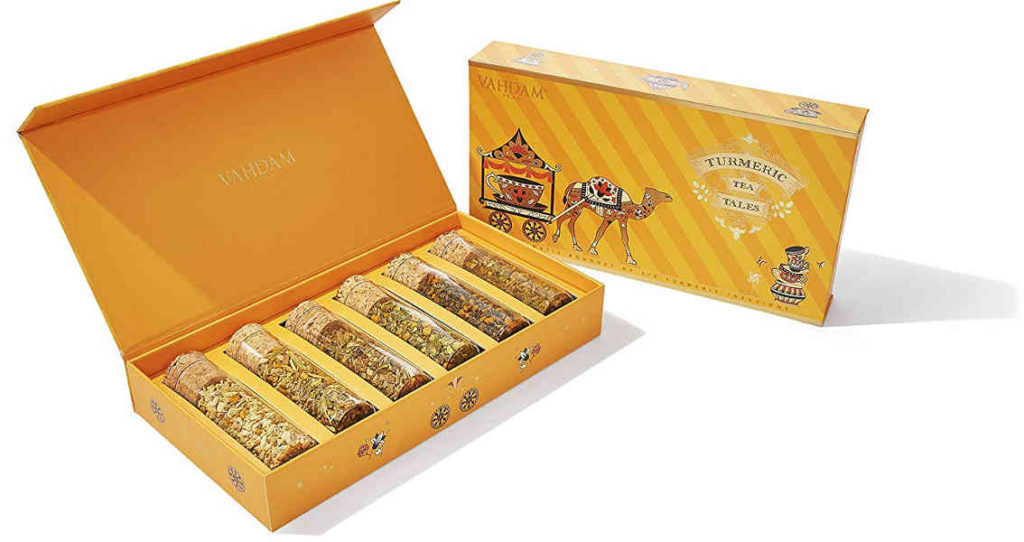 Consist of 6 Superfood Blends – Turmeric Ginger, Turmeric Moringa, Turmeric Ashwagandha, Turmeric Fennel, Turmeric Spices and Turmeric Saffron.
#5 Organic India Tulsi Turmeric Ginger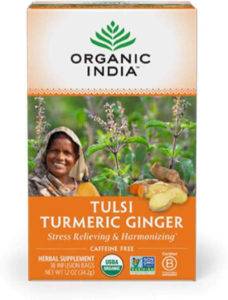 18 Tea Bags x 6 packs @ approx. $28
Rated 4.7 out of 5 stars with 706 customer reviews
This robust blend combines turmeric with ginger, cinnamon, black pepper, cloves, stevia and tulsi.


Tulsi, also called holy basil is an Ayurvedic herb widely used in therapeutic herbal tea. It is revered throughout India as a sacred herb with healing power.
Abundant in antioxidants, this USDA certified organic and non-GMO Tulsi Turmeric Ginger Tea not only tastes great, but it also offers stress relief, increased energy and a boost to your natural immune system.
Committed to responsible packaging, Organic India's tea package carton is made from 100% recycled paperboard and their tea bags are made from unbleached, biodegradable fibre.
#6 The Republic of Tea Organic Turmeric Ginger Green Tea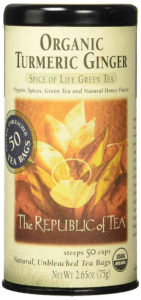 50 Tea Bags @ approx. $13
Rated 4.6 out of 5 stars with 488 customer reviews
Blended with green tea, this certified gluten-free, USDA organic and non-GMO turmeric ginger tea gives you the earthy taste as well as freshness with every sip.


Its ingredients include organic turmeric, organic ginger, organic cinnamon, organic green tea and natural honey flavour. Again, as with the Yogi Tea above, the word "natural flavour" does not sound that good to me.
However, a representative of The Republic of Tea has this to say.
"The term natural flavouring is the liquid extracts, essences and flavours that are added to our teas to enhance their taste and aroma. Our flavourings are prepared from essential oils such as fresh fruits, vanilla, lemon and almond and we declare all of these specifically in our ingredient list on each and every label."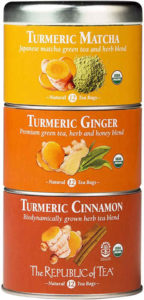 What I like about this tea is its packaging. I find individual envelopes, strings, tags or staples a waste. Of course, these may be needed if the tea bags come in a paper box. The 50 tea bags of this Turmeric Ginger Green Tea come in a specially-designed airtight tin thus minus the unnecessary details. You can reuse the tin for other purposes.


If you are looking at varieties, consider The Republic of Tea, Organic Turmeric Stackable Tea Tin (12 Tea Bags x 3 tins) that consist of Turmeric Matcha, Turmeric Ginger and Turmeric Cinnamon.
#7 Rishi Turmeric Ginger Tea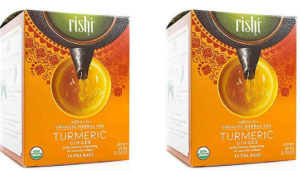 15 Tea Bags x 2 packs @ approx. $13
Rated 4.6 out of 5 stars with 385 customer reviews


USDA certified organic, non-GMO with the biodegradable sachet tea bag, enjoy this tea blend with a twist of citrusy tang.
Its ingredients include organic turmeric, organic ginger, organic liquorice, and organic orange and lemon peel with essential lemon and orange oils. Also, lemongrass.
The sweet liquorice combined with zesty orange and lemon gives you a remarkable aromatic infusion while the golden roots of turmeric and ginger is an amazing Ayurvedic herbal tonic. Does this entice you to try out this fruity and therapeutic tea? Yes…
#8 Buddha Teas Turmeric Ginger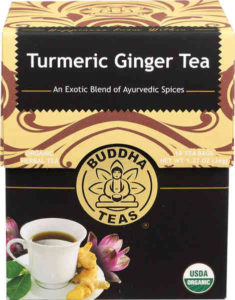 18 Tea Bags @ approx. $6
Rated 5.4 out of 5 stars with 604 customer reviews
USDA certified organic, this warming tea is made with organic turmeric, organic ginger and organic black pepper with no artificial flavours or GMO.


Turmeric and ginger are common ingredients of Ayurveda while black pepper can help increase absorption of turmeric.
Packed in bleach-free tea bags, you get to enjoy a cup of Turmeric Ginger Tea any time of day.
#9 Alvita Organic Turmeric Tea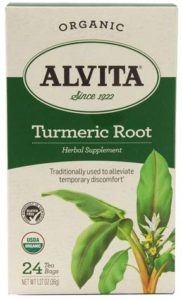 24 Tea Bags @ approx. $8
Rated 4.3 out of 5 stars with 88 customer reviews
Without any other ingredients, you get to taste the originality of turmeric, giving you a warm and slightly smoky flavour. Consider adding honey if the taste is overpowering for you. A customer review recommended using almond milk as the base instead of water. Something different worth trying.


As with all the turmeric teas mentioned, this Alvita Turmeric Tea is USDA certified organic.
#10 Celebration Herbals Organic Turmeric Ginger Lemon Tea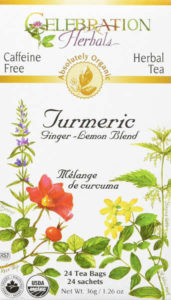 24 Tea Bags @ approx. $7
Rated 4.4 out of 5 stars with 238 customer reviews
USDA certified organic, its ingredients include turmeric, ginger and lemongrass. All the herbs in this tea are organically grown and prepared. Thus, you get to enjoy their natural taste and active properties in every cup.


If you find the taste of turmeric too strong and peppery for you, (I do) then, the lemongrass in this tea blend balances out the spice so it is not too overbearing.
Similar to The Republic of Tea blend, there is no strings attached to the tea bags. No tags or staples. But, instead of a tin can, the tea sachets are packaged in a resealable bag and box that is made from 100% recycled cardboard.
Precautions Consuming Turmeric
Generally, turmeric consumed in the form of spice in food is safe. But in the form of extracts, you need to take caution.
Turmeric spice contains about 3% of curcumin. Compared to 95% curcumin in extracts.
Simply explained – the average Indian diet (turmeric is an essential spice) provides around 2,000-2,500mg of turmeric per day which contains 60-100mg of curcumin. However, the same amount in extract form contains up to 1,900-2,375mg of curcumin.
Even though turmeric is believed to be therapeutic and safe for most individual, people with certain conditions are best to avoid it.
Diabetes. Turmeric may lower blood sugar. Avoid turmeric if you take diabetes medications as it could cause your blood sugar to fall even further.
Gallbladder. Turmeric may cause the gallbladder to contract, worsening the symptoms.
Kidney stones. Turmeric contains a significant amount of oxalate, which can bind with calcium and cause kidney stones formation. If you are at more risk of developing them, avoid turmeric.
Pregnancy. Turmeric may stimulate the uterus or promote menstrual period. It is also not advised to consume it during breastfeeding.
Stomach Complications. Turmeric may cause increased stomach acid. If you have gastroesophageal reflux disease (GERD), pay attention to your turmeric intake.
Blood Thinning. Turmeric may slow blood clotting. If you take blood-thinning medications, avoid turmeric. Also, stop consuming turmeric 2 weeks before surgery.
When in doubt, always talk to your health care provider whether turmeric is safe for you.
I am not a doctor or medical professional. All the information here are based on my own research and provided for informational purposes only. Thus, it is important for you to get your doctor's medical care or advice.
All in All
The reason behind turmeric's popularity is mainly its usage in cooking and lauded for its medicinal benefits.
Its taste is slightly bitter and peppery but at the same time gives you a mild aromatic scent. Its all-natural yellow colour brightens up your dish while the curcumin boosts up the medicinal and nutritional value of your food.
Much has been said about turmeric's health benefits but more studies and research are needed to prove its ability to heal certain illnesses. Regardless, a small amount of turmeric is good for overall well-being. However, do keep in mind to avoid turmeric under certain health conditions mentioned above.
You can easily add a pitch of turmeric spice to your cooking particularly marinades and seasonings or simply sprinkle onto roasted vegetables or egg dishes. What if you seldom cook at home? Turmeric tea bags is the best alternative. It is convenient and you get to drink an earthy, warming and relaxing cup of tea any time of the day.
I hope you are able to find your preferred tea from the best turmeric tea bags recommended in this article.
Ready to buy? Click here to "Shop" page where you can easily compare the prices at a glance.
Most turmeric teas are blended with ginger, the most common combination due to their powerful medicinal properties.
Black pepper is another important component for a turmeric tea blend as it helps increase the absorption of turmeric.
Cinnamon and cloves are not uncommon, giving you the flavour of Indian Chai (tea).
Other ingredients such as liquorice, lemongrass, lemon and orange add sweetness and fruity flavour to your turmeric tea, should you find it unpleasant to drink an authentic turmeric tea. Have you tried? Tell us about it in the comments section below. Share with us your experience with turmeric. Are there any good turmeric tea I left out? Look forward to your comments.
Read Related Articles
Here are more articles you may find useful.
Share This Article
If you find this blog post interesting, please share it with anyone that you think might find it useful. Thank you and have an awesome day!
From the Corner of My Home – Spice Up Your Life with Herbs and Spices
Disclaimer: I am not a doctor or medical professional, and this post should not be taken as medical advice. Please do your own research. Material on this blog is provided for informational purposes only. It is general information that may not apply to you as an individual and is not a substitute for your own doctor's medical care or advice.
Disclosure: This blog post may contain affiliate links as part of the Amazon.com Services LLC Associate Programs and other affiliate services. This means that cornerofmyhome.com receives a small commission by linking to amazon.com and other sites at no extra cost to the readers.