It's been mentioned frequently how herbs enhance the flavour of your home cooked meals. I bet you will agree with me. Besides flavour, let's not forget their nutritional and medicinal values that benefit your health. Even though you don't normally consume herbs in large quantities (some herbs can be potent), a fair amount is a good source of nutrients for your body. Furthermore, most herbs have antioxidant and anti-inflammatory properties. The question I have for you is – have you thought of juicing with herbs? Read on to find out what you ought to know about this.
I can see some of your questions coming.
Why Juice? Not Blend
Firstly, you will need to know the answer to this – what is the difference between juicing and blending?
Simply by looking at the end result of the process:
In juicing, the liquid of the fruits and vegetables are extracted, alongside with the nutrient but leaving behind the fibrous components. You get the juice, vitamins, minerals and all the nourishment your body requires to stay healthy.
In blending, you get them all. Juice, the nutrients including the fibre your body needs.
There is no right or wrong to which method you choose. It depends very much on your needs. Continue reading to find out which suits you better.


Juicing vs Blending Benefits
Juicing ensures you do not overwork your digestive system. If you have been including fibre rich or whole food into your daily diet, juicing is the better option. Your body will absorb all the nutrients easily, giving your digestive system a breather.
Additionally, there is a big difference between drinking and eating the same amount of fruits and vegetables. I say it will be challenging having to eat that amount of raw greens you use for juicing. Don't you feel so?
An elderly person who needs easy to digest food will benefit much from juicing too. Also, those who have a sensitive digestive system.
Some people may simply dislike the rich, rough texture of a smoothie. So, juicing is for them!
Blending gives you the fibre needed. And of course, all the nutrients. Fruits and vegetables are blended and pulverized into mouthwatering smoothies.
The fibre of the fruits and vegetables give you a feeling of fullness and energized. A green smoothie before a workout will help maintain your energy throughout the routine.
If you are watching your sugar level, fibre helps regulate your body's use of sugar, ensuring a slow and steady absorption of sugar into your bloodstream.
Needless to say, fibre helps relieve constipation, moving stool through the digestive tract and colon, keeping the colon clean and healthy.
Now that you know the difference between juicing and blending and their benefits, let's get back to the original topic on
Juicing with Herbs
Most often, only a small amount of herbs are used in cooking as not to overpower your dishes. In order to ingest more, why not juice them?
I have been saying this and will never stop repeating. Waste not, your powerful herbs! How many times have you discarded leftover herbs kept in your refrigerator? If you are not growing your own herbs, buying in a bundle will surely leave you with excess.
Here are the 7 common cooking herbs good for juicing and most importantly, boost up the nutritional value of the juice.
Basil
Cilantro
Mint
Oregano
Parsley
Rosemary
Thyme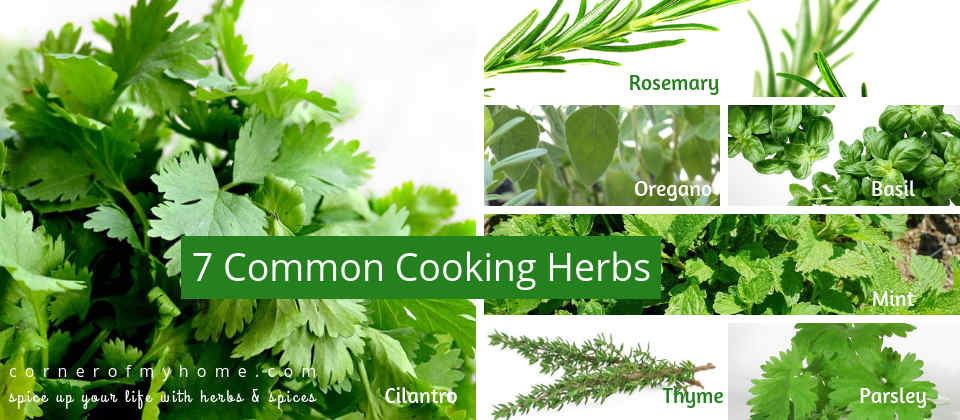 Previously, I have written an article on using these herbs to make a healthy smoothie. The nutritional values of the herbs and their benefits are listed. Click here and it will open on a new tab. If you prefer blending, the article will show you how to make a healthy smoothie without a recipe following 5 simple steps and ingredients ratio. Wait! Why not continue reading here before you move to the next.
You ought to know what type of juicer extractor to use and 3 simple steps to follow – making a juice without a recipe.
There are so many names and terms for a juicer, it can be confusing for you. Me too. Let's sort this out.
Centrifugal Juicer is the normal juicer, I normally use. At times, it is also called high-speed juicer or fast juicer.
Masticating Juicer also goes by the term Cold-Press Juicer. Another term, Slow Juicer, is what I usually hear people promoting.
Their differences
Centrifugal Juicer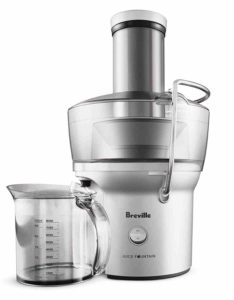 Its alternative names of high speed or fast juicer say it all. It processes the ingredients at a high speed.
Simply drop the fruits and vegetables into the feeding chute down to the spinning blades where all ingredients in the basket will be crushed, ground, squeezed and juiced.
Undoubtedly, the advantage of using a fast juicer is its speed. I understand a homemaker has plenty on their hands and getting things done quickly is of priority.
Furthermore, a centrifugal juicer is fairly easy to assemble and clean up. When it comes to washing the parts and cleaning up, I can see you frowning at the tasks 😉
What about the quality of the drink? This is one important aspect to think about. The heat produced by the high spinning speed may cause loss of nutrients in the juice. Also, this produces more bubbles which may not be pleasant drinking.
Leafy green and herbs, berries too, passing too quickly will not have their juices extracted fully. Not only you'll be getting less juice but the valuable nutrients are wasted. There is a tip on how to overcome this. Read on.
Another pro and con of a fast juicer are less expensive but noisier. Hey, you can't have the best of both world, can we? Time to choose, not yet…
Masticating Juicer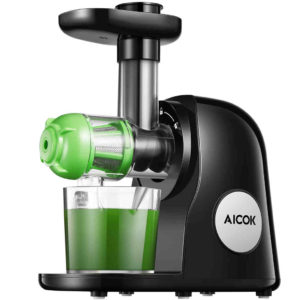 Slowly but surely this juicer gives you more juice and nutrients.
The slow-moving rotating gear ensures all the ingredients are crushed and squeezed thoroughly. Minimum loss of nutrients and volume.
The juice is thick and fresh with little foam. There will not be much heat build up destroying the antioxidant which is abundant in the juice.
Of course, quality comes with a price. Slow juicers are more expensive.
Additionally, being slow, would you mind spending precious time feeding the juicer? But you know you will be getting all the nutrients in one healthy juice.
Decision? Hold your thoughts and let's see if the following helps you in deciding.


Tips on Getting the Most Out of Leafy Greens & Herbs in Juicing
Roll the leafy greens and herbs tightly, into a long cylindrical shape.
Wedge the greens or herbs in the natural curve of a celery stalk or between two harder ingredients such as apple or cucumber.
On a slow speed, nudge them through the feed one push at a time using celery stalks, carrots or fruit and vegetable of your choice.
No matter which juice extractor you choose to use, these tips will help maximize the yield and nutrients but minimize wastage.
Moving on, you must be eager to find out
How to Make a Fresh Juice without Following a Recipe
Most often, I ask myself what to cook for dinner? I am sure you can relate. Open the refrigerator, look at what is available and whip up a quick meal.
When it comes to juicing, the same applies. What is available?
These 3 simple steps will help you get started.
Step 1: Taste
Of course, you want to drink a tasty juice – sweet, citrusy, earthy, fresh and herbaceous and you may want to spice it up.
Here are the ingredients you may consider.
Sweet => apples, pears, pineapples, melons, mangoes, grapes, berries
Citrusy => lemons, limes, oranges, grapefruits
Earthy => carrots, beets, turnips
Fresh => kale, celery, spinach, lettuce, chard, broccoli, mint
Herbaceous => basil, cilantro, oregano, parsley, rosemary, thyme
Spice it up => ginger, turmeric, cinnamon, nutmeg
No matter your preference or what you have readily available for juicing, balance is the key, just as in cooking. In any combination, if you will eat it, you will drink it.
For instance, would you not like apple cinnamon? I do. How about apple orange salad with basil or mint? It's refreshing, is it not? Absolutely.
Try out the variations to find your desired taste. I bet you may end up with some weird taste but it's alright. Enjoy experimenting!
Step 2: Yield
After all the preparation, peeling and cutting the ingredient, surely you will be frustrated with a low juice yield.
In this case, choose high-yield fruits and vegetables that give you the most amount of juice.
Fruits => apples, pineapples, pears, melons, kiwis, all citrus fruits
Vegetables => carrots, celery, cucumber, beets, broccoli, tomatoes, romaine lettuce, Swiss chard
Note that some low yield fruits or vegetables such as kale and herbs are packed with nutrients. Therefore, do not dismiss them. Instead, mix high and low yield ingredients to get a good balance.
Step 3: Not Important but consider colour
Any food that is tantalizing automatically increases your appetite. Same goes to your glass of juice.
When making a green juice, adding watermelon will result in conflicting colours. Stay green by adding fruits such as apples, pears or kiwis.
On the other hand, cucumber blends in well with watermelon. Add a few leaves of mint, refreshing!
And who says the colour is not important 😉


to sum up
Juicing with herbs allows you to incorporate nutrient-packed produce into your diet besides using them in cooking.
In juicing, you will obtain all the nutritional and medicinal properties of the herbs in the form of a liquid, minus the fibres. People with a digestive issue will benefit the most.
Centrifugal and masticating juicer have their pros and cons. Cheaper but noisier. Higher juice yield but expensive. Faster but foamy.
Either one, remember to use the tips given in squeezing the most juice out of leafy greens and herbs while extracting all the nutrients. Get that extra antioxidant! Juice it!
Good to note: Herbs may be petite but potent. Start with a small amount and up the amount accordingly.
Although I encourage you to look at what you have available in your refrigerator that can be juiced, this does not mean that all will blend in well.
With the 3 simple steps given above, choose wisely to balance the taste, yield and colour. Be adventurous, try different combinations. You may end up creating your own signature juice blend.
Should you need more fibre in your diet, blending a healthy smoothie is a better option.
However, it is not wrong to do both juicing and blending. Try them alternatively, or establish your own schedule to find which and how best to consume this wholesome goodness.
Did you miss the link to making a healthy smoothie without a recipe? Here you go, click here.
Check out the Best Slow Masticating Juicer to buy. Not all of them are expensive. You will be delighted there are a few affordable models and they juice well too.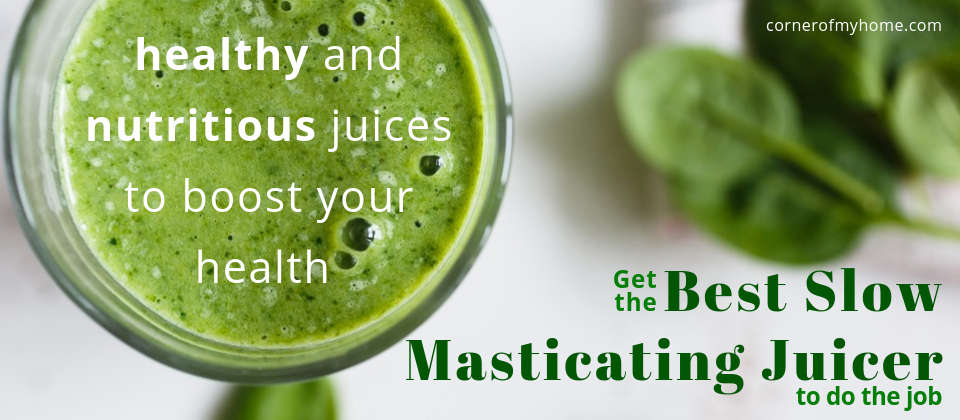 Please Leave a Comment
How is your decision? Is juicing for you, or blending? Slow or fast juicer? Let me know.
For now, I am sticking to my old faithful centrifugal juicer. When the time comes, an upgrade is much desired.
Psst, do you have a secret recipe for a marvellous juice? Tell me, I will be the first to respond.
Share a tip or two in juicing or blending. Thank you in advance.
Happy Juicing!


Share This Article
If you find this blog post interesting, please share it with anyone that you think might find it useful. Thank you and have a good day!
From the Corner of My Home – Spice Up Your Life with Herbs and Spices
Disclosure: This article may contain affiliate links as part of the Amazon Services LLC Associate program and other affiliate services. This means that cornerofmyhome.com receives a small commission by linking to Amazon.com and other sites at no cost to the readers.