I don't mean to call you a messy cook but there are people who work best in a messy environment. So long the food turns out great, it does no matter which environment you worked best, messy or neat and tidy. I enjoyed cooking more in a neater setting and at the end of the day, I like to see a clean and tidy kitchen countertop. Are you with me? Yes! In this case, you must read on to look at the kitchen cabinet spice storage ideas I am sharing today.
Cooking regularly, you would have accumulated jars or bottles of spices, herbs and seasonings. You do not want them scattered over the counter nor in a cluttered cabinet or drawer. It is absolutely a good idea to store them neatly so that you can easily retrieve any one of them when cooking your dishes. On top of that, these spice storage organizers you see below will help maximize your cabinet space. Say bye-bye to clutter and hello to organized spices.
Here you go…
7 Practical Spice Rack Organizer for your Cabinet
#1 mDesign 2 Tier Lazy Susan Turntable Storage Container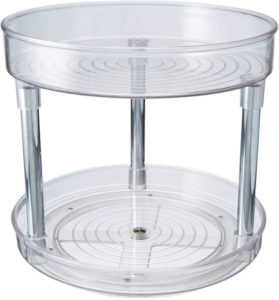 Rated Amazon's Choice, 4.8 out of 5 stars with 631 customer reviews
Price: approx. $20
Dimension: 9" diameter x 7.8" height
This rotating 2-tier design allows you to quickly see and easily grab your spices kept in the cabinet.


Each turntable rotates 360° on smooth-gliding stainless steel ball bearings. An easy spin every time.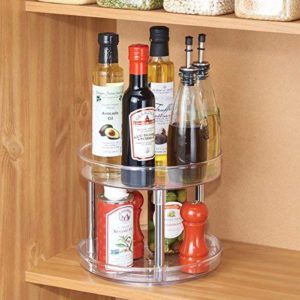 You need not worry about bottles of spices tumbling while spinning because the raised outer edge of about 2.3cm keeps items in place. As the turntable is transparent, you can still read the spice label even with the raised edge.
Made of durable BPA and Chlorine free shatter-resistant plastic, you can easily clean with mild soap and water. Though, do not place in a dishwasher.
This is a great spinning organizer in a kitchen cupboard, making the most of available space.
#2 Stow-n-Spin 2 Tier Lazy Susan Turntable Spice Rack Organizer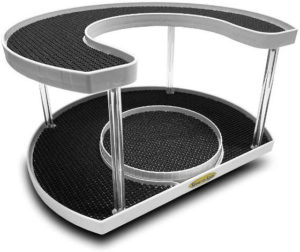 Rated Amazon's Choice, 4.6 out of 5 stars with 307 customer reviews
Price: Approx. $35
Dimension: 10 7/8" diameter x 13 3/16" width x 7 5/16" height


This D-shape smart design makes it easy for you to reach your spices in the cabinet with 11" deep shelves. It fits perfectly against the cabinet door, filling the space better than a round turntable.
Simply said – if you do not have a deep cabinet, having a flat side (D-shape) gives you a carousel and perfectly shut cabinet door. A cabinet full of flavoursome spices and herbs.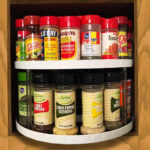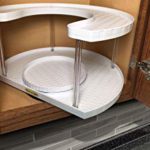 Additionally, with a quarter turn, the flat side of the turntable allows you to see items at the back of the shelf.
This design actually holds more spice jars than you think.
Made in the USA from high-impact polymer plastic, it comes with a vinyl, latex-free, non-slip liner which is machine washable.
Great for narrow cabinets, maximizing storage space.
Take note that the assembly may not be easy though not challenging. Just be prepared to assemble with 2 pairs of hands. May need a stronger arm.
#3 Rubbermaid Pull Down Spice Rack

Rated 4.4 out of 5 stars with 273 customer reviews
Price: Approx. $23
Dimension: 10" depth x 14.5" width x 9" height


Maximize your kitchen cabinet space and keep spices organized with this pull-down spice rack. The pull-down feature allows easy access to your spices.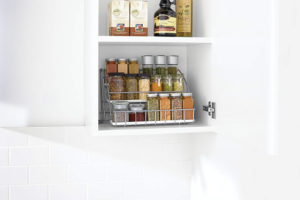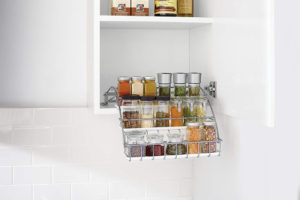 In addition, it is designed with wires spaced further apart thus you can easily and quickly identify the spice you need. There is a plastic tray to prevent items from falling through the gap.
This rack holds 18 standard spice jars and is made from epoxy-coated steel. You need to do a bit of installing with this rack. 4 screws are included to mount onto wood shelving for a secure hold.
If a person is on the shorter side, having a pull-down spice rack may make cooking life much easier. One can see and access them all.
#4 YouCopia SpiceStack Adjustable Spice Rack Organizer (NEW)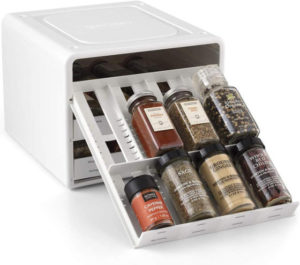 Rated 4.7 out of 5 stars with 1635 customer reviews
Price: Approx. $40
Dimension: 10.9" depth x 10.4" width x 8.3" height


I understand that you may not have the same sized jar for every spice. No matter the jars are round, square, shorter or higher, you will be able to organize them all in these three drop-down drawers. The advantage of this rack is its adjustable dividers. You get to adjust the right height to fit your spice bottles.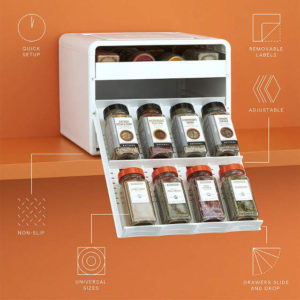 The storage capacity of 24 spice jars, this is standard spice storage for frequent home cooks. If some of the jars are on the smaller side, it may even fit 2 jars in one slot.
Surely, you like this – it does not require any tools and takes only a couple of minutes to set up.
This drop-down spice rack organizer stays in place with soft, non-slip feet. It includes 100 removable drawer labels.
When spices are organized the way you want, you will be cooking with ease and enjoyable.
#5 Lynk Professional 4" Slide Out Double Spice Rack Organizer

Rated 4.7 out of 5 stars with 455 customer reviews
Price: Approx. $45
Dimension: 10 5/16" length x 4 ¼" width x 8 ½" height
Pull out spice rack is the perfect solution for gaining easy access to all your spices in the upper cabinets. This is great for narrow and/or deep cabinets. Just pull out the rack and you will be able to see them all instead of digging in.


ProGlide full-extension dual ball bearing glides ensure you get a smooth slide every time even under the heaviest loads.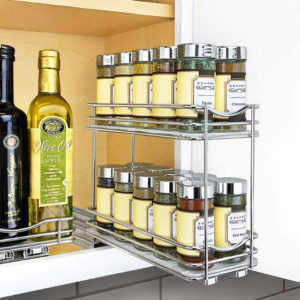 The removable and washable polymer trays that come with this rack protects your cabinets from spills while keeping the smaller items stable.
Made from commercial quality steel and beautiful chrome finish, it is durable and sturdy. You can easily install this organizer in minutes with just 2 screws which are included.
Did I say easy? Well, a few customers actually commented that it is a bit difficult to install especially on a narrow cabinet because you do not have space to move about. Worry not! These customers also provided solutions and great advice. Read more on Amazon.
This pull out double spice rack holds up to 20 standard size spice jars.
Under this Lynk Professional Spice Rack series, other sizes and designs are available to suit your needs. Take a closer look here.
#6 Cabinet Caddy – Modular Rotating Spice Rack Organizer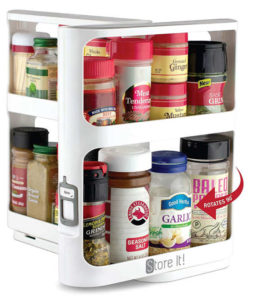 Rated 4.2 out of 5 stars with 80 customer reviews
Price: Approx. $40
Dimension: 10.75" depth x 5.25" width x 10.75" height
This modular design creates a library of organized spices. You simply lift the handle, pull and rotate to get your spices. The column rotates 90°.


The height of the bottom row is 5.25" and holds 5 standard size spices while the top row, 4" in height holds 5 smaller size spices but you can stack on top of each other. The whole modular has 2 columns so in total it fits 10 standard size spices and 20 smaller ones.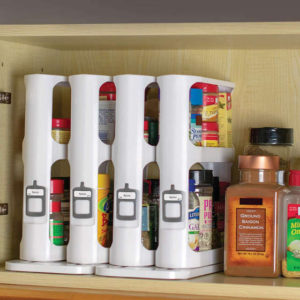 Should you have various sized jars, this design may not be suitable. Better check what you have before buying. Else, this is a very neat kitchen cabinet spice storage idea.
Made from ABS plastic, it is sturdy and durable. Also, BPA free. The 3M non-skid feet keep the unit from sliding.
No assembly required. Yeah!
#7 Zicoto Hanging Spice Rack Organizer (Set of 4)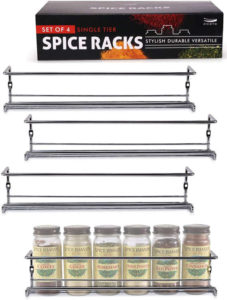 Rated Amazon's Choice, 4.8 out of 5 stars with 285 customer reviews
Price: Approx. $22
Dimension: 2.5" depth x 11.5" length x 2.5" height


This cabinet door spice rack set allows you to arrange your spices according to your needs and the way you like it. Hang the 4 separate racks as close together or far apart as you need them. Best of all, you get to free up your cabinet space.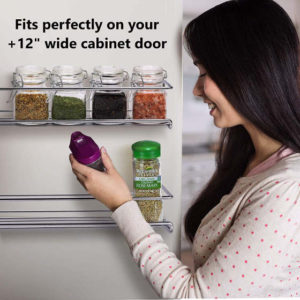 Made from durable quality material and chrome finish, the hanging hardware is included, with two different sized screws, approximately 0.5" and 1" in length.
It is fairly easy to install but takes note that the racks will protrude into the cabinet. Thus, measure correctly when mounting so they clear the cabinet shelves.
A basic spice rack but gives you all the flexibility in arranging your spices and herbs jars the way you wanted and enjoy easy access at all times.
All in All
It does not really matter you are a messy or neat cook. All you want when preparing the daily family meals is to enjoy the process and not waste precious time searching through the cluttered cabinets or drawers. Even if it is at one corner of the kitchen counter, a small jar of cumin can get "lost" still.
It is definitely much easier when all the spice jars are lined properly. Then, you will be able to be spot the one you need at a glance.
Didn't I tell you, I burnt my garlic while searching for that chilli flakes? When I am so sure it was there!
So, which one of the above works for you? Tell us at the comments section below. Or share with us how you organize your spices, herbs and seasonings.
Should you like to see more options, take a look at other spice rack organizers including hanging units, drawer and countertop organizers.
Now that you know all your spices and seasonings are in place, consider making your own spice rubs. Get creative. Read the full article here.
Read Related Articles
Here are more articles you may find useful.
Share This Article
If you find this blog post interesting, please share it with anyone that you think might find it useful. Thank you and have an awesome day!
From the Corner of My Home – Spice Up Your Life with Herbs and Spices
Disclosure: This blog post may contain affiliate links as part of the Amazon.com Services LLC Associate Programs and other affiliate services. This means that cornerofmyhome.com receives a small commission by linking to amazon.com and other sites at no extra cost to the readers.