UPDATED MAY 20, 2020
Why settle for a bland plate of rice when it should be bursting with flavours?  Cook flavourful, healthy and simple herb rice that goes with any main dish. There are only 6 steps in the cooking process to spice up your plain white rice. I am sure you are anxious to know. Let's begin, shall we?
Firstly, gather all your ingredients. Also, I will explain briefly the types of rice you can use to make your herb rice.
How to Spice Up Plain White Rice
If you are cooking plain rice, the easiest way is using a rice cooker. However, it is preferable and sensible to use the stovetop method because of the steps involved. Using this method, you will only be using one saucepan from start to finish. Minimum washing.
Let's get started.
Choose Your Rice
Basically, there are
3 Categories of Rice
Long Grain Rice is at least three or four times longer as they are wide. When cooked, the rice is light and fluffy, and they stay separated.
Medium Grain Rice is shorter and wider compared to long grain rice, about twice as long as they are wide. When cooked, the rice is moist, a bit chewy and tend to stick together but not much.
Short Grain Rice is short and plump. The rice has a sticky texture when cooked.
When it comes to buying rice, you will most probably hear of Basmati, Jasmine, Brown rice, Sushi rice among others. Today, let's look into these
4 Types of Rice
Basmati is a long-grain grown in India and Pakistan. It is commonly used in Indian and Asian cuisine. Served plain or with fresh herbs, they impart a pleasant, nutty aroma and flavour in any dish.
Jasmine, also known as Thai Fragrant rice is cultivated (as the name suggested) in Thailand. Also long grain, it gives a pleasant jasmine aroma while it is cooking. The moist and soft texture is ideal for soaking up spices and flavours.  Most Chinese restaurants serve Jasmine rice. You can actually smell the aroma when the rice is being served.
Brown rice comes in short or long-grain varieties. It has been milled to remove the outer husk but retain its nutritious bran layer. Brown rice is a whole grain food, rich in vitamins and minerals. You can swap in this grain for any dish that you would use white rice for.
Sushi rice comes in white or brown. Needless to mention, this is the Japanese short-grain rice used in making sushi and hand rolls. You can also use this rice as you would regular white rice.
So I hear you asking – which rice should I be using to cook healthy and simple herb rice?
In short, brown rice is most healthy but may lack the aroma of Jasmine rice while basmati is light and fluffy, sushi rice gives you the chewy texture if you desire so. All in all, choose one that you desire! Or, try them all – one at a time.
Choose Your Herbs
Knowing your herbs will be easier to figure out the cooking process. There are
2 categories of herbs
Soft herbs have tender stems and leaves. Several common ones are basil, cilantro, dill, mint, parsley and tarragon.
These herbs are to be added at the end of the cooking process, bringing out the aromatic flavour without destroying the freshness.
Hard herbs have woody stems with firm leaves such as oregano, rosemary, sage and thyme.
You should add these herbs in the early stage of cooking, allowing them time to infuse flavour into the dish.
When choosing your herbs, use what you have or your favourite! There are no hard rules to follow. In fact, cooking a pot of herb rice is one great way to use your leftover herbs.
Oh, I nearly forgot about the bay leaves. One tiny piece of the bay leaf makes a difference. Read more here.
Choose Your Spices
Adding spices to your herb rice is optional but if you have them, why not?
If you are a fan of Indian cuisine, surely you will know the popular Biryani Rice. This dish uses a variety of spices and its aroma is amazing. When I cook this, my family will know exactly what is for dinner.
So, what are the spices to use? And when should they be added depends on
2 forms of spices
Whole spices such as cinnamon stick, cumin, coriander, cardamom, cloves, star anise, nutmeg and mace are the common ones. When using these as a whole, always add to the hot oil at the beginning of the cooking process. This allows the spices to release the flavours into the oil.
Ground spices such as turmeric, paprika and chilli powder are added during cooking.
My favourite combination is cinnamon, cloves, star anise, cardamom, turmeric and paprika. What's yours?
Buy your herbs and spices directly from Starwest Botanicals here. They have a wide range of organic products.

Choose Your Stocks
Depending on what you have and/or what you are cooking. For instance, if you are cooking a beef dish as the main, use beef stock for your herb rice. Else, you can use chicken or vegetable stock. The bouillon cube is another alternative.
I prefer not to use stocks or the bouillon as I like the flavours and aroma of the herbs and spices. I find the stock or bouillon overpowering thus the natural flavours of the herbs and spices are lost. However, you may use half amount of the stock with half water when cooking your rice.
I do add some salt when cooking my herb rice. If you are reducing your salt intake for health reasons, herbs and spices are a good salt substitute. Learn more here.
Now that you have gathered all your ingredients,
How to Cook Flavourful, Healthy and Simple Herb Rice
Here are the 6 simple steps.
Step 1. Rinse Basmati rice (my personal favourite) or brown rice (the option is yours) under running water till the water runs clear.
Step 2. Heat up a tablespoon of olive oil in a pot. Add your whole spices. If you choose not to use them, substitute with chopped garlic or scallion. At this point, use the white base of the scallion and save the green stalks for later.
Once you could smell the aroma of the spices, turn to medium heat and add a knob of butter.
Step 3. Once the butter melt, add your chosen rice. Give it a few stirs to coat the rice grains with the infused oil and butter.
This is the time to add your ground spices if you choose to. Turmeric is my go-to as it gives the rice a bright colour and earthy flavour. And paprika for heat. Stir till well combined.
Step 4. Add your preferred stock or water or combine both. For every cup of rice, you will need 2 cups of liquid. Personally, I use 1¾ cups of water when cooking with Basmati rice as the rice turn out the most fluffy, the way my family and I like most. Also, I add some salt here.
Turn on high heat to bring the liquid to boil. At this point, add your hard herbs. Once boiling put the lid on and turn to the lowest heat.
White long grain rice needs 15 minutes to cook while brown rice needs 45 minutes.
Important. During this cooking time, do not open the lid to check for doneness. Doing so allows the heat to escape and you will end up with unevenly cooked rice.
Step 5. Once the time is up, turn off the heat and move the pot away from the stove. Let sit for about 5 – 10 minutes without removing the lid. Brown rice may need 15 minutes.


Step 6. After resting, add your chopped soft herbs and fluff the rice with a fork. While fluffing, you are mixing in the herbs as well. I suggest using a serving/carving fork if you have one because you really want to just loosen the rice without breaking them. I use a pair of chopsticks.
Do not forget your scallion if you are using them. While the white base is used in Step 2, chop the green stalks and sprinkle on top of the rice when serving.
It is DONE! Enjoy your herb rice with any main dish or on its own.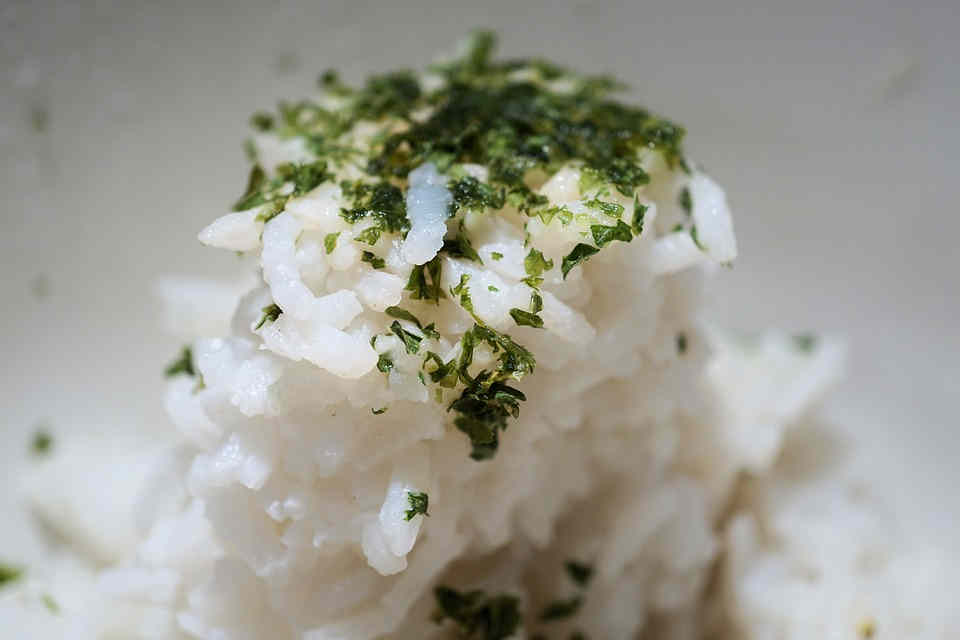 If you cook often, these steps are pretty easy to follow. Also, you will know approximately how much ingredients are needed. I don't usually go with a fixed recipe. The herbs and spices are mostly approximated. For instance, 1 cinnamon stick, 1 or 2 star anise, 5 or 6 cloves, ½ or a ¾ teaspoon of ground turmeric.
Too much guesswork? I understand. It can be confusing and I certainly do not want you to be overwhelmed. Cooking should be fun. So, here are a few recipes which you can follow exactly. Once you are familiar with it, try cooking your way.
Herbed Rice on Food Network
Herb Basmati Rice on Food Network
Greek Lemon Rice on RecipeTin Eats
Should you want to spice up your plain white rice with spices as well, you have to try biryani rice. It is not a simple recipe but its tastiness is amazing. Once you are familiar with cooking the simple version, try this plain biryani rice.
Well done! You have come to the end of the cooking process.
Overall
Is it not wonderful to know that a bland and boring bowl of rice can be cooked differently? Using herbs and spices, you can easily add flavour to your rice. Furthermore, it is certainly healthier. Herbs and spices are known to be beneficial to health.
Consider growing your own herbs.
There are no hard rules to follow making herb rice. You may choose to use long grain or short grain rice, brown or sushi rice. Even the herbs and spices are interchangeable, depending on what you have. I am a frugal mom who dislikes wastage and would use what's available at the point in time. Cooking your rice with water, stocks or bouillon cube is entirely up to you.
I have to admit and share this with you, cooking rice can be a bit tricky. The texture of the cooked rice differs depending on the type of rice grains. Too much water, the cooked rice become mushy and too little water, you end up with uncooked rice. At times the rice brand matters too. It will take some time to achieve the best result but do not let it deter you from cooking flavourful herb rice.
So, are you ready to cook yours? Follow the steps above to cook simple herb rice yet flavourful and healthy. Go on, I know you want to.
Happy Cooking!
Have you heard of Made In Cookware?
Made In is relatively new in the cookware industry, set out in 2016. Their products are created entirely in the U.S., from the raw materials to the manufacturing. Check out their line of pots & pans, made up of 5 layers of 18/10 stainless steel.


Saucepans - $69.00
from: Made In Cookware
They are pricey but comes with a lifetime warranty. Consider it as an investment that will last. Should you have the time, I recommend you to visit their website to browse their large range of pots & pans and knifes too.
Please Leave a Comment
How do you feel using herbs and spices to spice up your rice? If you have been cooking herb rice, how would you cook differently? Share with us your experiences.
Look forward to reading your comments.
Share This Article
If you find this blog post interesting, please share it with anyone that you think might find it useful. Thank you and have a good day!
From the Corner of My Home – Spice Up Your Life with Herbs and Spices
Disclosure: This blog post may contain affiliate links as part of the Amazon.com Services LLC Associate Programs and other affiliate services. This means that coenerofmyhome.com receives a small commission by linking to amazon.com and other sites at no extra cost to the readers.