Do not mistake allspice as the mixed spice because these two are totally different. I nearly made that mistake when following a recipe. It asked for mixed spice. At first thought, I wanted to grab the allspice but my doubtful and curious mind stopped me. I will share with you here, what they are and how to use them. You need to be careful of that first thought – Allspice Same as Mixed Spice. This could lead to an unpleasant taste. You don't want this. Are you curious to know what I intend to cook or bake? Now, read on to find out…
What is the Difference Between Allspice and Mixed Spice


At a glance, you would not be able to differentiate both of these spices if they are not labelled. Actually, if you were to put these out together with five spice powder and ground cinnamon, it will be difficult to tell. Unless, you use your smell receptors in your nose – your sense of smell.
Let's get back to the topic.
What is Allspice
Also known as pimenta or Jamaica pimenta, allspice is NOT a mixture of a variety of spices. Pretty sure you thought it was. Me too.
It is a single spice made from dried, unripe berries from a tropical tree called Pimenta dioica.


The flavour and aroma of allspice will have you think of cloves, cinnamon, nutmeg and ginger. For this reason, it leads to its name – allspice.
How to Use Allspice in Cooking
Although it is commonly used in savoury dishes, it can be used in baking too.
The popular dish Jamaican Jerk Chicken uses allspice. This is a typical Jamaican dish that reflects the spice's Caribbean origins.
You may add allspice to any slow-cooked dishes such as stews, casserole and curries. Also, a good addition to barbecue sauce or meat seasoning. It gives the dish a unique sweet and spicy flavour.
Additionally, you may consider to spice up your vegetables. Simply sprinkle allspice over vegetables prior to roasting.
In baking, you can use it in gingerbread, spice cookies or any spice-driven desserts.
What is Mixed Spice
Also known as pudding spice, mixed spice is a combination of a variety of spices namely cinnamon, coriander seed, caraway, nutmeg, ginger, cloves, allspice and mace.
It has a warm, spicy and sweet flavour and aroma.
How to Use Mixed Spice
It is often used in baking and pairs well with fruits or desserts.
Does a Hot Cross Bun sound good to you? It may not be Easter now, but for me, any time is a good time for a soft and warm aromatic bun. It is a treat. Yes, it uses mixed spice. You may want to save the recipe for coming Easter 2019. Time flies, you know.


The Traditional Christmas Fruit Cake uses mixed spice too. In fact, this got me writing and sharing this article – thought – allspice same as mixed spice. Once again, I am telling you – it is NOT.
Try this,
French Toast - Simply sprinkle a tiny pinch of mixed spice to the egg mixture before you soak the bread slices.
Fruit Salad – Sprinkle a pinch on top of your fruit salad. Alternatively, whip the mixed spice into yoghurt or whipped cream used as toppings on fruit dishes.
Smoothies – Add a pinch to your favourite fruit and berry smoothie.
Also, try sprinkling some into apple pies, fruit crumbles and stewed fruit.
Make Your Own Mixed Spice – Why NOT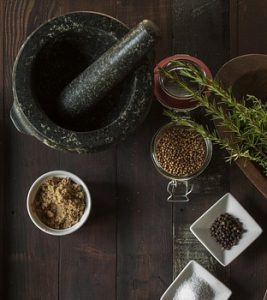 I encourage you to make your own! Fresher than any store-bought mix. Most importantly, there isn't any preservative or unpronounceable ingredients. Do you agree?
Typically, mixed spice contains 3 basic spices:
1. Cinnamon
2. Nutmeg
3. Allspice
The common additions are:
• Cloves
• Ginger
• Coriander
• Caraway
• Mace
Follow this simple mix:
• 1 tablespoon Cinnamon
• 1 tablespoon Nutmeg
• 1 tablespoon Allspice
• 2 teaspoons Mace
• 1 teaspoon Cloves
• 1 teaspoon Coriander
•1 teaspoon Ginger
If you are using ground spices, measure them accordingly and transfer them to a jar.
For whole spices, grind each spice individually using a spice grinder and measure each accordingly before transferring to a jar.
When all spices are added to the jar, mix them thoroughly. Store it in a cool, dark place.
Making your own, you be able to add or minus any of these spices to suit your palate. Feel free to tweak the proportions. Be creative – make your own signature blend!
Substitutes for Allspice and Mixed Spice
You may find a recipe using both allspice and mixed spice but take note that you cannot use them interchangeably.
Allspice substitute
Combine the following:
• ½ teaspoon Cinnamon
• ½ teaspoon Cloves
• ½ teaspoon Nutmeg
Mixed spice substitute
Make your own! Simply follow the above method.
Conclusion for – "Allspice Same as Mixed Spice"
Did I clear your confusion? I did mine. So, if a friend asks you – What is the difference between allspice and mixed spice, you will be able to give a confident answer. Yes, no?
Allspice is a single spice which is made from berries. This name has certainly deceived many people, thinking it was a blend of 'mixed spices'.
Mixed spice IS a blend of several spices as the name says so. Go on, create your own mixed spice. It will be fun. If you do not have a spice grinder, click here to check out an affordable and practical Spice Grinder.
I hope this article will be useful to you. Please share your experience in using these spices. Perhaps, you have a recipe to share? No matter how simple it is, I would love to know how else to use these spices. So, are you going to try the Traditional Christmas Fruit Cake? I will… As of today, 17 weeks to Christmas.
Do you not have mixed spice?


Did you know
Christopher Columbus discovered allspice in the Caribbean. In fact, he was seeking PEPPER but never seen the real ones before.
He thought allspice was PEPPER!
Share This Article
If you find this blog post interesting, please share it with anyone that you think might find it useful. Thank you and have a good day!
From the Corner of My Home – Spice Up Your Life with Herbs and Spices
Disclosure: This blog post may contain affiliate links as part of the Amazon Services LLC Associate Programs and other affiliate services. This means that coenerofmyhome.com receives a small commission by linking to amazon.com and other sites at no extra cost to the readers.