When it comes to buying a piece of kitchen appliance, do you find yourself having a difficult time choosing the best? I certainly do. The various brands available, the range of models, designs and other elements need to be taken into consideration. Not forgetting the warranty and most importantly, the price tag. If you are reading this article, surely you are interested to find the BEST Slow Masticating Juicer to buy.
Take a quick look at what's coming.
Sneak Peek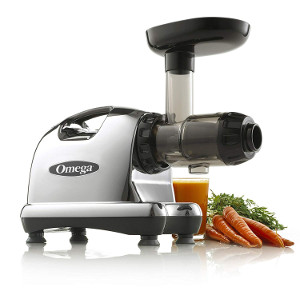 Omega Nutrition Center J8006
Best for juicing leafy greens and high juice yield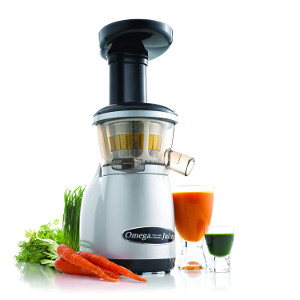 Omega Vertical Slow Masticating Juicer VRT350
Space saving and high juice yield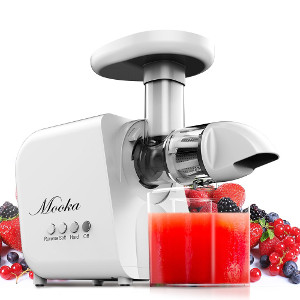 Mooka Slow Masticating Juicer B5100
Easy to use and affordable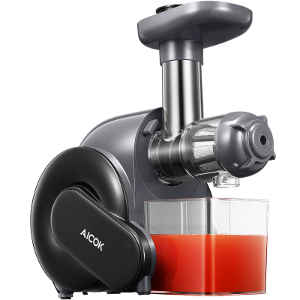 Aicok Slow Masticating Juicer AMR519
Simplest horizontal slow juicer and  most budget-friendly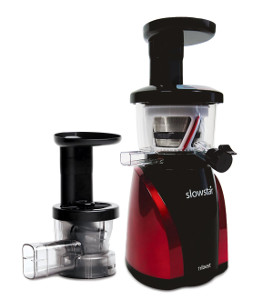 Tribest Slowstar Vertical Slow Juicer SW2000
The lowest speed at 47 RPM and best for juicing leafy greens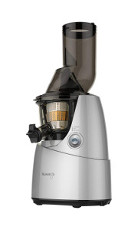 Kuvings Whole Slow Juicer B6000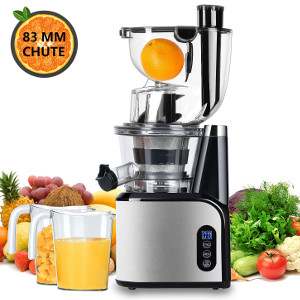 Aobosi Slow Masticating Juicer with Double Feeder Chute
Double feeder chute and affordable
Before looking into the fine details of the products, let's find out what is the difference between horizontal and vertical masticating juicer. It is good to understand so that it is easier for you to shortlist which type of slow juicer to go with.
Horizontal vs Vertical Slow Juicer & Things to Consider When Buying Yours
The horizontal version was the first slow masticating juicer to be created, followed by vertical, giving more options to consumers.
Both versions use a single auger to compact and crush produce before pushing them against a static screen, squeezing out the juice. The pulp is expelled through a separate outlet.
The auger of the horizontal unit is placed horizontally and has a smaller static screen while the vertical version is placed vertically but its screen surface is larger.
While looking at their differences, these are also the things that you should take into consideration when buying your juicer.
1. Processing Time
The vertical slow juicer is faster. Due to its larger screen surface, more produce gets processed at the same time. On the contrary, the horizontal unit with its smaller screen is slower.
You ought to know that slow juicing prevents oxidation and ensures the enzymes, vitamins and minerals remain.
However, the time difference between both units is minimal compared to centrifugal juicer which operates on a much faster speed.
On this note,
It will be good for you to take notice of the RPM while choosing your juicer. RPM stands for revolutions per minute meaning the rotation frequency made in one minute.
The speed of a slow juicer is normally at 80 RPM. This prevents heat buildup ensuring the nutrients stay at the best condition.
2. Preparation Time
The time and effort put into cutting the ingredients and feeding them into the juicer is a relatively important factor to consider. Yes, I know time is never enough.
Many vertical slow juicers have a wider feeding chute thus you need not cut the ingredients any smaller.
Additionally, with the vertical design, ingredients go practically direct from the feeding chute to the auger without much effort in pushing. On the contrary, you will need to use the pusher more on a horizontal unit. Every feed needs to be pushed down with a bit of strength.
Do you mind standing a little more, cutting and feeding the juicer? If you do, the vertical juicer does save preparation time – better than a horizontal unit.
3. Juice Yield
Depending on the produce you intend to juice, there may be a difference in juice yield.
You will get a better juice yield juicing leafy greens and herbs using a horizontal slow juicer.
As the vertical unit juices faster, the leafy green and herbs will pass through the auger quicker thus limiting the processing time. In other words, the produce will not get squeezed thoroughly extracting all the juices and nutrients.
Otherwise, you will get good juice yield with both the versions compared to the centrifugal juicer.
4. Space Saving
Any person who spends much time in the kitchen would wish for a larger kitchen counter space. If you don't have it, a space-saving juicer is needed.
Undoubtedly, the vertical juicer has a smaller footprint. However, remember to take into consideration the height of the juicer, should you be placing it on the kitchen counter with overhead cabinets or shelves.
5. Ease of Cleaning & Assembling
This is a rather important factor to know and consider when buying a slow masticating juicer. It is a known fact that the more tedious it is to disassemble, clean and assemble the unit, the more you will be deterred using it in the long run.
Generally, the horizontal slow juicer is easier to clean due to its design with fewer parts.
Another thing to look out for is the feature of the juice cap. Does the machine has a juice cap?
Here is a tip - once finish juicing, you may close the juice cap and pour some water down the feed chute. Let the water run through the processing chamber and open the cap allowing it to drain. After which, simply wash the disassembled parts under running water or in the dishwasher if allowed.
6. Versatility
Many horizontal slow juicers come with extra attachments for mincing, extracting oil, grinding coffee and making pasta, nut butter and sorbets. Should you be doing these regularly, you will surely get the absolute most out of a horizontal juicer.
7. Product Warranty
Some slow masticating juicers come with a full warranty that lasts a year or two. Some may have extended warranty on body parts and motor.
Mostly, the horizontal slow juicers have a longer warranty period.
8. Price
Last but not least, an important factor is affordability.
The vertical slow masticating juicer is more expensive. However, do not let this be the only reason not buying this version.
Take into consideration all of the above. What do you need?
Here are your options for
Horizontal Slow Masticating Juicers
OMEGA Nutrition Center J8006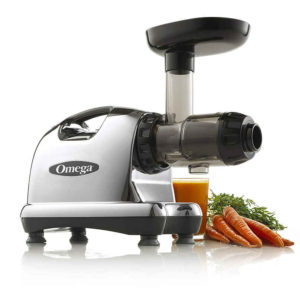 If you have been looking around for your juicer, I am sure you find this Omega J8006 appearing in all the best reviews.
Rated 4.4 out of 5 stars with 3,679 customer reviews, this model is Amazon's Choice for a masticating juicer.
Product Specifications
• Dimensions: 14.5 x 6.5 x 15.5 inches
• Weight: 18.15 pounds
• Voltage: 110/120V
• Energy used: 150 Watts
• Speed: 80 RPM
• Feeding Chute Diameter: 1.5 inches
• Dishwasher safe: Attachments are top rack dishwasher safe
• Warranty: 15 Years
Product Features
• Dual-stage extraction:

– First stage – juice is extracted by crushing the produce
– Second stage – pulp is squeezed before ejected

• GE Ultem Auger: 8x stronger than most other plastics
• Additional attachment:

– Mincing herbs and garlic
– Grinding coffee and spices
– Extrude pasta
– Making baby food, nut butter, soy milk and frozen dessert


The Good. Being a horizontal juicer, couple with dual stage extraction, you will be getting more juice yield especially juicing with herbs and leafy greens.
It is also good to know that the unit disassembles straightforwardly and easy to clean. Its attachments are top rack dishwasher safe.
Not that you are going to carry this juicer around, the built-in handle certainly helps as and when you need to give your kitchen counter a clean wipe.
The Bad. Using this juicer, your preparation time may take a little bit longer and more effort as the feed chute is relatively narrow. Thus, you may need to cut the ingredients into smaller chunks. Also, the additional feeding and pushing. Keeping your knife sharped at all times makes cutting a breeze.
Overall. I understand that time is an important factor for you. Me too. You may dread the time spent cutting and feeding the ingredients into the small feed chute but look at the results. You will benefit from juicing! The slow processing time ensures the nutritional and medicinal values of the juice are not destroyed.
You will save time on disassembling and assembling this unit. Moreover, the washing is relatively easy.
If you favour juicing leafy greens, this is the ultimate juicer that provides the best juice yield and quality. On the contrary, the juice yield is not as good with hard produce such as beets and sweet potatoes. However, this should not be the main reason for not choosing Omega J8006.
The price is a bit expensive though, at ±$270. Take into account the additional attachments for various uses and with the 15 years warranty, these should make up for the price.
Is this a good buy for you? Yes, no? For the health conscious you and juices every day, I urge you to strongly consider Omega J8006.
Tech Gear Lab did an in-depth review and has come to the conclusion that Omega J8006 is the best of the best masticating juicers. In terms of juice quality and ease of cleaning, this model scored the highest.  It gave the best performance in juicing leafy green, having the best juice yield. However, the juice is a bit pulpy.


_____________________________________________________________________
If SPACE is of your concern, take a look at
Omega Vertical Slow Masticating Juicer VRT350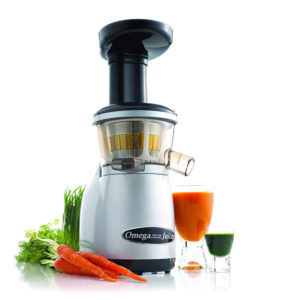 This vertical unit is compact and has a smaller footprint, taking little space on your kitchen counter. The dimension is 8.5 x 7 x 15.5 inches.
Its features are mostly similar to Omega J8006. One additional feature is the reverse setting which is an option to use when ingredients are stuck and the need to unclog.
Your preparation time may be faster and easier as the ingredients are almost gravity fed. You don't need to push them down except for leafy greens. Yours for ±$250, without the additional attachments.


_____________________________________________________________________
Mooka Slow Masticating Juicer B5100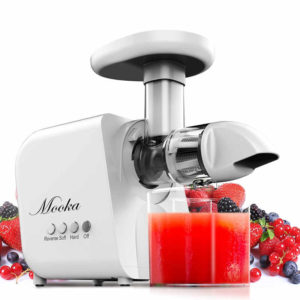 Rated 4.6 out of 5 stars with 286 customer reviews, this model is Amazon's Choice for Mooka Juicer.
Product Specifications
• Dimensions: 10 x 9 x 15.75 inches
• Weight: 10 pounds
• Voltage: 120V
• Energy used: 150 Watts
• Speed: 80 RPM
• Noise: Less than 60 decibels
• Dishwasher safe: Removable parts are dishwasher safe
• Warranty: 10 Years on motor and 3 Years on the remaining parts
Product Features
• Twin Juicing Program (soft or hard) with Reverse Function:

– Soft setting – soft fruits and vegetables
– Hard setting – hard produce such as carrots and beets
– Reverse setting – reverse direction to unclog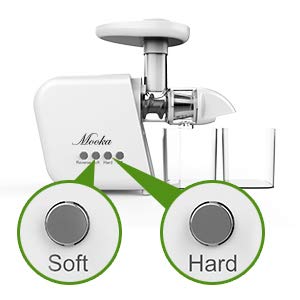 The Good. The advantage of this Mooka Juicer is the selection of using either the soft or hard setting. If you are a fan of juicing leafy greens and fresh herbs, use the hard setting as it will ensure juices are extracted to their maximum.
Many users of this model are pleased with the ease of cleaning and disassembling/assembling the unit. You don't want to be frustrated with these tasks, do you?
Do you like Celery juice? Several users were delighted that their celery juice yield is better than their previous juicer. In the long run, you may be saving on produce.
Did I not mention the noise level while juicing is pretty quiet? Yes, it is quiet.
The Bad. Again, similar to the Omega J8006, the feeding chute is narrow thus you will need to spend a little more time on preparation.
Overall. No matter how you love to have the best slow masticating juicer, I am sure affordability does play an important part. Taking into consideration the money needs to be spent on produce too.
This Mooka Juicer is fairly affordable at ±$150. It does a good job in giving you the healthy, nutritional juice every day.
This model is quite similar to Omega although the motor is not as powerful. And without the additional attachments, Omega included.
I say this is a fairly good buy. How about you? Check it out!


____________________________________________________________________
Aicok Slow Masticating Juicer AMR519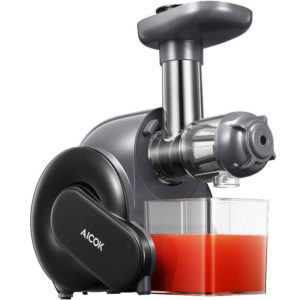 This Aicok model is an upgraded version with new worm (auger) and filter. First listed on Amazon in October 2018, it has received 33 customer reviews, rated 4.7 out of 5 stars.
Product Specifications
• Product Dimensions: 12 x 7 x 12 inches
• Weight: 10 pounds
• Voltage: 120V
• Energy used: 150 Watts
• Speed: 80 RPM
• Noise: Less than 60 decibels
• Dishwasher safe: Removable parts are dishwasher safe
• Warranty: 3 Years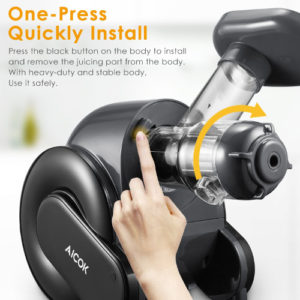 Product Features
• Reverse Function

– Reverse direction to unclog

• One-press Install/Release Button

– Press the button to install or remove parts from the body
The Good. The simplest and basic horizontal slow juicer in the market, you will enjoy the simplicity in setting up, disassembling and washing.
There aren't any complicated parts or buttons that you need to worry about. Juice straightforwardly and enjoy your healthy juice.
It is definitely good to know that its noise level is rather quiet. Thus, juice away early in the morning without disturbing your family.
The Bad. Great at juicing leafy greens. But the same can't be said about juicing hard and soft produce as the juice yield, quality and processing can't be compared with an Omega Slow Juicer.
Having said so, it does not mean that it is of the worst. You will need to take extra steps to overcome these.
When juicing hard produce, cut them into smaller bite size pieces and do NOT rush feeding into the chute. Let the auger do its job without force.
Overall. This Aicok Slow Masticating Juicer is the most budget-friendly slow juicer. What to expect from this slow juicer which cost ±$100?
Simple, quiet, easy to use and wash.
This will be the best option for you should you be concern about your budget. It is the most affordable unit.
Furthermore, its footprint is rather small. Living in an apartment, without much space, and not wanting to wake up your neighbours during juicing, this is most ideal.
With a warranty period of 3 years, it isn't that bad compared to others which offered 1 – 2 years.


_____________________________________________________________________
Let's move on to the more expensive
Vertical Slow Masticating Juicers
Tribest Slowstar Vertical Slow Juicer SW-2000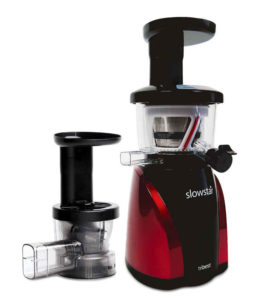 Tribest is another well-known slow juicer besides Omega. It is rated 4.1 out of 5 stars with 366 customer reviews on Amazon.
Product Specifications
• Product Dimensions: 8 x 8 x 18 inches
• Weight: 18 pounds
• Voltage: 120/220V
• Energy used: 200 Watts
• Speed: 47 RPM
• Feeding Chute: 1.5 x 2.5 inches
• Dishwasher safe: No
• Warranty: 10 Years
Product Features
• Duoblade Double Edged Auger:

– Creates a double cut, doing twice as much work compared to a traditional auger
– Made from high quality, BPA-free plastic Ultem which is 8 times stronger than normal plastics

• 3-Stage Speed Reduction Gear

– Creates a higher rotating force for crushing hard produce and thus prevents jamming

• Juice Cap:

– Prevents leaks and drips while switching juice containers
– Detachable for easy cleaning

• Additional Attachment:

– Mincing attachment for creating sorbets, nut butter and sauces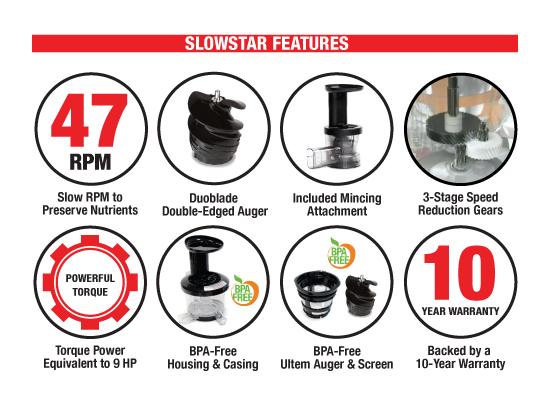 The Good. This model has a slow speed of 47 RPM (most models are normally at 60 – 80 RPM) and this is what you need to prevent oxidation and preserve the nutrients and essential vitamins from being destroyed by friction and heat.
With such a slow speed, it is critical that enough torque is generated to crush through hard vegetables such as carrots. Also, fibrous vegetables for instance celery.
In this case, Tribest Slowstar's powerful 200 Watt motor coupled with 3-stage speed reduction is able to produce higher torque which is 2-4 times the crushing force produced by other slow juicers. Additionally, this prevents jamming and delaying your juicing process.
Low speed means low noise. You can juice any time of the day or night!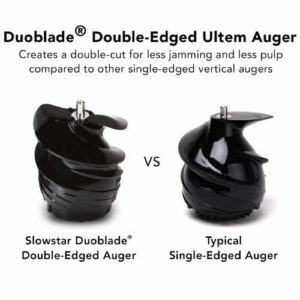 The Duoblade double-edged auger plays its part in cutting and crushing the ingredients rapidly producing higher juice yield with less pulp while reducing jamming.
Besides allowing you to switch the juice containers having the juice cap, cleaning is made easy. Simply pour water into the feeding chute to the auger housing. This will pre-rinse the screen for easier cleanup.
The Bad. You will need to do a little more ingredients cutting as the feeding chute is not a wide mouth.
Did you know the advantage of a vertical juicer is that it feeds almost instantly without much pushing? Therefore, you can save on time and effort by feeding the juicer while cutting without wasting time on pushing the ingredients down as with a horizontal slow juicer.
Overall. Tribest is one of the more popular slow juicers in the market. As mentioned earlier, vertical slow juicer tends to be more expensive than the horizontal version.
Tribest Slowstar costs ±$350. You must know that there are other models at a much higher cost!
The juice lover in you will appreciate a Slowstar. It is able to do the hard work juicing hard produce and leafy greens, and the quality of your juice is assured.
The price you paid for includes mincing attachment for making sauces, salsas, nut milk and butter, and frozen fruit ice cream. If you cook often, this will certainly be of great use.
So, is this for you?


______________________________________________________________________
Kuvings Whole Slow Juicer B6000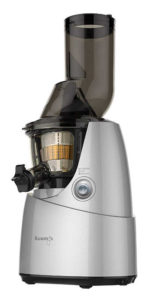 At its initial release date, this model was the first to feature a 3-inch wide mouth feed chute. It has received 273 customer reviews, rated 3.9 out of 5 stars on Amazon.
Product Specifications
• Product Dimensions: 8.9 x 8.1 x 17.6 inches
• Weight: 14.1 pounds
• Voltage: 110V
• Energy used: 240 Watts
• Speed: 60 RPM
• Noise: 40 – 50 decibels
• Feeding Chute: 3 inches
• Dishwasher safe: No
• Warranty: 10 Years
Product Features
• Cleaning Tool

– Tool specially made for the strainer and additional brushes for ease of cleaning

• Drip-free Smart Cap:

– Great for making mixed juices and quick rinsing between recipes
– Detachable for easy cleaning

• Additional Attachment:

– Blank strainer for making sorbet
The Good. The feeding chute is 3 inches wide. You can drop in a whole apple! Aren't you pleased? With the minimal cutting of ingredients, your preparation time will be reduced. Furthermore, prevents oxidation.
The drip-free smart cap allows you to mix your juices or change of juice containers. You can easily detach it for cleaning.
Do you like frozen fruit desserts? If yes, you will be able to make your own sorbet any time with the additional attachment.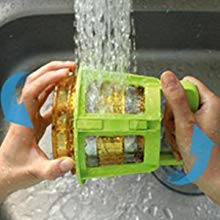 The cleaning tools included are handy. Easily attach the rotating brush (green colour) over the strainer and twist it several times under running water. To remove pulp residue stuck between the strainer holes, use the cleaning brush (big toothbrush).
The Bad. While this slow juicer is good at juicing both fruits and vegetables, you need to know that it is not very good in juicing fibrous or stringy produce continuously. Juicing celery may require you to regularly clear the fibre either from the pulp outlet channel or the auger itself.
You can overcome this by simply cutting the celery into 3-inch pieces. Also, alternating the feed with other fruits and vegetables will help too.
Operating this juicer may not be easy for you who is new to juicing. Assembling and dissembling will need some time to get used to because of the many parts used.
Surprisingly all the removable parts are not dishwasher safe. Use the cleaning tools included.
Overall. Priced at ±$400, this is a bit more expensive than Tribest Slowstar. The 3-inch wide mouth is possibly the best advantage for you who seeks convenience in the preparation process.
A 10 Years warranty could be another reason for you to consider buying this Kuvings Whole Slow Juicer.


______________________________________________________________________
Aobosi Slow Masticating Juicer with Double Feeder Chute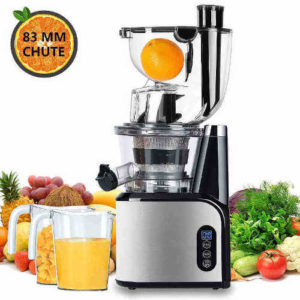 This model was first listed on Amazon in October 2018. As of now, it has received 201 customer reviews with 4.5 out of 5 stars rating.
Product Specifications
• Product Dimensions: 7 x 5.5 x 18 inches
• Weight: 13.1 pounds
• Voltage: 120V
• Energy used: 200 Watts
• Speed: 60 RPM
• Noise: Less than 60 decibels
• Dishwasher safe: Yes
• Warranty: 2 Years
Product Features
• Double Feeding Chute:

– 83mm / 3.15inches for whole fruit
– 38mm / 1.5inches for vegetables and smaller produce

• 3 Press Button Control

– On/Off button
– Forward
– Reverse to unclog

• Safety Lock

– Juicer will not operate unless it is locked properly

• Juice Cap

– Prevents spillage
– Allow mixing of juices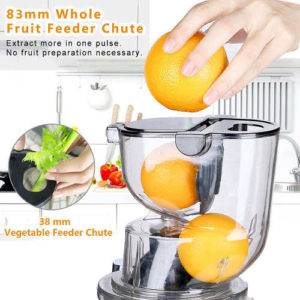 The Good. Its key feature is the double feeding chute. The 83 mm chute allows you to feed a whole apple while the smaller 38 mm chute can be used for vegetables and smaller produce. This reduces your preparation time. Isn't that great? Allowing you to drop in a whole apple, pear or orange helps prevent oxidation.
Noise level is at an acceptable low at less than 60 decibels and you can easily assemble, disassemble and wash without much hassle.
The Bad. The double feeding chute certainly wins many customers over. However, you need to note that this is not a heavy duty model. Do not overfeed or stress this juicer. Let it run its course without force.
The machine does have a slight wiggle when feeding hard produce such as carrots. You may want to cut them into smaller pieces.
Neither good nor bad, the juice yield and quality are at a negligible difference compared to other well-known brands.
Overall. A basic nice compact juicer with a small footprint. But take note of its height, making sure it fits the space where there are overhead cabinets and shelves.
If you don't juice every day or new to juicing and still figuring out if this method is for you (some people like blending more), this Aobosi Slow Masticating Juicer is the best and most affordable option.
The 2 years warranty may be too short. Well, this is expected when paying the price of ±$120.


All in All
What do you want? What are your needs? Note that what you want may not be what you need.
Simply, every one of us wants to have a sophisticated, sleek slow masticating juicer. Think thoroughly, you need healthy and nutritious juices to boost your health without spending much precious time preparing and washing after.
There is no right or wrong choosing one over the other. Spend according to your budget. The most affordable juicer may not last long but with good care, it will. Consider cutting all produce into smaller pieces to not overwork your juicer.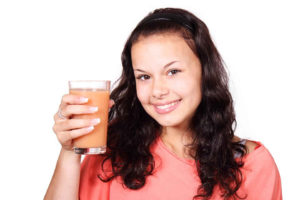 If juicing for health is most important to you, getting the best slow masticating juicer at a higher price is a good investment. Most of these models come with 10 – 15 years warranty. Moreover, excellent juice quality and yield are assured.
I hope this review has given you enough information to choose your slow juicer.
By the way, this review contains affiliate links. When you click them and make a purchase, I receive a small commission at no additional cost to you. Read about my Amazon Affiliate Disclosure here.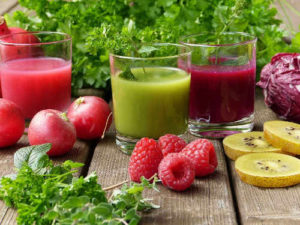 Get that extra boost of nutrients and antioxidant into your juice and body!
Read the full article, explaining the benefits of juicing and blending. At the same time, get to know the 7 common cooking herbs you can use for juicing, acquiring their medicinal values.
Do you want to know how to get the most out of leafy greens in juicing? Go on, click here to read them all.
Please Leave a Comment
Do you have in mind which juicer you will be buying? How is your decision? I am eager to know.
So far, how was your experience in juicing? Share with us so that all of us may learn a thing or two.
Perhaps a secret juice recipe to share!
Happy Juicing!
Share This Article
If you find this blog post interesting, please share it with anyone that you think might find it useful. Thank you and have a good day!
From the Corner of My Home – Spice Up Your Life with Herbs and Spices