Every home cook strives to cook better. While the flavour is important, so is the nutritional value. Level up your cooking skills by using natural flavours of herbs and spices to bring taste with nutrition to your fish dish. Today, find out what herbs go well with fish and best spices for fish.
Some of you may not like eating fish for this one reason – fishy smell and taste. There are solutions for this. You can get rid of the fishy smell before, during and after cooking. Read on… And towards the end of this article, tips on cooking fish – which method of cooking suits what type of fish.
Let's start with,
Best Herbs with Fish
Here are a few common herbs to bring out the best of your fish dish while not overpowering its delicate flavour.
#1 Basil, a member of the mint family, is one of the most commonly used herbs. Its sweet and minty flavour is perfect for fish.
You should add basil towards the end of cooking as heat can destroy the flavour. Best to make a basil vinaigrette to be drizzled over the top of fish after removing from heat.
Try this Grilled Lemon Basil Halibut from The Spruce Eats.
#2 Chives have a mild onion flavour with a hint of garlic.
You may have seen chives used as a garnish on certain dishes served in restaurants.
Similar to basil, add chives last to retain the flavour.
Add a flavourful buttery taste to your fish with this simple Lemon Chive Sauce.
Consider making your own herb butter with chives. You can make this in advance and use them as and when for fish or chicken dish.
#3 Parsley is slightly bitter but its vibrant and fresh taste pairs well with fish and many savoury dishes too.
Although often used as a garnish by restaurant chefs, you should know that parsley provides loads of nutrients. Particularly rich in vitamins A, C and K.
While chefs use a small sprig of parsley as a garnish, you may sprinkle more over the top of almost any fish. Along with a squeeze of fresh citrus, you will get the most flavour and nutritional value of parsley out of your fish dish.
Alternatively, try this Broiled Rainbow Trout Lemon Parsley Butter recipe.
#4 Thyme is perfect for fish and seafood. Its sweet warmth and floral aroma lend a lemony note to a dish.
Remember to go light handed with thyme as the flavour becomes more intense as it cooks.
This Salmon Fillet Lemon Thyme Sauce recipe from Epicurious may help you get started on using thyme herb with fish. You may substitute fresh thyme for dried.
#5 Rosemary is a versatile herb known for its woody fragrance and minty, peppery taste. You can use either fresh or dried, but fresh rosemary has a bit more citrus flavour.
A simple dish of Fish Fillet with Rosemary will not go wrong. Pan-fried or wrapped and bake gives you the same delightful result. Yummy.
#6 Tarragon is widely used in French cuisine and an essential ingredient in making the French sauce, Béarnaise. It is slightly bittersweet and its distinctive yet subtle herbaceous flavour is well suited to use with fish.
Try making your own Béarnaise sauce to be served with roast fish. A bit of time and effort needed but you may find it worthwhile.
Alternatively, should you be making breaded fish next time around, add some tarragon to the breadcrumb mixture to enhance the taste.
#7 Sage is richly aromatic. While this pungent herb can overwhelm all the other flavours in a dish, it is best used to flavour fatty meats.
This does not mean sage does not go well with fish. Add lightly to oily fish such as salmon lends an aromatic, earthy flavour.
Try this Baked Sage-Rubbed Salmon from Taste of Home.
#8 Dill is a classic with fish. It is the most basic herb pairing for fish, giving a delicate punch in many fish dishes. Dill tastes grassy with a bit of anise-like liquorice flavour.
A small amount of dill can go a long way but it lose flavour the longer it is cooked thus should be added at the last stage of cooking.
I find this Mahi-Mahi Fillet with Lemon Dill Sauce from The Spruce Eats mouthwatering. Give it a try!

#9 Mint is another herb which should be used sparingly to avoid overpowering your fish dish. A gentle touch of mint is enough to enhance the dish.
It is about time to try something new, a minty cool recipe of Creamy Mint Tilapia from Easy Peazy Mealz.
Besides, mint has various health benefits worth knowing. It has a long history in treating stomach and digestion problems among others. Read more about mint here.
Consider Growing Your Own Herbs
Wouldn't it be wonderful to have fresh herbs for cooking all year round? It need not be a garden. A few potted herb plants will suffice. Go on, find out more here.
Best Spices for Fish
#1 Ginger is aromatic and slightly spicy hence makes a great addition to fish. Steaming fish with ginger and scallion is one of the well-known dishes in Asian cooking.
If steamed to perfection, the fish's texture will be smooth and velvety. Coupled with the aromatic ginger sauce, it is undeniably tantalizing.
Sounds yummy, right? Give it a try, Steamed Whole Fish with Ginger, Scallion and Soy from Epicurious. I suggest you read the comments below the recipe to get more useful tips.
#2 Cumin is a member of the parsley family. Its earthy, spicy and slightly lemony flavour is perfect to spice up your fish dish.
Besides flavour, cumin has long been used in traditional medicine and known for promoting digestion and reducing food-borne infections. There is a lot more you should know about cumin. Read here.
No hassle pan-fried cumin crusted fish fillet is great for a weekday dinner. Simply mix together, 1 teaspoon ground cumin and ½ teaspoon salt with 1/3 cup plain flour and coat your fish fillet. Pan fry about 4 minutes on each side. Done. Sprinkle with some parsley, dill or mint which go very well with fish. Also, remember that dash of lemon juice. Delish.
Alternatively, try garam masala. Cumin is the main component of this popular spice blend. Substitute cumin with garam masala to get a richer, complex flavour that will leave you astounded.
#3 Turmeric is another spice well-known for its health benefits. Pairs well with fish and it is one of my favourite spice to flavour fish, chicken and herb rice.
Turmeric is pungent and you can taste a slight bitterness at the same time citrusy. Not many people like turmeric. Initially, I find it unpleasant but got used to the taste and soon became my favourite. It helps reduce inflammation that causes my knee pain.
Use turmeric as a spice rub or coat your fish the same way with cumin mentioned above.
Should you need to stock up your herbs and spices, conveniently buy direct from Starwest Botanicals.
Best Seasonings for Fish
After you have tried cooking your fish with the above herbs and spices, and become familiar plus comfortable with the flavours, do not stop there. Make your own seasoning blend to spice up your fish. No more boring and bland dinner. This will certainly increase your desire to eat should you have a loss of appetite caused by certain reasons.


Here are 3 fish seasoning combinations which may help you get started.
1. Fresh, herbaceous and peppery => Dill + paprika + black pepper + lemon zest
Fresh dill is good but dried version is more suitable making seasoning blends. Furthermore, it lasts much longer than fresh dill. Still, it gives you the herbaceous flavour while pepper and lemon add a touch of a zesty peppery kick to this blend. Use lemon pepper if it is more convenient for you.
Combine
2 tablespoons dried dill
1 tablespoon paprika
1 teaspoon lemon pepper
Use it the next time you pan-sear or bake.
2. Earthy, savoury and sweet => Cumin + coriander + cardamom + turmeric + mustard powder
Similar to curry powder blend which you can buy at the grocery store, but can be made easier should you have all these spices on your spice rack.
Combine
2 tablespoons ground cumin
1 tablespoon ground coriander
1 teaspoon ground cardamom
1 teaspoon ground turmeric
1 teaspoon mustard powder
Good on pan-seared fish.
3. Earthy, spicy and sweet => Tarragon + parsley + caraway + cumin + chili flakes
Tarragon pairs well with caraway giving you subtle liquorice hint. Plus the warmth of cumin and a bit of heat from the chilli flakes, this unusual yet delightful blend is worth the effort making.
Combine
1 teaspoon dried tarragon
1 teaspoon dried parsley
1 teaspoon chilli flakes
1 tablespoon ground cumin
2 tablespoons ground caraway
Add a tablespoon of this spice blend to your breadcrumb mixture next time you make crusted fish.
Useful tips
Spices lose their flavour over time. Spice rubs can be made in advance and can last for up to six months in an airtight jar placed in a cool, dry place. However, to ensure its potency, always check the shelf life of your spices. Spices in the whole form are good for 10 months while ground spices lose their potency quickly and should be used within 3 months.
Flavours need time to meld. Mix your spice blend at least an hour before use. This will allow the flavour to combine and blend well to get the most out of each ingredient. If you are using whole spices, consider toasting the spices to release the oil and intensify their flavour. Ensure the spices are totally cool before grinding with a spice grinder.
Each spice has a different level of potency. Certain spices can be overpowering thus when making your first, follow the ratio above so that your spice blend is well balanced. Once you are familiar with the taste and wanted more of a certain flavour, add a little more.
A Fishy Story


When I was young, my mother told me any fish my grandma bought home will go missing. Long story short, they found out my grandpa buried them at the riverbank near their farmhouse. Why? He could not take the fishy smell. :-)
Looking back, no wonder I don't recall eating fish during any of our visit to my grandparents.
Anyway, fish is a good source of low-fat high-quality protein. Do not let that fishy smell turns you off eating a healthy meal.
How to Get Rid of Fishy Smell from Fish
Firstly, know that really fresh fish should not have much of a stench at all. Unless you are cooking fish immediately after it was caught, it is fairly certain that you will be taking in a bit of the fishy smell. Most fish are very likely to have been out of water for several hours, if not overnight or longer. Even refrigerated, its smell will steadily increase, even before it starts to go bad.
Secondly, the freshest fish can still cause your house smelling fishy when cooking. You may tolerate a little bit of the scent but for someone who has a sensitive nose to smell, it can be a problem. What can you do to prevent the fishy smell when cooking? Stop eating fish is not a good option. In this case, change your cooking technique.


Frying can cause an outbreak of odour filling your kitchen. Using cooking methods such as poaching or baking can reduce the fish smells. En papillote method where the fish is wrapped and cooked in parchment paper is a great option.
Herbs, spices and seasonings for fish not only flavour your fish, but they can also cover up the smell. Once the fish is cooked and paired with a herbaceous sauce, you may not notice the smell anymore.
What can you do to get rid of fishy smell before cooking?
Soak your fish in milk for 20 minutes. Casein, a protein found in the milk will bind to an organic compound called trimethylamine (TMA) that causes the fishy smell and extract it from the fish. Thus, soak the fish for about 20 minutes before cooking.
Squeeze lemon juice over the fish. TMA is basic and acid will neutralize the smell. In this case, lemon juice is the best choice.
After cooking, and you find odour lingers, try boiling a mixture of vinegar and water for several minutes. This should help clear the air. The acidic vinegar will neutralize the alkaline odour. Mix 3 tablespoon white vinegar and 1 cup water.
All in All
Generally, fish is a healthy food source, loaded with nutrients that are important to your general well-being. Cooking fish with fresh herbs and spices will boost the flavour and nutritional value without adding many calories and unhealthy fats. Furthermore, it helps reduce your salt intake. Herbs and spices are a good salt substitute.
Each herb or spice mentioned above could be used alone or in combination to enrich the delicate natural taste of fish.
The tips on getting rid of fishy smell before, during and after cooking give you no reason not to consume fish. Coupled with flavour enhancing seasoning blends suggested, surely you will eat gladly.
Go on, spice up your dish and take your family meals to the next level.
Should you want to spice up your cooking skills, consider learning from the pros. A Culinary school is not only for those who want to pursue a career in the food industry. A home cook who loves to cook extraordinary meals for her or his family can fast forward the process by learning from an established culinary school. This can be done online, from the comfort of your own home and at your own pace.
Explore Rouxbe Online Culinary School. From making stock to seasoning your meat properly, cooking them and handling a chef's knife, all these will help you cook confidently like a pro - cook effortlessly and faster. Time saved can be used to spend with your loved ones at the dinner table.


At only $9.99 per month, you get to learn at a leading online culinary school with the support of renowned chef educators. You know what? Do NOT pay yet. Start your 30-day FREE Trial here.
Before I leave you, would like to share the following.
Tips for Cooking Fish
How do you know which cooking method is best for different types of fish? The following will help you determine.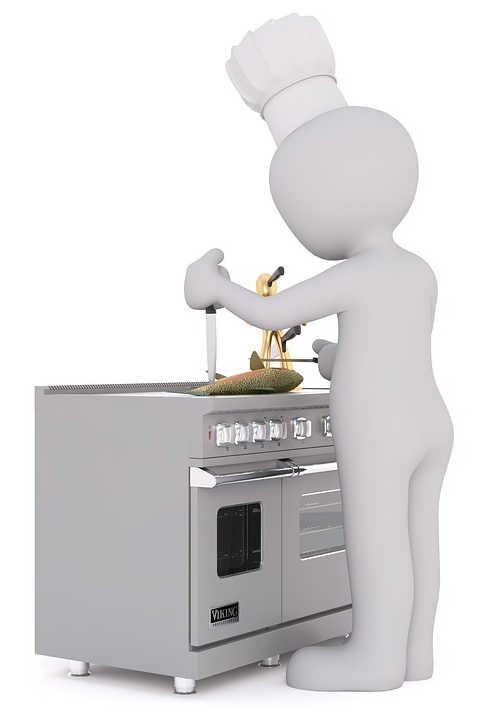 Dry cooking methods such as grilling, roasting and baking are better for oily fish and those with thicker cuts. This is due to less of a chance that the fish will dry out during cooking.
Wet cooking methods such as steaming, poaching and baking en papillote are perfect for delicate fish and thin fillets. These methods minimize the chance of drying out the fish when cooking.
Let's look at each cooking method.
Baking is one of the safest ways to cook fish. Thicker and oiler fish such as sablefish and halibut are ideal because they are less likely to dry out during the cooking process.
Baking En Papillote (fish wrapped in parchment paper) creates a seal that avoids the fish from drying out. A superb choice for delicate fish such as cod, haddock, pollock and tilapia.
Poaching is another ideal method for cooking delicate fish while retaining its natural flavours.
Broiling is good for firm fish that can handle the high heat without burning. This is a fitting method when adding a glaze or marinade to your fish like salmon and sablefish.
Pan-frying is ideal for delicate and flaky fish such as halibut, flounder, sole and salmon. This method creates a crispy crust but tender and flaky centre of the fish.
Deep-frying is best for fish with a neutral flavour. White meat fish will fry well. On the other hand, oily fish do not. Halibut, hake, haddock, pollock, tilapia, cod and catfish are good for deep-frying.
Grilling can dry out the fish easily. In this case, choose oily or sturdy fish that will not dry out easily, for instance, salmon, tuna, swordfish and mahi-mahi. Snapper is another good option – grilled whole, the skin helps prevent the meat from getting overcooked.
Steaming is a very healthy way to cook fish as little if any fat is required in the cooking process. Fish that are lean and flat will hold up well when steamed such as cod, tilapia and snapper.
I hope all the information provided helps you serve a tantalizing fish dish you and your family will enjoy eating.
Read Related Articles
Please Comment & Share
Before you leave, share your fishy story with us at the comments section below. Would you use more herbs and spices to flavour your fish?
Click the share button to share these cooking information with your friends. They might find this helpful.
Thank you for reading & have an awesome day!
From the Corner of My Home – Spice Up Your Life with Herbs and Spices
Disclosure: This blog post may contain affiliate links as part of the Amazon.com Services LLC Associate Programs and other affiliate services. This means that cornerofmyhome.com receives a small commission by linking to amazon.com and other sites at no extra cost to the readers.